Abstract
Ground shells of almonds (ALM), hazelnuts (HAZ), walnuts (WAL), and chestnuts (CHE), coconut fiber (COC), spent coffee grounds (COF), and clementine peel (CLE) were used to remove ochratoxin A (OTA) from both water and an ethanol/water mixture (14:86, v/v). Other very efficient adsorbents like wood biochar (BC) and hydrochar (HC) and a humic acid (HA) were also adopted as a comparison. In batch experiments, sorption of OTA from water followed the trend BC (100% removed) > HA > CLE > COC > HC > COF > ALM > HAZ > CHE > WAL (8% removed), whereas sorption of OTA from ethanol/water mixture (14:86, v/v) onto only the raw materials was COC (54% removed) > CLE > HAZ > ALM > COF > CHE > WAL (0.4% removed). The desorption of the toxin from all materials in water was rather low. Afterwards, sorption kinetics and isotherms of OTA onto CLE, COC, and COF were performed. The three materials adsorbed OTA in about 2 h according to a pseudo-second-order kinetic model, thus indicating the occurrence of a chemisorption mechanism. Equilibrium sorption data of OTA onto CLE followed preferentially the Freundlich model, whereas those on COC and COF fitted well both Freundlich and Langmuir isotherms (r > 0.996). The values of Freundlich sorption constants, KFads, for CLE, COC, and COF were 313, 202, and 98 L kg−1, respectively. OTA desorption from each of the three materials showed hysteretic effects. Overall findings of this work suggest that raw plant wastes could be effectively used as biosorbents to abate the level of OTA in liquid media.
This is a preview of subscription content, log in to check access.
Access options
Buy single article
Instant access to the full article PDF.
US$ 39.95
Price includes VAT for USA
Subscribe to journal
Immediate online access to all issues from 2019. Subscription will auto renew annually.
US$ 99
This is the net price. Taxes to be calculated in checkout.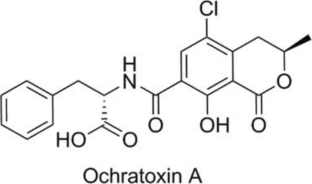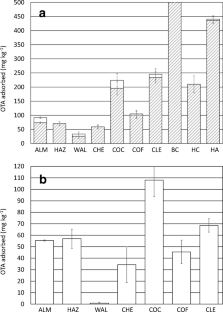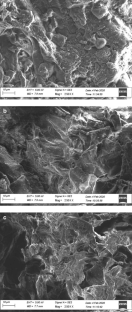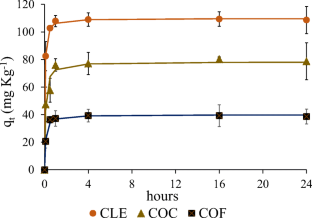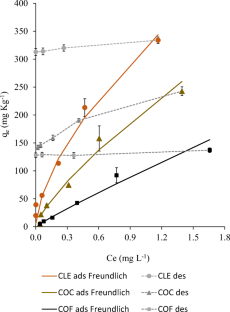 References
Amézqueta S, González-Peñas E, Murillo-Arbizu M, López de Cerain A (2009) Ochratoxin A decontamination: a review. Food Control 20:326–333. https://doi.org/10.1016/j.foodcont.2008.05.017

Appell M, Jackson MA (2012) Sorption of ochratoxin A from aqueous solutions using β-cyclodextrin–polyurethane polymer. Toxins 4:98–109. https://doi.org/10.3390/toxins4020098

Barriuso E, Laird DA, Koskinen WC, Dowdy RH (1994) Atrazine desorption from smectites. Soil Sci Soc Am J 58:1632–1638. https://doi.org/10.2136/sssaj1994.03615995005800060008x

Bayman P, Baker JL (2006) Ochratoxins: a global perspective. Mycopathologia 162:215–223. https://doi.org/10.1007/s11046-006-0055-4

Castellana G, Loffredo E (2014) Simultaneous removal of endocrine disruptors from a wastewater using white rot fungi and various adsorbents. Water Air Soil Poll 225:1872. https://doi.org/10.1007/s11270-014-1872-6

Castellari M, Versani A, Fabiani A, Parpinello GP, Galassi S (2001) Removal of ochratoxin A in red wines by means of adsorption treatments with commercial fining agents. J Agr Food Chem 49:3917–3921. https://doi.org/10.1021/jf010137o

Cervera-Mata A, Pastoriza S, Rufián-Henares JA, Párraga J, Martín-García JM, Delgado G (2018) Impact of spent coffee grounds as organic amendment on soil fertility and lettuce growth in two Mediterranean agricultural soils. Arch Agron Soil Sci 64:790–804. https://doi.org/10.1080/03650340.2017.1387651

Clapp CE, Hayes MHB, Senesi N, Bloom PR, Jardine PM (2001) Humic substances and chemical contaminants. Soil Sci Soc Am, Madison

Dakovic A, Tomasevic-Canovic M, Dondur V, Rottinghaus GE, Medakovic V, Zaric S (2005) Adsorption of mycotoxins by organozeolites. Colloid Surface B 46:20–25. https://doi.org/10.1016/j.colsurfb.2005.08.013

European Commission, EC (2002) Reports on tasks for scientific cooperation. Assessments of dietary intake of ochratoxin A by the population of EU member states. Directorate—General Health and Consumer Protection. https://ec.europa.eu/food/sites/food/files/safety/docs/cs_contaminants_catalogue_ochratoxin_task_3-2-7_en.pdf. Accessed 30 Jan 2020

European Commission Regulation, EC, N. 1881/2006 setting maximum levels for certain contaminants in foodstuffs. https://eur-lex.europa.eu/legal-content/EN/TXT/PDF/?uri=CELEX:32006R1881&from=EN. Accessed 30 Jan 2020

Gupta VK, Suhas (2009) Application of low-cost adsorbents for dye removal—a review. J Environ Manage 90:2313–2342. https://doi.org/10.1016/j.jenvman.2008.11.017

Gupta VK, Ribeiro Carrott PJM, Ribeiro Carrot MML, Suhas (2009) Low cost adsorbents: growing approach to wastewater treatment—a review. Crit Rev Env Sci Tec 39:783–842. https://doi.org/10.1080/10643380801977610

Han L, Ro KS, Sun K, Sun H, Wang Z, Libra JA, Xing B (2016) New evidence for high sorption capacity of hydrochar for hydrophobic organic pollutants. Environ Sci Technol 50:13274–13282. https://doi.org/10.1021/acs.est.6b02401

Ho YS (2006) Second-order kinetic model for the sorption of cadmium onto tree fern: a comparison of linear and non-linear methods. Water Res 40:119–125. https://doi.org/10.1016/j.watres.2005.10.040

Ho YS, Mckay G (1999) Pseudo-second order model for sorption processes. Process Biochem 34:451–465. https://doi.org/10.1016/S0032-9592(98)00112-5

Jamal Y, Mehran V, Firouzeh N, Javad M, Ehsan M, Roya K, Mir-Jamal H (2018) Occurrence of ochratoxin A in grape juice of Iran. Iran J Pharm Res 17(1):140–146. https://doi.org/10.22037/ijpr.2018.2158

Kumar KV (2006) Linear and non-linear regression analysis for the sorption kinetics of methylene blue onto activated carbon. J Hazard Mater B137:1538–1544. https://doi.org/10.1016/j.jhazmat.2006.04.036

Kurtbay HM, Bekçi ZB, Merdivan M, Yurdakoç K (2008) Reduction of ochratoxin A levels in red wine by bentonite, modified bentonites and chitosan. J Agr Food Chem 56:2541–2545. https://doi.org/10.1021/jf073419i

Lagergren S (1898) Zur theorie der sogenannten adsorption gelöster stoffe, Kungliga Svenska Vetenskapsakademiens. Handlingar 24:1–39

Loffredo E, Taskin E (2017) Adsorptive removal of ascertained and suspected endocrine disruptors from aqueous solution using plant-derived materials. Environ Sci Pollut Res 24:19159–19166. https://doi.org/10.1007/s11356-017-9595-z

Loffredo E, Castellana G, Taskin E (2016) A two-step approach to eliminate pesticides and estrogens from a wastewater and reduce its phytotoxicity: adsorption onto plant-derived materials and fungal degradation. Water Air Soil Poll 227:188. https://doi.org/10.1007/s11270-016-2883-2

Magan N, Olsen M (2004) Mycotoxins in food. Woodhead Publishing Ltd, Cambridge and CRC Press LLC, New York.

Malir F, Ostry V, Pfohl-Leszkowicz A, Malir J, Toman J (2016) Ochratoxin A: 50 years of research. Toxins 8:191. https://doi.org/10.3390/toxins8070191

Massoud R, Cruz A, Darani KK (2018) Ochratoxin A: from safety aspects to prevention and remediation strategies. Curr Nutr Food Sci 14:11–16. https://doi.org/10.2174/1573401313666170517165500

Mohan D, Sarswat A, Ok YS, Pittman CU Jr (2014) Organic and inorganic contaminants removal from water with biochar, a renewable, low cost and sustainable adsorbent—a critical review. Biores Technol 160:191–202. https://doi.org/10.1016/j.biortech.2014.01.120

Murthy PS, Naidu MM (2012) Sustainable management of coffee industry by-products and value addition—a review. Resour Conserv and Recycl 66:45–58. https://doi.org/10.1016/j.resconrec.2012.06.005

Pietri A, Bertuzzi T, Pallaroni L, Piva G (2001) Occurrence of ochratoxin A in Italian wines. Food Addit Contam 18(7):647–654. https://doi.org/10.1080/02652030119480

Piotrowska M (2014) The adsorption of ochratoxin A by Lactobacillus species. Toxins 6:2826–2839. https://doi.org/10.3390/toxins6092826

PubChem open chemistry database at the National Institutes of Health (NIH), U.S. National Library of Medicine. (2019) https://pubchem.ncbi.nlm.nih.gov/compound/442530. Accessed 30 Jan 2020

Quintela S, Villáran MC, López de Armentia I, Elejade E (2012) Ochratoxin A in Spanish exportation wine market. Food Control 25:501–504. https://doi.org/10.1016/j.foodcont.2011.11.023

Quintela S, Villáran C, López de Armentia I, Elejade E (2013) Ochratoxin A removal in wine: a review. Food Control 30:439–445. https://doi.org/10.1016/j.foodcont.2012.08.014

Ringot D, Lerzy B, Chaplain K, Bonhoure J, Auclair E, Larondelle Y (2007) In vitro biosorption of ochratoxin A on the yeast industry by-products: comparison of isotherm models. Bioresour Technol 98(9):1812–1821. https://doi.org/10.1016/j.biortech.2006.06.015

Shan Y (2016) Functional components of citrus peel. In: Shan Y (ed) Comprehensive utilization of citrus by-products. Elsevier, Amsterdam, pp 1–13

Shar ZH, Fletcher MT, Sumbal GA, Sherazi STH, Giles C, Bhanger MI, Nizamani SM (2016) Banana peel: an effective biosorbent for aflatoxins. Food Addit Contam Part A Chem Anal Control Expo Risk Assess 33(5):849–860. https://doi.org/10.1080/19440049.2016.1175155

Shephard GS, Fabiani A, Stockenstrom S, Mshicileli N, Sewram V (2003) Quantitation in ochratoxin A in South African wines. J Agr Food Chem 51:1102–1106. https://doi.org/10.1021/jf0259866

Studer-Rohr I, Dietrich DR, Schlatter J, Schlatter C (1995) The occurrence of ochratoxin A in coffee. Food and chemical toxicology 33(5):341–355. https://doi.org/10.1016/0278-6915(94)00150-M

Taskin E, de Castro BC, Allegretta I, Terzano R, Rosa AH, Loffredo E (2019) Multianalytical characterization of biochar and hydrochar produced from waste biomasses for environmental and agricultural applications. Chemosphere 233:422–430. https://doi.org/10.1016/j.chemosphere.2019.05.204

Tomasevic-Canovic M, Dakovic G, Rottinghaus A, Matijasevic S, Duricic M (2003) Surfactant modified zeolites—new efficient adsorbents for mycotoxins. Microporous Mesoporous Mater 61:173–180. https://doi.org/10.1016/S1387-1811(03)00365-2

Var I, Kabak B, Erginkaya Z (2008) Reduction in ochratoxin A levels in white wine, following treatment with activated carbon and sodium bentonite. Food Control 19:592–598. https://doi.org/10.1016/j.foodcont.2007.06.013

Zohri AA, Saber M (1993) Filamentous fungi and mycotoxin detected in coconut. Zentralbl Mikrobiol 148(5):325–332. https://doi.org/10.1016/S0232-4393(11)80121-6
Acknowledgments
This work was founded by University of Bari Aldo Moro, Italy. The authors thank Mr. Adriano Boghetich of DICATECh, Politecnico di Bari for performing SEM analysis. The authors are grateful to the anonymous reviewers for their valuable suggestions.
Additional information
Publisher's note
Springer Nature remains neutral with regard to jurisdictional claims in published maps and institutional affiliations.
Responsible editor: Tito Roberto Cadaval Jr
About this article
Cite this article
Loffredo, E., Scarcia, Y. & Parlavecchia, M. Removal of ochratoxin A from liquid media using novel low-cost biosorbents. Environ Sci Pollut Res (2020). https://doi.org/10.1007/s11356-020-09544-z
Received:

Accepted:

Published:
Keywords
Ochratoxin A

Biosorbent

Toxin removal

Sorption kinetics

Sorption isotherm

Desorption