Abstract
Akilbenza clay (Akil) was characterized by XRD, FT-TIR, XRF, EDX, SEM, and N2 gas adsorption. The adsorption performance for Cu(II) ions by this clay was also studied. Akil is composed mainly of kaolinite with mica illite and quartz as minor minerals. The ATR-FTIR analysis shows Si-O-Al, Si-O, Al-O, Si-OH, and Al-OH as the main functional groups. SEM indicates that the clay particles are irregular in shape and size by supported BJH. Akil has a specific surface area of 45.62 m2/g with the presence of both mesopores and micropores. The average pore diameter is 19.4196 nm. XRF and EDX reveal that the clay is mainly composed of silica, aluminum, and iron with a Si/Al ratio of 1.41. For the adsorption performance of Cu(II) ions, a maximum quantity of 76 mg/g was recorded. Freundlich isotherm models best describe the adsorption processes at equilibrium. Kinetic studies revealed that the adsorption process was well explained with pseudo-second-order kinetic model. The value of the mean energy of adsorption from Temkin isotherm and the values from Elovich kinetic model suggest that the adsorption of Copper(II) ions on Akil is a combination between ion exchange and electrostatic attraction. The results obtained can be introduced into the database of knowledge on clay minerals with emphasis on their use for the removal of Cu(II) ions.
This is a preview of subscription content, log in to check access.
Access options
Buy single article
Instant access to the full article PDF.
US$ 39.95
Price includes VAT for USA
Subscribe to journal
Immediate online access to all issues from 2019. Subscription will auto renew annually.
US$ 99
This is the net price. Taxes to be calculated in checkout.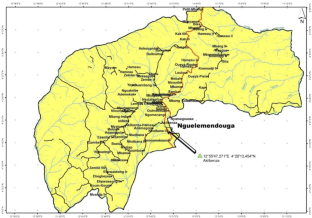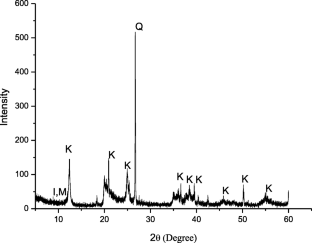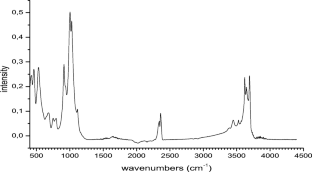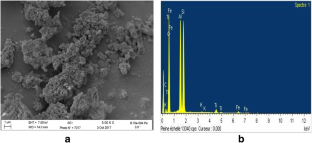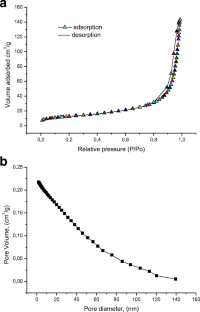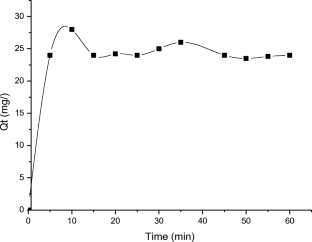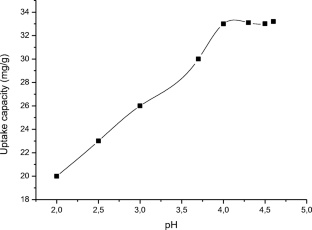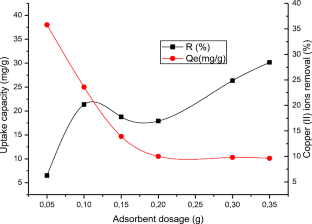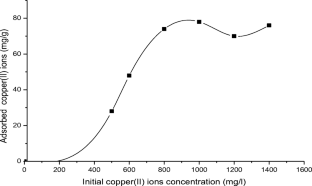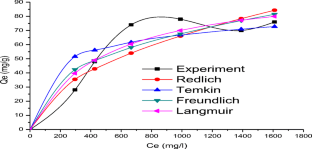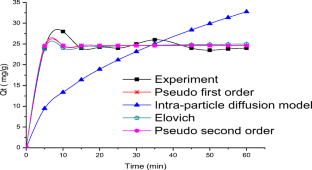 References
Al-Harahsheh M, Shawabkeh R, Al-Harahsheh A, Tarawneh K, Batiha MM (2009) Surface modification and characterization of Jordanian kaolinite: application for lead removal from aqueous solutions. Appl Surf Sci 255(18):8098–8103

Araújo CS, Almeida IL, Rezende HC, Marcionilio SM, Léon JJ, de Matos TN (2018) Elucidation of mechanism involved in adsorption of Pb (II) onto lobeira fruit (Solanum lycocarpum) using Langmuir, Freundlich and Temkin isotherms. Microchem J 137:348–354

Ayawei N, Ebelegi AN, Wankasi D (2017a) Modelling and interpretation of adsorption isotherms. J Chem 174:2017

Ayawei N, Ebelegi AN, Wankasi D (2017b) Modelling and interpretation of adsorption isotherms. J Chem 2017:1–11

Azizian S, Eris S, Wilson LD (2018) Re-evaluation of the century-old Langmuir isotherm for modeling adsorption phenomena in solution. Chem Phys 513:99–104

Burakov AE, Galunin EV, Burakova IV, Kucherova AE, Agarwal S, Tkachev AG, Gupta VK (2018) Adsorption of heavy metals on conventional and nanostructured materials for wastewater treatment purposes: a review. Ecotoxicol Environ Saf 148:702–712

Chen X (2015) Modeling of experimental adsorption isotherm data. Information 6(1):14–22

Cheng T, Lee M, Ko M, Ueng T, Yang S (2012) The heavy metal adsorption characteristics on metakaolin-based geopolymer. Appl Clay Sci 56:90–96

Daneshvar E, Vazirzadeh A, Niazi A, Kousha M, Naushad M, Bhatnagar A (2017) Desorption of methylene blue dye from brown macroalga: effects of operating parameters, isotherm study and kinetic modeling. J Clean Prod 152:443–453

Doke KM, Khan EM (2017) Equilibrium, kinetic and diffusion mechanism of Cr (VI) adsorption onto activated carbon derived from wood apple shell. Arab J Chem 10:S252–S260

Dordio A, Miranda S, Ramalho JP, Carvalho AP (2017) Mechanisms of removal of three widespread pharmaceuticals by two clay materials. J Hazard Mater 323:575–583

Eloussaief M, Kallel N, Yaacoubi A, Benzina M (2011) Mineralogical identification, spectroscopic characterization, and potential environmental use of natural clay materials on chromate removal from aqueous solutions. Chem Eng J 168(3):1024–1031

Essomba JS, Nsami JN, Belibi PDB, Tagne GM, Mbadcam JK (2014) Adsorption of cadmium (II) ions from aqueous solution onto kaolinite and metakaolinite. Pure Appl Chem Sci 2(1):11–30

Fadil-Djenabou S, Ndjigui P-D, Mbey JA (2015) Mineralogical and physicochemical characterization of Ngaye alluvial clays (Northern Cameroon) and assessment of its suitability in ceramic production. J Asian Ceram Soc 3(1):50–58

Georgiev D, Bogdanov B, Angelova K, Markovska I, Hristov Y (2009) Synthetic zeolites–structure, classification, current trends in zeolite synthesis, pp. 1-5.

Hajjaji M, Kacim S, Alami A, El Bouadili A, El Mountassir M (2001) Chemical and mineralogical characterization of a clay taken from the Moroccan Meseta and a study of the interaction between its fine fraction and methylene blue. Appl Clay Sci 20(1-2):1–12

Hizal J, Apak R (2006) Modeling of copper (II) and lead (II) adsorption on kaolinite-based clay minerals individually and in the presence of humic acid. J Colloid Interface Sci 295(1):1–13

Ho Y-S (2006) Review of second-order models for adsorption systems. J Hazard Mater 136(3):681–689

Hospodarova V, Singovszka E, Stevulova N (2018) Characterization of cellulosic fibers by FTIR spectroscopy for their further implementation to building materials. Am J Anal Chem 9(06):303–310

Hossain M, Ngo H, Guo W (2013) Introductory of Microsoft Excel SOLVER function-spreadsheet method for isotherm and kinetics modelling of metals biosorption in water and wastewater. J Water Sustain

Jang HM, Yoo S, Choi Y-K, Park S, Kan E (2018) Adsorption isotherm, kinetic modeling and mechanism of tetracycline on Pinus taeda-derived activated biochar. Bioresour Technol 259:24–31

Jiang M-q, Wang Q-p, Jin X-y, Chen Z-l (2009) Removal of Pb (II) from aqueous solution using modified and unmodified kaolinite clay. J Hazard Mater 170(1):332–339

Jiang M-q, Jin X-y, Lu X-Q, Chen Z-1 (2010) Adsorption of Pb (II), Cd (II), Ni (II) and Cu (II) onto natural kaolinite clay. Desalination 252(1-3):33–39

Jordanova N, Kovacheva M, Hedley I, Kostadinova M (2003) On the suitability of baked clay for archaeomagnetic studies as deduced from detailed rock-magnetic studies. Geophys J Int 153(1):146–158

Kamseu E, Leonelli C, Boccaccini DN, Veronesi P, Miselli P, Pellacani G, Melo UC (2007) Characterisation of porcelain compositions using two china clays from Cameroon. Ceram Int 33(5):851–857

Ketcha Mbadcam J, Anagho S, Ndi Nsami J, Kammegne AM (2011) Kinetic and equilibrium studies of the adsorption of lead (II) ions from aqueous solution onto two Cameroon clays: kaolinite and smectite. J Environ Chem Ecotoxicol 3:290–297

Kołodyńska D, Krukowska Ja, Thomas P (2017) Comparison of sorption and desorption studies of heavy metal ions from biochar and commercial active carbon. Chem Eng J 307:353–363

Konan K, Peyratout C, Smith A, Bonnet J-P, Rossignol S, Oyetola S (2009) Comparison of surface properties between kaolin and metakaolin in concentrated lime solutions. J Colloid Interface Sci 339(1):103–109

Kong D, Wilson LD (2017) Synthesis and characterization of cellulose-goethite composites and their adsorption properties with roxarsone. Carbohydr Polym 169:282–294

Mache JR, Signing P, Njoya A, Kunyukubundo F, Mbey J, Njopwouo D, Fagel N (2013) Smectite clay from the Sabga deposit (Cameroon): mineralogical and physicochemical properties. Clay Miner 48(3):499–512

Mahaninia MH, Wilson LD (2016) Modular cross-linked chitosan beads with calcium doping for enhanced adsorptive uptake of organophosphate anions. Ind Eng Chem Res 55(45):11706–11715

McConville CJ (2001) Thermal transformations in kaolinite clay minerals, pp. 149-160, Wiley Online Library.

Mouni L, Belkhiri L, Bollinger J-C, Bouzaza A, Assadi A, Tirri A, Dahmoune F, Madani K, Remini H (2018) Removal of methylene blue from aqueous solutions by adsorption on kaolin: kinetic and equilibrium studies. Appl Clay Sci 153:38–45

Nayak PS, Singh B (2007) Instrumental characterization of clay by XRF, XRD and FTIR. Bull Mater Sci 30(3):235–238

Ngon GFN, Etame J, Ntamak-Nida MJ, Mbog MB, Mpondo AMM, Gérard M, Yongue-Fouateu R, Bilong P (2012) Geological study of sedimentary clayey materials of the Bomkoul area in the Douala region (Douala sub-basin, Cameroon) for the ceramic industry. Compt Rendus Geosci 344(6-7):366–376

Njoya A, Nkoumbou C, Grosbois C, Njopwouo D, Njoya D, Courtin-Nomade A, Yvon J, Martin F (2006) Genesis of Mayouom kaolin deposit (western Cameroon). Appl Clay Sci 32(1-2):125–140

Nzeugang AN, Eko RM, Fagel N, Kabeyene VK, Njoya A, Madi AB, Mache J, Chinje UM (2013) Characterization of clay deposits of Nanga-Eboko (central Cameroon): suitability for the production of building materials. Clay Miner 48(4):655–662

Panda AK, Mishra BG, Mishra DK, Singh RK (2010) Effect of sulphuric acid treatment on the physico-chemical characteristics of kaolin clay. Colloids Surf A Physicochem Eng Asp 363(1-3):98–104

Pialy P, Nkoumbou C, Villiéras F, Razafitianamaharavo A, Barres O, Pelletier M, Ollivier G, Bihannic I, Njopwouo D, Yvon J (2008) Characterization for industrial applications of clays from Lembo deposit, Mount Bana (Cameroon). Clay Miner 43(3):415–435

Quintelas C, Rocha Z, Silva B, Fonseca B, Figueiredo H, Tavares T (2009) Removal of Cd (II), Cr (VI), Fe (III) and Ni (II) from aqueous solutions by an E. coli biofilm supported on kaolin. Chem Eng J 149(1-3):319–324

Rodrigues AE, Silva CM (2016) What's wrong with Lagergreen pseudo first order model for adsorption kinetics? Chem Eng J 306:1138–1142

Sari A, Tuzen M, Citak D, Soylak M (2007) Equilibrium, kinetic and thermodynamic studies of adsorption of Pb (II) from aqueous solution onto Turkish kaolinite clay. J Hazard Mater 149(2):283–291

Shahmohammadi-Kalalagh S (2011) Isotherm and kinetic studies on adsorption of Pb, Zn and Cu by kaolinite. Caspian J Environ Sci 9(2):243–255

Sharifpour E, Khafri HZ, Ghaedi M, Asfaram A, Jannesar R (2018) Isotherms and kinetic study of ultrasound-assisted adsorption of malachite green and Pb2+ ions from aqueous samples by copper sulfide nanorods loaded on activated carbon: experimental design optimization. Ultrason Sonochem 40:373–382

Tsozué D, Nzeugang AN, Mache JR, Loweh S, Fagel N (2017) Mineralogical, physico-chemical and technological characterization of clays from Maroua (Far-North, Cameroon) for use in ceramic bricks production. J Build Eng 11:17–24

Woumfo ED, Djomgoue P, Tamfuh PA, Bitom D, Figueras F, Njopwouo D (2010) Clays from the Bafang region (West Cameroon): properties and potential application as decolorizing agent of river water. Appl Clay Sci 50(3):322–329

Zhang Q, Yan Z, Ouyang J, Zhang Y, Yang H, Chen D (2018) Chemically modified kaolinite nanolayers for the removal of organic pollutants. Appl Clay Sci 157:283–290

Zhou Z, Cai X, Ma D, Cao W, Chen L, Zhou J (2018) Effects of water content on fracture and mechanical behavior of sandstone with a low clay mineral content. Eng Fract Mech 193:47–65
Acknowledgments
The authors sincerely thank the "Institut de Mines Transatlantique de Nantes" for the XRD, XRF, ATR, and BET analysis, and the members of the "Adsorption and Surface" research unit of the Physical and Theoretical Chemistry Laboratory, University of Yaoundé 1, for their suggestions and remarks.
Funding
The authors wish to thank the Ministry of Higher Education of Cameroon for financial support.
Additional information
Publisher's note
Springer Nature remains neutral with regard to jurisdictional claims in published maps and institutional affiliations.
Responsible editor: Tito Roberto Cadaval Jr
About this article
Cite this article
Kentsa, E., Abi, C.F., Ngomo, H.M. et al. Characterization of Akilbenza clay from Cameroon and its performance for the removal of copper(II) ions from aqueous solution. Environ Sci Pollut Res (2020). https://doi.org/10.1007/s11356-020-09502-9
Received:

Accepted:

Published:
Keywords
Adsorption

Chemisorption

Akilbenza clay

Cu(II) ions

Kaolinite