Abstract
Due to the implementation of "electrical energy substitution" strategy in China, the proportion of electrical energy in terminal energy consumption is increasing. The improvement of electrical energy efficiency could increase overall energy efficiency. Thus, a special attention should be paid on electrical energy efficiency. An input-oriented epsilon-based measure-DEA (data envelopment analysis) model was used to measure electrical energy efficiency from the perspective of total factor, and the spatial-temporal variability of electrical energy efficiency was investigated. Results draw that the overall electrical energy efficiency is relatively low and shows a downward trend. The eastern region has the best scores of electrical energy efficiency, followed by the central region and then the western region. Furthermore, the main associated determinants were investigated by panel Tobit regression model. It was found that the effect of industrial structure and economic opening degree on electrical energy efficiency is positive on the whole country level, whereas the effect of government intervention and urbanization is negative. From a regional perspective, there are great differences in the effect of each influencing factors. Some corresponding policy recommendations are given.
This is a preview of subscription content, log in to check access.
Access options
Buy single article
Instant access to the full article PDF.
US$ 39.95
Price includes VAT for USA
Subscribe to journal
Immediate online access to all issues from 2019. Subscription will auto renew annually.
US$ 99
This is the net price. Taxes to be calculated in checkout.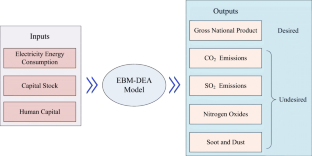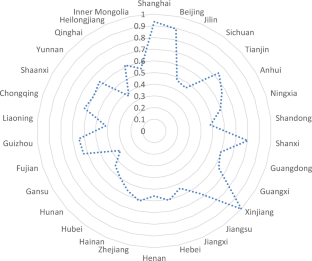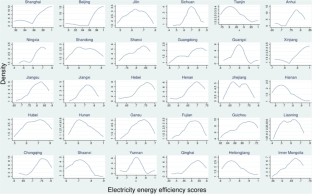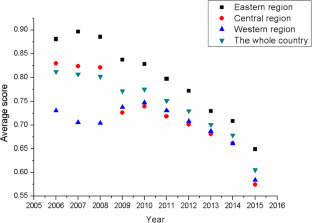 References
Chen N, Xu L, Chen Z (2017) Environmental efficiency analysis of the Yangtze River Economic Zone using super efficiency data envelopment analysis (SEDEA) and tobit models. Energy 134:659–671

Färe R, Grosskopf S, Lovell CAK, Pasurka C (1989) Multilateral productivity comparisons when some outputs are undesirable: a nonparametric approach. Rev Econ Stat 71(1):90–98

Feng C, Wang M (2017) Analysis of energy efficiency and energy savings potential in China's provincial industrial sectors. J Clean Prod 164:1531–1541

Guo X, Lu C-C, Lee J-H, Chiu Y-H (2017a) Applying the dynamic DEA model to evaluate the energy efficiency of OECD countries and China. Energy 134:392–399

Guo X, Sheng P, He Y (2017b) The impact of urbanization on energy consumption and efficiency. Energy Environ

Hailu A, Veeman TS (2001) Non-parametric productivity analysis with undesirable outputs: an application to the Canadian pulp and paper industry. Am J Agric Econ 83(3):605–616

Hang L, Tu M (2007) The impacts of energy prices on energy intensity: evidence from China. Energy Policy 35(5):2978–2988

He Y, Jiao J, Chen Q, Ge S, Chang Y, Xu Y (2017) Urban long term electricity demand forecast method based on system dynamics of the new economic normal: The case of Tianjin. Energy 133:9–22

Herrerias MJ (2013) Seasonal anomalies in electricity intensity across Chinese regions. Appl Energy 112:1548–1557

Honma S, Hu J-L (2009) Total-factor energy productivity growth of regions in Japan. Energy Policy 37(10):3941–3950

Huang H, Wang T (2017) The total-factor energy efficiency of regions in China: based on three-stage SBM model. Sustainability 9(9):1664

Inglesi-Lotz R, Blignaut JN (2012) Electricity intensities of the OECD and South Africa: a comparison. Renew Sust Energ Rev 16(7):4491–4499

Kao H-Y, Wu D-J, Huang C-H (2017) Evaluation of cloud service industry with dynamic and network DEA models. Appl Math Comput 315:188–202

Khushalani J, Ozcan YA (2017) Are hospitals producing quality care efficiently? An analysis using Dynamic Network Data Envelopment Analysis (DEA). Socio Econ Plan Sci 60:15–23

Li K, Song M (2016) Green development performance in China: a metafrontier non-radial approach. Sustainability 8(3):219

Li L-B, Liu B-L, Liu W-L, Chiu Y-H (2017) Efficiency evaluation of the regional high-tech industry in China: a new framework based on meta-frontier dynamic DEA analysis. Socio Econ Plan Sci 60:24–33

Li T, Wang Y, Zhao D (2016) Environmental Kuznets Curve in China: New evidence from dynamic panel analysis. Energy Policy 91:138-147

Liddle B (2010) Revisiting world energy intensity convergence for regional differences. Appl Energy 87:3218–3225

Lin J, Xu C (2017) The impact of environmental regulation on total factor energy efficiency: a cross-region analysis in China. Energies 10(10):1578

Lin B, Zhao H (2016) Technology gap and regional energy efficiency in China's textile industry: a non-parametric meta-frontier approach. J Clean Prod 137:21–28

Lin B, Zheng Q (2017) Energy efficiency evolution of China's paper industry. J Clean Prod 140:1105–1117

Lin B, Zhu J (2020) Chinese electricity demand and electricity consumption efficiency: Do the structural changes matter? Appl Energy 262:114505

Liu CN, Zhang LY, Liu YQ, Liu CN, Zhang LY, Liu YQ, Liu CN, Zhang LY, Liu YQ (2017a) Total-factor energy efficiency of regions in China considering natural disaster effects. Appl Ecol Environ Res 15(3):155–169

Liu J, Cheng Z, Zhang H (2017b) Does industrial agglomeration promote the increase of energy efficiency in China? J Clean Prod 164:30–37

Lundgren T, Zhou W (2017) Firm performance and the role of environmental management. J Environ Manag 203:330–341

Meleddu M, Pulina M (2018) Public spending on renewable energy in Italian regions. Renew Energy 115:1086–1098

Miao C, Fang D, Sun L, Luo Q, Yu Q (2018) Driving effect of technology innovation on energy utilization efficiency in strategic emerging industries. J Clean Prod 170:1177–1184

Scheel H (2001) Undesirable outputs in efficiency valuations. Eur J Oper Res 132(2):400–410

Seiford LM, Zhu J (2002) Modeling undesirable factors in efficiency evaluation. Eur J Oper Res 142(1):16–20

Shao Y (2017) Analysis of energy savings potential of China's nonferrous metals industry. Resour Conserv Recycl 117:25–33

Solarin SA (2019) Parametric and non-parametric convergence analysis of electricity intensity in developed and developing countries. Environ Sci Pollut Res 26:8552–8574

Song M, An Q, Zhang W, Wang Z, Wu J (2012) Environmental efficiency evaluation based on data envelopment analysis: a review. Renew Sust Energ Rev 16(7):4465–4469

Su S, Fang X, Zhao J, Hu J (2017) Spatiotemporal characteristics of consumption based CO2 emissions from China's power sector. Resour Conserv Recycl 121:156–163

Sudarshan A (2013) Deconstructing the Rosenfeld curve: making sense of California's low electricity intensity. Energy Econ 39:197–207

Thanassoulis E, Sotiros D, Koronakos G, Despotis D (2018) Assessing the cost-effectiveness of university academic recruitment and promotion policies. Eur J Oper Res 264(2):742–755

Tobin J (1958) Estimation of relationships for limited dependent variables. Econometrica 26(1):24–36

Tone K, Tsutsui M (2010) An epsilon-based measure of efficiency in DEA–A third pole of technical efficiency. Eur J Oper Res 207(3):1554–1563

Wang X, Li Z, Meng H, Wu J (2017) Identification of key energy efficiency drivers through global city benchmarking: a data driven approach. Appl Energy 190:18–28

Xu T, Zhu C, Shi L, Gao L, Zhang M (2017) Evaluating energy efficiency of public institutions in China. Resour Conserv Recycl 125:17–24

Yang L, Ouyang H, Fang K, Ye L, Zhang J (2015) Evaluation of regional environmental efficiencies in China based on super-efficiency-DEA. Ecol Indic 51(Supplement C):13–19

Zhang J (2008a) Estimation of China's provincial capital stock (1952–2004) with applications. J Chin Econ Bus Stud 6(2):177–196

Zhang J (2008b) Estimation of China's provincial capital stock (1952–2004) with applications. J Chin Econ Bus Stud 6(2):177–196

Zhang J, Fang H, Wang H, Jia M, Wu J, Fang S (2017) Energy efficiency of airlines and its influencing factors: a comparison between China and the United States. Resour Conserv Recycl 125:1–8
Funding
The project was jointly supported by the Humanities and Social Sciences Planned Fund of Ministry of Education of China (Grant No. 19YJA630103), the Open Funds of Regional Innovation Capabilities Monitoring and Analysis Soft Science Research Base of Hubei Province (Grant No. HBQY2020z12 and No. HBQY2020z05) and the Fundamental Research Funds for the Central Universities, China University of Geosciences (Wuhan) (Grant No. CUGQY1942).
Additional information
Publisher's note
Springer Nature remains neutral with regard to jurisdictional claims in published maps and institutional affiliations.
Highlights
1. Electrical energy efficiency in China is decreasing.
2. Improving industrial structure could increase electrical energy efficiency.
3. Economic opening degree has positive effect on electrical energy efficiency.
Responsible editor: Nicholas Apergis
About this article
Cite this article
Guang, F. Electrical energy efficiency of China and its influencing factors. Environ Sci Pollut Res (2020). https://doi.org/10.1007/s11356-020-09486-6
Received:

Accepted:

Published:
Keywords
Electrical energy efficiency

Undesirable results

Epsilon-based measure

China
JEL classification