Abstract
In practical conditions, the remediation efficiency is always very limited due to the rapid aggregation and deactivation of nanoscale zero-valent iron (nZVI). Porous SiO2-coated technology can effectively suppress the agglomeration and oxidation of nZVI particle, resulting in the excellent dispersion and stability in water. A series of characterization results show that the porous SiO2-coated Fe0 (Fe0@p-SiO2) was a core-shell structure composite, with Fe0 as the core and the porous SiO2 as the shell. Moreover, the prepared composite material has a large specific surface area (244.04 m2/g). The experiments of nitrobenzene (NB) reduction and one-dimensional simulation column indicated that the different amounts of NaOH in the preparation process lead to the different structures, shapes, and particle sizes of prepared composite materials, which have significant effects on its activity and transportability. Under the conditions investigated, the optimum ratio of Fe0@p-SiO2 synthesis was nFe3+:n(Tetraethoxy silane, TEOS):nNaOH = 1:1.85:1.19, and the corresponding reduction efficiency of NB to aniline (AN) and maximum normalized outflow concentration (Cmax/C0) was 100% and 0.79, respectively. The SiO2-coated technology gives nZVI preparation greater control over the structure, shape, and particle size of modified nZVI composite, which has great potential in in situ remediation of groundwater contamination.
This is a preview of subscription content, log in to check access.
Access options
Buy single article
Instant access to the full article PDF.
US$ 39.95
Price includes VAT for USA
Subscribe to journal
Immediate online access to all issues from 2019. Subscription will auto renew annually.
US$ 99
This is the net price. Taxes to be calculated in checkout.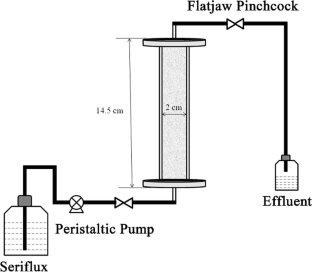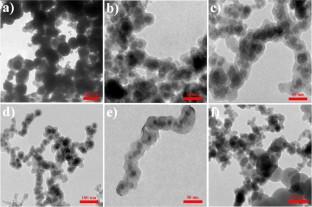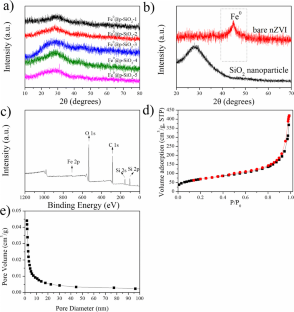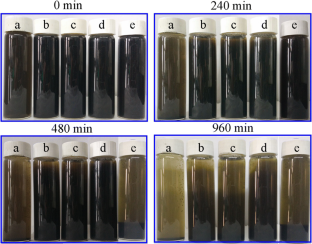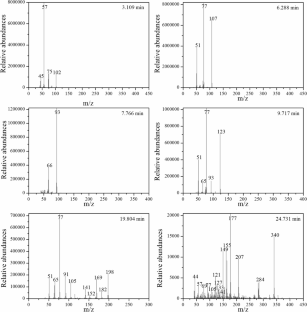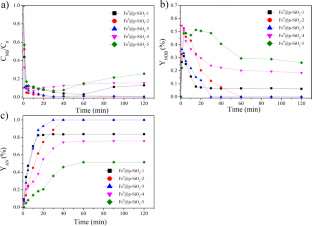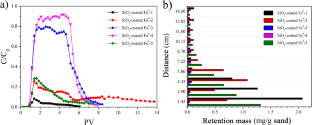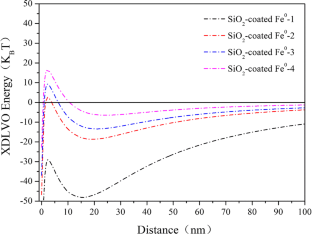 References
Basnet M, Ghoshal S, Tufenkji N (2013) Rhamnolipid biosurfactant and soy protein act as effective stabilizers in the aggregation and transport of palladium-doped zerovalent iron nanoparticles in saturated porous media. Environ Sci Technol 47:13355–13364

Ben-Moshe T, Dror I, Berkowitz B (2010) Transport of metal oxide nanoparticles in saturated porous media. Chemosphere 81:387–393

Bhattacharjee S, Basnet M, Tufenkji N, Ghoshal S (2016) Effects of rhamnolipid and carboxymethylcellulose coatings on reactivity of palladium-doped nanoscale zerovalent iron particles. Environ Sci Technol 50:1812–1820

Cunningham JA, Rahme H, Hopkins GD, Lebron C, Reinhard M (2001) Enhanced in situ bioremediation of BTEX-contaminated groundwater by combined injection of nitrate and sulfate. Environ Sci Technol 35:1663–1670

Glocheux Y, Albadarin AB, Mangwandi C, Stewart E, Walker GM (2015) Production of porous aluminium and iron sulphated oxyhydroxides using industrial grade coagulants for optimised arsenic removal from groundwater. J Ind Eng Chem 25:56–66

Hahn MW, O'Melia CR (2004) Deposition and reentrainment of Brownian particles in porous media under unfavorable chemical conditions: some concepts and applications. Environ Sci Technol 38:210–220

He Q, Shi J (2011) Mesoporous silica nanoparticle based nano drug delivery systems: synthesis, controlled drug release and delivery, pharmacokinetics and biocompatibility. J Mater Chem 21:5845–5855

Hoek EMV, Agarwal GK (2006) Extended DLVO interactions between spherical particles and rough surfaces. J Colloid Interface Sci 298:50–58

Hosseini SM, Tosco T (2013) Transport and retention of high concentrated nano-Fe/Cu particles through highly flow-rated packed sand column. Water Res 47:326–338

Li X, Janke A, Formanek P, Fery A, Stamm M, Tripathi BP (2018) One pot preparation of polysulfone-amino functionalized SiO2 nanoparticle ultrafiltration membranes for water purification. J Environ Chem Eng 6:4598–4604

Li D, Gui C, Ji G, Hu S, Yuan X (2019) An interpretation to Cr(VI) leaching concentration rebound phenomenon with time in ferrous-reduced Cr(VI)-bearing solid matrices. J Hazard Mater 378:120734

Lin Y, Chen Z, Chen Z, Megharaj M, Naidu R (2014) Decoloration of acid violet red B by bentonite-supported nanoscale zero-valent iron: reactivity, characterization, kinetics and reaction pathway. Appl Clay Sci 93-94:56–61

Liu F, Yang J, Zuo J, Ma D, Gan L, Xie B, Wang P, Yang B (2014) Graphene-supported nanoscale zero-valent iron: removal of phosphorus from aqueous solution and mechanistic study. J Environ Sci 26:1751–1762

Liu CJ, Werner D, Bellona C (2019) Removal of per- and polyfluoroalkyl substances (PFASs) from contaminated groundwater using granular activated carbon: a pilot-scale study with breakthrough modeling. Environ Sci: Water Res Technol 5:1844–1853

Lu H, Dong J, Zhang M, Hu W, Wen C, Yang C, Wu Y (2018) SiO2-coated zero-valent iron nanocomposites for aqueous nitrobenzene reduction in groundwater: performance, reduction mechanism and the effects of hydrogeochemical constituents. Colloids Surf A Physicochem Eng Asp 558:271–279

Mdlovu NV, Lin K-S, Dwitya SS, Chen C-Y, Chiang C-L (2018) Decontamination of 1,2-dichloroethane DNAPL in contaminated groundwater by polymer-modified zero-valent iron nanoparticles. Top Catal 61:1653–1664

Merrill JP, Suchomel EJ, Varadhan S, Asher M, Kane LZ, Hawley EL, Deeb RA (2019) Development and validation of technologies for remediation of 1,2,3-trichloropropane in groundwater. Curr Pollut Rep 5:228–237

Mines PD, Byun J, Hwang Y, Patel HA, Andersen HR, Yavuz CT (2016) Nanoporous networks as effective stabilisation matrices for nanoscale zero-valent iron and groundwater pollutant removal. J Mater Chem A 4:632–639

Phenrat T, Saleh N, Sirk K, Tilton RD, Lowry GV (2007) Aggregation and sedimentation of aqueous nanoscale zerovalent iron dispersions. Environ Sci Technol 41:284–290

Qiu X, Fang Z, Yan X, Cheng W, Lin K (2013) Chemical stability and toxicity of nanoscale zero-valent iron in the remediation of chromium-contaminated watershed. Chem Eng J 220:61–66

Schrick B, Hydutsky BW, Blough JL, Mallouk TE (2004) Delivery vehicles for zerovalent metal nanoparticles in soil and groundwater. Chem Mater 16:2187–2193

Slowing II, Trewyn BG, Giri S, Lin VSY (2007) Mesoporous silica nanoparticles for drug delivery and biosensing applications. Adv Funct Mater 17:1225–1236

Su J, Zhao J, Li L, Zhang C, Chen C, Huang T, Yu A (2017) Three-dimensional porous Si and SiO2 with in situ decorated carbon nanotubes as anode materials for Li-ion batteries. ACS Appl Mater Interfaces 9:17807–17813

Tang L, Tang J, Zeng G, Yang G, Xie X, Zhou Y, Pang Y, Fang Y, Wang J, Xiong W (2015) Rapid reductive degradation of aqueous p-nitrophenol using nanoscale zero-valent iron particles immobilized on mesoporous silica with enhanced antioxidation effect. Appl Surf Sci 333:220–228

Tiraferri A, Chen KL, Sethi R, Elimelech M (2008) Reduced aggregation and sedimentation of zero-valent iron nanoparticles in the presence of guar gum. J Colloid Interface Sci 324:71–79

Tong M, Camesano TA, Johnson WP (2005) Spatial variation in deposition rate coefficients of an adhesion-deficient bacterial strain in quartz sand. Environ Sci Technol 39:3679–3687

Tufenkji N, Elimelech M (2004) Correlation equation for predicting single-collector efficiency in physicochemical filtration in saturated porous media. Environ Sci Technol 38:529–536

Wang C, Bobba AD, Attinti R, Shen C, Lazouskaya V, Wang L-P, Jin Y (2012) Retention and transport of silica nanoparticles in saturated porous media: effect of concentration and particle size. Environ Sci Technol 46:7151–7158

Zhan J, Zheng T, Piringer G, Day C, McPherson GL, Lu Y, Papadopoulos K, John VT (2008) Transport characteristics of nanoscale functional zerovalent iron/silica composites for in situ remediation of trichloroethylene. Environ Sci Technol 42:8871–8876

Zhang Y, Xu X, Pan Y, Xu L, Zhou M (2019) Pre-magnetized Fe0 activated persulphate for the degradation of nitrobenzene in groundwater. Sep Purif Technol 212:555–562

Zheng T, Zhan J, He J, Day C, Lu Y, McPherson GL, Piringer G, John VT (2008) Reactivity characteristics of nanoscale zerovalent iron-silica composites for trichloroethylene remediation. Environ Sci Technol 42:4494–4499
Funding
This study was supported financially by the National Water Pollution Control and Treatment Science and Technology Major Project (2018ZX07109-001).
Additional information
Publisher's note
Springer Nature remains neutral with regard to jurisdictional claims in published maps and institutional affiliations.
Responsible Editor: Angeles Blanco
About this article
Cite this article
Xu, R., Li, J., Tang, J. et al. Research on the characterization, reactivity, and transportability of porous silicon-coated nanoscale zero-valent iron. Environ Sci Pollut Res (2020). https://doi.org/10.1007/s11356-020-09397-6
Received:

Accepted:

Published:
Keywords
Porous SiO2 coating

Nanoscale zero-valent iron

In situ remediation

Transportation