Abstract
Laccases are a group of copper-containing oxidase enzymes found in aquatic and terrestrial environment. They can catalyze one-electron oxidation of phenolic compounds to radical intermediates using molecular oxygen as the electron accepter. The radical intermediates can subsequently couple to each other to form dimers. In this study, we investigated the kinetics of tetrabromobisphenol A (TBBPA) transformation in laccase-catalyzed oxidation process. It was revealed that the removal of TBBPA was first order to the concentrations of both substrate and laccase. Natural organic matter (NOM) inhibited the reaction by reversing the oxidation of TBBPA. Such inhibition effect was more significant in the presence of Ca2+, Mg2+, Cd2+, Mn2+, and Co2+, but not Na+ or K+. This was because of the formation of NOM–metal complexes. Binding to metal ions neutralizes the negative charge of NOM, making it easier to access laccase molecules and thus have a greater chance to react with the radical intermediates. A numerical model that couples the laccase-catalyzed oxidation and NOM–metal-binding processes was constructed. This model successfully described the transformation of TBBPA in the presence of NOM and divalent metal ions in laccase-catalyzed oxidation process. Product identification indicated radical coupling and elimination was the main pathway of TBBPA transformation. Overall, this work provides important sights into the laccase-catalyzed oxidation process.
This is a preview of subscription content, log in to check access.
Access options
Buy single article
Instant access to the full article PDF.
US$ 39.95
Price includes VAT for USA
Subscribe to journal
Immediate online access to all issues from 2019. Subscription will auto renew annually.
US$ 99
This is the net price. Taxes to be calculated in checkout.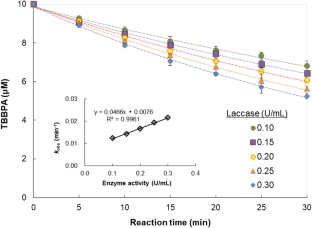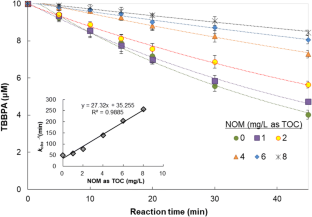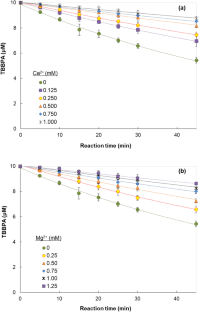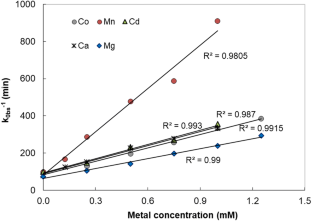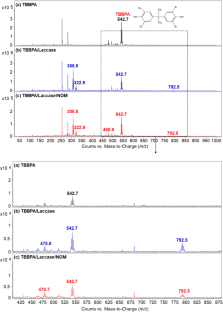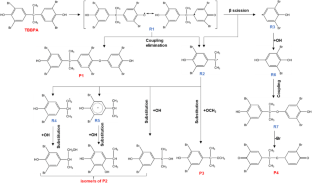 References
Auriol M, Filali-Meknassi Y, Tyagi RD, Adams CD (2007) Laccase-catalyzed conversion of natural and synthetic hormones from a municipal wastewater. Water Res 41:3281–3288

Auriol M, Filali-Meknassi Y, Adams CD, Tyagi RD, Noguerol TN, Pina B (2008) Removal of estrogenic activity of natural and synthetic hormones from a municipal wastewater: efficiency of horseradish peroxidase and laccase from Trametes versicolor. Chemosphere 70:445–452

Baldrian P (2006) Fungal laccases—occurrence and properties. FEMS Microbiol Rev 30:215–242

Bertrand B, Martinez-Morales F, Tinoco-Valencia R, Rojas S, Acosta-Urdapilleta L, Trejo-Hernandez MR (2015) Biochemical and molecular characterization of laccase isoforms produced by the white-rot fungus Trametes versicolor under submerged culture conditions. J Molec Catal B-Enzymatic 122:339–347

Bialk HM, Hedman C, Castillo A, Pedersen JA (2007) Laccase-mediated Michael addition of N-15-sulfapyridine to a model humic constituent. Environ Sci Technol 41:3593–3600

Birnbaum LS, Staskal DF (2003) Brominated flame retardants: cause for concern? Environ Health Perspect 112:9–17

Bollag JM (1992) Decontaminating soil with enzymes. Environ Sci Technol 26:1876–1881

Canas AI, Alcalde M, Plou F, Martinez MJ, Martinez AT, Camarero S (2007) Transformation of polycyclic aromatic hydrocarbons by laccase is strongly enhanced by phenolic compounds present in soil. Environ Sci Technol 41:2964–2971

Cozzolino A, Piccolo A (2002) Polymerization of dissolved humic substances catalyzed by peroxidase. Effects of pH and humic composition. Org Geochem 33:281–294

Croué JP, Korshin GV, Leenheer JA, Benjamin MM (2000) Characterization of natural organic matter in drinking water. AWWA Research Foundation and American Water Works Association, Denver

Dai YR, Yin LF, Niu JF (2011) Laccase-carrying electrospun fibrous membranes for adsorption and degradation of PAHs in shoal soils. Environ Sci Technol 45:10611–10618

Darnerud PO (2003): Toxic effects of brominated flame retardants in man and in wildlife. Environ Int 29(6), 841-853,

de Cazes M, Belleville MP, Mougel M, Kellner H, Sanchez-Marcano J (2015) Characterization of laccase-grafted ceramic membranes for pharmaceuticals degradation. J Membr Sci 476:384–393

de Wit CA (2002) An overview of brominated flame retardants in the environment. Chemosphere 46:583–624

Feng Y, Colosi L, Gao S, Huang Q, Mao L (2013) Transformation and removal of tetrabromobisphenol a from water in the presence of natural organic matter via laccase-catalyzed reactions: reaction rates, products, and pathways. Environ Sci Technol 47:1001–1008

Hedges JI (1988) Polymerization of humic substances in natural environments. Humic substances and their role in the environment. John Wiley & Sons

Huang Q, Weber WJ (2004) Peroxidase-catalyzed coupling of phenol in the presence of model inorganic and organic solid phases. Environ Sci Technol 38:5238–5245

Itoh K, Fujita M, Kumano K, Suyama K, Yamamoto H (2000) Phenolic acids affect transformations of chlorophenols by a Coriolus versicolor laccase. Soil Biol Biochem 32:85–91

Keum YS, Li QX (2004) Copper dissociation as a mechanism of fungal laccase denaturation by humic acid. Appl Microbiol Biotechnol 64:588–592

Kim YJ, Nicell JA (2006) Impact of reaction conditions on the laccase-catalyzed conversion of bisphenol A. Bioresour Technol 97:1431–1442

Kinniburgh DG, Milne CJ, Benedetti MF, Pinheiro JP, Filius J, Koopal LK, VanRiemsdijk WH (1996) Metal ion binding by humic acid: application of the NICA-Donnan model. Environ Sci Technol 30:1687–1698

Koopal LK, Saito T, Pinheiro JP, van Riemsdijk WH (2005) Ion binding to natural organic matter: general considerations and the NICA-Donnan model. Colloids Surf A-Physicochem Eng Aspects 265:40–54

Leonowicz A, Cho NS, Luterek J, Wilkolazka A, Wojtas-Wasilewska M, Matuszewska A, Hofrichter M, Wesenberg D, Rogalski J (2001) Fungal laccase: properties and activity on lignin. J Basic Microbiol 41:185–227

Lloret L, Eibes G, Moreira MT, Feijoo G, Lema JM (2013) Removal of estrogenic compounds from filtered secondary wastewater effluent in a continuous enzymatic membrane reactor. Identification of biotransformation products. Environ Sci Technol 47:4536–4543

Lorenzo M, Moldes D, Couto SR, Sanroman MA (2005) Inhibition of laccase activity from Trametes versicolor by heavy metals and organic compounds. Chemosphere 60:1124–1128

Lu J, Huang Q (2009) Removal of acetaminophen using enzyme-mediated oxidative coupling processes: II. Cross-coupling with natural organic matter. Environ Sci Technol 43:7068–7073

Lu J, Huang Q, Mao L (2009) Removal of acetaminophen using enzyme-mediated oxidative coupling processes: I. Reaction rates and pathways. Environ Sci Technol 43:7062–7067

Lu J, Shi Y, Ji Y, Kong D, Huang Q (2017) Transformation of triclosan by laccase catalyzed oxidation: the influence of humic acid-metal binding process. Environ Pollut 220:1418–1423

Luo Q, Lu J, Zhang H, Wang Z, Feng M, Chiang S-YD, Woodward D, Huang Q (2015) Laccase-catalyzed degradation of perfluorooctanoic acid. Environ SciTechnol Lett 2:198–203

Luo Q, Wang Z, Feng M, Chiang D, Woodward D, Liang S, Lu J, Huang Q (2017) Factors controlling the rate of perfluorooctanoic acid degradation in laccase-mediator systems: the impact of metal ions. Environ Pollut 224:649–657

Luo Q, Yan X, Lu J, Huang Q (2018) Perfluorooctanesulfonate degrades in a laccase-mediator system. Environ Sci Technol 52:10617–10626

Mao L, Huang Q, Luo Q, Lu J, Yang X, Gao S (2010) Ligninase-mediated removal of 17 beta-estradiol from water in the presence of natural organic matter: efficiency and pathways. Chemosphere 80:469–473

Milne CJ, Kinniburgh DG, Tipping E (2001) Generic NICA-Donnan model parameters for proton binding by humic substances. Environ Sci Technol 35:2049–2059

Milne CJ, Kinniburgh DG, Van Riemsdijk WH, Tipping E (2003) Generic NICA-Donnan model parameters for metal-ion binding by humic substances. Environ Sci Technol 37:958–971

Morris S, Allchin CR, Zegers BN, Haftka JJH, Boon JP, Belpaire C, Leonards PEG, van Leeuwen SPJ, de Boer J (2004) Distribution and fate of HBCD and TBBPA brominated flame retardants in North Sea estuaries and aquatic food webs. Environ Sci Technol 38:5497–5504

Murugesan K, Chang Y-Y, Kim Y-M, Jong-Rok J, Kim E-J, Chang Y-S (2010) Enhanced transformation of triclosan by laccase in the presence of redox mediators. Water Res 44:298–308

Nyholm JR, Lundberg C, Andersson PL (2010) Biodegradation kinetics of selected brominated flame retardants in aerobic and anaerobic soil. Environ Pollut 158(6):2235–2240

Okazaki SY, Michizoe J, Goto M, Furusaki S, Wariishi H, Tanaka H (2002) Oxidation of bisphenol A catalyzed by laccase hosted in reversed micelles in organic media. Enzym Microb Technol 31:227–232

Osako M, Kim Y, Sakai S (2004) Leaching of brominated flame retardants in leachate from landfills in Japan. Chemosphere 57:1571–1579

Park N, Park SS (2014) Purification and characterization of a novel laccase from Fomitopsis pinicola mycelia. Int J Biol Macromol 70:583–589

Park JW, Dec J, Kim JE, Bollag JM (1999) Effect of humic constituents on the transformation of chlorinated phenols and anilines in the presence of oxidoreductive enzymes or birnessite. Environ Sci Technol 33(12):2028–2034

Piccolo A (2002) The supramolecular structure of humic substances: a novel understanding of humus chemistry and implications in soil science. Adv Agron 75:57–134

Sharma MC, Baxi S, Sharma KK, Singh M, Patel S (2014) Heavy metal ions levels and related physicochemical parameters in soils in the vicinity of a paper industry location in Nahan area of Himachal Pradesh. J Environ Anal Toxicol 4:236

Shi H, Peng J, Li J, Mao L, Wang Z, Gao S (2016) Laccase-catalyzed removal of the antimicrobials chlorophene and dichlorophen from water: reaction kinetics, pathway and toxicity evaluation. J Hazard Mater 317:81–89

Sillanpaa M (2014) Natural organic matter in water: characterization and treatment. Butterworth-Heinemann

Stevenson FJ (1994) Humus chemistry: genesis, composition, reactions. Wiley, New York, p 512

Sun HF, Huang WG, Yang H, Zhang SJ (2016) Co-immobilization of laccase and mediator through a self-initiated one-pot process for enhanced conversion of malachite green. J Colloid Interface Sci 471:20–28

Torres E, Bustos-Jaimes I, Le Borgne S (2003) Potential use of oxidative enzymes for the detoxification of organic pollutants. Appl Catal B-Environ 46:1–15

Weber WJ Jr, Huang Q (2003) Interactions of soil-derived dissolved organic matter with phenol in peroxidase-catalyzed oxidative coupling reactions. Environ Sci Technol 37:4221–4227

Xia Q, Kong D, Liu G, Huang Q, Alalewi A, Lu J (2014) Removal of 17 beta-estradiol in laccase catalyzed treatment processes. Front Environ Sci Eng 8:372–378

Zhang M, Wu F, Wei ZY, Xiao YZ, Gong WM (2006) Characterization and decolorization ability of a laccase from Panus rudis. Enzym Microb Technol 39:92–97

Zhang J, Liu X, Xu Z, Chen H, Yang Y (2008) Degradation of chlorophenols catalyzed by laccase. Int Biodeterior Biodegradation 61:351–356
Funding
The work was supported by the priority Academic Program Development (PAPD) of Jiangsu Higher Education Institute.
Additional information
Publisher's note
Springer Nature remains neutral with regard to jurisdictional claims in published maps and institutional affiliations.
Responsible editor: Vítor Pais Vilar
About this article
Cite this article
Yang, P., Zhang, T. & Lu, J. Coupling of natural organic matter–metal binding and laccase-catalyzed oxidation of tetrabromobisphenol A. Environ Sci Pollut Res (2020). https://doi.org/10.1007/s11356-020-09352-5
Received:

Accepted:

Published:
Keywords
Laccase

Tetrabromobisphenol A

Oxidative coupling

Modeling

NOM

Metals