Abstract
In the present work, a polymer inclusion membrane (PIM) using an amphiphilic molecule Tween 20 (TW20) as the carrier was developed and characterized to hinder environmental contamination caused by norfloxacin (NRF), an antibiotic widely used in veterinary and human medicines. Fourier-transform infrared spectroscopy (FTIR) and scanning electron microscopy (SEM) coupled with energy X-ray dispersion spectroscopy (EDS) were used to reveal the composition, porosity, and morphology of the elaborated membrane. In order to measure the performance of the as-developed membrane, the influences of NRF initial concentration (C0 = 0.04 mol L−1, 0.02 mol L−1, 0.01 mol L−1, and 0.005 mol L−1), pH (2.6, 4.5, and 10.5), and temperature (T = 298 K, 303 K, and 305 K) were investigated. The evolution of macroscopic (permeability (P) and initial flux (J0)), microscopic (association constant (Kass) and apparent diffusion coefficient (D*)), and activation parameters (activation energy (Ea), enthalpy (∆H≠ass), and entropy (∆S≠)) was analyzed. It was found that TW20 was an effective agent for the extraction and recovery of different forms of NRF, especially the zwitterion form appeared at pH = 4.5. On the other hand, for the biologically active NRF compound, the mechanisms of the studied processes were controlled by the kinetic aspect rather than the energetic counterpart.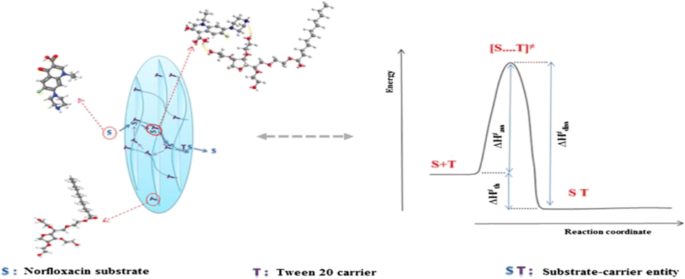 This is a preview of subscription content, log in to check access.
Access options
Buy single article
Instant access to the full article PDF.
US$ 39.95
Price includes VAT for USA
Subscribe to journal
Immediate online access to all issues from 2019. Subscription will auto renew annually.
US$ 99
This is the net price. Taxes to be calculated in checkout.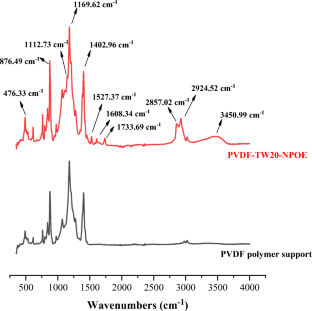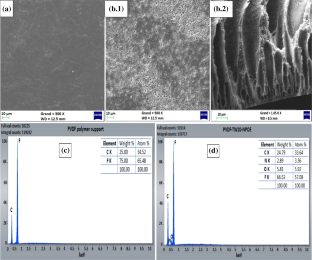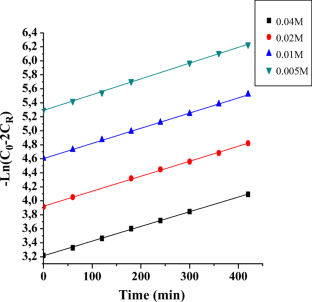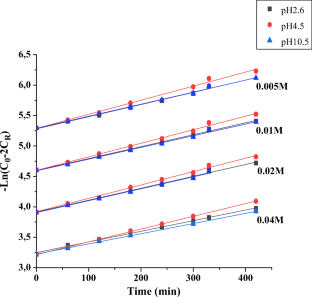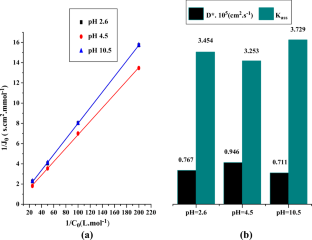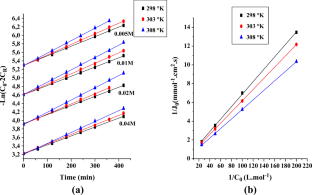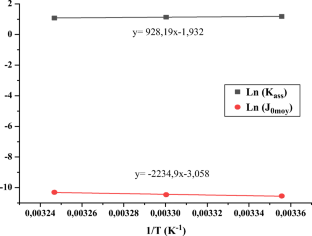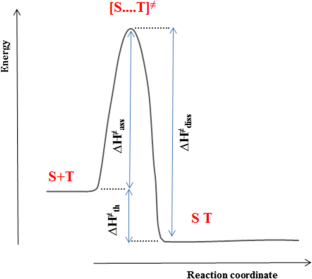 Abbreviations
[T]0 :

Concentration of carrier in the membrane phase (mol L−1)

C 0 :

Initial concentration of norfloxacin in the feed phase (mol L−1)

C R :

Concentration of norfloxacin in the receiving phase (mol L−1)

P :

Permeability of the membrane (cm2 s−1)

J 0 :

Initial flux (mmol s−1 cm−2)

D* :

Apparent diffusion coefficient (cm2 s−1)

K ass :

Association constant

l :

Membrane thickness (μm)

t :

Time (s)

V :

Volume of the receiving phase (cm3)

S :

Active area of the membrane (cm2)

T :

Temperature (K)

R :

Ideal gas constant (J mol−1 K−1)

E a :

Activation energy (KJ mol−1)

∆H ≠ ass :

Activation association enthalpy (KJ mol−1)

∆H ≠ diss :

Activation dissociation enthalpy (KJ mol−1)

∆S ≠ :

Activation entropy (KJ mol−1 K−1)
Funding
This work was financially supported by the Ministry of Higher Education and Scientific Research (MESRSFC) Morocco and the National Center for Scientific and Technical Research (CNRST) Morocco, out within the framework of the PPR2 project.
Additional information
Publisher's note
Springer Nature remains neutral with regard to jurisdictional claims in published maps and institutional affiliations.
PPR2 Project: Ministry of Higher Education, Scientific Research and Management Training - National Center for Scientific and Technical Research
Responsible Editor: Tito Roberto Cadaval Jr
Electronic supplementary material
About this article
Cite this article
Louafy, R., Benelyamani, A., Tarhouchi, S. et al. Parameters and mechanism of membrane-oriented processes for the facilitated extraction and recovery of norfloxacin active compound. Environ Sci Pollut Res (2020). https://doi.org/10.1007/s11356-020-09311-0
Received:

Accepted:

Published:
Keywords
Polymer inclusion membranes

Oriented processes

Antibiotics

Permeability

Apparent diffusion coefficient

Kinetic and energetic aspects