Abstract
As a global problem, climate warming has received widespread attention recently. With trade development and labor division deepening, there exist large differences in carbon emission intensity (CEI) embodied in different trade patterns. Assessing environmental costs of different trade patterns is the core issue for policy makers. We decompose the overall CEI embodied in trade into CEI embodied in final goods trade, domestic trade, traditional intermediate trade, and global value chain trade. Using global multi-region input-output table provided by the WIOD database, we calculate the CEI embodied in different trade patterns during 1995–2014. Further, we analyze the influencing factors of CEI embodied in different trade patterns. We find that CEI embodied in domestic trade is lower than that of international trade. All kinds of embodied CEI in developing countries are higher than that in developed countries. Furthermore, the driving factors of the overall embodied CEI, including domestic trade and international trade, are population, PGDP, energy intensity, and trade. The expansion of industrialization can effectively reduce the CEI embodied in trade of developing countries. The increase of PGDP and industrialization can effectively reduce the CEI embodied in trade related to global value chain and traditional intermediate trade, while only the increase of PGDP can effectively reduce the CEI embodied in domestic trade and final goods trade. Population can reduce the embodied CEI in trade related to global value chain and traditional intermediate trade of developed countries. Economic development can almost promote the reduction of the CEI embodied in all trade patterns. Although industrialization has insignificant impact on the CEI embodied in final goods trade of the developed countries, it can reduce such CEI of developing countries.
This is a preview of subscription content, log in to check access.
Access options
Buy single article
Instant access to the full article PDF.
US$ 39.95
Price includes VAT for USA
Subscribe to journal
Immediate online access to all issues from 2019. Subscription will auto renew annually.
US$ 99
This is the net price. Taxes to be calculated in checkout.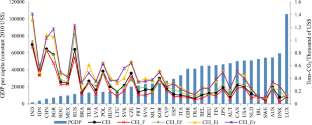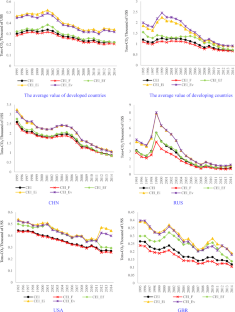 Notes
1.

2.

Data for 35 sectors are classified according to the International Standard Industrial Classification revision 3 (ISIC Rev. 3).

3.

Data for 56 sectors are classified according to the International Standard Industrial Classification revision 4 (ISIC Rev. 4).

4.

In order to compare the results and the reasonableness of the data, this article deletes Estonia (EST), Greece (GRC), Taiwan (TWN), and other countries (ROW) in WIOD. According to the national classification of World Economic Situation and Prospects 2018, we divided the remaining 37 countries into 8 developing countries and 29 developed countries. Among them, except for CHN, IND, IDN, RUS, BRA, KOR, MEX, and TUR, which belong to developing countries, the rest belong to developed countries.
References
Arce González G, Cadarso Vecina MÁ, López Santiago L (2012) Indirect pollution haven hypothesis in a context of global value chain//Final WIOD Conference: Causes and Consequences of Globalization. Groningen, The Netherlands

Brizga J, Feng K, Hubacek K (2013) Drivers of CO2 emissions in the former Soviet Union: a country level IPAT analysis from 1990 to 2010. Energ. 59:743–753

Dietz T, Rosa EA (1994) Rethinking the environmental impacts of population, affluence and technology. Hum Ecol Rev 1(2):277–300

Duan YW, Jiang XM (2017) Temporal change of China's pollution terms of trade and its determinants. Ecol Econ 132:31–44

Ehrlich PR, Holdren JP (1971) Impact of population growth. Sci. 171(3977):1212–1217

Fan Y, Liu LC, Wu G, Wei YM (2006) Analyzing impact factors of CO2 emissions using the STIRPAT model. Environ Impact Asses 26(4):377–395

Grether, J.M., Mathys, N.A., 2008. Measuring the pollution terms of trade with technique effects. Working paper, January 20.

Huang J (2018) Investigating the driving forces of China's carbon intensity based on a dynamic spatial model. Environ Sci Pollut Res 25(22):21833–21843

IAEA, 2005. Energy indicators for sustainable development: guidelines and methodologies. International Atomic Energy Agency, United Nations Department of Economic and Social Affairs, International Energy Agency, EuroStat, and European Environment Agency.

IEA (2012) World energy outlook. Paris, France

López LA, Arce G, Zafrilla JE (2013a) Parcelling virtual carbon in the pollution haven hypothesis. Energy Econ 39:177–186

López LA, Arce G, Kronenberg T (2013b) Pollution haven hypothesis in emissions embodied in world trade: the relevance of global value chains//Workshop: The wealth of nations in a globalizing world, pp 18-19

López LA, Arce G, Zafrilla J (2013c) Financial crisis, virtual carbon in global value chains, and the importance of linkage effects. The Spain–China case. Environ Sci Technol 48(1):36–44

Malik A, Lan J, Lenzen M (2016) Trends in global greenhouse gas emissions from 1990-2010. Environ Sci Technol 50(9):4722–4730

Martínez-Zarzoso I, Maruotti A (2011) The impact of urbanization on CO2 emissions: evidence from developing countries. Ecol Econ 70(7):1344–1353

Meng B, Peters GP, Wang Z, Wang Z, Li M (2018) Tracing CO2 emissions in global value chains. Energy Econ 73:24–42

Mousavi B, Lopez NSA, Biona JBM, Biona JBM, Chiu ASF, Blesl M (2017) Driving forces of Iran's CO2 emissions from energy consumption: An LMDI decomposition approach. Appl Energy 206:804–814

Moutinho V, Madaleno M, Inglesi-Lotz R, Dogan E (2018) Factors affecting CO2 emissions in top countries on renewable energies: a LMDI decomposition application. Sust Energ Rev 90:605–622

Poumanyvong P, Kaneko S (2010) Does urbanization lead to less energy use and lower CO2 emissions? A cross-country analysis. Ecol Econ 70(2):434–444

Pu Z, Fu J, Zhang C, Shao J (2018) Structure decomposition analysis of embodied carbon from transition economies. Technol Forecast Soc 135:1–12

Shuai CY, Shen LY, Jiao LD, Wu Y, Tan YG (2017) Identifying key impact factors on carbon emission: evidences from panel and time-series data of 125 countries from 1990 to 2011. Appl Energy 187:310–325

Shuai CY, Chen X, Wu Y, Tan YT, Zhang Y, Shen LY (2018) Identifying the key impact factors of carbon emission in China: results from a largely expanded pool of potential impact factors. J Clean Prod 175:612–623

Su B, Ang BW (2017) Multiplicative structural decomposition analysis of aggregate embodied energy and emission intensities. Energy Econ 65:137–147

Tian YS, Xiong SQ, Ma XM, Ji JP (2018) Structural path decomposition of carbon emission: a study of China's manufacturing industry. J Clean Prod 20(193):563–557

Timmer MP, Dietzenbacher E, Los B, Stehrer R, De Vries GJ (2015) An illustrated user guide to the world input–output database: the case of global automotive production. Rev Int Econ 23(3):575–605

Timmer M, Los B, Stehrer R, de Vries G (2016) An anatomy of the global trade slowdown based on the WIOD 2016 release (No. GD-162). Groningen Growth and Development Centre, University of Groningen

UNFCCC (2015) Intended national determined contributions (INDC) submissions. United Nations Framework Convention on Climate Change (UNFCCC)

United Nations (2018) World economic situation and prospects, New York

Walter I, Ugelow JL (1979) Environmental policies in developing countries. Ambio:102–109

Wang Y, Zhao T (2015) Impacts of energy-related CO2 emissions: evidence from under developed, developing and highly developed regions in China. Ecol Indic 50:186–195

Wang P, Wu WS, Zhu BZ, Wei YM (2013) Examining the impact factors of energy-related CO2 emissions using the STIRPAT model in Guangdong Province, China. Appl Energy 106:65–71

Wang Z, Wei S J, Yu X, Zhu K (2017) Characterizing global value chains: production length and upstreamness (No. w23261). NBER Working Papers

Wu YZ, Shen JH, Zhang XL, Skitmore M, Lu WS (2016) The impact of urbanization on carbon emissions in developing countries: a Chinese study based on the U-Kaya method. J Clean Prod 135:589–603

Xie R, Fang JY, Liu CJ (2017) The effects of transportation infrastructure on urban carbon emissions. Appl Energy 196:199–207

Xie R, Wei DH, Han F, Fang JY, Wang JF (2018) The effect of traffic density on smog pollution: evidence from Chinese cities. Technol Forecast Soc in press

Xu XY, Ang BW (2013) Index decomposition analysis applied to CO2 emission studies. Ecol Econ 93:313–329

Xu B, Lin B (2015) Factors affecting carbon dioxide (CO2) emissions in China's transport sector: a dynamic nonparametric additive regression model. J Clean Prod 101:311–322

Xu R, Lin B (2017) Why are there large regional differences in CO2 emissions? Evidence from China's manufacturing industry. J Clean Prod 140:1330–1343

Xu SC, He ZX, Long RY (2014) Factors that influence carbon emissions due to energy consumption in China: decomposition analysis using LMDI. Appl Energy 127:182–193

Xu X, Mu M, Wang Q (2017) Recalculating CO2 emissions from the perspective of value-added trade: an input-output analysis of China's trade data. Energy Policy 107:158–166

Yao C, Feng K, Hubacek K (2015) Driving forces of CO2 emissions in the G20 countries: an index decomposition analysis from 1971 to 2010. Ecol Inform 26:93–100

York R, Rosa EA, Dietz T (2003) STIRPAT, IPAT and ImPACT: analytic tools for unpacking the driving forces of environmental impacts. Ecol Econ 46(3):351–365

Zhang YG (2009) The energy and environmental costs of China's trade growth. Chin Econ 03:42–51

Zhang XP, Cheng XM (2009) Energy consumption, carbon emissions, and economic growth in China. Ecol Econ 68(10):2706–2712

Zhang C, Lin Y (2012) Panel estimation for urbanization, energy consumption and CO2 emissions: a regional analysis in China. Energ Policy 49:488–498

Zhang C, Zhou X (2016) Does foreign direct investment lead to lower CO2 emissions? Evidence from a regional analysis in China. Sust Energ Rev 58:943–951

Zhang Z, Guo J'e, Hewings GJD (2014) The effects of direct trade within China on regional and national CO2 emissions. Energy Econ 46:161–175

Zhang Z, Zhu K, Hewings GJD (2017) A multi-regional input–output analysis of the pollution haven hypothesis from the perspective of global production fragmentation. Energy Econ 64:13–23

Zhou Y, Liu Y (2016) Does population have a larger impact on carbon dioxide emissions than income? Evidence from a cross-regional panel analysis in China. Appl Energ 180:800–809

Zoundi Z (2017) CO2 emissions, renewable energy and the Environmental Kuznets Curve, a panel cointegration approach. Renew Sust Energ Rev 72:1067–1075
Funding
The authors are grateful for financial support from the General project of Hunan Social Science Achievement Review Committee (No. XSP20YBC083) and the Scientific Research Project of Hunan Provincial Education Department (No. 19B090).
Additional information
Publisher's note
Springer Nature remains neutral with regard to jurisdictional claims in published maps and institutional affiliations.
Responsible Editor: Philippe Garrigues
About this article
Cite this article
Zhao, G., Liu, C. Carbon emission intensity embodied in trade and its driving factors from the perspective of global value chain. Environ Sci Pollut Res (2020). https://doi.org/10.1007/s11356-020-09130-3
Received:

Accepted:

Published:
Keywords
Global value chain; Embodied carbon emission intensity; Input-output method; STIRPAT model
JEL classifications