Abstract
Exploring fiscal reform's pollution effect draws increasing attention. Our paper brings a new perspective, i.e., the vertical fiscal imbalance (VFI) perspective, to study such issue. With the panel data of China's provincial level from 1999 to 2016, we reveal whether and how VFI affects environmental pollution. We find that VFI significantly enhances the environmental pollution level of China. As the VFI increases, environmental pollution effect caused by VFI appears to be aggravated. According to the transmission path check, we confirm in our paper that VFI can indirectly lead to environmental degradation by affecting the two channels environmental regulation and industrial transformation. Further, through the sub-sample regressions, we find that the impacts of VFI on environmental pollution as well as the transmission paths are regionally heterogeneous. Finally, we believe that using the VFI as a variable to explore fiscal reform's effect on environment is of rationality, and for a better environmental quality, VFI should be avoided.
This is a preview of subscription content, log in to check access.
Access options
Buy single article
Instant access to the full article PDF.
US$ 39.95
Price includes VAT for USA
Subscribe to journal
Immediate online access to all issues from 2019. Subscription will auto renew annually.
US$ 99
This is the net price. Taxes to be calculated in checkout.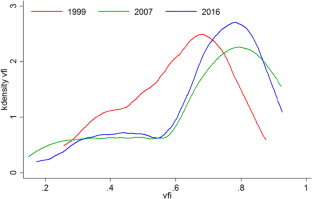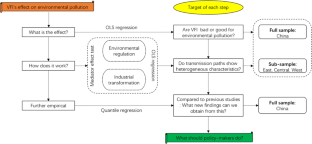 References
Bakhtyar B, Ibrahim Y, Alghoul MA, Aziz N, Fudholi A, Sopian K (2014) Estimating the CO2 abatement cost: substitute price of avoiding CO2 emission (SPAE) by renewable energy's feed in tariff in selected countries. Renew Sust Energ Rev 35:205–210

Bardhan P, Mookherjee D (2006) Decentralization and accountability in infrastructure delivery in developing countries. Econ J 116(508):101–127

Baron RM, Kenny DA (1986) The moderator–mediator variable distinction in social psychological research: conceptual, strategic, and statistical considerations. J Pers Soc Psychol 51(6):1173–1182

Blackman A, Kildegaard A (2010) Clean technological change in developing country industrial clusters: Mexican leather tanning. Environ Econ Policy Stud 12(3):115–132

Boadway R, Tremblay JF (2006) A theory of fiscal imbalance. FinanzArchiv: Public Finance Anal 62(1):1–27

Bouton L, Gassner M, Verardi V (2008) Redistributing income under fiscal vertical imbalance. Eur J Polit Econ 24(2):317–328

Chu D, Shao J (2018) Vertical fiscal imbalance and the structural bias of public expenditure: interpretation of theoretical mechanism and empirical evidence in China. Public Finance Res 4:20–32

Cole MA, Elliott RJ, Shimamoto K (2005) Why the grass is not always greener: the competing effects of environmental regulations and factor intensities on US specialization. Ecol Econ 54(1):95–109

Eyraud L, Lusinyan L (2013) Vertical fiscal imbalances and fiscal performance in advanced economies. J Monet Econ 60(5):571–587

Fan Y, Fang C, Zhang Q (2019) Coupling coordinated development between social economy and ecological environment in Chinese provincial capital cities-assessment and policy implications. J Clean Prod 229:289–298

Farzanegan MR, Mennel T. (2012) Fiscal decentralization and pollution: institutions matter (no. 22–2012). Joint Discussion Paper Series in Economics

Ferrario C, Zanardi A (2011) Fiscal decentralization in the Italian NHS: what happens to interregional redistribution? Health Policy 100(1):71–80

Glaeser EL, Kahn ME (2010) The greenness of cities: carbon dioxide emissions and urban development. J Urban Econ 67(3):404–418

Guan D, Su X, Zhang Q, Peters GP, Liu Z, Lei Y, He K (2014) The socioeconomic drivers of China's primary PM2.5 emissions. Environ Res Lett 9(2):024010

Han Y, Huang L, Wang X (2016) Does industrial structure upgrading improve eco-efficiency? J Quant Techn Econ 33(4):40–59

Hao Y, Chen Y, Liao H, Wei Y (2020) China's fiscal decentralization and environmental quality: theory and an empirical study. Environ Dev Econ 25(2):159–181

He Q (2015) Fiscal decentralization and environmental pollution: evidence from Chinese panel data. China Econ Rev 36:86–100

Huang S (2017) A study of impacts of fiscal decentralization on smog pollution. J World Econ 40(2):127–152

Huang J, Liu Q, Cai X, Hao Y, Lei H (2018) The effect of technological factors on China's carbon intensity: new evidence from a panel threshold model. Energy Policy 115:32–42

Inklaar R, Timmer MP, Van Ark B (2008) Market services productivity across Europe and the US. Econ Policy 23(53):140–194

Jalil A, Feridun M, Sawhney BL (2014) Growth effects of fiscal decentralization: empirical evidence from China's provinces. Emerg Mark Financ Trade 50(4):176–195

Jia J, Zhang C, Qin C, Feng J (2016) Vertical fiscal imbalance, political promotion and land finance. China Soft Sci 9:144–155

Jiang X, Hong C, Zheng Y, Zheng B, Guan D, Gouldson A, Zhang Q, He K (2015) To what extent can China's near-term air pollution control policy protect air quality and human health? A case study of the Pearl River Delta region. Environ Res Lett 10(10):104006

Jiménez-Rubio D (2011a) The impact of decentralization of health services on health outcomes: evidence from Canada. Appl Econ 43(26):3907–3917

Jiménez-Rubio D (2011b) The impact of fiscal decentralization on infant mortality rates: evidence from OECD countries. Soc Sci Med 73(9):1401–1407

Kuai P, Yang S, Tao A, Khan ZD (2019) Environmental effects of Chinese-style fiscal decentralization and the sustainability implications. J Clean Prod 239:118089

Lanoie P, Patry M, Lajeunesse R (2008) Environmental regulation and productivity: testing the porter hypothesis. J Prod Anal 30(2):121–128

Last AK, Wetzel H (2011) Baumol's cost disease, efficiency, and productivity in the performing arts: an analysis of German public theaters. J Cult Econ 35(3):185–201

Lau LS, Choong CK, Eng YK (2014) Investigation of the environmental Kuznets curve for carbon emissions in Malaysia: do foreign direct investment and trade matter? Energy Policy 68:490–497

Li X, Liu H (2016) Fiscal decentralization and the plight of regional environmental pollution based on the perspective of regional differences-the analysis on the pollutant properties of spillover. Finance Trade Econ 2:41–54

Li K, Qi S (2011) Trade openness, economic growth and carbon dioxide emission in China. Econ Res J 11:60–72

Li Z, Yang S (2018) Fiscal decentralization, government innovation preferences and regional innovation efficiency. Manag World 34(12):29–42

Li S, Chu S, Shen C (2014) Local government competition, environmental regulation and regional eco-efficiency. J World Econ 4:88–110

Lin B, Zhu J (2017) Energy and carbon intensity in China during the urbanization and industrialization process: a panel VAR approach. J Clean Prod 168:780–790

Lin B, Chen Y, Zhang G (2018) Impact of technological progress on China's textile industry and future energy saving potential forecast. Energy 161:859–869

Liu L, Li L (2019) Effects of fiscal decentralization on the environment: new evidence from China. Environ Sci Pollut Res:1–9

Meinshausen M, Meinshausen N, Hare W, Raper SC, Frieler K, Knutti R, Allen MR (2009) Greenhouse-gas emission targets for limiting global warming to 2 C. Nature 458:1158–1162

Meloni O (2016) Electoral opportunism and vertical fiscal imbalance. J Appl Econ 19(1):145–167

Ministry of Ecology and Environment of the People's Republic of China(2019), China Ecological Environment Bulletin, http://www.mee.gov.cn/hjzl/sthjzk/zghjzkgb/

Nakamura H, Kato T (2011) Climate change mitigation in developing countries through interregional collaboration by local governments: Japanese citizens' preference. Energy Policy 39:4337–4348

Omri A, Nguyen DK, Rault C (2014) Causal interactions between CO2 emissions, FDI, and economic growth: evidence from dynamic simultaneous-equation models. Econ Model 42:382–389

Ou J, Liu X, Li X, Chen Y (2013) Quantifying the relationship between urban forms and carbon emissions using panel data analysis. Landsc Ecol 28:1889–1907

Que W, Zhang Y, Liu S, Yang C (2018) The spatial effect of fiscal decentralization and factor market segmentation on environmental pollution. J Clean Prod 184:402–413

Shen N, Liu F (2012) Can intensive environmental regulation promote technological innovation? Porter Hypothesis Reexamined China Soft Sci 4:49–59

Sheng M, Li D (2018) A study on the relationship between the scale of local ecological governance expenditure and the officials' promotion——based on the municipal panel data. Chin Public Admin 4:128–134

Sigman H (2014) Decentralization and environmental quality: an international analysis of water pollution levels and variation. Land Econ 90(1):114–130

Song M, Wang S (2013) Analysis of environmental regulation, technological progression and economic growth from the perspective of statistical tests. Econ Res J 48(3):122–134

Song M, Du J, Tan KH (2018) Impact of fiscal decentralization on green total factor productivity. Int J Prod Econ 205:359–367

Tan Z, Zhang Y (2015) An empirical research on the relation between fiscal decentralization and environmental pollution. China Popul Resour Environ 25(4):110–117

Tan Z, Zhang Y, Fu, J. (2018) The power of expectation: does promotion cause pollution? ——the empirical research based on instrumental-variable method. J Industrial Eng Eng Manag 32(4):37–45

Tomlinson R (2019) The failure to learn from others: vertical fiscal imbalance, centralization, and Australia's metropolitan knowledge deficit. Aust J Public Adm 78:213–226

Van Ark B, O'Mahoney M, Timmer MP (2008) The productivity gap between Europe and the United States: trends and causes. J Econ Perspect 22(1):25–44

Wang W, Liu Y, Peng D (2015) Research on effects of population aging on industrial upgrading. China Industrial Econ 11:47–61

Wang G, Deng X, Wang J, Zhang F, Liang S (2019) Carbon emission efficiency in China: a spatial panel data analysis. China Econ Rev 56:101313

Xin C, Zhou C, Q L (2018) Has fiscal decentralization promoted or restricted public environmental expenditure? An empirical analysis based on China's provincial panel data. Contemp Fin Econ 1:24–35

Xue G, Pan X (2012) An empirical analysis on the impact of fiscal decentralization on environmental pollution in China. China Popul Resour Environ 22(1):77–83

You D, Zhang Y, Yuan B (2019) Environmental regulation and firm eco-innovation: evidence of moderating effects of fiscal decentralization and political competition from listed Chinese industrial companies. J Clean Prod 207:1072–1083

Zhang K, Wang J, Cui X (2011) Fiscal decentralization and environmental pollution: from the perspective of carbon emission. China Industr Econ 10:65–75

Zhang N, Yu K, Chen Z (2017a) How does urbanization affect carbon dioxide emissions? A cross-country panel data analysis. Energy Policy 107:678–687

Zhang K, Zhang ZY, Liang QM (2017b) An empirical analysis of the green paradox in China: from the perspective of fiscal decentralization. Energy Policy 103:203–211

Zhu H, Duan L, Guo Y, Yu K (2016) The effects of FDI, economic growth and energy consumption on carbon emissions in ASEAN-5: evidence from panel quantile regression. Econ Model 58:237–248
Funding
We would like to thank Collaborative Innovation Center for Integration of Terrestrial & Marine Economies Fund (2019YB10) and Major Research Project of National Social Science Fund (18VHQ013) for their supports.
Additional information
Publisher's note
Springer Nature remains neutral with regard to jurisdictional claims in published maps and institutional affiliations.
Responsible editor: Eyup Dogan
About this article
Cite this article
Huang, Y., Zhou, Y. How does vertical fiscal imbalance affect environmental pollution in China? New perspective to explore fiscal reform's pollution effect. Environ Sci Pollut Res (2020). https://doi.org/10.1007/s11356-020-09072-w
Received:

Accepted:

Published:
Keywords
Vertical fiscal imbalance

Environmental pollution

Environmental regulation

Industrial transformation

Mediated effect model