Abstract
Nowadays, the current synthesis techniques used in industrial production of nanoparticles have been generally regarded as nonenvironmentally friendly. Consequently, the biosynthesis approach has been proposed as an alternative to reduce the usage of hazardous chemical compounds and harsh reaction conditions in the production of nanoparticles. In this work, pure, iron (Fe)-doped and silver (Ag)-doped zinc oxide (ZnO) nanoparticles were successfully synthesized through the green route using Clitoria ternatea Linn. The optical, chemical, and physical properties of the biosynthesized ZnO nanoparticles were then analyzed by X-ray diffraction (XRD), field emission scanning electron microscopy (FESEM), energy-dispersive X-ray spectroscopy (EDX), UV–Vis diffuse reflectance spectroscopy (DRS), zeta potential measurement, Fourier transform infrared spectroscopy (FTIR), thermogravimetric analysis (TGA), and surface analysis. The biosynthesized ZnO nanoparticles were crystallized with a hexagonal wurtzite structure and possessed smaller particle sizes than those of commercially or chemically produced samples. The existence of biomolecules to act as reducing and stabilizing agents from C. ternatea Linn aqueous extract was confirmed using FTIR analysis. The biosynthesized ZnO nanoparticles mainly comprised of negatively charged groups and responsible for moderately stable dispersion of the nanoparticles. All these properties were favorable for the sonocatalytic degradation of Congo red. Sonocatalytic activity of ZnO nanoparticles was studied through the degradation of 10 mg/L Congo red using ultrasonic irradiation at 45 kHz and 80 W. The results showed that the sonocatalytic degradation efficiency of Congo red in the presence of biosynthesized ZnO nanoparticles prepared at 50 °C for 1 h could achieve 88.76% after 1 h. The sonocatalytic degradation efficiency of Congo red in the presence of Ag-doped ZnO was accelerated to 94.42% after 10 min which might be related to the smallest band gap energy (3.02 eV) and the highest specific surface area (10.31 m2/g) as well as pore volume (0.0781 cm3/g). Lastly, the biosynthesized ZnO nanoparticles especially Ag-doped ZnO offered significant antibacterial potential against Escherichia coli which indicated its ability to inhibit the normal growth and replication of bacterial cells. These results affirmed that the biosynthesized ZnO nanoparticles could be used as an alternative to the current chemical compounds and showed a superior sonocatalytic activity toward degradation of Congo red.
Access options
Buy single article
Instant access to the full article PDF.
US$ 39.95
Tax calculation will be finalised during checkout.
Subscribe to journal
Immediate online access to all issues from 2019. Subscription will auto renew annually.
US$ 79
Tax calculation will be finalised during checkout.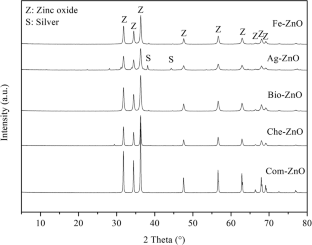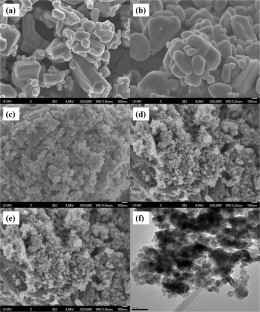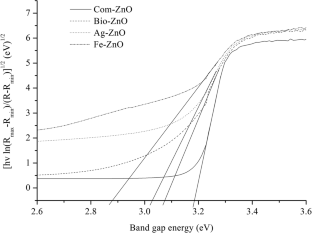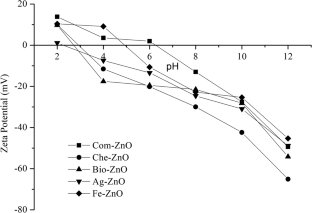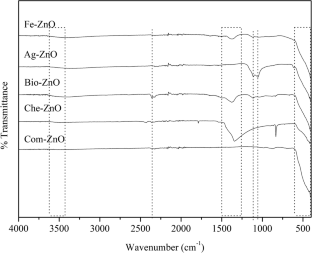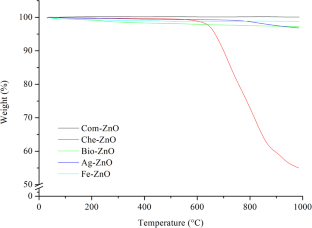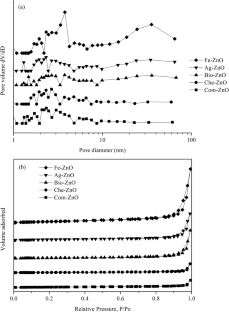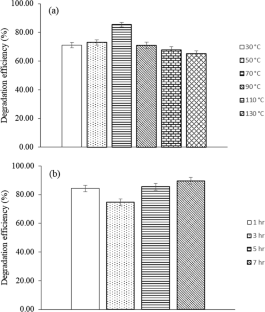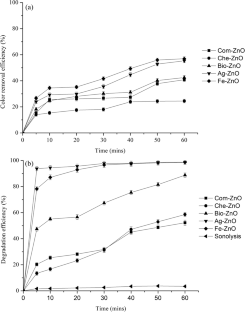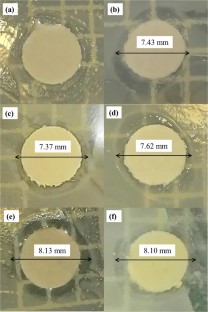 References
Abdi J, Vossoughi M, Mahmoodi NM, Alemzadeh I (2017) Synthesis of metal-organic framework hybrid nanocomposites based on GO and CNT with high adsorption capacity for dye removal. Chem Eng J 326:1145–1158

Adam RE, Pozina G, Willander M, Nur O (2018) Synthesis of ZnO nanoparticles by co-precipitation method for solar driven photodegradation of Congo red dye at different pH. Photonics Nanostruct Fundam Appl 32:11–18

Al-Hamdi AM, Rinner U, Sillanpää M (2017) Tin dioxide as a photocatalyst for water treatment: a review. Process Saf Environ Prot 107:190–205

Bampos G, Frontistis Z (2019) Sonocatalytic degradation of butylparaben in aqueous phase over Pd/C nanoparticles. Environ Sci Pollut Res Int 26:11905–11919

Carmine L, Ancona A, Di Cesare K, Dumontel B, Garino N, Canavese G, Hernandez S, Cauda V (2019) Sonophotocatalytic degradation mechanisms of Rhodamine B dye via radicals generation by micro- and nano-particles of ZnO. Appl Catal B Environ 243:629–640

Chang F, Wu F, Yan W, Jiao M, Zheng J, Deng B, Hu X (2019) Oxygen-rich bismuth oxychloride Bi12O17Cl2 materials: construction, characterization, and sonocatalytic degradation performance. Ultrason Sonochem 50:105–113

da Silva Brito GF, Oliveira R, Grisolia CK, Guirra LS, Weber IT, de Almeida FV (2019) Evaluation of advanced oxidative processes in biodiesel wastewater treatment. J Photochem Photobiol A Chem 375:85–90

Fan R, Kyodo M, Tan L, Peng X, Yang G, Yoneyama Y, Yang R, Zhang Q, Tsubaki N (2017) Preparation and application of Cu/ZnO catalyst by urea hydrolysis method for low-temperature methanol synthesis from syngas. Fuel Process Technol 167:69–77

Frindt B, Mattusch J, Reemtsma T, Griesbeck AG, Rehorek A (2017) Multidimensional monitoring of anaerobic/aerobic azo dye based wastewater treatments by hyphenated UPLC-ICP-MS/ESI-Q-TOF-MS techniques. Environ Sci Pollut Res Int 24:10929–10938

Geetha MS, Nagabhushana H, Shivananjaiah HN (2016) Green mediated synthesis and characterization of ZnO nanoparticles using Euphorbia Jatropa latex as reducing agent. J Sci Adv Mater Devices 1:301–310

Gholami P, Dinpazhoh L, Khataee A, Orooji Y (2019) Sonocatalytic activity of biochar-supported ZnO nanorods in degradation of gemifloxacin: synergy study, effect of parameters and phytotoxicity evaluation. Ultrason Sonochem 55:44–56

Han C, Duan L, Zhao X, Hu Z, Niu Y, Geng W (2019) Effect of Fe doping on structural and optical properties of ZnO films and nanorods. J Alloys Compd 770:854–863

Heng CL, Xiang W, Su WY, Gao YK, Yin PG, Finstad TG (2019) Effect of Eu doping on the near band edge emission of Eu doped ZnO thin films after high temperature annealing. J Lumin 210:363–370

Huo W, Zhang X, Gan K, Chen Y, Xu J, Yang J (2019) Effect of zeta potential on properties of foamed colloidal suspension. J Eur Ceram Soc 39:574–583

Ismail AS, Mamat MH, Shameem Banu IB, Amiruddin R, Malek MF, Parimon N, Zoolfakar AS, Sin NDM, Suriani AB, Ahmad MK, Rusop M (2019) Structural modification of ZnO nanorod array through Fe-doping: ramification on UV and humidity sensing properties. Nano-Structures Nano-Objects 18:100262

Kanmani P, Rhim J-W (2014) Physical, mechanical and antimicrobial properties of gelatin based active nanocomposite films containing AgNPs and nanoclay. Food Hydrocoll 35:644–652

Karnan T, Selvakumar SAS (2016) Biosynthesis of ZnO nanoparticles using rambutan (Nephelium lappaceum L.) peel extract and their photocatalytic activity on methyl orange dye. J Mol Struct 1125:358–365

Kasi G, Seo J (2019) Influence of Mg doping on the structural, morphological, optical, thermal, and visible-light responsive antibacterial properties of ZnO nanoparticles synthesized via co-precipitation. Mater Sci Eng C 98:717–725

Katheresan V, Kansedo J, Lau SY (2018) Efficiency of various recent wastewater dye removal methods: a review. J Environ Chem Eng 6:4676–4697

Kan C-C, Sumalinog MJR, Rivera KKP, Arazo RO, de Luna MDG (2017) Ultrasound-assisted synthesis of adsorbents from groundwater treatment residuals for hexavalent chromium removal from aqueous solutions. Groundw Sustain Dev 5:253–260

Khaki MRD, Shafeeyan MS, Raman AAA, Daud WMAW (2017) Application of doped photocatalysts for organic pollutant degradation—a review. J Environ Manag 198:78–94

Khan MM, Saadah NH, Khan ME, Harunsani MH, Tan AL, Cho MH (2019) Potentials of Costus woodsonii leaf extract in producing narrow band gap ZnO nanoparticles. Mater Sci Semicond Process 91:194–200

Kruk M, Jaroniec M (2001) Gas adsorption characterization of ordered organic-inorganic nanocomposite materials. Chem Mater 13:3169–3183

Kundu D, Hazra C, Chatterjee A, Chaudhari A, Mishra S (2014) Extracellular biosynthesis of zinc oxide nanoparticles using Rhodococcus pyridinivorans NT2: multifunctional textile finishing, biosafety evaluation and in vitro drug delivery in colon carcinoma. J Photochem Photobiol B Biol 140:194–204

Li CY, Qi N, Liu ZW, Zhou B, Chen ZQ, Wang Z (2016) Effect of synthesis temperature on the ordered pore structure in mesoporous silica studied by positron annihilation spectroscopy. Appl Surf Sci 363:445–450

Liu C, Guo J, Yan X, Tang Y, Mazumder A, Wu S, Liang Y (2017) Antimicrobial nanomaterials against biofilms: an alternative strategy. Environ Rev 25:225–244

Madhumitha G, Fowsiya J, Gupta N, Kumar A, Singh M (2019) Green synthesis, characterization and antifungal and photocatalytic activity of Pithecellobium dulce peel-mediated ZnO nanoparticles. J Phys Chem Solids 127:43–51

Meerbergen K, Willems KA, Dewil R, Van Impe J, Appels L, Lievens B (2018) Isolation and screening of bacterial isolates from wastewater treatment plants to decolorize azo dyes. J Biosci Bioeng 125:448–456

Mehmood A, Ishaq M, Zhao L, Yaqoob S, Safdar B, Nadeem M, Munir M, Wang C (2019) Impact of ultrasound and conventional extraction techniques on bioactive compounds and biological activities of blue butterfly pea flower (Clitoria ternatea L.). Ultrason Sonochem 51:12–19

Mesaros A, Vasile BS, Toloman D, Pop OL, Marinca T, Unguresan M, Perhaita I, Filip M, Iordache F (2019) Towards understanding the enhancement of antibacterial activity in manganese doped ZnO nanoparticles. Appl Surf Sci 471:960–972

Mirza AU, Kareem A, Nami SAA, Bhat SA, Mohammad A, Nishat N (2019) Malus pumila and Juglen regia plant species mediated zinc oxide nanoparticles: synthesis, spectral characterization, antioxidant and antibacterial studies. Microb Pathog 129:233–241

Mukherjee PK, Kumar V, Kumar NS, Heinrich M (2008) The Ayurvedic medicine Clitoria ternatea—from traditional use to scientific assessment. J Ethnopharmacol 120:291–301

Nasrollahzadeh M, Atarod M, Sajjadi M, Sajadi SM, Issaabadi Z (2019) Chapter 6 - Plant-mediated green synthesis of nanostructures: Mechanisms, characterization, and applications. In: An introduction to green nanotechnology, interface science and technology, Edited by Nasrollahzadeh M, Sajadi SM, Sajjadi M, Issaabadi Z, Atarod M, 28, 2-346 (2019) Elsevier, pp 199–322

Nethaji S, Tamilarasan G, Neehar P, Sivasamy A (2018) Visible light photocatalytic activities of BiOBr-activated carbon (derived from waste polyurethane) composites by hydrothermal process. J Environ Chem Eng 6:3735–3744

Oliveira JA, Reis MO, Pires MS, Ruotolo LAM, Ramalho TC, Oliveira CR, Lacerda LCT, Nogueira FGE (2019) Zn-doped Nb2O5 photocatalysts driven by visible-light: an experimental and theoretical study. Mater Chem Phys 228:160–167

Pascariu P, Cojocaru C, Olaru N, Samoila P, Airinei A, Ignat M, Sacarescu L, Timpu D (2019) Novel rare earth (RE-La, Er, Sm) metal doped ZnO photocatalysts for degradation of Congo-red dye: synthesis, characterization and kinetic studies. J Environ Manag 239:225–234

Phrueksanan W, Yibchok-Anun S, Adisakwattana S (2014) Protection of Clitoria ternatea flower petal extract against free radical induced hemolysis and oxidative damage in canine erythrocytes. Res Vet Sci 97:357–363

Ponnusamy S, Gnanaraj WE, Antonisamy JM, Selvakumar V, Nelson J (2010) The effect of leaves extracts of Clitoria ternatea Linn against the fish pathogens. Asian Pac J Trop Med 3:723–726

Prasad AR, Rugmini Ammal P, Joseph A (2018) Effective photocatalytic removal of different dye stuffs using green synthesized zinc oxide nanogranules. Mater Res Bull 102:116–121

Rathnasamy R, Thangasamy P, Thangamuthu R (2017) Green synthesis of ZnO nanoparticles using Carica papaya leaf extracts for photocatalytic and photovoltaic applications. J Mater Sci Mater Electron 28:10374–10381

Saboor A, Shah SM, Hussain H (2019) Band gap tuning and applications of ZnO nanorods in hybrid solar cell: Ag-doped verses Nd-doped ZnO nanorods. Mater Sci Semicond Process 93:215–225

Sajjad M, Ullah I, Khan MI, Khan J, Khan MY, Qureshi MT (2018) Structural and optical properties of pure and copper doped zinc oxide nanoparticles. Results Phys 9:1301–1309

Samanta A, Goswami MN, Mahapatra PK (2019) Multiferroicity in Mg-doped ZnO nanoparticles. Mater Sci Eng B 245:1–8

Shubha P, Gowda ML, Namratha K, Manjunatha HB, Byrappa K (2019) In vitro and In vivo evaluation of green-hydrothermal synthesized ZnO nanoparticles. J Drug Deliv Sci Technol 49:692–699

Siti Azima AM, Noriham A, Manshoor N (2017) Phenolics, antioxidants and color properties of aqueous pigmented plant extracts: Ardisia colorata var. elliptica, Clitoria ternatea, Garcinia mangostana and Syzygium cumini. J Funct Foods 38:232–241

Soltani S, Rashid U, Al-Resayes SI, Nehdi IA (2017) Sulfonated mesoporous ZnO catalyst for methyl esters production. J Clean Prod 144:482–491

Sorbiun M, Shayegan Mehr E, Ramazani A, Taghavi Fardood S (2018) Biosynthesis of Ag, ZnO and bimetallic Ag/ZnO alloy nanoparticles by aqueous extract of oak fruit hull (Jaft) and investigation of photocatalytic activity of ZnO and bimetallic Ag/ZnO for degradation of basic violet 3 dye. J Mater Sci Mater Electron 29:2806–2814

Stan M, Popa A, Toloman D, Dehelean A, Lung I, Katona G (2015) Enhanced photocatalytic degradation properties of zinc oxide nanoparticles synthesized by using plant extracts. Mater Sci Semicond Process 39:23–29

Türkyılmaz ŞŞ, Güy N, Özacar M (2017) Photocatalytic efficiencies of Ni, Mn, Fe and Ag doped ZnO nanostructures synthesized by hydrothermal method: the synergistic/antagonistic effect between ZnO and metals. J Photochem Photobiol A Chem 341:39–50

Vaiano V, Matarangolo M, Murcia JJ, Rojas H, Navío JA, Hidalgo MC (2018) Enhanced photocatalytic removal of phenol from aqueous solutions using ZnO modified with Ag. Appl Catal B Environ 225:197–206

Verma S, Prasad B, Mishra IM (2017) Treatment of purified terephthalic acid wastewater using a bio-waste-adsorbent bagasse fly ash (BFA). Environ Sci Pollut Res Int 24:1953–1966

Yulizar Y, Bakri R, Apriandanu DOB, Hidayat T (2018) ZnO/CuO nanocomposite prepared in one-pot green synthesis using seed bark extract of Theobroma cacao. Nano-Structures Nano-Objects 16:300–305

Yuvakkumar R, Suresh J, Nathanael AJ, Sundrarajan M, Hong SI (2014) Novel green synthetic strategy to prepare ZnO nanocrystals using rambutan (Nephelium lappaceum L.) peel extract and its antibacterial applications. Mater Sci Eng C 41:17–27

Zaman S, Zhang K, Karim A, Xin J, Sun T, Gong JR (2017) Sonocatalytic degradation of organic pollutant by SnO2/MWCNT nanocomposite. Diam Relat Mater 76:177–183
Funding
The authors gratefully acknowledge gratefully the Fundamental Research Grant Scheme (FRGS/1/2018/TK10/UTAR/02/2) by the Ministry of Education (MOE) Malaysia and the Universiti Tunku Abdul Rahman (UTAR) Research Fund (UTARRF/2018-C1/P01) for the financial support on this project and scholarship funding to Ms. Chan Yin Yin, respectively.
Additional information
Publisher's note
Springer Nature remains neutral with regard to jurisdictional claims in published maps and institutional affiliations.
Responsible editor: Bingcai Pan
About this article
Cite this article
Chan, Y.Y., Pang, Y.L., Lim, S. et al. Biosynthesized Fe- and Ag-doped ZnO nanoparticles using aqueous extract of Clitoria ternatea Linn for enhancement of sonocatalytic degradation of Congo red. Environ Sci Pollut Res 27, 34675–34691 (2020). https://doi.org/10.1007/s11356-019-06583-z
Received:

Accepted:

Published:

Issue Date:
Keywords
Clitoria ternatea Linn

ZnO nanoparticles

Characteristics

Ag and Fe doping

Sonocatalytic degradation

Congo red

Antibacterial