Abstract
In this work, we used TiO2 nanobelts and P25 particles as titanium sources to combine with β-Bi2O3 to form β-Bi2O3/TiO2 and β-Bi2O3/P25 composites. The prepared samples were characterized by X-ray diffraction analysis (XRD), scanning electron microscopy (SEM), transmission electron microscopy (TEM), infrared spectroscopy (IR), X-ray photoelectron spectroscopy (XPS), and UV-vis absorbance spectroscopy and fluorescence spectroscopy. The structure and performance of two composites were comparatively investigated, and the β-Bi2O3 molar ratios in them were optimized and their roles in them were studied. The results showed that the TiO2 nanobelts and commercial TiO2 (P25) particles combined with β-Bi2O3 nanosheets. The optimal molar ratios of Bi to Ti element in two kinds of composites are 1:1. The β-Bi2O3 in P25/β-Bi2O3 makes more contribution to the improvement of photocatalytic activity of them than that in β-Bi2O3/TiO2 because P25 particles are distributed on β-Bi2O3 nanosheet more uniformly. The photocatalytic activities of β-Bi2O3/TiO2 (0.02275 min−1) and β-Bi2O3/P25 (0.02382 min−1) are 3.72 times and 3.90 times than that of pure β-Bi2O3 (0.0061 min−1) for EE2 removal. The enhanced photocatalytic activities of two kinds of composites are ascribed to photo-induced interfacial charge transfer on the heterojunction between β-Bi2O3 and TiO2 or P25. From the economic view, β-Bi2O3/P25 composites are better than β-Bi2O3/TiO2 because TiO2 nanobelts in the β-Bi2O3/TiO2 composite are obtained from P25 via extra hydrothermal treatment in strong alkaline environment. The free radical capture experiment indicated that the dominant reactive species are h+ and •O−2 for EE2 removal by TiO2/β-Bi2O3 and P25/β-Bi2O3 composites.
This is a preview of subscription content, log in to check access.
Access options
Buy single article
Instant access to the full article PDF.
US$ 39.95
Price includes VAT for USA
Subscribe to journal
Immediate online access to all issues from 2019. Subscription will auto renew annually.
US$ 99
This is the net price. Taxes to be calculated in checkout.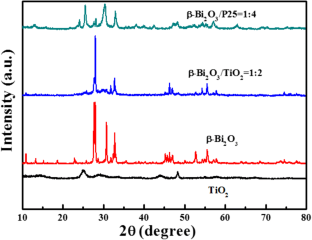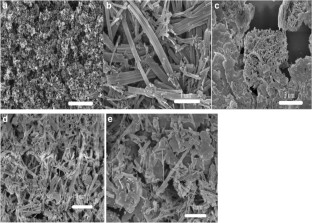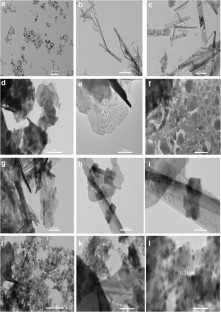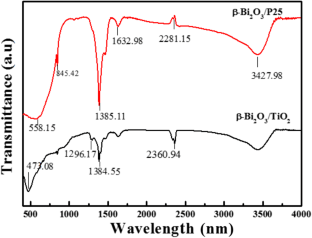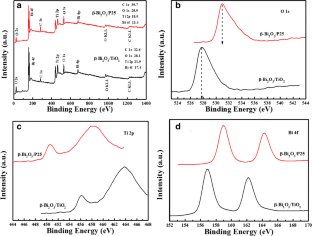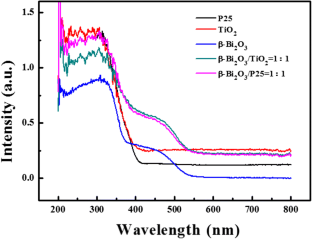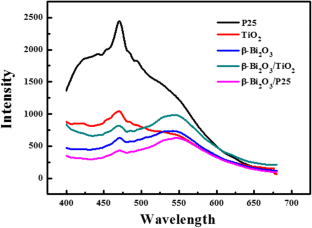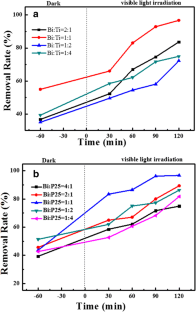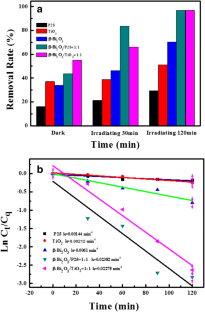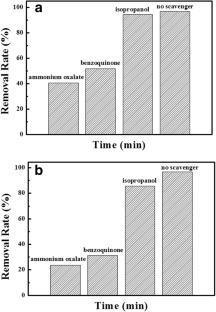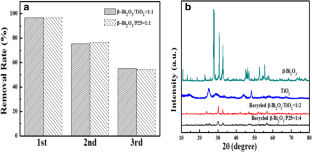 References
Adeel M, Song X, Wang Y, Francis D, Yang Y (2016) Environmental impact of estrogens on human, animal and plant life: a critical review. Environ Int 99:107–119

Aris AZ, Shamsuddin AS, Praveena SM (2014) Occurrence of 17α-ethynylestradiol (EE2) in the environment and effect on exposed biota: a review. Environ Int 69:104–119

Bhatkhande DS, Pangarkar VG, Beenackers AACM (2002) Photocatalytic degradation for environmental applications-a review. J Chem Technol Biot 77:102–116

Bouman A, Heineman MJ, Faas MM (2005) Sex hormones and the immune response in humans. Hum Reprod Update 11:411–423

Chatterjee D, Dasgupta S (2005) Visible light induced photocatalytic degradation of organic pollutants. J Photoch Photobio C 6:186–205

Chen CY, Wen TY, Wang GS, Cheng HW, Lin YH, Lien GW (2007) Determining estrogenic steroids in Taipei waters and removal in drinking water treatment using high-flow solid-phase extraction and liquid chromatography/tandem mass spectrometry. Sci Total Environ 378:352–365

Chong MN, Jin B, Chow CW, Saint C (2010) Recent developments in photocatalytic water treatment technology: a review. Water Res 44:2997–3027

Drache M, Roussel P, Wignacourt JP (2007) Structures and oxide mobility in Bi-Ln-O materials: heritage of Bi2O3. Chem Rev 107:80–96

Feng W, Deng N, Cheng Y (2002) Brief introduction to studies on environmental endocrine disrupting chemicals [J]. Environmental Pollution and Control-Hangzhou 24:176–179

Fujishima A, Honda K (1972) Electrochemical photolysis of water at a semiconductor electrode. Nature 238:37–38

Gao H, Zhang J, Wang R, Wang M (2015) Highly efficient hydrogen production and formaldehyde degradation by Cu2O microcrystals. Appl Catal B-Environ 172:1–6

Ge M, Cai J, Iocozzia J, Cao C, Huang J, Zhang X, Lai Y (2017) A review of TiO2 nanostructured catalysts for sustainable H2 generation. Int J Hydrog Energy 42:8418–8449

Hammerstein J, Daume E, Simon A, Winkler UH, Schindler AE, Back DJ, Ward S, Neiss A (1993) Influence of gestodene and desogestrel as components of low-dose oral contraceptives on the pharmacokinetics of ethinyl estradiol (EE2), on serum CBG and on urinary cortisol and 6β-hydroxycortisol. Contraception 47:263–281

Hashimoto K, Irie H, Fujishima A (2005) TiO2 photocatalysis: a historical overview and future prospects. Jpn J Appl Phys 44:8269–8285

Huang W-C, Lyu L-M, Yang Y-C, Huang MH (2011) Synthesis of Cu2O nanocrystals from cubic to rhombic dodecahedral structures and their comparative photocatalytic activity. J Am Chem Soc 134:1261–1267

Iyyapushpam S, Nishanthi S, Padiyan DP (2013) Photocatalytic degradation of methyl orange using α-Bi2O3 prepared without surfactant. J Alloy Compd 563:104–107

Jańczyk A, Krakowska E, Stochel G, Macyk W (2006) Singlet oxygen photogeneration at surface modified titanium dioxide. J Am Chem Soc 128:15574–15575

Jie H, Wei Q, Zhi C, Jiangyong H, Wei G (2013) Adsorption of ethinylestradiol (EE2) on polyamide 612: molecular modeling and effects of water chemistry. Water Res 47:2273–2284

Karpova T, Preis S, Kallas J, Torres ALB (2007) Selective photocatalytic oxidation of steroid estrogens in presence of saccharose and ethanol as co-pollutants. Environ Chem Lett 5:219–224

Kondo J (1998) Cu2O as a photocatalyst for overall water splitting under visible light irradiation. Chem Commun:357–358

Lu F, Cai W, Zhang Y (2008) ZnO hierarchical micro/nanoarchitectures: solvothermal synthesis and structurally enhanced photocatalytic performance. Adv Funct Mater 18:1047–1056

Luo L, Xia L, Tan W, Li J, Barrow CJ (2018) The TiO2 (B) nano-belts with excellent performance prepared via alkaline stirring hydrothermal method and its application to remove 17α-ethynylestradiol. Environ Sci Pollut Res Int:1–9

Nasuhoglu D, Berk D, Yargeau V (2012) Photocatalytic removal of 17α- ethinylestradiol (EE2) and levonorgestrel (LNG) from contraceptive pill manufacturing plant wastewater under UVC radiation. Chem Eng J 185:52–60

Noir M, Guieysse B, Mattiasson B (2006) Removal of trace contaminants using molecularly imprinted polymers. Water Sci Technol 53:205–212

Noppe H, Verslycke T, Wulf ED, Verheyden K, Monteyne E, Caeter PV, Janssen CR (2007) Occurrence of estrogens in the Scheldt estuary: a 2-year survey. Ecotox Environ Safe 66:1–8

Nosaka AY, Kojima E, Fujiwara T, Yagi H, Akutsu H, Nosaka Y (2003) Photoinduced changes of adsorbed water on a TiO2 photocatalytic film as studied by 1H NMR spectroscopy. J Phys Chem B 107:12042–12044

Ochiai T, Fujishima A (2012) Photoelectrochemical properties of TiO2 photocatalyst and its applications for environmental purification. J Photoch Photobio C 13:247–262

Ohno T, Sarukawa K, Tokieda K, Matsumura M (2001) Morphology of a TiO2 photocatalyst (Degussa, P-25) consisting of anatase and rutile crystalline phases. J Catal 203:82–86

Sang D, Kim JC, Kim IS, Vanderford BJ, Snyder SA (2007) Occurrence and removal of pharmaceuticals and endocrine disruptors in South Korean surface, drinking, and waste waters. Water Res 41:1013–1021

Siegenthaler PF, Bain P, Riva F, Fent K (2016) Effects of antiandrogenic progestins, chlormadinone and cyproterone acetate, and the estrogen 17α-ethinylestradiol (EE2), and their mixtures: transactivation with human and rainbowfish hormone receptors and transcriptional effects in zebrafish (Danio rer) eleuthero-embryos. Aquat Toxicol 182:142–162

Wang C, Shao C, Wang L, Zhang L, Li X, Liu Y (2009) Electrospinning preparation, characterization and photocatalytic properties of Bi2O3 nanofibers. J Colloid Interf Sci 333:242–248

Wang F, Liang L, Shi L, Chen K, Sun J (2016) CO2 mediated approach to fabricate the visible-light-responsive mesoporous structured carbon/bismuth oxide composites. Appl Catal A-Gen 521:104–110

Wang H, Xie C, Zhang W, Cai S, Yang Z, Gui Y (2007) Comparison of dye degradation efficiency using ZnO powders with various size scales. J Hazard Mater 141:645–652

Xie D, Su Q, Zhang J, Du G, Xu B (2014) Graphite oxide-assisted sonochemical preparation of α-Bi2O3 nanosheets and their high-efficiency visible light photocatalytic activity. J Mater Sci 49:218–224

Xu JJ, Chen MD, Fu DG (2011) Preparation of bismuth oxide/titania composite particles and their photocatalytic activity to degradation of 4-chlorophenol. Trans Nonferrous Met Soc China 21(2):340–345

Yajun W, Haiyang Y, Zexue L, Liang G (2018) Effect of additives on synthesis and optical property of metastable γ-Bi2O3. Chine J Mater Res 32:149–154

Yang Y, Luo L, Xiao M, Li H, Pan X, Jiang F (2015) One-step hydrothermal synthesis of surface fluorinated TiO2/reduced graphene oxide nanocomposites for photocatalytic degradation of estrogens. Mat Sci Semicon Proc 40:183–193

Youn HJ, Randall C, Chen A, Shrout T, Lanagan MT (2002) Dielectric relaxation and microwave dielectric properties of Bi2O3-ZnO-Ta2O5 ceramics. J Mater Res 17:1502–1506

Yunho L, Gunten UV (2009) Transformation of 17α-ethinylestradiol during water chlorination: effects of bromide on kinetics, products, and transformation pathways. Environ Sci Technol 43:480–487
Acknowledgments
This work was supported by the Natural Science Foundation of China (No. 21767030); Natural Science Foundation of Yunnan Province (2016FB014); and Foundation of Education Bureau of Yunnan Province (2017ZZX087).
Additional information
Publisher's note
Springer Nature remains neutral with regard to jurisdictional claims in published maps and institutional affiliations.
Responsible editor: Tito Roberto Cadaval Jr
About this article
Cite this article
Shi, M., Luo, L., Dai, J. et al. The comparative study of two kinds of β-Bi2O3/TiO2 binary composite and their removal of 17ɑ-ethynylestradiol. Environ Sci Pollut Res 27, 24692–24701 (2020). https://doi.org/10.1007/s11356-019-06348-8
Received:

Accepted:

Published:

Issue Date:
Keywords
Photocatalysis

17ɑ-Ethynylestradiol

TiO2
β-Bi2O3