Abstract
Fixed-bed studies were performed to evaluate the removal efficiency of copper (Cu(II)) from aqueous solution using chitosan-coated bentonite (CCB), chitosan-coated sand (CCS), and chitosan-coated kaolinite (CCK). The thermal and morphological properties of CCB, CCK, and CCS were characterized using thermogravimetric analysis, Fourier transform infrared spectroscopy, and the Brunauer-Emmett-Teller method. Dynamic experiments were carried out to investigate the effect of solution pH (3.0 to 5.0) and initial Cu(II) concentration (200 to 1000 mg/L) on the time to reach breakthrough (tb), total volume of treated effluent (Veff), and adsorption capacity at breakthrough (qb). Results show that increasing the initial Cu(II) concentration inhibits the column performance where lower Veff, tb, and qb were obtained. Decreasing the pH from 5.0 to 3.0 led to improved removal efficiency with higher values of Veff, tb, and qb. Under pH 3.0 and 200 mg/L, the maximum removal efficiency of 68.60%, 56.10%, and 58.90% for Cu(II) was attained using CCB, CCS, and CCK, respectively. The Thomas model was determined to adequately predict the breakthrough curves based on high values of coefficient of determination (R2 ≥ 0.8503). Regeneration studies were carried out using 0.1 M HCl and 0.1 M NaOH solution in the saturated column of CCB, CCK, and CCS.
This is a preview of subscription content, log in to check access.
Access options
Buy single article
Instant access to the full article PDF.
US$ 39.95
Tax calculation will be finalised during checkout.
Subscribe to journal
Immediate online access to all issues from 2019. Subscription will auto renew annually.
US$ 79
Tax calculation will be finalised during checkout.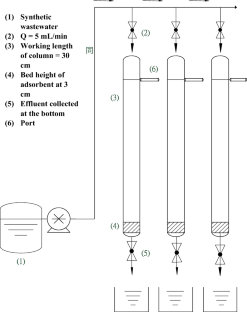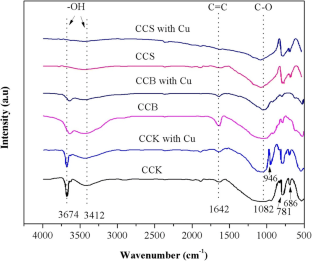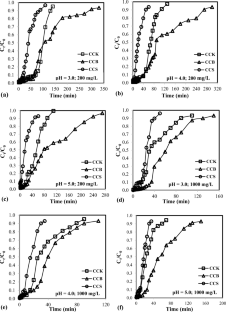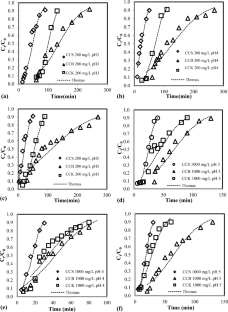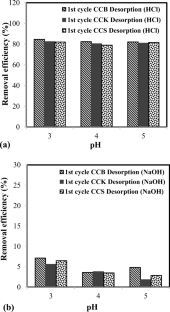 References
Abdolali A, Ngo HH, Guo W, Zhou JL, Zhang J, Liang S, Chang SW, Nguyen DD, Liu Y (2017) Application of a breakthrough biosorbent for removing heavy metals from synthetic and real wastewaters in a lab-scale continuous fixed-bed column. Bioresour Technol 229:78–87

Ai PL, Aris AZ (2014) Continuous fixed-bed column study and adsorption modeling: removal of cadmium(II) and lead(II) ions in aqueous solution by dead calcareous skeletons. Biochem Eng J 87:50–61

Aksu Z, Gönen F (2004) Biosorption of phenol by immobilized activated sludge in a continuous packed bed: prediction of breakthrough curves. Process Biochem 39:599–613

Al-Saydeh SA, El-Naas MH, Zaidi SJ (2017) Copper removal from industrial wastewater: a comprehensive review. J Ind Eng Chem 56:35–44

Arya V, Philip L (2016) Adsorption of pharmaceuticals in water using Fe3O4 coated polymer clay composite. Microporous Mesoporous Mater 232:273–280

Attar LA, Safia B, Ghani BA (2018) Uptake of 137Cs and 85Sr onto thermally treated forms of bentonite. J Environ Radioact 193-194:36–43

Babel S, Kurniawan TA (2003) Low-cost adsorbents for heavy metals uptake from contaminated water: a review. J Hazard Mater B97:219–243

Bailey SE, Olin TJ, Bricka RM, Adrian DD (1999) A review of potentially low-cost sorbents for heavy metals. Water Res 33:2469–2479

Balea A, Monte MC, Fuente E, Sanchez-Salvador JL, Blanco A, Negro C (2019) Cellulose nanofibers and chitosan to remove flexographic inks from wastewaters. Environ Sci Water Res Technol. https://doi.org/10.1039/C9EW00434C

Belver C, Munoz MAB, Vicente MA (2002) Chemical activation of a kaolinite under acid and alkaline conditions. Chem Mater 14:2033–2043

Blagojev N, Kukić D, Vasić V, Šćiban M, Prodanović J, Bera O (2019) A new approach for modelling and optimization of Cu(II) biosorption from aqueous solutions using sugar beets shreds in a fixed-bed column. J Hazard Mater 363:366–375

Calero M, Iáñez-Rodríguez I, Pérez A, Martín-Lara MA, Blázquez G (2018) Neural fuzzy modelization of copper removal from water by biosorption in fixed-bed columns using olive stone and pinion shell. Bioresour Technol 252:100–109

Cestari AR, Vieira EFS, Vieira GS, Almeida LE (2006) The removal of anionic dyes from aqueous solutions in the presence of anionic surfactant using aminopropylsilica-A kinetic study. J Hazard Mater 138:133–141

Chen IP, Kan CC, Futalan CM, Calagui MJC, Lin SS, Tsai WC, Wan MW (2015) Batch and fixed-bed studies: removal of copper(II) using chitosan-coated kaolinite beads from aqueous solution. Sustain Environ Res 25:73–81

Dalida MLP, Mariano AFV, Futalan CM, Kan CC, Tsai WC, Wan MW (2011) Adsorptive removal of Cu(II) from aqueous solutions using non-crosslinked and crosslinked chitosan-coated bentonite beads. Desalin 275:154–159

Daneshvar E, Vazirzadeh A, Niazi A, Kousha M, Naushad M, Bhatnagar A (2017) Desorption of methylene blue dye from brown macroalga: effects of operating parameters, isotherm study and kinetic modeling. J Clean Prod 152:443–453

de Freitas ED, de Almeida HJ, Vieira MGA (2017) Binary adsorption of zinc and copper on expanded vermiculite using a fixed bed column. Appl Clay Sci 146:503–509

de Freitas ED, de Almeida HJ, de Almeida Neto AF, Vieira MGA (2018) Continuous adsorption of silver and copper by Verde-lodo bentonite in a fixed-bed flow-through column. J Clean Prod 171:613–621

Devi N, Dutta J (2017) Preparation and characterization of chitosan-bentonite nanocomposite films for wound healing application. Int J Biol Marcomol 104:1897–1904

Dinu MV, Dragan ES (2010) Evaluation of Cu2+, Co2+, and Ni2+ ions removal from aqueous solution using a novel chitosan/clinoptilolite composites: kinetics and isotherms. Chem Eng J 160:157–163

Dong J, Du Y, Duyu R, Shang Y, Zhang S, Han R (2019) Adsorption of copper ion from solution by polyethylenimine modified wheat straw. Bioresour Technol Rep 6:96–102

Dorado AD, Gamisans X, Valderrama C, Solé M, Lao C (2014) Cr(III) removal from aqueous solutions: a straight forward model approaching of the adsorption in a fixed-bed column. J Environ Sci Health A Tox Hazard Subst Environ Eng 49:179–186

Du Z, Zheng T, Wang P (2018) Experimental and modelling studies on fixed bed adsorption for Cu(II) removal from aqueous solution by carboxyl modified jute fiber. Powder Technol 338:952–959

Escoda A, Eurvard M, Lakard S, Husson J, Mohamed AS, Knorr M (2013) Ultrafiltration-assisted retention of Cu(II) ions by adsorption on chitosan-functionalized colloidal silica particles. Sep Purif Technol 118:25–32

Futalan CM, Kan CC, Dalida ML, Hsien KJ, Pascua C, Wan MW (2011) Comparative and competitive adsorption of copper, lead, and nickel using chitosan immobilized on bentonite. Carbohydr Polym 83:528–536

Georgopoulos PG, Roy A, Yonone-Lioy MJ, Opiekun RE, Lioy PJ (2001) Environmental copper: its dynamics and human exposure issues. J Toxicol Environ Health B 4:341–394

Guggenheim S, Adams JM, Bain DC, Bergaya F, Brigatti MF, Drits VA, Formoso MLL, Gala NE, Kogure T, Stanjek H (2006) Summary of recommendation of nomenclature committees. Relevant to clay mineralogy: report of the association Internationale Pour L'etude des Argiles (AIPEA) nomenclature committee for 2006. Clay Clay Miner 54:761–772

Han R, Wang Y, Zou W, Wang Y, Shi J (2007) Comparison of linear and nonlinear analysis in estimating the Thomas model parameters for methylene blue adsorption onto natural zeolite in fixed-bed column. J Hazard Mater 145:331–335

Han R, Wang Y, Zhao X, Wang Y, Xie F, Cheng J, Tang M (2009) Adsorption of methylene blue by phoenix tree leaf powder in a fixed-bed column: experiments and prediction of breakthrough curves. Desalin 245:284–297

Hasfalina CM, Maryam RZ, Luqman CA, Rashid M (2012) Adsorption of Copper(II) from aqueous medium in fixed-bed column by Kenaf fibres. APCBEE Procedia 3:255–263

Hernandezeudave MT, Bonillapetriciolet A, Morenovirgen MR, Rojasmayorga CK, Tovargómez R (2016) Design analysis of fixed-bed synergic adsorption of heavy metals and acid blue 25 on activated carbon. Desalin Water Treat 57:9824–9836

Jiang C, Guo W, Chen H, Zhu Y, Jin C (2018) Effect of filler type and content on mechanical properties and microstructure of sand concrete made with superfine waste sand. Constr Build Mater 192:442–449

Kalayani S, Ajitha PJ, Srinivasa RP, Krishnaiah A (2005) Rempval of copper and nickel from aqueous solutions using chitosan coated on perlite as biosorbent. Sep Purif Technol 40:1483–1495

Kotal M, Bhowmick AK (2015) Polymer nanocomposites from modified clays: recent advances and challenges. Prog Polym Sci 51:127–187

Leonel EC, Nassar EJ, Ciuffi KJ, Dos Reis MJ, Calefi PS (2014) Effect of high-energy ball milling in the structural and textural properties of kaolinite. Cerâmica 60:267–272

Lewandowska K, Sionkowska A, Kaczmarek B, Furtos G (2014) Characterization of chitosan composites with various clays. Int J Biol Macromol 65:534–541

Li J, Hu J, Sheng G, Zhao G, Huang Q (2009) Effect of pH, ionic strength, foreign ions and temperature on the adsorption of Cu(II) from aqueous solution to GMZ bentonite. Colloids Surf A Physicochem Eng Asp 349:195–201

Li WC, Law FY, Chan YHM (2017) Biosorption studies on copper (II) and cadmium (II) using pretreated rice straw and rice husk. Environ Sci Pollut Res 24:8903–8915

Munagapati VS, Yarramuthi V, Nadavala SK, Alla SR, Abburi K (2010) Biosorption of Cu(II), and Pb(II) by Acacia leucocephala bark powder: kinetics, equilibrium and thermodynamics. Chem Eng J 157:357–365

Padilla-Ortega E, Leyva-Ramos R, Flores-Cano JV (2013) Binary adsorption of heavy metals from aqueous solution onto natural clays. Chem Eng J 225:535–546

Panda AK, Mishra BG, Mishra DK, Singh RK (2010) Effect of sulphuric acid treatment on the physico-chemical characteristics of kaolin clay. Colloids Surf A Physicochem Eng Asp 363:98–104

Petrella A, Petruzzelli V, Ranieri E, Catalucci V, Petruzzelli D (2016) Sorption of Pb(II), Cd(II), and Ni(II) from single- and multimetal solutions by recycled waste porous glass. Chem Eng Commun 203:940–947

Petrella A, Spasiano D, Rizzi V, Cosma P, Race M, De Vietro N (2018) Lead ion sorption by perlite and reuse of the exhausted material in the construction field. Appl Sci 8:1882

Podder MS, Majumder CB (2016) Fixed-bed column study for As(III) and As(V) removal and recovery by bacterial cells immobilized on sawdust/MnFe2O4 composite. Biochem Eng J 105:114–135

Primeau N, Vautey C, Langlet M (1997) The effect of thermal annealing on aerosol-gel deposited SiO2 films: a FTIR deconvolution study. Thin Solid Films 310:47–56

Rajamani M, Maliyekkal SM (2018) Chitosan reinforced boehmite nanocomposite dessicant: a promising alternative to silica gel. Carbohydr Polym 194:245–251

Rani KS, Srinivas B, Naidu KG, Ramesh KV (2018) Removal of copper by adsorption on treated laterite. Mater Today Proc 5:463–469

Rekik SB, Gassara S, Bouaziz J, Deratani A, Baklouti S (2017) Development and characterization of porous membranes based on kaolin/chitosan composite. Appl Clay Sci 143:1–9

Şahin Ö, Kaya M, Saka C (2015) Plasma-surface modification on bentonite clay to improve the performance of adsorption of methylene blue. Appl Clay Sci 116-117:46–53

Sanchez-Salvador JL, Balea A, Monte MC, Blanco A, Negro C (2018) Study of the reaction mechanism to produce nanocellulose-graft-chitosan polymer. Nanomater 8:883. https://doi.org/10.3390/nano8110883

Sharma A, Syed Z, Brighu U, Gupta AB, Ram C (2019) Adsorption of textile wastewater on alkali-activated sand. J Clean Prod 220:23–32

Sun XQ, Peng B, Jing Y, Chen J, Li DQ (2009) Chitosan(chitin)/cellulose composite biosorbents prepared using ionic liquid for heavy metal ions adsorption. Sep 55:2062–2069

Taboada E, Cabrera G, Cárdenas G (2003) Retention capacity of chitosan for copper and mercury ions. J Chil Chem Soc 48:7–12

Thomas HC (1944) Heterogeneous ion exchange in a flowing system. J Am Chem Soc 66:1644–1666

Uddin MK (2017) A review on the adsorption of heavy metals by clay minerals, with special focus on the past decade. Chem Eng J 308:438–462

Vakili M, Deng S, Cagnetta G, Wang W, Meng P, Liu D, Yu G (2019) Regeneration of chitosan-based adsorbents used in heavy metal adsorption: a review. Sep Purif Technol 224:373–387

Vijaya Y, Popuri SR, Boddhu VM, Krihnaiah A (2008) Modified chitosan and calcium alginate biopolymer sorbents for removal of nickel (II) through adsorption. Carbohydr Polym 72:261–271

Wan MW, Petrisor IG, Lai HT, Kim D, Yen TF (2004) Copper adsorption through chitosan immobilized on sand to demonstrate the feasibility for in situ soil decontamination. Carbohydr Polym 55:249–254

Wan MW, Kan CC, Rogel BD, Dalida MLP (2010) Adsorption of copper(II) and lead(II) ions from aqueous solution on chitosan-coated sand. Carbohydr Polym 80:891–899

Wang XH, Zheng Y, Wang AQ (2009) Fast removal of copper ions from aqueous solution by chitosan-g-poly(acrylic acid)/attapulgite composites. J Hazard Mater 168:970–977

Wu FC, Tseng RL, Juang RS (2002) Adsorption of dyes and humic acid from water using chitosan-encapsulated activated carbon. J Chem Technol Biotechnol 77:1269–1279

Xavier ALP, Adarme OFH, Furtado LM, Ferreira GMD, da Silva LHM, Gil LF, Gurgel LVA (2018) Modeling adsorption of copper(II), cobalt(II) and nickel(II) metal ions from aqueous solution onto a new carboxylated sugarcane bagasse. Part II: Optimization of monocomponent fixed-bed column adsorption. J Colloid Interface Sci 516:431–445

Xing G, Liu S, Xu Q, Liu Q (2012) Preparation and adsorption of behavior for brilliant blue X-BR of the cost-effective cationic starch intercalated clay composite matrix. Carbohydr Polym 87:1447–1452

Xiong WL, Zhang J, Yu JX, Chi RA (2019) Competitive adsorption behavior and mechanism for Pb2+ selective removal from aqueous solution on phosphoric acid modified sugarcane bagasse fixed-bed column. Process Saf Environ Prot 124:75–83

Yun YS, Park D, Park JM, Volesky B (2001) Biosorption of trivalent chromium on the brow seaweed biomass. Environ Sci Technol 35:4353–4358

Zhang GY, Qu RJ, Sun CM, Ji CN, Chen H, Wang CH, Niu YZ (2008) Adsorption of metal ions of chitosan coated cotton fiber. J Appl Polym Sci 110:2321–2327

Zhao H, Xu J, Lan W, Wang T, Luo G (2013) Microfluidic production of porous chitosan/silica hybrid microspeheres and its Cu(II) adsorption performance. Chem Eng J 229:82–89

Zuo X, Wang D, Zhang S, Kiu Q, Yang H (2017) Effect of intercalation agents on morphology of exfoliated kaolinite. Minerals 7:249–261
Funding
This study was financially supported by the Ministry of Science and Technology, Taiwan (MOST 105-2221-E-041-002-MY3), and the National Research Foundation (NRF) of Korea through the Ministry of Education (No. 2016R1A6A1A03012812).
Additional information
Publisher's note
Springer Nature remains neutral with regard to jurisdictional claims in published maps and institutional affiliations.
Responsible editor: Angeles Blanco
About this article
Cite this article
Futalan, C.M., Yang, JH., Phatai, P. et al. Fixed-bed adsorption of copper from aqueous media using chitosan-coated bentonite, chitosan-coated sand, and chitosan-coated kaolinite. Environ Sci Pollut Res 27, 24659–24670 (2020). https://doi.org/10.1007/s11356-019-06083-0
Received:

Accepted:

Published:

Issue Date:
Keywords
Breakthrough curve

Chitosan

Clay

Fixed-bed

Mass transfer zone

Sand

Thomas model