Development of a novel wind-assisted centralized spraying dedusting device for dust suppression in a fully mechanized mining face
Abstract
Aiming at addressing serious pollution in the No. 30106 fully mechanized coal mining face of Shiquan Coal Mine during coal cutting process, the spraying device between hydraulic supports was improved through the combination of experimental analysis, numerical simulation, and field measurement, and a novel wind-assisted centralized spraying dedusting device was developed. The newly developed device could make the formed spraying field more concentrated on the dust-producing source around the coal shearer's drum, and thus significantly enhanced the spraying performance. According to numerical simulation results, the spraying performance reached the optimum at a hydraulic pressure of 8 MPa for the spraying device and an air pressure of 1 MPa for the pneumatic motor; under these optimal conditions, the droplet concentration in the spraying field around the coal cutter drum was as high as 24.85 g/m3, and the formed high-concentration spraying field could basically cover the whole section in the spraying field from coal wall to the support pillar. Field measured results revealed that, at a hydraulic pressure of 8 MPa and an air pressure of 1 MPa, the dust suppression rate around coal cutter driver reached up to 87.96%, suggesting that the developed wind-assisted centralized spraying dedusting device had remarkable dust suppression performance and could effectively improve the operating environment in the fully mechanized mining face.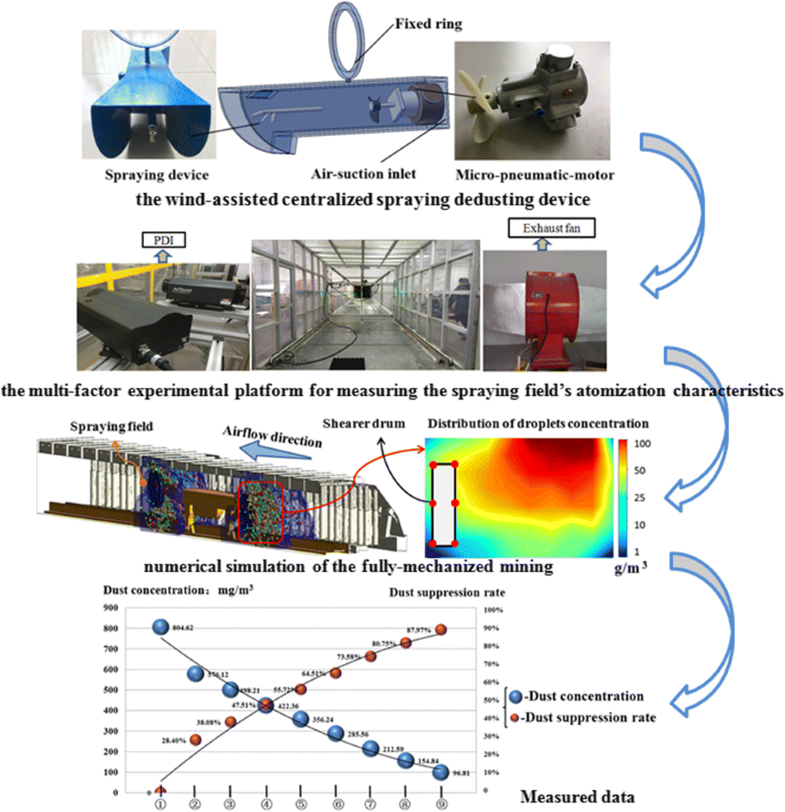 Keywords
Fully mechanized mining face 
Spraying dedusting device 
Wind-assisted 
Experimental analysis 
Numerical simulation 
Field measurement 
Notes
Funding information
This work has been funded by the National Natural Science Foundation of China (NO. 51874191 and 51404147), the Focus on Research and Development Plan in Shandong Province (NO.2017GSF20111), the National Key R&D Program of China (2017YFC0805201), the China Postdoctoral Science Foundation (NO.2015M570601 and 2017T100503).
Copyright information
© Springer-Verlag GmbH Germany, part of Springer Nature 2018