Ecotoxicological assessment of oil-based paint using three-dimensional multi-species bio-testing model: pre- and post-bioremediation analysis
Abstract
The present study validates the oil-based paint bioremediation potential of Bacillus subtilis NAP1 for ecotoxicological assessment using a three-dimensional multi-species bio-testing model. The model included bioassays to determine phytotoxic effect, cytotoxic effect, and antimicrobial effect of oil-based paint. Additionally, the antioxidant activity of pre- and post-bioremediation samples was also detected to confirm its detoxification. Although, the pre-bioremediation samples of oil-based paint displayed significant toxicity against all the life forms. However, post-bioremediation, the cytotoxic effect against Artemia salina revealed substantial detoxification of oil-based paint with LD50 of 121 μl ml−1 (without glucose) and > 400 μl ml−1 (with glucose). Similarly, the reduction in toxicity against Raphanus raphanistrum seeds germination (%FG = 98 to 100%) was also evident of successful detoxification under experimental conditions. Moreover, the toxicity against test bacterial strains and fungal strains was completely removed after bioremediation. In addition, the post-bioremediation samples showed reduced antioxidant activities (% scavenging = 23.5 ± 0.35 and 28.9 ± 2.7) without and with glucose, respectively. Convincingly, the present multi-species bio-testing model in addition to antioxidant studies could be suggested as a validation tool for bioremediation experiments, especially for middle and low-income countries.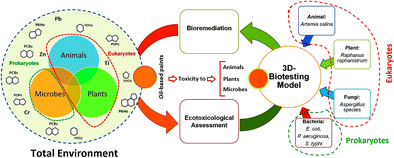 Keywords
Oil-based paint 
Cytotoxic 
Phytotoxic 
Mycotoxic and multi-species bio-testing 
Notes
Acknowledgements
The project no. 20-4635 entitled "Investigation of indigenous paint-degrading microorganisms and their environmental applications" under Natural Research Program for Universities (NRPU) scheme was funded by Higher Education Commission (HEC), Government of Pakistan. So, the scientists are very thankful to HEC Pakistan for their funding and for providing this opportunity for the research. Moreover, part of the research was carried out in the Department of Pharmacy, Faculty of Biological Sciences, Quaid-i-Azam University, Islamabad Pakistan. For giving access to the laboratory instruments for the assays such as cytotoxicity, phytotoxicity, and antimicrobial, the authors are also highly thankful to the Chairman, Department of Pharmacy.
Compliance with ethical standards
Conflict of interest
The authors declare that they have no conflict of interest.
Copyright information
© Springer-Verlag GmbH Germany, part of Springer Nature 2018
corrected publication May 2018