Abstract
Freshwater and the services it provides are vital to both natural ecosystems and human needs; however, extreme climates and their influence on freshwater availability can be challenging for municipal planners and engineers to manage these resources effectively. In Arctic Canada, financial and human capital limitations have left a legacy of freshwater systems that underserve current communities and may be inadequate in the near future under a warming climate, growing population, and increasing demand. We address this challenge to community water resource planning by applying several novel water supply forecasting methods to evaluate the Apex River as an alternative freshwater source for Iqaluit, Nunavut (Canada). Surveys of water isotope composition of the Apex River and tributaries indicated that rainfall is the main source of water replenishment. This information was utilized to calibrate a water resource assessment that considered climate forecasting scenarios and their influence on supply, and alternative scenarios for freshwater management to better adapt to a changing climate. We found that under current climate and demand conditions, the freshwater supply of Iqaluit would be in a perpetual state of drawdown by 2024. Analysis of current infrastructure proposals revealed significant deficiencies in the supply extensions proposed whereby the Apex replenishment pipeline would only provide a 2-year extension to current municipal supply. Our heuristic supply forecast methods allowed for several alternative supply strategies to be rapidly evaluated, which will aid the community planning process by specifically quantifying the service life of the city's current and future primary water supply.
Access options
Buy single article
Instant access to the full article PDF.
US$ 39.95
Tax calculation will be finalised during checkout.
Subscribe to journal
Immediate online access to all issues from 2019. Subscription will auto renew annually.
US$ 79
Tax calculation will be finalised during checkout.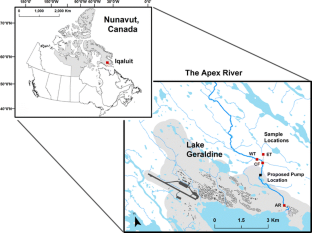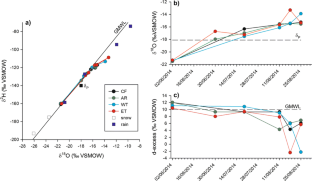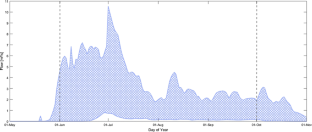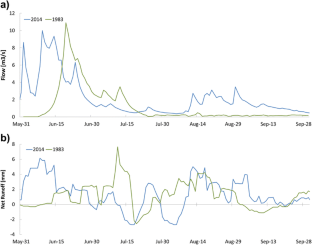 References
Alessa L, Kliskey A, Lammers R, Arp C, White D, Hinzman L, Busey R (2008) The arctic water resource vulnerability index: an integrated assessment tool for community resilience and vulnerability with respect to freshwater. Environ Manag 42:523–541

Bakaic M, Medeiros AS (2017) Vulnerability of northern water supply lakes to changing climate and demand. Arctic Science 3:1–16

Bekele EG, Knapp (2010) Watershed modeling to assessing impacts of potential climate change on water supply availability. Water Resour Manag 24:3299–3320

Bouchard F, Turner KW, MacDonald LA, Deakin C, White H, Farquharson N, Medeiros AS, Wolfe BB, Hall RI, Pienitz R, Edwards TWD (2013) Vulnerability of shallow subarctic lakes to evaporate and desiccate when snowmelt runoff is low. Geophys Res Lett 40:6112–6117

Brown LC, Duguay CR (2010) The response and role of ice cover in lake-climate interactions. Prog Phys Geogr 34:671–704

Chiasson-Poirier G, Franssen J, Tremblay T, Lafreniere M, Lamoureux S (2015) Identification and characterization of physical controls on subsurface flows during baseflow recession in a small Arctic river. ArcticNet Annual General Meeting, 2015. doi:10.13140/RG.2.1.3048.9689

City of Iqaluit (2010) City of Iqaluit General Plan Including the Changes Proposed under the 5 year Review Process. City of Iqaluit. Iqaluit, Nunavut

Craig H (1961) Isotopic variations in meteoric waters. Science 133:1702–1703

Deb D, Butcher J, Srinivasan R (2015) Projected hydrologic changes under mid-21st century climatic conditions in a sub-arctic watershed. Water Resour Manag 29:1467–1487

Department of Fisheries and Oceans Canada (2013) Framework for assessing the ecological flow requirements to support fisheries in Canada. Department of Fisheries and Oceans Canada, Ottawa

Derksen C, Brown R (2012) Spring snow cover extent reductions in the 2008–2012 period exceeding climate model projections. Geophys Res Lett 39:L19504

Edwards TWD, Wolfe BB, Gibson JJ, Hammarlund D (2004) Use of water isotope tracers in high-latitude hydrology and paleohydrology. In: Pienitz R, Douglas M, Smol JP (eds) Long-term environmental change in Arctic and Antarctic lakes, developments in paleoenvironmental research, volume 7. Springer, Dordrecht, pp 187–207

Environment and Climate Change Canada (2016a) Climate data and scenarios for Canada: Synthesis of recent observation and modelling results. Available from http://ec.gc.ca/sc-cs/default.asp?lang=En&n=80E99404-1 [11 Oct 2016]

Environment and Climate Change Canada (2016b) Historical data. Available from: http://climate.weather.gc.ca/historical_data/search_historic_data_e.html [21 Feb 2016]

exp Services Inc. (2014) City of Iqaluit supplementary water supply study. exp Services Inc., Moncton

Gearheard S, Pocernich M, Stewart R, Sanguya J, Huntington HP (2010) Linking Inuit knowledge and meteorological station observations to understand changing wind patterns at Clyde River, Nunavut. Clim Chang 100:267–294

Golder Associates Ltd. (2013) Lake Geraldine water balance assessment. Golder Associates Ltd., Mississauga

Grigg NS (2016) Water security, disasters, and risk assessment. In integrated water resource management. Palgrave Macmillan, London, pp 375–393

Hinzman LD, Bettez ND, Bolton WR, Chapin FS, Dyurgerov MB, Fastie CL et al (2005) Evidence and implications of recent climate change in northern Alaska and other arctic regions. Clim Chang 72:251–298

Instanes A, Kokorev V, Janowicz R, Bruland O, Sand K, Prowse T (2016) Changes to freshwater systems affecting Arctic infrastructure and natural resources. Journal of Geophysical Research: Biogeosciences 121:1887–1893

Krasting JP, Broccoli AJ, Dixon KW, Lanzante JR (2013) Future changes in northern hemisphere snowfall. J Clim 26:7813–7828. doi:10.1175/jcli-d-12-00832.1

Medeiros AS, Quinlan R (2011) The distribution of the Chironomidae along multiple environmental gradients in lakes and ponds of the eastern Canadian Arctic. Can J Fish Aquat Sci 68:1511–1527

Medeiros AS, Friel CE, Finkelstein SA, Quinlan R (2012) A high resolution multi-proxy record of pronounced recent environmental change at Baker Lake, Nunavut. J Paleolimnol 47:661–676

Medeiros AS, Wood P, Wesche SD, Bakaic M, Peters JF (2017) Water security for Northern Peoples: review of threats to Arctic freshwater systems in Nunavut, Canada. Reg Environ Chang 17:635–647

Nunavut Bureau of Statistics (2016) Population estimates. Nunavut Bureau of Statistics, Canada http://www.stats.gov.nu.ca/en/Population%20estimate.aspx [Accessed May 9, 2016]

Obradovic M, Sklash M (1986) An isotopic and geochemical study of snowmelt runoff in a small Arctic watershed. Hydrol Process 1:15–30

Poland JS, Mitchell S, Rutter A (2001) Remediation of former military bases in the Canadian Arctic. Cold Reg Sci Technol 32:93–105

Prowse TD, Brown K (2010) Hydro-ecological effects of changing Arctic river and lake ice covers: a review. Hydrol Res 41:454–461

Prowse TD, Wrona FJ, Reist JD, Gibson JJ, Hobbie JE, Lévesque LM, Vincent WF (2006) Climate change effects on hydroecology of Arctic freshwater ecosystems. AMBIO: A Journal of the Human Environment 35:347–358

Prowse T, Alfredsen K, Beltaos S, Bonsal BR, Bowden WB, Duguay CR, Korhola A, McNamara J, Vincent WF, Vuglinsky V, Anthony KMW (2011) Effects of changes in arctic lake and river ice. Ambio 40:63–74

Prowse T, Bring A, Mård J, Carmack E, Holland M, Instanes A et al (2015) Arctic freshwater synthesis: summary of key emerging issues. Journal of Geophysical Research: Biogeosciences 120:1887–1893

Samuelson G (1998) Water and waste management issues in the Canadian arctic: Iqaluit, Baffin Island. Canadian Water Resource Journal 4:327–338

Sharffenberg W (2015) Hydrologic modeling system HEC-HMS user's manual. U.S. Army Corps of Engineers Institute for Water Resources Hydrologic Engineering Center, Report CPD-74A, Davis

Staudenmaier MJ (1996) A description of the Meso Eta model. NWS Western Region Technical Attachment No. 96-06, NWS Western Region, Salt Lake City, Utah, USA

Stuefer SL, Kane DL (2013) Using snow fences to augment fresh water supplies in shallow arctic lakes. University of Alaska Fairbanks, Water and Environmental Research Center, Report INE/WERC 13.06, September 2013, Fairbanks 32 pp

Trenberth KE, Jones PD, Ambenje P, Bojariu R, Easterling D, Klein Tank A, Parker D, Rahimzadeh F, Renwick JA, Rusticucci M, Soden B, Zhai P (2007) Observations: surface and atmospheric climate change. In: Solomon S, Qin D, Manning M, Chen Z, Marquis M, Averyt KB, Tignor M, Miller HL (eds) Climate change 2007: the physical science basis. Contribution of working group I to the fourth assessment report of the Intergovernmental Panel on Climate Change. Cambridge University Press, Cambridge

Turner KW, Edwards TWD, Wolfe BB (2014) Characterising runoff generation processes in a lake-rich thermokarst landscape (Old Crow Flats, Yukon, Canada) using δ18O, δ2H, and d-excess measurements. Permafr Periglac Process 25:53–59

Water Survey of Canada (2016) Real-time hydrometric data graph for Lake Geraldine (10UH013). Wateroffice https://wateroffice.ec.gc.ca/report/report_e.html?mode=Graph&type=realTime&stn=10UH013 [Accessed Feb 21, 2016]

Williams Engineering Canada Inc. (2014) Locate alternate sources of drinking water for each Nunavut hamlet: final report. Yellowknife, Canada

Woo MK, Young KL (2006) High Arctic wetlands: their occurrence, hydrological characteristics and sustainability. J Hydrol 320:432–450

Wrona FJ, Johansson M, Culp JM, Jenkins A, Mård J, Myers-Smith IH et al (2016) Transitions in Arctic ecosystems: ecological implications of a changing hydrological regime. Journal of Geophysical Research: Biogeosciences 121:650–674

Xu C-Y, Singh VP (2004) Review on regional water resources assessment models under stationary and changing climate. Water Resour Manag 18:591–612
Acknowledgements
This project was supported by an NSERC Discovery Grant awarded to BBW, by the Northern Scientific Training Program to support MB, and a York University research grant awarded to ASM. We are grateful to the Nunavut Research Institute for logistical assistance and to Thomas W.D. Edwards for his guidance and insight.
Additional information
Responsible editor: Philippe Garrigues
Electronic supplementary material
About this article
Cite this article
Bakaic, M., Medeiros, A.S., Peters, J.F. et al. Hydrologic monitoring tools for freshwater municipal planning in the Arctic: the case of Iqaluit, Nunavut, Canada. Environ Sci Pollut Res 25, 32913–32925 (2018). https://doi.org/10.1007/s11356-017-9343-4
Received:

Accepted:

Published:

Issue Date:
Keywords
Freshwater modeling

Arctic

Water security

Water resource assessment