Abstract
The characterization of suitable microsites for tree seedling establishment and growth is one of the most important tasks to achieve the restoration of native forest using natural processes in disturbed sites. For that, we assessed the natural Quercus petraea forest expansion in a 20-year-old reclaimed open-cast mine under sub-Mediterranean climate in northern Spain, monitoring seedling survival, growth, and recruitment during 5 years in three contrasting environments (undisturbed forest, mine edge, and mine center). Seedling density and proportion of dead branches decreased greatly from undisturbed forest towards the center of the mine. There was a positive effect of shrubs on Q. petraea seedling establishment in both mine environments, which increase as the environment undergoes more stress (from the mine edge to the center of the mine), and it was produced by different shrub structural features in each mine environment. Seedling survival reduction through time in three environments did not lead to a density reduction because there was a yearly recruitment of new seedlings. Seedling survival, annual growth, and height through time were greater in mine sites than in the undisturbed forest. The successful colonization patterns and positive neighbor effect of shrubs on natural seedlings establishment found in this study during the first years support the use of shrubs as ecosystem engineers to increase heterogeneity in micro-environmental conditions on reclaimed mine sites, which improves late-successional Quercus species establishment.
Access options
Buy single article
Instant access to the full article PDF.
USD 39.95
Price includes VAT (USA)
Tax calculation will be finalised during checkout.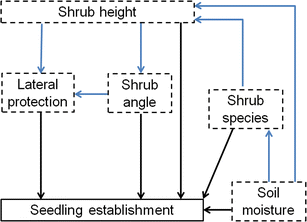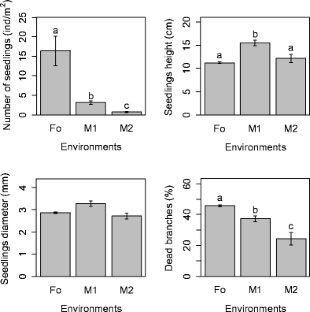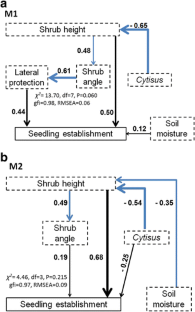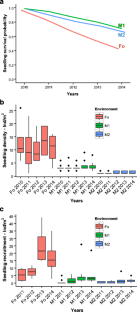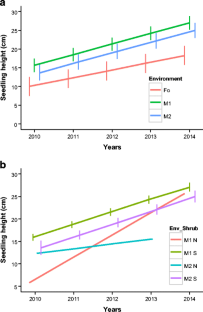 References
Alday JG, Marrs RH, Martínez-Ruiz C (2011a) Vegetation succession on reclaimed coal wastes in Spain: the influence of soil and environmental factors. Appl Veg Sci 14:84–94

Alday JG, Marrs RH, Martínez-Ruiz C (2011b) Vegetation convergence during early succession on coal wastes: a 6 years permanent plot study. J Veg Sci 22:1072–1083

Alday JG, Marrs RH, Martínez-Ruiz C (2012) Soil and vegetation development during early succession on restored coal wastes: a 6 years permanent plot study. Plant Soil 353:305–320

Alday JG, Santana VM, Marrs RH, Martínez-Ruiz C (2014) Shrub induced understory vegetation changes in reclaimed mine sites. Ecol Eng 73:691–698

Ammar H, López S, González JS, Ranilla MJ (2004) Seasonal variations in the chemical composition and in vitro digestibility of some Spanish leguminous shrub species. Anim Feed Sci Technol 115:327–340

Bates D, Maechler M, Bolker B (2013) Lme4: Linear mixed-effects models using S4 classes. R package version 0.999999-2. http://CRAN.R-project.org/package=lme4

Bertness MD, Callaway R (1994) Positive interactions in communities. Trends Ecol Evol 9:191–193

Bradshaw A (1997) Restoration of mined lands—using natural processes. Ecol Eng 8:255–269

Brooker RW, Maestre FT, Callaway RM, Lortie CL, Cavieres LA, Kunstler G, Liancourt P, Tielborger K, Travis JMJ, Anthelme F, Armas C, Coll L, Corcket E, Delzon S, Forey E, Kikvidze Z, Olofsson J, Pugnaire F, Quiroz CL, Saccone P, Schiffers K, Seifan M, Touzard B, Michalet R (2008) Facilitation in plant communities: the past, the present, and the future. J Ecol 96:18–34

Burschel P, Huss J (2003) Grundriß des Waldbaus. Parey, Berlin

Castro J, Zamora R, Hódar JA (2006) Restoring Quercus pyrenaica forests using pioneer shrubs as nurse plants. Appl Veg Sci 9:137–142

Collet C, Colin F, Bernier F (1997) Height growth, shoot elongation and branch development of young Quercus petraea grown under different levels of resource availability. Ann For Sci 54:65–81

Core Team R (2013) R: a language and environment for statistical computing. R Foundation for Statistical Computing, Vienna, Available from: http://www.R-project.org/. Accessed Dec 2014. ISBN 3-900051-07-0

Crawley MJ (2007) The R book. John Wiley and Sons, Chichester

Den Ouden J, Jansen PA, Smit R (2005) Jays, mice and oaks: predation and dispersal of Quercus robur and Q. petraea in north-western Europe. In: Forget PM, Lambert JE, Hulme PE, Vander Wall SB (eds) Seed fate: predation, dispersal, and seedling establishment. CABI Publishing, Wallingford, pp 223–239

do Amaral FJ (1990) Quercus L. In: Castro S, Laínz M, López González M, Monserrat P, Muñoz Garmendia F, Paiva J, Villar L (eds) Flora ibérica, 2. Real Jardín Botánico, CSIC, Madrid, pp 15–36 (in Spanish)

Frouz J, Vobořilová V, Janoušová I, Kadochová Š, Matějíček L (2015) Spontaneous establishment of late successional tree species English oak (Quercus robur) and European beech (Fagus sylvatica) at reclaimed alder plantation and unreclaimed post mining sites. Ecol Eng 77:1–8

García D, Zamora R, Hódar JA, Gómez JM, Castro J (2000) Yew (Taxus baccata L.) regeneration is facilitated by fleshy-fruited shrubs in Mediterranean environments. Biol Conserv 95:31–38

García-Ibáñez, E (2001) Efecto sobre el suelo de la hojarasca de arbustos en la Sierra de Guadarrama. PhD dissertation, Universidad Complutense de Madrid (in Spanish)

Gómez JM, García D, Zamora R (2003) Impact of vertebrate acorn- and seedling-predators on a Mediterranean Quercus pyrenaica forest. For Ecol Manag 180:125–134

Gómez JM, Puerta-Piñero C, Schupp EW (2008) Effectiveness of rodents as local seed dispersers of Holm oaks. Oecologia 155:529–537

Gómez-Aparicio L (2009) The role of plant interactions in the restoration of degraded ecosystems: a meta-analysis across life-forms and ecosystems. J Ecol 97:1202–1214

Gómez-Aparicio L, Zamora R, Gómez JM, Hódar JA, Castro J, Baraza E (2004) Applying plant positive interactions to reforestation in Mediterranean mountains: a meta-analysis of the use of shrubs as nurse plants. Ecol Appl 14:1128–1138

Gómez-Aparicio L, Gómez JM, Zamora R, Boettinger JL (2005) Canopy vs. soil effects of shrubs facilitating tree seedlings in Mediterranean montane ecosystems. J Veg Sci 16:191–198

Gómez-Aparicio L, Zamora R, Castro J, Hódar JA (2008) Facilitation of tree saplings by nurse plants: microhabitat amelioration or protection against herbivores? J Veg Sci 19:161–172

González-Alday J, Marrs RH, Martínez-Ruiz C (2009) Soil seed bank formation during early revegetation after hydroseeding in reclaimed coal wastes. Ecol Eng 35:1062–1069

Grace JB (2006) Structural equation modeling and natural systems. Cambridge University Press, Cambridge

Hettenbergerová E, Hájek M, Zelený D, Jiroušková J, Mikulášková E (2013) Changes in species richness and species composition of vascular plants and bryophytes along a moisture gradient. Preslia 85:369–388

Kissinger G, Herold M, De Sy V (2012) Drivers of deforestation and forest degradation: a synthesis report for REDD+ policymakers. Lexeme Consulting, Vancouver Canada

Kuehne C, Kublin E, Pyttel P, Bauhus J (2013) Growth and form of Quercus robur and Fraxinus excelsior respond distinctly different to initial growing space: results from 24-year-old Nelder experiments. J For Res 24:1–14

López-Marcos D (2012) Influencia de la heterogeneidad edáfica y de la topografía en la composición de especies vegetales sobre escombreras mineras de carbón del norte de España. MSc dissertation, Valladolid University and IUGFS (in Spanish)

MEA (Millennium Ecosystem Assessment) (2005) Ecosystems and human wellbeing: synthesis report. Island Press, Washington DC

Milder AI, Fernández-Santos B, Martínez-Ruiz C (2008) Influencia de la forma del borde del bosque en la colonización de leñosas: aplicaciones en restauración de escombreras mineras. Cuad Soc Esp Cienc For 28:259–264 (in Spanish)

Milder AI, Fernández-Santos B, Martínez-Ruiz C (2013) Colonization patterns of woody species on lands mined for coal in Spain: preliminary insights for forest expansion. Land Degrad Dev 24:39–46

Müller SC, Overbeck GE, Pfadenhauer J, Pillar VD (2007) Plant functional types of woody species related to fire disturbance in forest-grassland ecotones. Plant Ecol 189:1–14

Onaindia M, Ametzaga-Arregi I, San Sebastián M, Mitxelena A, Rodríguez-Loinaz G, Peñaa L, Alday JG (2013) Can understorey native woodland plant species regenerate under exotic pine plantations using natural succession? For Ecol Manag 308:136–144

Padilla FM, Pugnaire FI (2006) The role of nurse plants in the restoration of degraded environments. Front Ecol Environ 4:196–202

Pajunen A, Virtanen R, Roininen H (2012) Browsing-mediated shrub canopy changes drive composition and species richness in forest-tundra ecosystems. Oikos 121:1544–1552

Pérez-Ramos IM, Marañón T (2008) Factors affecting post-dispersal seed predation in two coexisting oak species: microhabitat, burial and exclusion of large herbivores. For Ecol Manag 255:3506–3514

Pérez-Ramos IM, Marañón T (2012) Community-level seedling dynamics in Mediterranean forests: uncoupling between the canopy and the seedling layers. J Veg Sci 23:526–540

Pérez-Ramos IM, Gómez-Aparicio L, Villar R, García LV, Marañón T (2010) Seedling growth and morphology of three oak species along field resource gradients and seed mass variation: a seedling age-dependent response. J Veg Sci 21:419–437

Pinheiro JC, Bates DM (2000) Mixed-effects models in S and S-plus. Springer, New York, USA

Pinheiro J, Bates D, DebRoy S, Sarkar D, The R Development Core Team (2013) nlme: linear and nonlinear mixed effects models. R Packag Version 3:1–108

Prach K, Pyšek P (2001) Using spontaneous succession for restoration of human-disturbed habitats: experience from Central Europe. Ecol Eng 17(1):55–62

Prach K, Řehounková K, Lencová K, Jírová A, Konvalinková P, Mudrák O, Student V, Vanĕcek Z, Tichy L, Petrik P, Smilauer P, Pyšek P (2014) Vegetation succession at disturbed sites in central Europe: the direction of succession, species richness and participation of target species across seres. Appl Veg Sci 17:193–200

Rodríguez-Calcerrada J, Pardos JA, Gil L, Reich PB, Aranda I (2008) Light response in seedlings of a temperate (Quercus petraea) and a sub-Mediterranean species (Quercus pyrenaica): contrasting ecological strategies as potential keys to regeneration performance in mixed marginal populations. Plant Ecol 195:273–285

Rosseel Y (2012) Lavaan: an R package for structural equation modeling. J Stat Softw 48:1–36

Sena K, Barton C, Angel P, Agouridis C, Warner R (2014) Influence of spoil type on chemistry and hydrology of interflow on a surface coal mine in the eastern US coalfield. Water Air Soil Pollut 225:1–14

Sena K, Barton C, Hall S, Angel P, Agouridis C, Warner R (2015) Influence of spoil type on afforestation success and natural vegetative recolonization on a surface coal mine in Appalachia, United States. Restor Ecol 23:131–138

Serrada R, Montero G, Reque JA (eds) (2008) Compendio de selvicultura aplicada. INIA-FUCOVASA, Madrid (in Spanish)

Shaw MW (1968) Factors affecting the natural regeneration of sessile oak (Quercus petraea) in North Wales: I. A preliminary study of acorn production, viability and losses. J Ecol 1:565–583

Sprugel DG (2002) When branch autonomy fails: Milton's law of resource availability and allocation. Tree Physiol 22:1119–1124

Stanturf JA, Palik BJ, Dumroese RK (2014) Contemporary forest restoration: a review emphasizing function. For Ecol Manag 331:292–323

Torroba-Balmori P, Zaldívar P, Alday JG, Fernández-Santos B, Martínez-Ruiz C (2015) Recovering Quercus species on reclaimed coal wastes using native shrubs as restoration nurse plants. Ecol Eng 77:146–153

Walker LR, Hölzel N, Marrs R, Moral R, Prach K (2014) Optimization of intervention levels in ecological restoration. Appl Veg Sci 17(2):187–192
Acknowledgments
We thank the mining company "UMINSA" for the information on their restoration procedures and permission to work at this mine, AEMET (Meteorological Spanish Agency) for providing meteorological data, and Fernando Valenciano Velasco for fieldwork assistance. We also thank three anonymous reviewers for their kind comments and valuable corrections to improve the manuscript. This study was supported by the Project VA042A10-2 from Junta de Castilla y León to C. Martínez-Ruiz, the "Programa I: Programa de financiación de grupos de investigación" from the Salamanca University to B. Fernández-Santos, and a FPU grant from Spanish Ministry of Education to P. Torroba (FPU 12/00125).
Additional information
Responsible editor: Hailong Wang
About this article
Cite this article
Alday, J.G., Zaldívar, P., Torroba-Balmori, P. et al. Natural forest expansion on reclaimed coal mines in Northern Spain: the role of native shrubs as suitable microsites. Environ Sci Pollut Res 23, 13606–13616 (2016). https://doi.org/10.1007/s11356-015-5681-2
Received:

Accepted:

Published:

Issue Date:
Keywords
Quercus petraea

Seedling recruitment

Survival

Growth

Shrub protection

Sub-Mediterranean environment