Abstract
The cities that are built on the arid biomes with the hot and dry climates can adjust the temperature (oasis effect) and create the urban cool island (UCI) during the day. As the background climate of the Isfahan metropolis is warm and dry, we can expect an UCI during the day. The MODIS land cover product data were used to distinguish between the urban and nonurban areas. The MODIS/Terra/LST data from 2000 to 2016 were then used for day-time view to examine the UCI. In the next step, the UCI intensity index was calculated by the spatial correlation representative pixel method for the city and the background. This study showed that due to the passage of the Zayandehrood river from the middle of the city and the expansion of vegetation in the urban environment, the metropolitan area of Isfahan is 3.5° cooler than the suburban barren lands during the day. The UCI intensity index has been intensified over the last few years and has fallen below − 4.5°. The studies have shown that the UCI intensity index is weakened during the cold months and intensified in the warm months of the year. The seasonal changes in UCI intensity in the metropolitan area of Isfahan can be related to the high variability of vegetation throughout the year.
Access options
Buy single article
Instant access to the full article PDF.
US$ 39.95
Tax calculation will be finalised during checkout.
Subscribe to journal
Immediate online access to all issues from 2019. Subscription will auto renew annually.
US$ 79
Tax calculation will be finalised during checkout.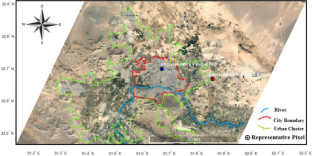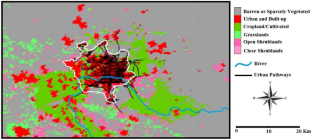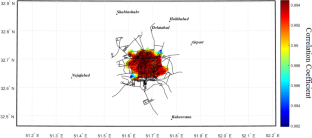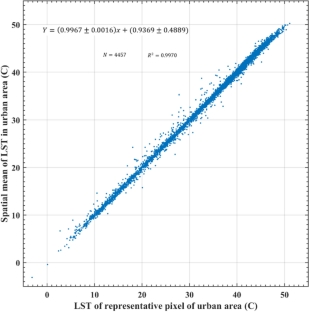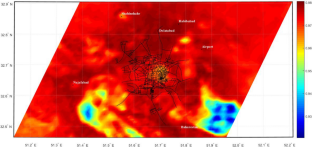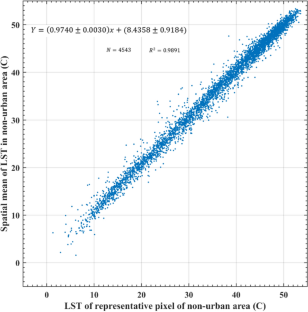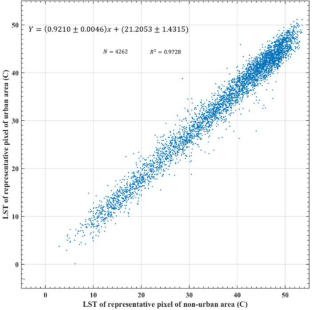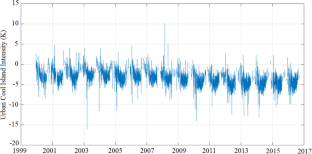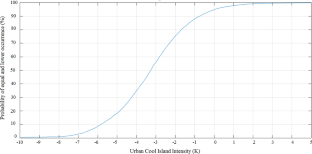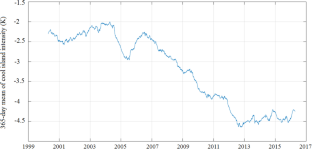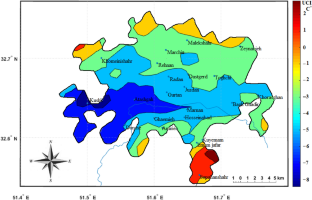 References
Ahmadi M, Dadashi Roudbari A (2017) The identification of urban thermal islands based on environmental approach, case study: Isfahan Province. J Geogr Environ Plan 28(3):1–20

Baker LA, Brazel AJ, Selover N, Martin C, McIntyre N, Steiner FR, Musacchio L et al (2002) Urbanization and warming of Phoenix (Arizona, USA): impacts, feedbacks and mitigation. Urban Ecosyst 6(3):183–203. https://doi.org/10.1023/A:1026101528700

Bowler DE, Buyung-Ali L, Knight TM, Pullin AS (2010) Urban greening to cool towns and cities: a systematic review of the empirical evidence. Landsc Urban Plan 97(3):147–155. https://doi.org/10.1016/j.landurbplan.2010.05.006

Brazel A, Selover N, Vose R, Heisler G (2000) The tale of two climates Baltimore and Phoenix urban LTER sites. Climate Res 15(2):123–135. https://doi.org/10.3354/cr015123

Buyantuyev A, Wu J (2010) Urban heat islands and landscape heterogeneity: linking spatiotemporal variations in surface temperatures to land-cover and socioeconomic patterns. Landsc Ecol 25(1):17–33. https://doi.org/10.1007/s10980-009-9402-4

Cui YY, De Foy B (2012) Seasonal variations of the urban heat island at the surface and the near-surface and reductions due to urban vegetation in Mexico City. J Appl Meteorol Climatol 51(5):855–868. https://doi.org/10.1175/JAMC-D-11-0104.1

Frey CM, Rigo G, Parlow E (2005) Investigation of the daily Urban Cooling Island (UCI) in two coastal cities in an arid environment: Dubai and Abu Dhabi (UAE). City 81:2–06

Ganbat G, Han JY, Ryu YH, Baik JJ (2013) Characteristics of the urban heat island in a high-altitude metropolitan city, Ulaanbaatar, Mongolia. Asia-Pac J Atmos Sci 49:535–541. https://doi.org/10.1007/s13143-013-0047-5

Grimm NB, Faeth SH, Golubiewski NE, Redman CL, Wu J, Bai X, Briggs JM (2008) Global change and the ecology of cities. Science 319(5864):756–760. https://doi.org/10.1126/science.1150195

Guhathakurta S, Gober P (2007) The impact of the Phoenix urban heat island on residential water use. J Am Plan Assoc 73(3):317–329. https://doi.org/10.1080/01944360708977980

Haashemi S, Weng Q, Darvishi A, Alavipanah S (2016) Seasonal variations of the surface urban heat island in a semi-arid city. Rem Sens 8(4):352. https://doi.org/10.3390/rs8040352

Hu Y, Su C, Zhang Y (1988) Research on the microclimate characteristics and cold island effect over a reservoir in the Hexi Region. Adv Atmos Sci 5(1):117–126. https://doi.org/10.1007/BF02657351

Imhoff ML, Zhang P, Wolfe RE, Bounoua L (2010) Remote sensing of the urban heat island effect across biomes in the continental USA. Remote Sens Environ 114(3):504–513. https://doi.org/10.1016/j.rse.2009.10.008

Jalalian H, Zeaiean P, Darouei P, Karimi K (2015) An analysis of urban sprawl and land use alterations (a comparative study of Isfahan and Urmia). Q J Phys Devel Plan 2(4):73–98. http://psp.journals.pnu.ac.ir/article_2414.html

Jonsson P (2004) Vegetation as an urban climate control in the subtropical city of Gaborone, Botswana. Int J Climatol 24(10):1307–1322. https://doi.org/10.1002/joc.1064

Kharol SK, Kaskaoutis DG, Badarinath KVS, Sharma AR, Singh RP (2013) Influence of Land Use/Land Cover (LULC) changes on atmospheric dynamics over the arid region of Rajasthan state, India. J Arid Environ 88:90–101. https://doi.org/10.1016/j.jaridenv.2012.09.006

Kwarteng AY, Small CL (2005) Comparative analysis of thermal environments in New York City and Kuwait City. In: Proceedings of the remote sensing of urban areas, Tempe, pp 14–16

Lazzarini M, Marpu PR, Ghedira H (2013) Temperature–land cover interactions: the inversion of urban heat island phenomenon in desert city areas. Remote Sens Environ 130:136–152. https://doi.org/10.1016/j.rse.2012.11.007

Li S, Mo H, Dai Y (2011) Spatio-temporal pattern of urban cool island intensity and its eco-environmental response in Chang-Zhu-Tan urban agglomeration. Commun Inf Sci Manag Eng 1(9):1–6

Madanian M, Soffianian AR, Koupai SS, Pourmanafi S, Momeni M (2018) Analyzing the effects of urban expansion on land surface temperature patterns by landscape metrics: a case study of Isfahan city, Iran. Environ Monitor Assess 190(4):189

Mendonca F (2009) Urban heat and urban cool islands: influences of vegetation and soil surface in some cities, southern Brazil. In: Proc. Seventh Symp. on Urban Climate, pp 1–4

Park CY, Lee DK, Asawa T, Murakami A, Kim HG, Lee MK, Lee HS (2019) Influence of urban form on the cooling effect of a small urban river. Landsc Urban Plan 183:26–35

Peng S, Piao S, Ciais P, Friedlingstein P, Ottle C, Bréon FM, Myneni RB et al (2012) Surface urban heat island across 419 global big cities. Environ Sci Technol 46(2):696–703. https://doi.org/10.1021/es2030438

Puliafito SE, Bochaca FR, Allende DG, Fernandez RP (2013) Green areas and microscale thermal comfort in arid environments: a case study in Mendoza, Argentina. Atmos Clim Sci 3:372–384. https://doi.org/10.4236/acs.2013.33039

Rasul A, Balzter H, Smith C (2015) Spatial variation of the daytime Surface Urban Cool Island during the dry season in Erbil, Iraqi Kurdistan, from Landsat 8. Urban Clim 14:176–186. https://doi.org/10.1016/j.uclim.2015.09.001

Rasul A, Balzter H, Smith C (2016) Diurnal and seasonal variation of surface urban cool and heat islands in the semi-arid city of Erbil, Iraq. Climate 4(3):42. https://doi.org/10.3390/cli4030042

Rasul A, Balzter H, Smith C, Remedios J, Adamu B, Sobrino J, Weng Q et al (2017) A review on remote sensing of urban heat and cool islands. Land 6(2):1–10. https://doi.org/10.3390/land6020038

Saaroni H, Bitan A, Dor EB, Feller N (2004) The mixed results concerning the 'oasis effect' in a rural settlement in the Negev Desert, Isreal. J Arid Env 58(2):235–248. https://doi.org/10.1016/j.jaridenv.2003.08.010

Shigeta Y, Ohashi Y, Tsukamoto O (2009) Urban Cool Island in daytime-analysis by using thermal image and air temperature measurements. In: The seventh international conference on urban climate, vol 29

Spronken-Smith RA, Oke TR (1998) The thermal regime of urban parks in two cities with different summer climates. Int J Remote Sens 19(11):2085–2104. https://doi.org/10.1080/014311698214884

Tian H, Banger K, Bo Y, Dadhwal VK (2014) History of land use in India during 1880–2010: large-scale land transformations reconstructed from satellite data and historical archives. Glob Planet Change 121:78–88. https://doi.org/10.1016/j.gloplacha.2014.07.005

Upmanis H, Eliasson I, Lindqvist S (1998) The influence of green areas on nocturnal temperatures in a high latitude city (Göteborg, Sweden). Int J Climatol 18(6):681–700. https://doi.org/10.1002/(SICI)1097-0088(199805)18:6%3c681::AID-JOC289%3e3.0.CO;2-L

Wang K, Wang J, Wang P, Sparrow M, Yang J, Chen H (2007) Influences of urbanization on surface characteristics as derived from the Moderate-Resolution Imaging Spectroradiometer: a case study for the Beijing metropolitan area. J Geophys Res Atmos 112:D22S06. https://doi.org/10.1029/2006JD007997

Watkins R, Palmer J, Kolokotroni M (2007) Increased temperature and intensification of the urban heat island: implications for human comfort and urban design. Built Env 33(1):85–96. https://doi.org/10.2148/benv.33.1.85

Wu JJ (2008) Making the case for landscape ecology an effective approach to urban sustainability. Landsc J 27(1):41–50. https://doi.org/10.3368/lj.29.1.52

Xian G (2008) Satellite remotely-sensed land surface parameters and their climatic effects for three metropolitan regions. Adv Space Res 41:1861–1869. https://doi.org/10.1016/j.asr.2007.11.004
About this article
Cite this article
Masoodian, S.A., Montazeri, M. Quantifying of surface urban cool island in arid environments case study: Isfahan metropolis. Landscape Ecol Eng (2021). https://doi.org/10.1007/s11355-020-00443-6
Received:

Revised:

Accepted:

Published:
Keywords
Urban cool island (UCI)

Modis/terra/land surface temperature (LST)

Spatial correlation of representative pixel method

Isfahan metropolis