Abstract
Urban waterlogging stems from coverage with impervious surfaces and increasing rainfall intensity from climate change and variability, meaning that storm water cannot readily infiltrate the ground and excessive surface runoff leads to urban flooding. To reduce related environmental and safety risks, rainfall and groundwater level research was carried out in Kyoto Prefecture with two rain gardens (RG1 and RG2) to investigate flood mitigation functions using a tank model. During the 134 days of monitoring from July 14, 2017, to November 25, 2017, RG1 had seven overflow events with an average runoff control ratio of 63.94%, and RG2 had one event with a ratio of 95.97%. The RG1 tank model (two stages) showed that initial storage for the first and second depths was 6.912 × 10−11 and 0 mm, respectively. The heights of the discharge holes were 20.857 and 0.784 mm for the first stage and 0.659 mm for the second stage, and the discharge hole coefficients were 0.529 and 0.002 for the first stage and 0.004 for the second stage. The results showed that RG1 had penetration hole coefficients of 0.138 (first stage) and 0.254 (second stage), with a water balance error of 0.017 (< 0.02) and a Nash–Sutcliffe efficiency coefficient of 0.922, indicating better reliability and quality than RG2 with the one-stage tank model. Peak flow simulation for mitigation showed that RG1 had a high overflow control ratio (mitigation time 2 h for instant rainfall of 100 mm/h), and can therefore be considered appropriate for other urban areas of Japan.
This is a preview of subscription content, log in to check access.
Access options
Buy single article
Instant access to the full article PDF.
US$ 39.95
Price includes VAT for USA
Subscribe to journal
Immediate online access to all issues from 2019. Subscription will auto renew annually.
US$ 99
This is the net price. Taxes to be calculated in checkout.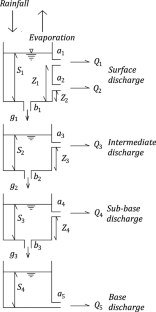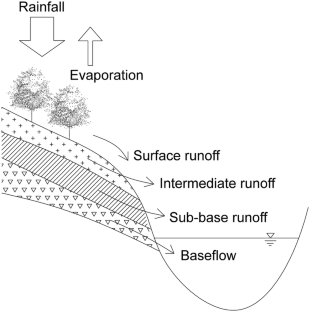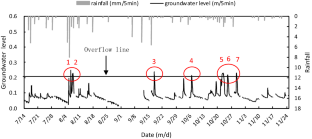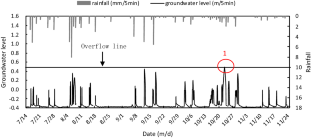 References
Autixier L, Mailhot A, Bolduc S, Madoux-Humery AS, Galarneau M, Prévost M, Dorner S (2014) Evaluating rain gardens as a method to reduce the impact of sewer overflows in sources of drinking water. Sci Total Environ 499:238–247. https://doi.org/10.1016/j.scitotenv.2014.08.030

Barbosa AE, Fernandes JN, David LM (2012) Key issues for sustainable urban stormwater management. Water Res 46(20):6787–6798. https://doi.org/10.1016/j.watres.2012.05.029

Davis AP (2007) Field performance of bioretention: water quality. Environ Eng Sci 24:1048–1064. https://doi.org/10.1089/ees.2006.0190

Dietz ME (2007) Low-impact development practices: a review of current research and recommendations for future directions. Water Air Soil Pollut 186:351–363. https://doi.org/10.1007/s11270-007-9484-z

Dietz ME, Clausen JC (2005) A field evaluation of rain garden flow and pollutant treatment. Water Air Soil Pollut 167(1–4):123–138. https://doi.org/10.1007/s11270-005-8266-8

Elliott AH, Trowsdale SA (2007) A review of models for low impact urban stormwater drainage. Environ Model Softw 22(3):394–405. https://doi.org/10.1016/j.envsoft.2005.12.005

EPA (2000) Low-impact development (LID): a literature review (eeport.) EPA-841-B-00-005. https://nepis.epa.gov/Exe/ZyPDF.cgi/P1001B6V.PDF?Dockey=P1001B6V.PDF. Accessed 15 Nov 2019

Executive Yuan (2017) Republic of China (Taiwan), Agricultural disaster report of heavy rain. https://www.ey.gov.tw/File/CF5A3802E4DFF760?A=C. Accessed 15 Nov 2019

Gülbaz S, Kazezyılmaz-Alhan CM (2016) Experimental investigation on hydrologic performance of LID with rainfall-watershed-bioretention system. J Hydrol Eng 22(1):D4016003. https://doi.org/10.1061/(ASCE)HE.1943-5584.0001450

Hatt BE, Fletcher TD, Deletic A (2009) Hydrologic and pollutant removal performance of stormwater biofiltration systems at the field scale. J Hydrol 365(3–4):310–321. https://doi.org/10.1016/j.jhydrol.2008.12.001

He Z, Davis AP (2010) Process modeling of storm-water flow in a bioretention cell. J Irrig Drain Eng 137(3):121–131. https://doi.org/10.1061/(ASCE)IR.1943-4774.0000166

Ishimatsu K, Ito K, Mitani Y, Tanaka Y, Sugahara T, Naka Y (2017) Use of rain gardens for stormwater management in urban design and planning. Landsc Ecol Eng 13(1):205–212. https://doi.org/10.1007/s11355-016-0309-3

Japan Cabinet Office (2018) About the estimation method of the economic damage amount by natural disaster. https://www5.cao.go.jp/keizai3/discussion-paper/dp184.pdf. Accessed 15 Nov 2019

Japan Cabinet Office (2019) About the damage situation by heavy rain in July, 2018. http://www.bousai.go.jp/updates/h30typhoon7/pdf/310109_1700_h30typhoon7_01.pdf. Accessed 15 Nov 2019

Japan Meteorological Agency (2017) Typhoon 2017 (report). https://www.jma.go.jp/jma/press/1712/21e/typhoon2017.pdf. Accessed 15 Nov 2019

JIS B 8302 (2002) Measurement methods of pump discharge. http://kikakurui.com/b8/B8302-2002-01.html. Accessed 15 Nov 2019

Kazemi F, Beecham S, Gibbs J (2011) Streetscape biodiversity and the role of bioretention swales in an Australian urban environment. Landsc Urban Plan 101(2):139–148. https://doi.org/10.1016/j.landurbplan.2011.02.006

Li H, Sharkey LJ, Hunt WF, Davis AP (2009) Mitigation of impervious surface hydrology using bioretention in North Carolina and Maryland. J Hydrol Eng 14:407–415. https://doi.org/10.1061/ASCE1084-0699200914:4407

Li J, Li Y, Li Y (2016) SWMM-based evaluation of the effect of rain gardens on urbanized areas. Environ Earth Sci 75(1):17. https://doi.org/10.1007/s12665-015-4807-7

Nagai A, Kadoya M, Nakajima A, Suzuki K (1980) Practical technique for optimum identification of series tanks model for long term runoff analysis. Kyoto University Research Institute Annual Report 23B-2, pp 239–247. http://www.dpri.kyoto-u.ac.jp/nenpo/no23/23b2/a23b2p17.pdf. Accessed 4 Feb 2020

Nash JE, Sutcliffe JV (1970) River flow forecasting through conceptual models part I—a discussion of principles. J Hydrol 10(3):282–290. https://doi.org/10.1016/0022-1694(70)90255-6

Prince George's County (1993) Design manual for use of bioretention in stormwater management. Prince George's County (MD) Government, Department of Environmental Protection. Watershed Protection Branch, Landover, MD

Shiozawa S, Tsuji H (2014) Index for comparing flood mitigation capacity of watersheds: peak discharge relaxation time. J Jpn Soc Hydrol Water Resour 27(3):116–124

Shuster W, Darner R, Schifman L, Herrmann D (2017) Factors contributing to the hydrologic effectiveness of a rain garden network (Cincinnati OH USA). Infrastructures 2(3):11. https://doi.org/10.3390/infrastructures2030011

Srivastava NK, Majumder CB (2008) Novel biofiltration methods for the treatment of heavy metals from industrial wastewater. J Hazard Mater 151(1):1–8. https://doi.org/10.1016/j.jhazmat.2007.09.101

Sugawara M (1979) Automatic calibration of the tank model. Hydrol Sci J 24(3):375–388. https://doi.org/10.1080/02626667909491876

Tanakamaru H (1995) Parameter estimation for the tank model using global optimization. Trans JSIDRE 178:103–112. https://doi.org/10.11408/jsidre1965.1995.503

Tang S, Luo W, Jia Z, Yuan H (2012) Experimental study on infiltrating stormwater runoff with rain gardens in Xi'an, China. J Soil Water Conserv 26(6):75–79. https://doi.org/10.13870/j.cnki.stbcxb.2012.06.015

Trowsdale SA, Simcock R (2011) Urban stormwater treatment using bioretention. J Hydrol 397(3–4):167–174. https://doi.org/10.1016/j.jhydrol.2010.11.023

Turk RL, Kraus HT, Bilderback TE, Hunt WF, Fonteno WC (2014) Rain garden filter bed substrates affect stormwater nutrient remediation. HortScience 49(5):645–652. https://doi.org/10.21273/HORTSCI.49.5.645

Wossink A, Hunt B (2003) The economics of structural stormwater BMPs in North Carolina. Water Resources Research Institute of the University of North Carolina. https://repository.lib.ncsu.edu/bitstream/handle/1840.4/1948/NC-WRRI-344.pdf?sequence=2. Accessed 4 Feb 2020

Yamada S, Shibata S (2017) Quantitative evaluation of rainwater-runoff characteristics in rain gardens. J Jpn Soc Reveg Technol 43(1):251–254. https://doi.org/10.7211/jjsrt.43.251

Yang H, Dick WA, McCoy EL, Phelanc PL, Grewal PS (2013) Field evaluation of a new biphasic rain garden for stormwater flow management and pollutant removal. Ecol Eng 54:22–31. https://doi.org/10.1016/j.ecoleng.2013.01.005

Zhang B (2016) Summary of flood disasters in 2015. China Flood Drought Manag 26(1):24–26. https://doi.org/10.16867/j.cnki.cfdm.2016.01.005

Zhang L, Oyake Y, Morimoto Y, Niwa H, Shibata S (2019) Rainwater storage/infiltration function of rain gardens for management of urban storm runoff in Japan. Landsc Ecol Eng 15(4):421–435. https://doi.org/10.1007/s11355-019-00391-w
Acknowledgements
This study was funded by a Grant-in-Aid for Scientific Research (B) from the Japan Society for the Promotion of Science (18H02226). The authors are grateful to Dr. Yosuke Watanabe, Dr. Sotaro Yonemura and Takamasa Hirano of Shimizu Corporation for their assistance with related field and laboratory work. Additional thanks are due to Dr. Shigehiro Yokota of Tokyo City University for his valuable advice and contribution to the project.
Appendix
Appendix
See Table 6.
About this article
Cite this article
Zhang, L., Oyake, Y., Morimoto, Y. et al. Flood mitigation function of rain gardens for management of urban storm runoff in Japan. Landscape Ecol Eng 16, 223–232 (2020). https://doi.org/10.1007/s11355-020-00409-8
Received:

Revised:

Accepted:

Published:

Issue Date:
Keywords
Rain garden

Tank model

Storm runoff

Flood mitigation