Abstract
Purpose
To verify whether percentage of body fat, physical fitness, physical activity and calorie intake mediates the multicomponent intervention effect on cardiometabolic risk factors in overweight/obese children, and present the relative contribution of each mediator.
Methods
This is an intervention study, developed with 35 overweight/obese school-aged children (control group = 17 and intervention group = 18), aged between 7 and 13 years (9.05 ± 1.90). A 12-week multicomponent intervention was performed, consisting of physical exercise, nutritional education sessions and parental support. The following variables were evaluated at baseline and post-intervention: anthropometric measures and percentage of body fat, physical fitness, physical activity assessed by accelerometer, total calorie intake and biochemical assays. For statistical analysis, generalized linear models were used.
Results
The intervention effect on glucose was mediated by percentage of body fat (24%), muscular fitness (22%) and total calorie intake (40%). The same was observed for alanine aminotransferase (ALT), with a mediation proportion of 26, 31 and 35%, respectively, as well as for HDL-C (percentage of body fat − 30%, muscular fitness − 30% and total calorie intake − 33%); while vigorous physical activity mediated the intervention effect on glucose (40%), HDL-C (39%) LDL-C (43%) and total cholesterol (37%).
Conclusion
Interventions strategies should focus on reducing percentage of body fat and calorie intake, and enhancing muscular fitness and vigorous physical activity to achieve effective changes on cardiometabolic risk factors.
This is a preview of subscription content, log in to check access.
Access options
Buy single article
Instant access to the full article PDF.
US$ 39.95
Price includes VAT for USA
Subscribe to journal
Immediate online access to all issues from 2019. Subscription will auto renew annually.
US$ 99
This is the net price. Taxes to be calculated in checkout.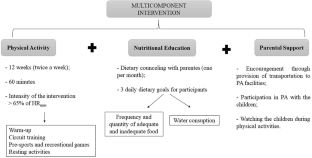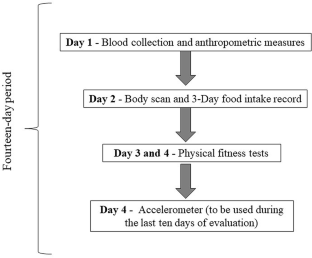 Abbreviations
NAFLD:

Nonalcoholic fatty liver disease

ULS:

Upper-limb strength

LLS:

Lower-limb strength

TC:

Total cholesterol

LDL-C:

Low-density lipoprotein cholesterol

HDL-C:

High-density lipoprotein cholesterol

TG:

Triglycerides

ALT:

Alanine aminotransferase

AST:

Aspartate aminotransferase

HOMA-IR:

Homeostasis model assessment of insulin resistance
References
1.

Sahoo K, Sahoo B, Choudhury AK, Sofi NY, Kumar R, Bhadoria AS (2015) Childhood obesity: causes and consequences. J Fam Med Prim Care 4(2):187–192

2.

Artero EG, Ruiz JR, Ortega FB, España-Romero V, Vicente-Rodríguez G, Molnar D, Gottrand F, González-Gross M, Breidenassel C, Moreno LA, Gutiérrez A (2011) Muscular and cardiorespiratory fitness are independently associated with metabolic risk in adolescents: the HELENA study. Pediatr Diabetes 12:704–712

3.

Andersen LB, Bugge A, Dencker M, Eiberg S, Naaman BEL (2011) The association between physical activity, physical fitness and development of metabolic disorders. Int J Pediatr Obes 6:29–34. https://doi.org/10.3109/17477166.2011.606816

4.

Moore LL, Singer MR, Bradlee ML, Daniels SR (2015) Adolescent dietary intakes predict cardiometabolic risk clustering. Eur J Nutr 55:461–468. https://doi.org/10.1007/s00394-015-0863-8

5.

National Health and Medical Research Council (2013) Australian dietary guidelines. NHMRC, Canberra

6.

World Health Organization (2010) Global recommendations on physical activity for health. World Health Organization, Geneva, Switzerland

7.

Gaya AR, Dias AF, Lemes VB, Gonçalves JC, Marques PA, Guedes G, Brand C, Gaya ACA (2017) Aggregation of risk indicators to cardiometabolic and musculoskeletal health in Brazilian adolescents in the periods 2008/09 and 2013/14. J Pediatr 94(2):177–183. https://doi.org/10.1016/j.jped.2017.04.006

8.

Pienaar A, Du Toit D, Truter L (2014) The effect of a multidisciplinary physical activity intervention on the body composition and physical fitness of obese children. J Sport Med Phys Fitness 53:415–427

9.

Bianchini JAA, da Silva DF, Nardo CCS, Carolino IDR, Hernandes F, Nardo NJ (2013) Multidisciplinary therapy reduces risk factors for metabolic syndrome in obese adolescents. Eur J Pediatr 172:215–221. https://doi.org/10.1007/s00431-012-1865-7

10.

Africa JA, Newton KP, Schwimmer JB (2016) Lifestyle interventions including nutrition, exercise, and supplements for nonalcoholic fatty liver disease in children. Dig Dis Sci 61:1375–1386. https://doi.org/10.1007/s10620-016-4126-1

11.

García-hermoso A, Ramírez-vélez R, Saavedra JM (2019) Exercise, health outcomes, and pædiatric obesity: a systematic review of meta-analyses. J Sci Med Sport 22:76–84. https://doi.org/10.1016/j.jsams.2018.07.006

12.

Ranucci C, Pippi R, Buratta L, Aiello C, Gianfredi V, Piana N, Reginato E, Tirimagni A, Chiodini E, Tomaro ES, Gili A, Feo P et al (2017) (2017) Effects of an intensive lifestyle intervention to treat overweight/obese children and adolescents. Biomed Res Int 5:1–11. https://doi.org/10.1155/2017/8573725

13.

Álvarez C, Ramírez-Campillo R, Ramírez-Vélez R, Martínez C, Castro-Sepúlveda M, Alonso-Martínez A, Izquierdo M (2018) Metabolic effects of resistance or high-intensity interval training among glycemic control-nonresponsive children with insulin resistance. Int J Obes 42:79–87. https://doi.org/10.1038/ijo.2017.177

14.

Silveira DS, Lemos LFGBF, Tassitano RM, Cattuzzo MT, Feitoza AHP, Aires LMSMC, Mota JP, Martins CML (2018) Effect of a pilot multi-component intervention on motor performance and metabolic risks in overweight/obese youth. J Sport Sci 26(1):1–10. https://doi.org/10.1080/02640414.2018.1452142

15.

Cole TJ, Bellizzi MC, Flegal KM, Dietz WH (2000) Establishing a standard definition for child overweight and obesity worldwide: international survey. BMJ 320:1240–1243. https://doi.org/10.1136/bmj.320.7244.1240

16.

Weineck J (2005) Biologia do Esporte. Manole, São Paulo

17.

Dias K, Ingul CB, Tjønna AE, Keating SE, Gomersall SR, Follestad T, Hosseini MS, Hollekim-Strand SM, Siri M, Ro TB et al (2018) Effect of high-intensity interval training on fitness, fat mass and cardiometabolic biomarkers in children with obesity: a randomised controlled trial. Sports Med 48:733–746

18.

Lohman TG, Roche AF, Martorell R (1988) Anthropometric standardization reference manual. Human Kinetics Books, Champaign

19.

Leger LA, Mercier D, Gadoury C, Lambert (1988) The multistage 20 metre shuttle run test for aerobic fitness. J Sport Sci 6:93–101

20.

The Cooper Institute for Aerobics Research (2019) Fitnessgram test administration manual. Human kinetics, Champaign, IL, pp 38–39

21.

Montgomery C, Reilly JJ, Jackson DM, Kelly LA, Slater C, Paton JY (2004) Relation between physical activity and energy expenditure in a representative sample of young children. Am J Clin Nutr 80:591–596

22.

Edwardson CL, Gorely T (2010) Epoch length and its effect on physical activity intensity. Med Sci Sports Exerc 42:928–934. https://doi.org/10.1249/MSS.0b013e3181c301f5

23.

Evenson KR, Catellier DJ, Gill K, Ondrak KS (2008) McMurray RG (2008) Calibration of two objective measures of physical activity for children. J Sports Sci 26:1557–1565. https://doi.org/10.1080/02640410802334196

24.

Assis MAA, Benedet J, Kerpel R, Vasconcelos FAG, Di Pietro PF, Kupek E (2009) Validation of the third version of the Previous Day Food Questionnaire (PDFQ-3) for 6-to-11-years-old schoolchildren. Cad Saúde Pública 25(8):1816–1826

25.

Friedewald WT, Levy RI, Fredrickson DS (1972) Estimation of the concentration of low-density lipoprotein cholesterol in plasma, without use of the preparative ultracentrifuge. Clin Chem 18:499–502. https://doi.org/10.1177/107424840501000106

26.

Matthews DR, Hosker JP, Rudenski AS, Naylor BA, Treacher DF, Turner RC (1985) Homeostasis model assessment: insulin resistance and beta-cell function from fasting plasma glucose and insulin concentrations in man. Diabetologia 28:412–419. https://doi.org/10.1007/BF00280883

27.

González-Ruiz K, Ramírez-Vélez R, Correa-Bautista JE, Peterson MD (2017) The effects of exercise on abdominal fat and liver enzymes in pediatric obesity: a systematic review and meta-analysis. Child Obes 13:272–282. https://doi.org/10.1089/chi.2017.0027

28.

Anderson EL, Howe LD, Fraser A, Callaway MP, Day C, Tilling K, Lawlor DA (2014) Weight trajectories through infancy and childhood and risk of non-alcoholic fatty liver disease in adolescence: the ALSPAC study. J Hepatol 61:626–632. https://doi.org/10.1016/j.jhep.2014.04.018

29.

Fan J, Cao H (2013) Role of diet and nutritional management in non-alcoholic fatty liver disease. J Gastroenterol Hepatol 28:81–87. https://doi.org/10.1111/jgh.12244

30.

Medrano M, Cadenas-Sanchez C, Álvarez-Bueno C, Cavero-Redondo I, Ruiz JR, Ortega FB, Labayen I (2018) Evidence-based exercise recommendations to reduce hepatic fat content in youth—a systematic review and meta-analysis. Prog Cardiovasc Dis 61:222–231. https://doi.org/10.1016/j.pcad.2018.01.013

31.

Ramírez-Vélez R, Izquierdo M, Correa-bautista JE, Tordecilla-sanders A, Rio-valle JS (2018) Grip strength moderates the association between anthropometric and body composition indicators and liver fat in youth with an excess of adiposity. J Clin Med. https://doi.org/10.3390/jcm7100347

32.

Escalante Y, Saavedra JM, Garcia-Hermoso A, Dominguez AM (2012) Improvement of the lipid profile with exercise in obese children: a systematic review. Prev Med 54:293–301. https://doi.org/10.1016/j.ypmed.2012.02.006

33.

Carrillo HA, Gonza K, Triana-reina R, Martı J, Prieto-benavidez H, Correa-bautista JE, Ramos-Sepúlveda JA, Villa-González E, Peterson MD, Ramírez-Vélez R (2017) Fatness mediates the influence of muscular fitness on metabolic syndrome in Colombian collegiate students. PLoS ONE 12(3):1–13

34.

Berentzen NE, Smit HA, Van Rossem L, Gehring U, Kerkhof M, Postma DS, Boshuizen HC, Wijga AH (2014) Screen time, adiposity and cardiometabolic markers: Mediation by physical activity, not snacking, among 11-year-old children. Int J Obes 38:1317–1323. https://doi.org/10.1038/ijo.2014.110

35.

Väistö J, Haapala EA, Viitasalo A, Schnurr TM, Kilpeläinen TO, Karjalainen P, Westgate K, Lakka H, Laaksonen DE, Ekelund U, Brage S, Lakka TA (2019) Longitudinal associations of physical activity and sedentary time with cardiometabolic risk factors in children. Scand J Med Sci Sport 29:113–123. https://doi.org/10.1111/sms.13315

36.

Chen G, Yan H, Hao Y, Shrestha S, Wang J, Li Y, Wei Y, Pan J, Zang Z (2019) Comparison of various anthropometric indices in predicting abdominal obesity in Chinese children: a cross-sectional study. BMC Pediatr 19(1):127

37.

Gaya AR, Brand C, Dias AF, Gaya ACA, Lemes VA, Mota J (2017) Obesity anthropometric indicators associated with cardiometabolic risk in Portuguese children and adolescents. Prev Med Rep 8:158–162

38.

Heo M, Wylie-Rosett J, Pietrobelli A, Kabat GC, Rohan TE, Myles S (2014) US pediatric population-level associations of DXA-measured percentage of body fat with four BMI metrics with cutoffs. Int J Obes 38(1):60–68
Acknowledgements
This work was supported by the National Counsel of Technological and Scientific Development (CNPQ) (ID: 477893/2013-9), Coordination for the Improvement of Higher Education Personnel (CAPES) and Foundation for Science and Technology (FCT), Portugal: SFRH/BSAB/142983/2018 and UID/DTP/00617/201.
Ethics declarations
Conflict of interest
There are no potential conflict of interest.
Ethical approval
The evaluation methods and procedures were approved by the Scientific Board of the Research Unit that leads the project and is registered at https://www.clinicaltrials.gov (Number: NCT02929472). Also, all the Helsinki Declarations' ethical aspects were followed.
Informed consent
The parents from those who agreed to participate signed the consent form, as well as the assent form was signed for children and adolescents.
Additional information
Publisher's Note
Springer Nature remains neutral with regard to jurisdictional claims in published maps and institutional affiliations.
About this article
Cite this article
Brand, C., de Lucena Martins, C.M., Dias, A.F. et al. Multicomponent intervention effect on cardiometabolic risk factors among overweight/obese Brazilian children: a mediation analysis. Sport Sci Health (2020). https://doi.org/10.1007/s11332-020-00666-y
Received:

Accepted:

Published:
Keywords
Obesity

Physical exercise

Cardiometabolic health