Abstract
Purpose
Migraines are associated with multiple comorbidities like depression, anxiety, poor sleep quality, and subjective cognitive impairment (SCI). This study aimed to evaluate the association of SCI with depression, anxiety, and modalities of sleep in those who have transformed migraines (TM).
Subjects and methods
The study was conducted on 120 participants with TM and 41 control group participants. The subjective cognitive decline questionnaire classified the participants as SCI and non-SCI. The Headache Impact Test-6, Migraine Disability Assessment, Montreal Cognitive Assessment, Mini-Mental State Examination, Patient Health Questionnaire-9, Pittsburgh Sleep Quality Index, Epworth Sleepiness Scale, Full Polysomnography, and Beck's Anxiety and the Depression Inventories were used and analyzed between patients with SCI and non-SCI.
Results
Patients with TM who had SCI represented 34% with severe headache effects, disability, pain severity, increased depression, and increased anxiety. They showed shorter sleep duration during weekdays, lower sleep quality, less sleep time, lower efficiency, and less REM sleep along with greater sleep latency, periodic limb movements, a higher arousal index, snore index, and percent of NREM3. There was a positive correlation between certain polysomnography parameters like percent NREM3, sleep period, sleep index, sleep latency, sleep arousal index, and periodic limb movements, and an inverse correlation with the percent of REM sleep, total sleep time, and sleep efficiency.
Conclusion
Subjective cognitive complaints are common in patients with transformed migraine affecting about 34% of cases. TM patients with SCI had more sleep and psychological disturbances.
Trial registration
Clinicaltrials.gov is NCT04413110.
Access options
Buy single article
Instant access to the full article PDF.
US$ 39.95
Tax calculation will be finalised during checkout.
Subscribe to journal
Immediate online access to all issues from 2019. Subscription will auto renew annually.
US$ 79
Tax calculation will be finalised during checkout.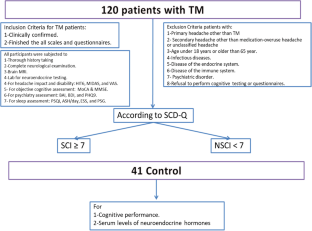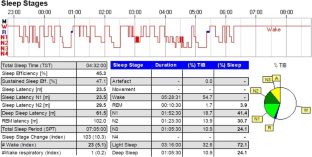 Data availability
The datasets generated and analyzed during the current study are not publicly available due to institutional limitations, yet they are available from the corresponding author on reasonable request.
References
1.

Headache Classification Committee of the International Headache Society (IHS) (2013) The International Classification of Headache Disorders, 3rd edition (beta version). Cephalalgia 33(9):629–808. https://doi.org/10.1177/0333102413485658

2.

Diener HC, Solbach K, Holle D, Gaul C (2015) Integrated care for chronic migraine patients: epidemiology, burden, diagnosis and treatment options. Clin Med (Lond) 15(4):344–350. https://doi.org/10.7861/clinmedicine.15-4-344.

3.

Vuralli D, Ayata C, Bolay H (2018) Cognitive dysfunction and migraine. J Headache Pain 19:109. https://doi.org/10.1186/s10194-018-0933-4

4.

Rist PM, Kurth T (2013) Migraine and cognitive decline: a topical review. Headache. 53(4):589–598. https://doi.org/10.1111/head.12046

5.

Argoff CE, McCleane G (2009) Pain management secrets Third Edition. In: Lipton RB, Newman LC (eds) Migraine. Mosby, pp 70–81. https://doi.org/10.1016/B978-0-323-04019-8.00010-X

6.

Bigal ME, Lipton RB, Tepper SJ, Rapoport AM, Sheftell FD (2004) Primary chronic daily headache and its subtypes in adolescents and adults. Neurology 63:843–847

7.

Lee SH, Kang Y, Cho SJ (2017) Subjective cognitive decline in patients with migraine and its relationship with depression, anxiety, and sleep quality. J Headache Pain 18(1):77

8.

Rami L, Mollica MA, García-Sanchez C, Saldaña J, Sanchez B, Sala I et al (2014) The Subjective Cognitive Decline Questionnaire (SCD-Q): a validation study. J Alzheimers Dis 41:453–466

9.

Shin HE, Park JW, Kim YI, Lee KS (2008) Headache Impact Test-6 (HIT-6) scores for migraine patients: their relation to disability as measured from a headache diary. J Clin Neurol 4:158–163

10.

Stewart WF, Lipton RB, Kolodner KB, Sawyer J, Lee C, Liberman JN (2000) Validity of the Migraine Disability Assessment (MIDAS) score in comparison to a diary-based measure in a population sample of migraine sufferers. Pain 88:41–52

11.

Langley GB, Sheppeard H (1985) The visual analogue scale: its use in pain measurement. Rheumatol Int 5:145–148

12.

Kaur A, Edland SD, Peavy GM (2018) The MoCA-Memory Index Score: an efficient alternative to paragraph recall for the detection of amnestic mild cognitive impairment. Alzheimer Dis Assoc Disord 32:120–124. https://doi.org/10.1097/WAD.0000000000000240.

13.

Norris D, Clark MS, Shipley S (2016) The Mental Status Examination. Am Fam Physician 94:635–641

14.

Leyfer OT, Ruberg JL, Woodruff-Borden J (2006) Examination of the utility of the Beck Anxiety Inventory and its factors as a screener for anxiety disorders. J Anxiety Disord 20:444–458

15.

Jackson-Koku G (2016) Beck Depression Inventory. Occup Med (Lond) 66:174–175

16.

Levis B, Benedetti A, Thombs BD (2019) Accuracy of Patient Health Questionnaire-9 (PHQ-9) for screening to detect major depression: individual participant data meta-analysis. BMJ 365:l1476

17.

Mollayeva T, Thurairajah P, Burton K, Mollayeva S, Shapiro CM, Colantonio A (2016) The Pittsburgh sleep quality index as a screening tool for sleep dysfunction in clinical and non-clinical samples: a systematic review and meta-analysis. Sleep Med Rev 25:52–73

18.

Soler X, Liao S-Y, Marin JM, Lorenzi-Filho G, Jen R, DeYoung P et al (2017) Age, gender, neck circumference, and Epworth sleepiness scale do not predict obstructive sleep apnea (OSA) in moderate to severe chronic obstructive pulmonary disease (COPD): the challenge to predict OSA in advanced COPD. PLoS One 12:e0177289

19.

Rundo JV, Downey R 3rd (2019) Polysomnography. Handb Clin Neurol 160:381–392

20.

Herbst E, Metzler TJ, Lenoci M, McCaslin SE, Inslicht S, Marmar CR, Neylan TC (2010) Adaptation effects to sleep studies in participants with and without chronic posttraumatic stress disorder. Psychophysiology 47(6):1127–1133. https://doi.org/10.1111/j.1469-8986.2010.01030.x

21.

Santangelo G, Russo A, Trojano L, Falco F, Marcuccio L, Siciliano M et al (2016) Cognitive dysfunctions and psychological symptoms in migraine without aura: a cross-sectional study. J Headache Pain 17:76

22.

Sengul Y, Sengul HS, Bakim B, Yucekaya SK, Yucel S, Akgun M (2015) Sleep disturbances and excessive daytime sleepiness in migraine: a comparison between comorbidities and disability. Sleep Biol Rhythms 13:76–84

23.

Reisberg B, Shulman MB, Torossian C, Leng L, Zhu W (2010) Outcome over seven years of healthy adults with and without subjective cognitive impairment. Alzheimers Dement 6:11–24

24.

Mol MEM, van Boxtel MPJ, Willems D, Verhey FRJ, Jolles J (2009) Subjective forgetfulness is associated with lower quality of life in middle-aged and young-old individuals: a 9-year follow-up in older participants from the Maastricht Aging Study. Aging Ment Health 13:699–705

25.

Rowell SF, Green JS, Teachman BA, Salthouse TA (2016) Age does not matter: memory complaints are related to negative affect throughout adulthood. Aging Ment Health 20:1255–1263

26.

Lantéri-Minet M, Radat F, Chautard M-H, Lucas C (2005) Anxiety and depression associated with migraine: influence on migraine subjects' disability and quality of life, and acute migraine management. Pain 118:319–326

27.

Stocker RPJ, Khan H, Henry L, Germain A (2017) Effects of sleep loss on subjective complaints and objective neurocognitive performance as measured by the immediate post-concussion assessment and cognitive testing. Arch Clin Neuropsychol 32(3):349–368. https://doi.org/10.1093/arclin/acx003.

28.

Seidel S, Hartl T, Weber M, Matterey S, Paul A, Riederer F et al (2009) Quality of sleep, fatigue and daytime sleepiness in migraine—a controlled study. Cephalalgia 29(6):662–669. https://doi.org/10.1111/j.1468-2982.2008.01784.x.

29.

Nebes RD, Buysse DJ, Halligan EM, Houck PR, Monk TH (2009) Self-reported sleep quality predicts poor cognitive performance in healthy older adults. J Gerontol A Biol Sci Med Sci 64(2):180–187. https://doi.org/10.1093/geronb/gbn037.

30.

Panel CC, Watson NF, Badr MS, Belenky G, Bliwise DL, Buxton OM et al (2015) Joint consensus statement of the American Academy of sleep medicine and Sleep Research Society on the recommended amount of sleep for a healthy adult: methodology and discussion. J Clin Sleep Med 11(8):931–952

31.

Kelman L, Rains JC (2005) Headache and sleep: examination of sleep patterns and complaints in a large clinical sample of migraineurs. Headache 45(7):904–910. https://doi.org/10.1111/j.1526-4610.2005.05159.x.
Ethics declarations
Ethical approval
All procedures performed in this study were in accordance with the ethical standards of the institutional and/or national research committee and with the 1964 Helsinki declaration and its later amendments or comparable ethical standards.
Informed consent
Informed consent was obtained from all individual participants included in the study.
Conflict of interest
The authors declare no conflict of interest.
Additional information
Publisher's note
Springer Nature remains neutral with regard to jurisdictional claims in published maps and institutional affiliations.
About this article
Cite this article
Esmael, A., Abdelsalam, M., Shoukri, A. et al. Subjective cognitive impairment in patients with transformed migraine and the associated psychological and sleep disturbances. Sleep Breath (2021). https://doi.org/10.1007/s11325-021-02308-0
Received:

Revised:

Accepted:

Published:
Keywords
Migraine

Subjective cognitive decline

Depression

Anxiety

Polysomnography