Abstract
Purpose
Sleep-disordered breathing (SDB) is associated with hypertension, poor glycemic control and dyslipidemia. Usually, apnoea events tend to be more prominent during rapid eye movement (REM) sleep than non-REM (NREM) sleep. We examined which SDB parameters are associated with blood pressure (BP), HbA1c and lipid profile in patients with type 2 diabetes (T2D).
Methods
A total of 185 patients with T2D who underwent polysomnography were analysed. Exclusion criteria were: the presence of pulmonary diseases, central sleep apnoea, treated SDB, or REM sleep < 30 min. To predict BP, HbA1c, and lipid profiles, we performed multiple linear regression analyses adjusted for known risk factors. Subsequently, we performed multivariable logistic regression analyses.
Results
Patient characteristics (mean ± standard deviation/median) were as follows: age 58.0 ± 11.8 years, body mass index 26.0 kg/m2 (24.1–28.9 kg/m2 ), systolic BP 134 ± 19 mmHg, mean BP 98 ± 14 mmHg, HbA1c 7.4% (6.8–8.4%), triglyceride 143 mg/dL (97–195 mg/dL), non-high density lipoprotein (non-HDL) cholesterol 143 mg/dL (120–163 mg/dL), REM-apnoea–hypopnea index (AHI) 35.1/h (21.1–53.1/h). The analyses revealed that REM-AHI was independently associated with systolic and mean BP, whereas NREM-AHI was not. A statistically significant association was not observed between REM-AHI and HbA1c or lipid profile.
Conclusion
In patients with T2D, REM-AHI was associated with systolic and mean BP. The alteration of BP, associated with SDB during REM sleep, may be an important pathophysiological link between SDB and cardiovascular diseases.
This is a preview of subscription content, log in to check access.
Access options
Buy single article
Instant access to the full article PDF.
US$ 39.95
Price includes VAT for USA
Subscribe to journal
Immediate online access to all issues from 2019. Subscription will auto renew annually.
US$ 99
This is the net price. Taxes to be calculated in checkout.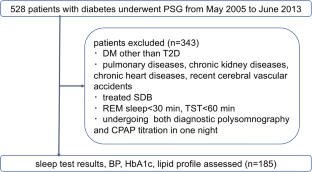 Data availability
The data were collected by the authors in Toranomon Hospital.
References
1.

Pamidi S, Tasali E (2012) Obstructive sleep apnea and type 2 diabetes: is there a link? Front Neurol 3:126. https://doi.org/10.3389/fneur.2012.00126

2.

Marin JM, Agusti A, Villar I, Forner M, Nieto D, Carrizo SJ, Barbé F, Vicente E, Wei Y, Nieto FJ, Jelic S (2012) Association between treated and untreated obstructive sleep apnea and risk of hypertension. JAMA 307:2169–2176. https://doi.org/10.1001/jama.2012.3418

3.

Punjabi NM, Beamer BA (2009) Alterations in glucose disposal in sleep-disordered breathing. Am J Respir Crit Care Med 179:235–240. https://doi.org/10.1164/rccm.200809-1392OC

4.

Börgel J, Sanner BM, Bittlinsky A et al (2006) Obstructive sleep apnoea and its therapy influence high-density lipoprotein cholesterol serum levels. Eur Respir J Off J Eur Soc Clin Respir Physiol 27:121–127. https://doi.org/10.1183/09031936.06.00131304

5.

Marin JM, Carrizo SJ, Vicente EAA (2005) Long-term cardiovascular outcomes in men with obstructive sleep apnoea-hypopnoea with or without treatment with continuous positive airway pressure: an observational study. Lancet 365:1046–1053. https://doi.org/10.1016/S0140-6736(05)71141-7

6.

Somers VK, Dyken ME, Mark AL, Abboud FM (1993) Sympathetic-nerve activity during sleep in normal subjects. N Engl J Med 328:303–307. https://doi.org/10.1056/NEJM199302043280502

7.

Findley LJ, Wilhoit SC, Suratt PM (1985) Apnea duration and hypoxemia during REM sleep in patients with obstructive sleep apnea. Chest 87:432–436

8.

Appleton SL, Vakulin A, Martin SA, Lang CJ, Wittert GA, Taylor AW, McEvoy RD, Antic NA, Catcheside PG, Adams RJ (2016) Hypertension is associated with undiagnosed OSA during rapid eye movement sleep. Chest 150:495–505. https://doi.org/10.1016/j.chest.2016.03.010

9.

Mokhlesi B, Finn LA, Hagen EW, Young T, Hla KM, van Cauter E, Peppard PE (2014) Obstructive sleep apnea during REM sleep and hypertension: results of the Wisconsin sleep cohort. Am J Respir Crit Care Med 190:1158–1167. https://doi.org/10.1164/rccm.201406-1136OC

10.

Committee of the Japan Diabetes Society on the Diagnostic Criteria of Diabetes Mellitus, Seino Y, Nanjo K et al (2010) Report of the committee on the classification and diagnostic criteria of diabetes mellitus. J Diabetes Investig 1:212–228. https://doi.org/10.1111/j.2040-1124.2010.00074.x

11.

Ikeda Y, Kasai T, Kawana F, Kasagi S, Takaya H, Ishiwata S, Narui K (2012) Comparison between the apnea-hypopnea indices determined by the REMstar Auto M series and those determined by standard in-laboratory polysomnography in patients with obstructive sleep apnea. Intern Med 51:2877–2885. https://doi.org/10.2169/internalmedicine.51.8249

12.

Ueno K, Kasai T, Brewer G, Takaya H, Maeno KI, Kasagi S, Kawana F, Ishiwata S, Narui K (2010) Evaluation of the apnea-hypopnea index determined by the S8 auto-CPAP, a continuous positive airway pressure device, in patients with obstructive sleep apnea-hypopnea syndrome. J Clin Sleep Med 6:146–151

13.

Berry RB, Budhiraja R, Gottlieb DJ, Gozal D, Iber C, Kapur VK, Marcus CL, Mehra R, Parthasarathy S, Quan SF, Redline S, Strohl KP, Davidson Ward SL, Tangredi MM, American Academy of Sleep Medicine (2012) Rules for scoring respiratory events in sleep: update of the 2007 AASM manual for the scoring of sleep and associated events. Deliberations of the Sleep Apnea Definitions Task Force of the American Academy of Sleep Medicine. J Clin Sleep Med 8:597–619. https://doi.org/10.5664/jcsm.2172

14.

Kashiwagi A, Kasuga M, Araki E et al (2012) International clinical harmonization of glycated hemoglobin in Japan: from Japan Diabetes Society to National Glycohemoglobin Standardization Program values. Diabetol Int 3:8–10. https://doi.org/10.1007/s13340-012-0069-8

15.

Tajima N, Noda M, Origasa H, Noto H, Yabe D, Fujita Y, Goto A, Fujimoto K, Sakamoto M, Haneda M (2015) Evidence-based practice guideline for the treatment for diabetes in Japan 2013. Diabetol Int 6:151–187. https://doi.org/10.1007/s13340-015-0206-2

16.

Peppard PE, Young T, Palta M, Skatrud J (2000) Prospective study of the association between sleep-disordered. N Engl J Med 342:1378–1384

17.

Palatini P, Julius S (2009) The role of cardiac autonomic function in hypertension and cardiovascular disease. Curr Hypertens Rep 11:199–205

18.

Kohler M, Stradling JR (2012) CrossTalk proposal: most of the cardiovascular consequences of OSA are due to increased sympathetic activity. J Physiol 590:2813–2815. https://doi.org/10.1113/jphysiol.2012.229633

19.

Grace KP, Hughes SW, Horner RL (2013) Identification of the mechanism mediating genioglossus muscle suppression in REM sleep. Am J Respir Crit Care Med 187:311–319. https://doi.org/10.1164/rccm.201209-1654OC

20.

Wang X, Bi Y, Zhang Q, Pan F (2013) Obstructive sleep apnoea and the risk of type 2 diabetes: a meta-analysis of prospective cohort studies. Respirology 18:140–146. https://doi.org/10.1111/j.1440-1843.2012.02267.x

21.

Aronsohn RS, Whitmore H, Van Cauter E, Tasali E (2010) Impact of untreated obstructive sleep apnea on glucose control in type 2 diabetes. Am J Respir Crit Care Med 181:507–513. https://doi.org/10.1164/rccm.200909-1423OC

22.

Grimaldi D, Beccuti G, Touma C, van Cauter E, Mokhlesi B (2014) Association of obstructive sleep apnea in rapid eye movement sleep with reduced glycemic control in type 2 diabetes: therapeutic implications. Diabetes Care 37:355–363. https://doi.org/10.2337/dc13-0933

23.

Kurosawa H, Saisho Y, Fukunaga K et al (2018) Association between severity of obstructive sleep apnea and glycated hemoglobin level in Japanese individuals with and without diabetes. Japan Endocr Soc 65:121–127

24.

Xu H, Xia Y, Li X, Qian Y, Zou J, Fang F, Yi H, Wu H, Guan J, Yin S (2020) Association between obstructive sleep apnea and lipid metabolism during REM and NREM sleep. J Clin Sleep Med 16:475–482. https://doi.org/10.5664/jcsm.8242
Acknowledgements
We thank Fumie Takano for her work of data collection.
Ethics declarations
Conflict of interest
The authors declare that they have no conflict of interest.
Ethical approval
The institutional review board of Toranomon Hospital approved the study protocol.
Consent to participate
The informed consent was obtained through an opt-out policy.
Consent to publication
The informed consent was obtained through an opt-out policy.
Code availability
Dr. SPSS II for Windows (SPSS Japan Inc., Tokyo, Japan).
Additional information
Publisher's note
Springer Nature remains neutral with regard to jurisdictional claims in published maps and institutional affiliations.
About this article
Cite this article
Uchida, T., Nishimura, A., Kasai, T. et al. Relationship between obstructive sleep apnoea during rapid eye movement sleep and metabolic syndrome parameters in patients with type 2 diabetes mellitus. Sleep Breath (2020). https://doi.org/10.1007/s11325-020-02129-7
Received:

Revised:

Accepted:

Published:
Keywords
Diabetes mellitus, type 2

Sleep apnoea syndromes

Sleep, REM

Hypertension