Abstract
Purpose
Screening instruments are poor predictors of the severity of pediatric obstructive sleep apnea (OSA). We hypothesized that their performance could be improved by identifying and eliminating redundant features.
Methods
Baseline scores from three screening questionnaires for pediatric OSA were obtained from the Childhood Adenotonsillectomy Trial (CHAT). The questionnaires included the (i) modified Epworth sleepiness scale (ESS), (ii) the sleep-related breathing disorders subscale of the pediatric sleep questionnaire (PSQ), and the (iii) obstructive sleep apnea-18 (OSA-18) scale. Key features from each questionnaire were identified using variable selection methods. These selected features (SF) were then assessed for their ability to predict the severity of OSA, measured by the apnea-hypopnea index (AHI) and oxygen desaturation index (ODI). In addition, prediction performance of SF was also calculated for AHI > 5 and > 10 and ODI > 5 and > 10, respectively.
Results
Four hundred fifty-three children aged 5–10 years were included. The majority of the pairwise correlations among the items within the 3 screening questionnaires were statistically significant. The prediction of AHI and ODI by overall questionnaire scores was poor. Four-item SF, comprising apneic pauses, growth problems, mouth breathing, and obesity predicted AHI and ODI significantly better than each of the individual questionnaires. Furthermore, SF also predicted AHI > 5 and > 10, as well as ODI > 5 and > 10 significantly better than the original questionnaires.
Conclusions
Elimination of redundant items in screening questionnaires improves their prediction performance for OSA severity in children with high pre-test probability for the condition.
This is a preview of subscription content, log in to check access.
Access options
Buy single article
Instant access to the full article PDF.
US$ 39.95
Tax calculation will be finalised during checkout.
Subscribe to journal
Immediate online access to all issues from 2019. Subscription will auto renew annually.
US$ 99
Tax calculation will be finalised during checkout.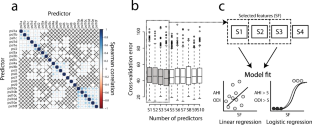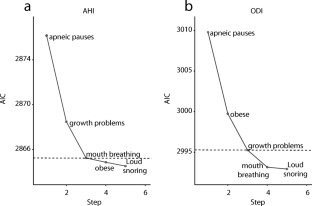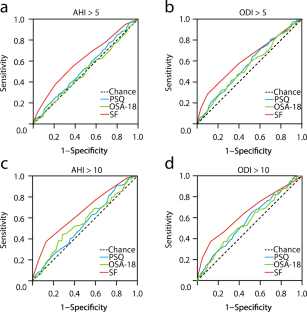 Ethics declarations
Conflict of interest
Amal Isaiah has received patent-related royalties from the University of Maryland, Baltimore for inventions related to sleep apnea imaging in adults. Kevin D. Pereira and Gautam Das declare no conflicts of interest.
Ethical approval
This article does not contain any studies with human participants performed by any of the authors. De-identified data from the CHAT study was obtained from the National Sleep Research Resource (www.sleepdata.org) following a data use agreement.
Additional information
Publisher's note
Springer Nature remains neutral with regard to jurisdictional claims in published maps and institutional affiliations.
Electronic supplementary material
About this article
Cite this article
Isaiah, A., Shikara, M., Pereira, K.D. et al. Refining screening questionnaires for prediction of sleep apnea severity in children. Sleep Breath 24, 1349–1356 (2020). https://doi.org/10.1007/s11325-019-01964-7
Received:

Revised:

Accepted:

Published:

Issue Date:
Keywords
Pediatric obstructive sleep apnea

Screening questionnaires

Prediction