Abstract
Purpose
Obstructive sleep apnea syndrome (OSAS) was suggested to exert an effect on renal function. However, the specific mechanism was still unknown. We try to find the association among OSAS, adiponectin, and cystatin C and the effect of adiponectin on renal function in OSAS patients.
Methods
Seventeen healthy men and seventy-three men which only had OSAS were included in the end. Apnea-hypopnea index (AHI), oxygen desaturation index (ODI), the percentage of total sleep time spent with SpO2 < 90% (T90%), lowest O2 saturation (LaSO2), Epworth Sleepiness Scale (ESS) score, serum adiponectin, and high-sensitive C-reactive protein (hsCRP) were detected in all subjects, and renal function was evaluated with creatinine, cystatin C, and estimated glomerular filtration rate (eGFR).
Results
Demographic data, creatinine, and eGFR did not differ among the studied groups. Decreased serum adiponectin levels were associated with severe OSAS. OSAS patients had a higher hsCRP and cystatin C than those without OSAS. Serum adiponectin levels had a negative association with cystatin C. After adjusted for confounders, adiponectin, hsCRP, and ODI had a significant prediction on the cystatin C (β = − 0.218, p = 0.011; β = 0.226, p = 0.037; and β = 0.231, p = 0.029).
Conclusions
Decreased serum adiponectin was associated with increased cystatin C in male OSAS patients. These results suggest that serum adiponectin might be a regulatory factor for renal function in OSAS.
Access options
Buy single article
Instant access to the full article PDF.
US$ 39.95
Tax calculation will be finalised during checkout.
Subscribe to journal
Immediate online access to all issues from 2019. Subscription will auto renew annually.
US$ 79
Tax calculation will be finalised during checkout.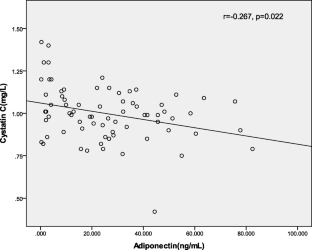 References
1.

Heinzer R, Vat S, Marques-Vidal P, Marti-Soler H, Andries D, Tobback N, Mooser V, Preisig M, Malhotra A, Waeber G, Vollenweider P, Tafti M, Haba-Rubio J (2015) Prevalence of sleep-disordered breathing in the general population: the HypnoLaus study. Lancet Respir Med 3(4):310–318. https://doi.org/10.1016/S2213-2600(15)00043-0

2.

Levy P, Tamisier R, Minville C, Launois S, Pepin JL (2011) Sleep apnoea syndrome in 2011: current concepts and future directions. Eur Respir Rev 20(121):134–146. https://doi.org/10.1183/09059180.00003111

3.

Adams RJ, Appleton SL, Vakulin A, Hanly PJ, McDonald SP, Martin SA, Lang CJ, Taylor AW, McEvoy RD, Antic NA, Catcheside PG, Vincent AD, Wittert GA (2017) Chronic kidney disease and sleep apnea association of kidney disease with obstructive sleep apnea in a population study of men. Sleep 40:1. https://doi.org/10.1093/sleep/zsw015

4.

Uyar M, Davutoglu V, Gundogdu N, Kosovali D, Sari I (2016) Renal functions in obstructive sleep apnea patients. Sleep Breath 20(1):191–195. https://doi.org/10.1007/s11325-015-1204-0

5.

Kim HY, Bae EH, Ma SK, Chae DW, Choi KH, Kim YS, Hwang YH, Ahn C, Kim SW (2016) Association of serum adiponectin level with albuminuria in chronic kidney disease patients. Clin Exp Nephrol 20(3):443–449. https://doi.org/10.1007/s10157-015-1173-4

6.

Sethna CB, Boone V, Kwok J, Jun D, Trachtman H (2015) Adiponectin in children and young adults with focal segmental glomerulosclerosis. Pediatr Nephrol 30(11):1977–1985. https://doi.org/10.1007/s00467-015-3146-y

7.

Masserini B, Morpurgo PS, Donadio F, Baldessari C, Bossi R, Beck-Peccoz P, Orsi E (2006) Reduced levels of adiponectin in sleep apnea syndrome. J Endocrinol Investig 29(8):700–705. https://doi.org/10.1007/BF03344179

8.

Kim J, Lee CH, Park CS, Kim BG, Kim SW, Cho JH (2010) Plasma levels of MCP-1 and adiponectin in obstructive sleep apnea syndrome. Arch Otolaryngol Head Neck Surg 136(9):896–899. https://doi.org/10.1001/archoto.2010.142

9.

Zhang XL, Yin KS, Wang H, Su S (2006) Serum adiponectin levels in adult male patients with obstructive sleep apnea hypopnea syndrome. Respiration 73(1):73–77. https://doi.org/10.1159/000088690

10.

Zhang XB, Lin QC, Deng CS, Chen GP, Cai ZM, Chen H (2013) Elevated serum cystatin C in severe OSA younger men without complications. Sleep Breath 17(1):235–241. https://doi.org/10.1007/s11325-012-0678-2

11.

Schulz H (2007) Phasic or transient? Comment on the terminology of the AASM manual for the scoring of sleep and associated events. J Clin Sleep Med 3(7):752

12.

Meslier N, Gagnadoux F, Giraud P, Person C, Ouksel H, Urban T, Racineux JL (2003) Impaired glucose-insulin metabolism in males with obstructive sleep apnoea syndrome. Eur Respir J 22(1):156–160. https://doi.org/10.1183/09031936.03.00089902

13.

Voulgaris A, Archontogeorgis K, Nena E, Tsigalou C, Xanthoudaki M, Kouratzi M, Tripsianis G, Froudarakis M, Steiropoulos P (2018) Serum levels of NGAL and cystatin C as markers of early kidney dysfunction in patients with obstructive sleep apnea syndrome. Sleep Breath 23:161–169. https://doi.org/10.1007/s11325-018-1677-8

14.

Archontogeorgis K, Nena E, Tsigalou C, Voulgaris A, Xanthoudaki M, Froudarakis M, Steiropoulos P (2016) Cystatin C levels in middle-aged patients with obstructive sleep apnea syndrome. Pulm Med 2016:8081723. https://doi.org/10.1155/2016/8081723

15.

Chen Y, Li Y, Jiang Q, Xu X, Zhang X, Simayi Z, Ye H (2015) Analysis of early kidney injury-related factors in patients with hypertension and obstructive sleep apnea hypopnea syndrome (OSAHS). Arch Iran Med 18(12):827–833

16.

Koga S, Ikeda S, Yasunaga T, Nakata T, Maemura K (2013) Effects of nasal continuous positive airway pressure on the glomerular filtration rate in patients with obstructive sleep apnea syndrome. Intern Med 52(3):345–349. https://doi.org/10.2169/internalmedicine.52.8468

17.

Maski MR, Thomas RJ, Karumanchi SA, Parikh SM (2016) Urinary neutrophil gelatinase-associated lipocalin (NGAL) in patients with obstructive sleep apnea. PLoS One 11(5):e0154503. https://doi.org/10.1371/journal.pone.0154503

18.

Turek NF, Ricardo AC, Lash JP (2012) Sleep disturbances as nontraditional risk factors for development and progression of CKD: review of the evidence. Am J Kidney Dis 60(5):823–833. https://doi.org/10.1053/j.ajkd.2012.04.027

19.

Kinebuchi S, Kazama JJ, Satoh M, Sakai K, Nakayama H, Yoshizawa H, Narita I, Suzuki E, Gejyo F (2004) Short-term use of continuous positive airway pressure ameliorates glomerular hyperfiltration in patients with obstructive sleep apnoea syndrome. Clin Sci (Lond) 107(3):317–322. https://doi.org/10.1042/CS20040074

20.

Hanly PJ, Ahmed SB (2014) Sleep apnea and the kidney: is sleep apnea a risk factor for chronic kidney disease? Chest 146(4):1114–1122. https://doi.org/10.1378/chest.14-0596

21.

Sayk F, Teckentrup C, Becker C, Heutling D, Wellhoner P, Lehnert H, Dodt C (2010) Effects of selective slow-wave sleep deprivation on nocturnal blood pressure dipping and daytime blood pressure regulation. Am J Phys Regul Integr Comp Phys 298(1):R191–R197. https://doi.org/10.1152/ajpregu.00368.2009

22.

Jin ZN, Wei YX (2016) Meta-analysis of effects of obstructive sleep apnea on the renin-angiotensin-aldosterone system. J Geriatr Cardiol 13(4):333–343. https://doi.org/10.11909/j.issn.1671-5411.2016.03.020

23.

Christou GA, Kiortsis DN (2014) The role of adiponectin in renal physiology and development of albuminuria. J Endocrinol 221(2):R49–R61. https://doi.org/10.1530/JOE-13-0578

24.

Dubern B, Lafarge JC, Fellahi S, Naour N, Copin N, Bastard JP, Simon C, Clement K, Bonnet D, Tounian P, Guerre-Millo M (2012) Relevance of increased serum cystatin C to vascular alterations in obese children. Pediatr Obes 7(5):374–381. https://doi.org/10.1111/j.2047-6310.2012.00053.x

25.

Moller KF, Dieterman C, Herich L, Klaassen IA, Kemper MJ, Muller-Wiefel DE (2012) High serum adiponectin concentration in children with chronic kidney disease. Pediatr Nephrol 27(2):243–249. https://doi.org/10.1007/s00467-011-1971-1

26.

Sharma K, Ramachandrarao S, Qiu G, Usui HK, Zhu Y, Dunn SR, Ouedraogo R, Hough K, McCue P, Chan L, Falkner B, Goldstein BJ (2008) Adiponectin regulates albuminuria and podocyte function in mice. J Clin Invest 118(5):1645–1656. https://doi.org/10.1172/JCI32691

27.

Yu Y, Bao BJ, Fan YP, Shi L, Li SQ (2014) Changes of adiponectin and its receptors in rats following chronic renal failure. Ren Fail 36(1):92–97. https://doi.org/10.3109/0886022X.2013.830975

28.

Lim CC, Teo BW, Tai ES, Lim SC, Chan CM, Sethi S, Wong TY, Sabanayagam C (2015) Elevated serum leptin, adiponectin and leptin to adiponectin ratio is associated with chronic kidney disease in Asian adults. PLoS One 10(3):e0122009. https://doi.org/10.1371/journal.pone.0122009

29.

Vatansever E, Surmen-Gur E, Ursavas A, Karadag M (2011) Obstructive sleep apnea causes oxidative damage to plasma lipids and proteins and decreases adiponectin levels. Sleep Breath 15(3):275–282. https://doi.org/10.1007/s11325-010-0378-8

30.

Walters SJ (2009) Consultants' forum: should post hoc sample size calculations be done? Pharm Stat 8(2):163–169. https://doi.org/10.1002/pst.334
Ethics declarations
Conflict of interest
The authors declare that they have no conflict of interest.
Ethical approval
All procedures performed in studies involving human participants were in accordance with the ethical standards of the institutional and/or national research committee and with the 1964 Helsinki Declaration and its later amendments or comparable ethical standards.
Informed consent
Informed consent was obtained from all individual participants included in the study.
Additional information
Publisher's note
Springer Nature remains neutral with regard to jurisdictional claims in published maps and institutional affiliations.
About this article
Cite this article
Chen, DD., Huang, JF., Huang, SP. et al. Association of serum adiponectin level with cystatin C in male patients with obstructive sleep apnea syndrome. Sleep Breath 24, 953–960 (2020). https://doi.org/10.1007/s11325-019-01927-y
Received:

Revised:

Accepted:

Published:

Issue Date:
Keywords
Obstructive sleep apnea syndrome

Adiponectin

Cystatin C