Abstract
Purpose
Continuous positive airway pressure (CPAP) therapy improves subjective symptoms in obstructive sleep apnea syndrome (OSAS) patients; however, factors predicting symptom improvement post-CPAP therapy and the CPAP duration necessary for improving subjective symptoms are unclear. This study aimed to identify these factors and the appropriate nightly CPAP duration for improving subjective symptoms.
Methods
We recruited 359 subjects who completed both overnight polysomnography and subjective symptom assessments using the Epworth Sleepiness Scale (ESS), Zung Self-Depression Scale (SDS), and Pittsburgh Sleep Quality Index (PSQI). Firstly, we analyzed subject characteristics, and the associations between each assessment score and the Apnea-Hypopnea Index. These assessments were then repeated for 138 subjects who could continue for 3 months after starting CPAP. Secondly, associations between changes in self-reported outcome measures and nightly CPAP duration were analyzed. We identified subjects with abnormal initial ESS, PSQI, and SDS scores and divided them into "improvement" and "non-improvement" groups to examine factors associated with a positive outcome after CPAP therapy.
Results
Subjective symptom scores and proportions of subjects exceeding the cutoff values of each symptom score were not significantly related to OSAS severity. ESS, SDS, and PSQI scores improved 3 months after CPAP treatment, and factors involved in each improvement were found. Remarkably, longer CPAP nightly duration resulted in improvements in all subjective symptom scores. Furthermore, minimum durations between 4.75 and 5.40 h were necessary for improvements in subjective symptoms based on ROC curve analysis.
Conclusions
Longer nightly CPAP use significantly improved OSAS subjective symptoms.
This is a preview of subscription content, log in to check access.
Access options
Buy single article
Instant access to the full article PDF.
US$ 39.95
Price includes VAT for USA
Subscribe to journal
Immediate online access to all issues from 2019. Subscription will auto renew annually.
US$ 99
This is the net price. Taxes to be calculated in checkout.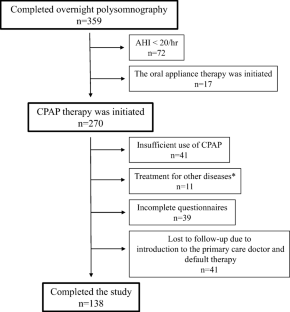 Abbreviations
AHI:

Apnea-Hypopnea Index

CPAP:

Continuous Positive Airway Pressure

ESS:

Epworth Sleepiness Scale

EDS:

Excessive Daytime Sleepiness

OSAS:

Obstructive Sleep Apnea Syndrome

PSG:

Polysomnography

PSQI:

Pittsburgh Sleep Quality Index

SDS:

Zung Self-Depression Scale
References
1.

Wang Y, Geater AF, Chai Y, Luo J, Niu X, Hai B, Qin J, Li Y (2015) Pre- and in-therapy predictive score models of adult OSAS patients with poor adherence pattern on nCPAP therapy. Patient Prefer Adherence 9:715–723

2.

Sharafkhaneh A, Giray N, Richardson P, Young T, Hirshkowitz M (2005) Association of psychiatric disorders and sleep apnea in a large cohort. Sleep 28:1405–1411

3.

George CF (2007) Sleep apnea, alertness, and motor vehicle crashes. Am J Respir Crit Care Med 176:954–956

4.

Kapur VK, Auckley DH, Chowdhuri S, Kuhlmann DC, Mehra R, Ramar K, Harrod CG (2017) Clinical practice guideline for diagnostic testing for adult obstructive sleep apnea: an American Academy of Sleep Medicine Clinical Practice Guideline. J Clin Sleep Med 13:479–483

5.

Sateia MJ (2014) International classification of sleep disorders-third edition: highlights and modifications. Chest 146:1387–1394

6.

Buysse DJ, Reynolds CF 3rd, Monk TH et al (1989) The Pittsburgh Sleep Quality Index: a new instrument for psychatric practice and research. Psychiatry Res 28:193–213

7.

Johns MW (1991) A new method for measuring daytime sleepiness: the Epworth Sleepiness Scale. Sleep 14:540–545

8.

Akashiba T, Kawahara S, Akahoshi T, Omori C, Saito O, Majima T, Horie T (2002) Relationship between quality of life and mood or depression in patients with severe obstructive sleep apnea syndrome. Chest 122:861–865

9.

Buysse DJ, Hall ML, Strollo PJ, Kamarck TW, Owens J, Lee L, Reis SE, Matthews KA (2008) Relationships between the Pittsburgh Sleep Quality Index (PSQI), Epworth Sleepiness Scale (ESS), and clinical/Polysomnographic measures in a community sample. J Clin Sleep Med 4:563–571

10.

Zung WW (1965) A self-rating depression scale. Arch Gen Psychiatry 12:63–70

11.

Peppard PE, Szklo-Coxe M, Hla KM, Young T (2006) Longitudinal association of sleep-related breathing disorder and depression. Arch Intern Med 166:1709–1715

12.

Epstein LJ, Kristo D, Strollo PJ Jr et al (2009) Clinical guideline for the evaluation, management and long-term care of obstructive sleep apnea in adults. J Clin Sleep Med 5:263–276

13.

Kawahara S, Akashiba T, Akahoshi T et al (2005) Nasal CPAP improves the quality of life and lessens the depressive symptoms in patients with obstructive sleep apnea syndrome. Intern Med 44:422–427

14.

Choi JA, Yoon IY, Han EG, Lee S (2011) Subjective and objective CPAP compliance in patients with obstructive sleep apnea syndrome. Sleep Med Res 2:63–68

15.

McDaid C, Durée KH, Griffin SC, Weatherly HLA, Stradling JR, Davies RJO, Sculpher MJ, Westwood ME (2009) A systematic review of continuous positive airway pressure for obstructive sleep apnoea-hypopnoea syndrome. Sleep Med Rev 13:427–436

16.

Weaver TE, Maislin G, Dinges DF, Bloxham T, George CFP, Greenberg H, Kader G, Mahowald M, Younger J, Pack AI (2007) Relationship between hours of CPAP use and achieving normal levels of sleepiness and daily functioning. Sleep 30:711–719

17.

Lai CC, Friedman M, Lin HC, Wang PC, Hwang MS, Hsu CM, Lin MC, Chin CH (2015) Clinical predictors of effective continuous positive airway pressure in patients with obstructive sleep apnea/hypopnea syndrome. Laryngoscope 125:1983–1987

18.

Balakrishnan K, James KT, Weaver EM et al (2016) Predicting CPAP use and treatment outcomes using composite indices of sleep apnea severity. Sleep Med 12:849–854

19.

Doi Y, Minowa M, Okawa M et al (1998) Development of the Japanese version of the Pittsburgh Sleep Quality Index. Japan J Psychiat Treat 13:755–763 in Japanese

20.

Fukuda K, Kobayashi S (1983) Japanese version of Self-rating Depression Scale. Sankyobo, Kyoto, p 315 (in Japanese)

21.

Sasanabe R, Shiomi T, Inoue Y et al (2008) Guidelines for the diagnosis, treatment, and cooperation in sleep disordered breathing. Sleep Med Japan 2:271–278

22.

Peppard PE, Young T, Barnet JH et al (2013) Increased prevalence of sleep-disordered breathing in adults. Am J Epidemiol 1(77):1006–1014

23.

Li KK, Kushida C, Powell NB, Riley RW, Guilleminault C (2000) Obstructive sleep apnea syndrome: a comparison between far-East Asian and white men. Laryngoscope 110:1689–1693

24.

Takegami M, Suzukamo Y, Wakita T, Noguchi H, Chin K, Kadotani H, Inoue Y, Oka Y, Nakamura T, Green J, Johns MW, Fukuhara S (2009) Development of a Japanese version of the Epworth Sleepiness Scale (JESS) based on Item Response Theory. Sleep Med 10:556–565

25.

Martínez-García MA, Soler-Cataluña JJ, Ejarque-Martínez L, Soriano Y, Román-Sánchez P, Illa FB, Canal JMM, Durán-Cantolla J (2009) Continuous positive airway pressure treatment reduces mortality in patients with ischemic stroke and obstructive sleep apnea. Am J Respir Crit Care Med 180:36–41

26.

Dorkova Z, Petrasova D, Molcanyiova A, Popovnakova M, Tkacova R (2008) Effects of continuous positive airway pressure on cardiovascular risk profile in patients with severe obstructive sleep apnea and metabolic syndrome. Chest 134:686–692

27.

Barbé F, Durán-Cantolla J, Sánchez-de-la-Torre M, Martínez-Alonso M, Carmona C, Barceló A, Chiner E, Masa JF, Gonzalez M, Marín JM, Garcia-Rio F, Diaz de Atauri J, Terán J, Mayos M, de la Peña M, Monasterio C, del Campo F, Montserrat JM, Spanish Sleep And Breathing Network (2012) Effect of continuous positive airway pressure on the incidence of hypertension and cardiovascular events in non sleepy patients with obstructive sleep apnea: a randomized controlled trial. JAMA 307:2161–2168

28.

Rosenberg R, Doghramji P (2009) Optimal treatment of obstructive sleep apnea and excessive sleepiness. Adv Ther 26:295–312

29.

Gasa M, Tamisier R, Launois SH, Sapene M, Martin F, Stach B, Grillet Y, Levy P, Pepin JL, Scientific Council of the Sleep Registry of the French Federation of Pneumology-FFP (2013) Residual sleepiness in sleep apnea patients treated by continuous positive airway pressure. J Sleep Res 22:389–397

30.

Harris M, Glozier N, Ratnavadivel R, Grunstein RR (2009) Obstructive sleep apnea and depression. Sleep Med Rev 13:437–444

31.

Kendler KS, Gardner CO, Prescott CA et al (2006) Toward a comprehensive developmental model for major depression in men. Am J Psychiatry 163:115–124
Ethics declarations
Conflict of interest
KO, KF, MH, TT, and TB were supported by funds donated by Teijin Home Healthcare Limited (Japan), Fukuda Denshi (Japan), and Philips Respironics (Japan). However, these companies had no role in the study design, data collection and analysis, or preparation of the manuscript. The other authors declare that that there is no conflict of interest regarding the publication of this paper.
Ethical approval
All procedures performed in studies involving human participants were in accordance with the ethical standards of the institutional and/or national research committee and with the 1964 Helsinki declaration and its later amendments or comparable ethical standards.
This study protocol (No. 2015043) was approved by the institutional review board of each participating institution.
Informed consent
Informed consent was obtained from all individual participants included in the study.
Additional information
Comments:
The symptoms of OSA, which includes Excessive daytime sleepiness, can be associated with increase in cardiovascular mortality 1, although it does not Correlate to the severity of OSA2.
Factors which improve this and other subjective symptoms of OSA with CPAP use are important and examined in this study by Dr Otsuka et al. The study found sufficient nightly CPAP duration as an important factor which improved numerous subjective symptoms like EDS, depression scores and sleep quality. The study also defined what an effective CPAP duration was to achieve these improvements.
Duration of CPAP therapy has been subject of debate. Prior studies have shown duration that are effective but this study helps answer the relevant question for the patient - how much do I have to use CPAP nightly so that I start to feel a difference.
Toshita Kumar
Conneticut, USA
1. Jiang Xie, MD, PhD, 1 , 2 Fatima H. Sert Kuniyoshi, PhD, 1 Naima Covassin, PhD, 1 Prachi Singh, PhD, 1Apoor S. Gami, MD, 1 C. Anwar A. Chahal, MD, 1 and Virend K. Somers, MD, PhD Excessive Daytime Sleepiness Independently Predicts Increased Cardiovascular Risk After Myocardial Infarction J Am Heart Assoc. 2018 Jan; 7(2): e007221. Published online 2018 Jan 19. doi: 10.1161/JAHA.117.007221
2. By Douglas Kirsch Daytime sleepiness and obstructive sleep apnea severity: where symptoms and metrics do not converge. Publisher: Cambridge University Press. https://doi.org/10.1017/CBO9781139583848.011 pp 41-47
3. Terri E. Weaver, PhD, RN, FAAN,1,2,3 Greg Maislin, MS, MA,1,2,3 David F. Dinges, PhD,3,4 Thomas Bloxham, MD,5Charles F. P. George, MD,6 Harly Greenberg, MD,7 Gihan Kader, MD,8 Mark Mahowald, MD,9 Joel Younger, MD,10and Allan I. Pack, MD, PhD2,3 Relationship Between Hours of CPAP Use and Achieving Normal Levels of Sleepiness and Daily Functioning Sleep. 2007 Jun 1; 30(6): 711-719.
Publisher's note
Springer Nature remains neutral with regard to jurisdictional claims in published maps and institutional affiliations.
Tomoko Betsuyaku died before the publication of this work.
About this article
Cite this article
Otsuka, K., Fukunaga, K., WakakoYamasawa et al. Factors associated with improvements in subjective symptoms of obstructive sleep apnea syndrome after continuous positive airway pressure therapy. Sleep Breath 24, 491–498 (2020). https://doi.org/10.1007/s11325-019-01877-5
Received:

Revised:

Accepted:

Published:

Issue Date:
Keywords
Obstructive sleep apnea syndrome

Continuous positive airway pressure

Epworth Sleepiness Scale

Pittsburgh Sleep Quality Index

Zung Self-Depression Scale