Abstract
Purpose
The STOPBANG questionnaire has been widely used for screening obstructive sleep apnea (OSA) due to its time friendly, economic advantages over overnight polysomnography (PSG). The aim of this study was to analyze the usefulness of the items constituting the utility of STOPBANG in a sleep clinic and to establish the best assembly for OSA-screening methods in the Korean population.
Methods
We retrospectively analyzed all patients who completed PSG as well as STOPBANG at a sleep center in a tertiary hospital from January 2016 to December 2017. The sensitivity and specificity of STOPBANG and its smaller counterparts (i.e., SOPBAG) were compared.
Results
A total of 541 subjects completed PSG and STOPBANG. Two hundred thirty-five patients were diagnosed with OSA (OSA+) and were compared to those who were not (OSA−). The respective scores of STOPBANG in OSA+ versus OSA− were 4.29 ± 1.46 and 2.53 ± 1.48 (p < 0.001). There were significant differences in all factors except tiredness and age (SOPBNG). STOPBANG showed sensitivity of 89.1% and specificity of 57.4%. The AUC was 0.809. Excluding tiredness as well as neck circumference (SOPBAG), the AUC was 0.811. The sensitivity and specificity were 71.8% and 77.9%, respectively. The AUC of SOPBAG was neither superior nor inferior to that of STOPBANG.
Conclusion
The screening value of STOPBANG for OSA did not perform as expected when compared to PSG for accuracy in Koreans. STOPBANG can be simplified to SOPBAG while maintaining comparable screening performance. It may be practical to consider performing PSGs without the use of the STOPBANG in Korea.
This is a preview of subscription content, log in to check access.
Access options
Buy single article
Instant access to the full article PDF.
US$ 39.95
Price includes VAT for USA
Subscribe to journal
Immediate online access to all issues from 2019. Subscription will auto renew annually.
US$ 99
This is the net price. Taxes to be calculated in checkout.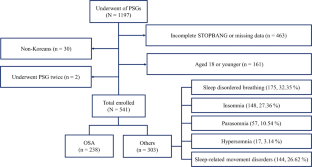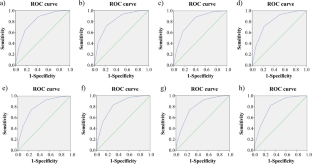 References
1.

Lee CH, Khoo SM, Tai BC, Chong EY, Lau C, Than Y, Shi DX, Lee LC, Kailasam A, Low AF, Teo SG, Tan HC (2009) Obstructive sleep apnea in patients admitted for acute myocardial infarction. Prevalence, predictors, and effect on microvascular perfusion. Chest 135(6):1488–1495

2.

Senaratna CV, Perret JL, Lodge CJ et al (2017) Prevalence of obstructive sleep apnea in the general population: a systematic review. Sleep Med Rev 34:70–81

3.

Chung F, Yegneswaran B, Liao P, Chung SA, Vairavanathan S, Islam S, Khajehdehi A, Shapiro CM (2008) STOP questionnaire: a tool to screen patients for obstructive sleep apnea. Anesthesiology 108(5):812–821

4.

Chung F, Abdullah HR, Liao P (2016) STOP-Bang questionnaire: a practical approach to screen for obstructive sleep apnea. Chest 149(3):631–638

5.

Nahapetian R, Silva GE, Vana KD, Parthasarathy S, Quan SF (2016) Weighted STOP-Bang and screening for sleep-disordered breathing. Sleep Breath 20(2):597–603

6.

Farney RJ, Walker BS, Farney RM et al (2011) The STOP-Bang equivalent model and prediction of severity of obstructive sleep apnea: relation to polysomnographic measurements of the apnea/hypopnea index. J Clin Sleep Med 7(5):459–465b

7.

Ong TH, Raudha S, Fook-Chong S, Lew N, Hsu AAL (2010) Simplifying STOP-BANG: use of a simple questionnaire to screen for OSA in an Asian population. Sleep Breath 14(4):371–376

8.

Nagappa M, Liao P, Wong J, Auckley D, Ramachandran SK, Memtsoudis S, Mokhlesi B, Chung F (2015) Validation of the STOP-Bang questionnaire as a screening tool for obstructive sleep apnea among different populations: a systematic review and meta-analysis. PLoS One 10(12):e0143697

9.

Kim B, Lee EM, Chung YS, Kim WS, Lee SA (2015) The utility of three screening questionnaires for obstructive sleep apnea in a sleep clinic setting. Yonsei Med J 56(3):684–690

10.

American Academy of Sleep Medicine (2014) International classification of sleep disorders, 3rd edn. American Academy of Sleep Medicine, Darien, Illinois

11.

Berry RB, Budhiraja R, Gottlieb DJ, Gozal D, Iber C, Kapur VK, Marcus CL, Mehra R, Parthasarathy S, Quan SF, Redline S, Strohl KP, Davidson Ward SL, Tangredi MM, American Academy of Sleep Medicine (2012) Rules for scoring respiratory events in sleep: update of the 2007 AASM Manual for the Scoring of Sleep and Associated Events. Deliberations of the sleep apnea definitions task force of the American Academy of sleep medicine. J Clin Sleep Med 8(5):597–619

12.

Hanley JA, McNeil BJ (1982) The meaning and use of the area under a receiver operating characteristic (ROC) curve. Radiology 143(1):29–36

13.

Pataka A, Daskalopoulou E, Kalamaras G, Fekete Passa K, Argyropoulou P (2014) Evaluation of five different questionnaires for assessing sleep apnea syndrome in a sleep clinic. Sleep Med 15(7):776–781

14.

Netzer NC, Stoohs RA, Netzer CM, Clark K, Strohl KP (1999) Using the Berlin questionnaire to identify patients at risk for the sleep apnea syndrome. Ann Intern Med 131(7):485–491

15.

Chung F, Subramanyam R, Liao P, Sasaki E, Shapiro C, Sun Y (2012) High STOP-Bang score indicates a high probability of obstructive sleep apnoea. Br J Anaesth 108(5):768–775

16.

Johns MW (1991) A new method for measuring daytime sleepiness: the Epworth sleepiness scale. Sleep 14(6):540–545

17.

Gamaldo C, Buenaver L, Chernyshev O, Derose S, Mehra R, Vana K, Walia HK, Gonzalez V, Gurubhagavatula I, OSA Assessment Tools Task Force of the American Academy of Sleep Medicine (2018) Evaluation of clinical tools to screen and assess for obstructive sleep apnea. J Clin Sleep Med 14:1239–1244

18.

Tan A, Yin JD, Tan LW et al (2016) Predicting obstructive sleep apnea using the STOP-Bang questionnaire in the general population. Sleep Med 27–28:66–71

19.

Ministry of Health and Welfare (2018) Notification 2018-135. National Health Insurance Act and its implementing ordinances Article 19 Protocol 1. https://www.hira.or.kr/rd/insuadtcrtr/bbsView.do?pgmid=HIRAA030069000400&brdScnBltNo=4&brdBltNo=51047&isPopupYn=Y. Accessed 1 Oct 2018
Acknowledgments
The authors wish to thank researcher Yeong Seon Lee for her work and polysomnography technicians Sang Hoon Jung, Kyung Woo Nam, and Ki Hwal Jung for their data collection.
Funding
This work was supported by the National Research Foundation of Korea grant funded by the Korean government (Ministry of Science and ICT) (No. 2017R1C1B5076728 and 2014R1A5A2010008).
Ethics declarations
Conflict of interest
The authors declare that they have no conflicts of interest.
Ethical approval
All procedures performed in studies involving human participants were in accordance with the ethical standards of the Keimyung University Dongsan Medical Center human ethics committee and with the 1964 Helsinki declaration and its later amendments or comparable ethical standards.
This article does not contain any studies with animals performed by any of the authors.
Informed consent
This study was approved by the institutional review board of a regional university hospital (#2018-03-030), and patient consent was exempt due to the retrospective nature of the study.
Additional information
Comments
This is a meaningful study of STOP-Bang, one of the most widely used questionnaire of OSA but rarely validated in Korean population.
Seong Min Oh
Seoul, Korea
Given the low specificity of the STOPBANG questionnaires, a more specific pre-test screening tool is warranted to make an early diagnosis of OSA in a cost-effective manner.
Yung-Che Chen
Taiwan
Publisher's note
Springer Nature remains neutral with regard to jurisdictional claims in published maps and institutional affiliations.
About this article
Cite this article
Kim, K.T., Cho, Y.W. Real-world STOPBANG: how useful is STOPBANG for sleep clinics?. Sleep Breath 23, 1219–1226 (2019). https://doi.org/10.1007/s11325-019-01806-6
Received:

Revised:

Accepted:

Published:

Issue Date:
Keywords
Obstructive sleep apnea

STOPBANG

Polysomnography

Diagnosis