Abstract
This article aims to identify the innovation management practices used by companies worldwide and referenced in the scientific literature. This study employed a scoping review methodology proposed by Manchado et al. (Medicina y seguridad del trabajo 55:12–19, 2009). A total of 322 documents were located and screened by two reviewers. After we applied the inclusion and exclusion criteria, 19 articles were analysed in depth. This article identifies the innovation management practices used by different kinds of companies, focusing on small and medium-sized enterprises. The review found a total of 116 practices, grouped into 13 categories. These categories were classified based on the innovation management process. The practices most frequently cited by authors were the application of project management fundamentals, product changes and process improvements, idea generation techniques, and practices related to human talent management for innovation. This article provides a framework of good practices for companies that wish to improve their innovation management process.
Access options
Buy single article
Instant access to the full article PDF.
US$ 39.95
Tax calculation will be finalised during checkout.
Subscribe to journal
Immediate online access to all issues from 2019. Subscription will auto renew annually.
US$ 79
Tax calculation will be finalised during checkout.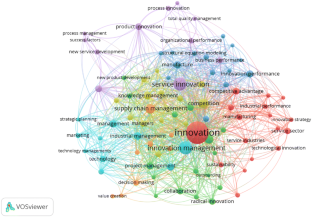 References
Aas TH, Breunig KJ, Hydle KM, Pedersen PE (2015) Innovation management practices in production-intensive service firms. Int J Innov Manag 19:1550055. https://doi.org/10.1142/S1363919615500553

Abu El-Ella N, Bessant J, Pinkwart A (2016) Revisiting the honorable merchant: the reshaped role of trust in open innovation. Thunderbird Int Bus Rev 58:261–275. https://doi.org/10.1002/tie.21774

Babkin AV, Lipatnikov VS, Muraveva SV (2015) Assessing the impact of innovation strategies and R&D costs on the performance of IT companies. Procedia Soc Behav Sci 207:749–758. https://doi.org/10.1016/j.sbspro.2015.10.153

Bogers M, Zobel A, Afuah A, Almirall E, Brunswicker S, Dahlander L, Frederiksen L, Gawer A, Gruber M, Haefliger S, Hagedoorn J, Hilgers D, Laursen K, Magnusson M, Majchrzak A, McCarthy I, Moeslein K, Nambisan S, Piller F, Radziwon A, Rossi-Lamastra C, Sims J, Ter-Wal A (2017) The open innovation research landscape: established perspectives and emerging themes across different levels of analysis. Ind Innov. https://doi.org/10.1080/13662716.2016.1240068

Boly V, Morel L, Assielou NG, Camargo M (2014) Evaluating innovative processes in french firms: methodological proposition for firm innovation capacity evaluation. Res Policy 43:608–622. https://doi.org/10.1016/j.respol.2013.09.005

Brones F, Monteiro de Carvalho M (2015) From 50 to 1: integrating literature toward a systemic ecodesign model. J Clean Prod 96:44–57. https://doi.org/10.1016/j.jclepro.2014.07.036

De Sousa EG, Marina FM (2015) Inovações em Software : como as empresas do distrito federal as gerenciam? Organizações em Contexto 11:279–306. https://doi.org/10.15603/1982-8756/roc.v11n21p279-306

Du Plessis MJ, Pretorius MW (2017) Towards a better understanding of the key elements driving the innovativeness of the mineral resources industry: A literature review. 2017 Portland International Conference on Management of Engineering and Technology, PICMET 2017. University of Pretoria, Graduate School of Technology Management, Institute of Electrical and Electronics Engineers Inc., Pretoria, pp 1–11

Eito-Brun R (2017) Incorporating innovation management practices to ISO/IEC 29110. In: 24th European conference on systems, software and services process improvement, EuroSPI 2017. Universidad Carlos III de Madrid, c/Madrid 124, Getafe, Madrid 28903. Springer, Spain, pp 15–25

Ellwood P, Roberts J, Thorpe R, Williams C (2012) Critical friends: working with management researchers for the commercialisation of university science. In: ISPIM conference proceedings. Manchester: the international society for professional innovation management (ISPIM), Barcelona, Spain pp 1–8

Frishammar J, Richtnér A, Brattström A, Magnusson M, Björk J (2018) Opportunities and challenges in the new innovation landscape: implications for innovation auditing and innovation management. Eur Manag J. https://doi.org/10.1016/j.emj.2018.05.002

García-Muiña FE, Fuentes-Moraleda L, Vacas-Guerrero T, Rienda-Gómez JJ (2019) Understanding open innovation in small and medium-sized museums and exhibition halls: an analysis model. Int J Contemp Hosp Manag. https://doi.org/10.1108/IJCHM-03-2018-0260

Gavira MO, Carvalho RQ (2015) Innovation in subsidiaries of electro-electronic industry in Brazil. Lat Am Res Rev 16:103–126. https://doi.org/10.1080/10978526.2015.1045811

Ghazali N, Yusoff WFW, Adnan R (2017) A framework for innovation management practices among women entrepreneurs of small medium enterprise (SMES) in Malaysia. In: 30th international business information management association conference - Vision 2020: sustainable economic development, innovation management, and global growth, IBIMA 2017. Centre for Diploma Studies. International Business Information Management Association, IBIMA, Malaysia, pp 1959–1974

Giles T, Cormican K (2014) An empirical analysis of best management practices at the front end of the innovation process in the medical technology industry. Procedia Technol 16:913–920. https://doi.org/10.1016/j.protcy.2014.10.043

Gloet M, Samson D (2014) Managing knowledge and innovation for performance. In: 47th Hawaii international conference on system sciences, HICSS 2014. IEEE Computer Society, University of Melbourne, Australia, pp 3574–3583

Horn C, Brem A (2013) Strategic directions on innovation management—a conceptual framework. Manag Res Rev. https://doi.org/10.1108/MRR-06-2012-0142

Jackson P, Richter N (2017) Situational logic: an analysis of open innovation using corporate accelerators. Int J Innov Manag. https://doi.org/10.1142/S1363919617500621

Jain R (2014) Innovation promotion strategies: a conceptual framework. South Asian J Bus Manag Cases 21:44–70

Khosravi P, Newton C, Rezvani A (2019) Management innovation: a systematic review and meta-analysis of past decades of research. Eur Manag J. https://doi.org/10.1016/j.emj.2019.03.003

Kim D, Kim S (2017) Sustainable supply chain based on news articles and sustainability reports: text mining with Leximancer and DICTION. Sustainability. https://doi.org/10.3390/su9061008

Loughnane L, (2014) Innovation and strategy: linking management practices to achieve superior performance. In: European conference on innovation and entrepreneurship. Academic Conferences International Limited, Reading, pp 311–319

Manchado R, Tamames M, Lopez M, Mohedano L, Agostino M, Veiga J (2009) Revisiones sistemáticas exploratorias. Medicina y seguridad del trabajo 55:12–19

Modi P, Rawani AM (2020) Drivers of innovation practices in SMEs: a literature review. Int J E-entrepreneursh Innov. https://doi.org/10.4018/IJEEI.2020010103

Nagano MS, Stefanovitz JP, Vick TE (2014a) Characterization of brazilian industrial companies processes and challenges as to innovation management. Rev Bras Gest N 16:163–179. https://doi.org/10.7819/rbgn.v16i51.1426

Nagano M, Stefanovitz JP, Vick TE (2014b) Innovation management processes, their internal organizational elements and contextual factors: an investigation in Brazil. J Eng Tech Manag 33:63–92. https://doi.org/10.1016/j.jengtecman.2014.02.004

Nambisan S, Lyytinen K, Majchrzak A, Song M (2017) Digital innovation management: reinventing innovation management research in a digital world. MIS Q. https://doi.org/10.25300/MISQ/2017/41

O'Connor GC, Rice MPR (2013) New market creation for breakthrough innovations: enabling and constraining mechanisms. J Prod Innov Manag 30:209–227. https://doi.org/10.1111/j.1540-5885.2012.00996.x

OECD and Eurostat (2018) Oslo Manual 2018: guidelines for collecting, reporting and using data on innovation. The Measurement of Scientific, Technological and Innovation Activities, OECD Publishing, Luxembourg

Oliveira P, Terence AC (2018) Innovation practices in small technology-based companies during incubation and post-incubation periods. Innov Manag Rev. https://doi.org/10.1108/inmr-02-2018-007

Panizzon M, Milan GS, Toni DD (2013) Internacionalização, criatividade organizacional e as capacidades dinâmicas baseadas em conhecimento como determinantes da inovação. RAI Revista de Administração e Inovação 10:253–282. https://doi.org/10.5773/rai.v10i4.1183

Pelser T (2014) The affect of innovation strategies and their connect to company performance. Mediterr J Soc Sci 5:60–68. https://doi.org/10.5901/mjss.2014.v5n9p60

Pires AMB, Cruz FL, Hastenreite HN, Oliveira SR (2013) Innovation in innovation management: the experience of petrobras centers and networks of excellence program. J Technol Manag Innov 8:49–60. https://doi.org/10.4067/S0718-27242013000300060

Proctor T (2013) Collaboration and networking in the process of innovation: the path to precision time keeping. J Manag Stud 19:167–188. https://doi.org/10.1108/17511341311307372

Quadros R, Junior EI, Egler I, Tavares A, Quintao R, Monaco D, Vieira G (2017) Diffusion of innovation management practices in manufacturing industry in Brazil comparing multinational subsidiariesto Brazilian national firms. In: 2017 Portland international conference on management of engineering and technology, PICMET 2017. Dept. of Science and Technology Policy, IG/UNICAMP, Institute of Electrical and Electronics Engineers Inc., Campinas, Brazil, pp 1–9

Rahman SA, Taghizadeh SK, Ramayah T, Ahmad NH (2015) Service innovation management practices in the telecommunications industry: what does cross country analysis reveal? Springerplus 4:1–25. https://doi.org/10.1186/s40064-015-1580-8

Santoro G (2017) Innovation in small and medium enterprises: The impact of open innovation practices on firm's performance. Glob Bus Econ Rev. https://doi.org/10.1504/GBER.2017.086601

Sattler M (2011) Excellence in innovation management: a meta-analytic review on the predictors of innovation performance, 1st edn. Gabler Verlag, Berlin. https://doi.org/10.1007/978-3-8349-6158-7

Singh RK, Garg SK, Deshmukh SG (2008) Strategy development by SMEs for competitiveness: a review. Benchmarking Int J. https://doi.org/10.1108/14635770810903132

Solaimani S, Veen J, Sobek D II, Gulyaz E, Venugopal V (2019) On the application of Lean principles and practices to innovation management: a systematic review. TQM J. https://doi.org/10.1108/TQM-12-2018-0208

Taghizadeh SK, Rahman SA, Halim HA, Ahmad NH (2017a) Dwelling into service innovation management practices: a comparison between telecommunication industry in Malaysia and Bangladesh. Glob Bus Rev 18:87–98. https://doi.org/10.1177/0972150916666880

Taghizadeh SK, Jayaraman K, Rahman SA, Quazi A (2017b) Service innovation management practices and pricing practices for performance in Malaysian telecom. Asian Acad Manag J 22:129–155. https://doi.org/10.21315/aamj2017.22.2.5

Tidd J, Thuriaux-Alemán B (2016) Innovation management practices: cross-sectorial adoption, variation, and effectiveness. R&D Manag 46:1024–1043. https://doi.org/10.1111/radm.12199

Tidd J, Bessant J, Pavitt K (2008) Gestão da inovação. Artmed Ed, São Paulo

Urbinati A, Chiaroni D, Chiesa V, Frattini F (2018) The role of digital technologies in open innovation processes: an exploratory multiple case study analysis. R&D Manag. https://doi.org/10.1111/radm.12313

Valmohammadi C (2012) Investigating innovation management practices in Iranian organizations. Innov: Org Manag 14:247–255. https://doi.org/10.5172/impp.2012.14.2.247

Vilha AM, Quadros R (2012) Gestão da inovação sob a perspectiva do desenvolvimento sustentável: lições das estratégias e práticas na indústria de higiene pessoal, perfumaria e cosméticos. RAI Revista de Administração e Inovação 9:28–52. https://doi.org/10.5773/rai.v9i3.593

Zimmer P, Iata CM, de Souza JA, Cunha CJCA (2016) Tax incentives for innovation in Brazil: obstacles for use of the good law (law 11.196/2005). J Technol Manag Innov 11:38–46. https://doi.org/10.4067/S0718-27242016000400006
Funding
Funding was provided by Universidad de Santander (Grant No. 041-18).
Additional information
Publisher's Note
Springer Nature remains neutral with regard to jurisdictional claims in published maps and institutional affiliations.
About this article
Cite this article
Pertuz, V., Pérez, A. Innovation management practices: review and guidance for future research in SMEs. Manag Rev Q 71, 177–213 (2021). https://doi.org/10.1007/s11301-020-00183-9
Received:

Accepted:

Published:

Issue Date:
Keywords
Innovation management practices

Innovation management

Scoping review
JEL Classification