Abstract
Purpose
The aim of this study was to investigate the effectiveness of cone-beam CT (CBCT) findings and gray scale values (GSV) in the differential diagnosis of apical cysts and granulomas.
Methods
Two independent researchers retrospectively analyzed the CBCT images of 21 teeth and histopathologically diagnosed them as having radicular cysts or apical granulomas. In the CBCT images, apical lesions were evaluated and categorized according to 7 criteria. These criteria were determined as relationship of lesions with dental roots, periphery of the lesion, shape, darker focus in the center, root resorption, displacement in related teeth, and cortical bone perforation. In addition, the minimum and maximum gray scale values of the lesions were measured and compared.
Results
There was a statistically significant relationship between histopathological (HP) diagnosis and well-defined cortical border and lesion shape (p = 0.003, p = 0.014, respectively). According to the HP diagnosis, no statistically significant difference was found among other variables (p > 0.05)
Conclusion
The presence of a well-defined cortical border or partial cortical border is a distinctive criterion for cysts. Additionally, the shape of the lesion was found to be a significant criterion for the separation of the two lesions. The shape of cystic lesions was circular and apical granulomas had a more curved shape. There was no relationship between the histopathological diagnosis of lesions and CBCT gray scale values.
This is a preview of subscription content, log in to check access.
Access options
Buy single article
Instant access to the full article PDF.
US$ 39.95
Price includes VAT for USA
Subscribe to journal
Immediate online access to all issues from 2019. Subscription will auto renew annually.
US$ 99
This is the net price. Taxes to be calculated in checkout.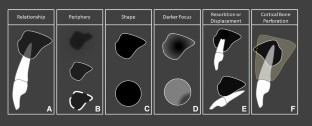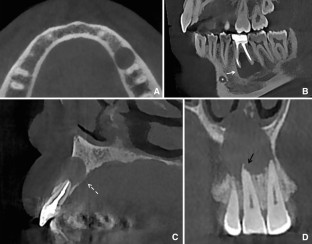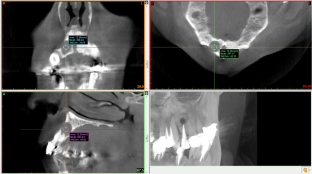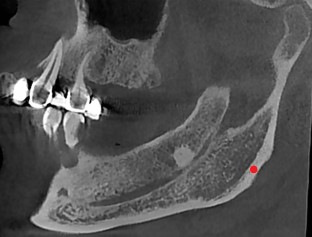 References
1.

Lin LM, Huang GTJ. In Cohen's Pathways of the Pulp. 11th edn, Chapter 15: Pathobiology of the Periapex, Mosby-Elsevier, St. Louis, MO, USA. 2015. pp. 630–659.

2.

Ørstavik D, Ford TRP. Essential endodontology: prevention and treatment of apical periodontitis. 2nd ed. Oxford: Blackwell Munksgaard Ltd; 2008. p. 81–134.

3.

Nair PN, Pajarola G, Schroeder HE. Types and incidence of human periapical lesions obtained with extracted teeth. Oral Surg Oral Med Oral Pathol Oral Radiol Endod. 1996;81:93–102.

4.

Simon JH. Incidence of periapical cysts in relation to the root canal. J Endod. 1980;6:845–8.

5.

Nair PN. New perspectives on radicular cysts: do they heal? Int Endod J. 1998;31:155–60.

6.

Juerchott A, Pfefferle T, Flechtenmacher C, Mente J, Bendszus M, Heiland S, Hilgenfeld T. Differentiation of periapical granulomas and cysts by using dental MRI: a pilot study. Int J Oral Sci. 2018;10(2):17. https://doi.org/10.1038/s41368-018-0017-y.

7.

Sonmez G, Kamburoğlu K, Yılmaz F, Koc C, Barış E, Tuzuner A. Versatility of high-resolution ultrasonography in the assessment of granulomas and radicular cysts: a comparative in vivo study. Dentomaxillofac Radiol. 2019;48:20190082.

8.

Aggarwal V, Singla M. Use of computed tomography scans and ultrasound in differential diagnosis and evaluation of nonsurgical management of periapical lesions. Oral Surg Oral Med Oral Pathol Oral Radiol Endod. 2010;109(6):917–23. https://doi.org/10.1016/j.tripleo.2009.12.055.

9.

Fernandes M, de Ataide I. Nonsurgical management of periapical lesions. J Conserv Dent. 2010;13(4):240–5. https://doi.org/10.4103/0972-0707.73384.

10.

Jorge EG, Tanomaru-Filho M, Gonçalves M, Tanomaru JM. Detection of periapical lesion development by conventional radiography or computed tomography. Oral Surg Oral Med Oral Pathol Oral Radiol Endod. 2008;106(1):e56–61. https://doi.org/10.1016/j.tripleo.2008.03.020.

11.

Guo J, Simon JH, Sedghizadeh P, Soliman ON, Chapman T, Enciso R. Evaluation of the reliability and accuracy of using cone-beam computed tomography for diagnosing periapical cysts from granulomas. J Endod. 2013;39(12):1485–90. https://doi.org/10.1016/j.joen.2013.08.019(Epub 2013 Sep 27).

12.

Okada K, Rysavy S, Flores A, Linguraru MG. Noninvasive differential diagnosis of dental periapical lesions in cone-beam CT scans. Med Phys. 2015;42(4):1653–65. https://doi.org/10.1118/1.4914418.

13.

Chanani A, Adhikari HD. Reliability of cone beam computed tomography as a biopsy independent tool in differential diagnosis of periapical cysts and granulomas: an in vivo study. J Conserv Dent. 2017;20(5):326–31. https://doi.org/10.4103/JCD.JCD_124_17.

14.

Lin LM, Ricucci D, Lin J, et al. Nonsurgical root canal therapy of large cyst-like inflammatory periapical lesions and inflammatory apical cysts. J Endod. 2009;35:607–15.

15.

Cotti E, Campisi G, Ambu R, Dettori C. Ultrasound real time imaging in differential diagnosis of periapical lesions. Int Endod J. 2003;36:556–63.

16.

Tikku AP, Bharti R, Sharma N, Chandra A, Kumar A, Kumar S. Role of ultrasound and color doppler in diagnosis of periapical lesions of endodontic origin at varying bone thickness. J Conserv Dentistry. 2016;19(2):147.

17.

Adibi S, Shakibafard A, Karimi Sarvestani Z, Saadat N, Khojastepour L. Effect of cortical bone thickness on detection of intraosseous lesions by ultrasonography. Radiol Res Practice. 2015. https://doi.org/10.1155/2015/797593.

18.

Reeves TE, Mah P, Mc David WD. Deriving Hounsfield unit using grey levels in cone beam CT: a clinical application. Dentomaxillofac Radiol. 2012;41:500–8.

19.

Razi T, Niknami M, Alavi GF. Relationship between Hounsfield Unit in CT Scan and Gray Scale in CBCT. J Dent Res Dent Clin Dent Prospects. 2014;8:107–10.

20.

Bastami F, Shahab S, Parsa A, Abbas FM, Noori Kooshki MH, Namdari M, Lisar HA, Rafiei T, Fahimipour F, Salehi M, Jafari M. Can gray values derived from CT and cone beam CT estimate new bone formation? An in vivo study. Oral Maxillofac Surg. 2018;22(1):13–20. https://doi.org/10.1007/s10006-017-0657-7(Epub 2017 Oct 31).

21.

Naitoh M, Hirukawa A, Katsumata A, Ariji E. Evaluation of voxel values in mandibular cancellous bone: relationship between cone-beam computed tomography and multislice helical computed tomography. Clin Oral Implants Res. 2009;20:503–6.

22.

Cassetta M, Stefanelli LV, Pacifici A, Pacifici L, Barbato E. How accurate is CBCT in measuring bone density? A comparative CBCT-CT in vitro study. Clin Implant Dent Relat Res. 2014;16:471–8.

23.

Nasim A, Sasankoti Mohan RP, Nagaraju K, Malik SS, Goel S, Gupta S. Application of cone beam computed tomography gray scale values in the diagnosis of cysts and tumors. J Indian Acad Oral Med Radiol. 2018;30:4–9.

24.

Shrout MK, Hall JM, Hildebolt CE. Differentiation of periapical granuloma and radicular cyst by digital radiometric analysis. Oral Surg Oral Med Oral Pathol. 1993;76:356–61.

25.

Simon HS, Enciso R, Malfaz JM, Roges P, Perry MB, Patel A. Differential diagnosis of large periapical lesion using cone beam computed tomography measurement and biopsy. J Endod. 2006;32:833–7.

26.

Shear M. Cysts of the oral regions. 3rd ed. Oxford: Wright; 1992.

27.

Bornstein MM, Bingisser AC, Reichart PA, Sendi P, Bosshardt DD, von Arx T. Comparison between radiographic (2-dimensional and 3-dimensional) and histologic findings of periapical lesions treated with apical surgery. J Endod. 2015;41(6):804–11. https://doi.org/10.1016/j.joen.2015.01.015(Epub 2015 Apr 8).

28.

Pitcher B, Alaqla A, Noujeim M, Wealleans JA, Kotsakis G, Chrepa V. Binary decision trees for preoperative periapical cyst screening using cone-beam computed tomography. J Endod. 2017;43(3):383–8. https://doi.org/10.1016/j.joen.2016.10.046.
Ethics declarations
Conflict of interest
All authors declare that they have no conflict of interest.
Research involving human participants and/or animals
This article does not contain any studies with human or animal subjects performed by the any of the authors.
Additional information
Publisher's Note
Springer Nature remains neutral with regard to jurisdictional claims in published maps and institutional affiliations.
About this article
Cite this article
Etöz, M., Amuk, M., Avcı, F. et al. Investigation of the effectiveness of CBCT and gray scale values in the differential diagnosis of apical cysts and granulomas. Oral Radiol (2020). https://doi.org/10.1007/s11282-020-00459-6
Received:

Accepted:

Published:
Keywords
Apical granuloma

Apical cyst

Cone-beam CT

Gray scale value