Abstract
Objectives
The purpose of this study is to assess the stages of skeletal maturity in cone beam computed tomography (CBCT), hand–wrist radiography (HWR) and cephalometric radiography (CR) techniques of orthodontic patients, and associate skeletal maturity stages with chronological age, in a Turkish subpopulation.
Methods
Hand–wrist radiographs, cephalometric radiographs and CBCT of 105 patients were evaluated. For evaluation of HWR, the "Hand Bone Age A Digital Atlas of Skeletal Maturity" of Vicente Gilsanz and Osman Ratib (2005) was used. Skeletal maturation in the cephalometric radiographs and sagittal sections of cervical vertebrae obtained by CBCT were evaluated with Hassel and Farman's method (1995). All results were re-evaluated 3 weeks later to assess intra-observer reliability.
Results
Intra-observer reliability coefficients of the skeletal maturity stages in HWR, CR, and CBCT were 0.912, 0.595, 0.756 respectively (p < 0.05). Spearman's correlation coefficient value between skeletal developmental stages in in HWR, CR, and CBCT was found to be 0.785, 0.875, and 0.791, respectively (p < 0.05).
Conclusion
Results of this study reveal that the determination of the skeletal development status with analysis of cervical vertebrae using cephalometric radiographs and CBCT is as reliable method as the evaluation of the hand–wrist radiographs and is compatible with chronological age in a subgroup of the Turkish population. When assessing the skeletal development stages of patients, both CBCT and CR can be used validly, so no extra hand–wrist radiography is required. This information is important for the prevention of increased radiation doses in patients.
This is a preview of subscription content, log in to check access.
Access options
Buy single article
Instant access to the full article PDF.
US$ 39.95
Tax calculation will be finalised during checkout.
Subscribe to journal
Immediate online access to all issues from 2019. Subscription will auto renew annually.
US$ 99
Tax calculation will be finalised during checkout.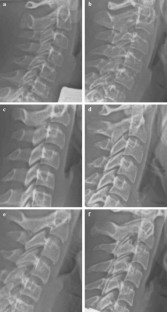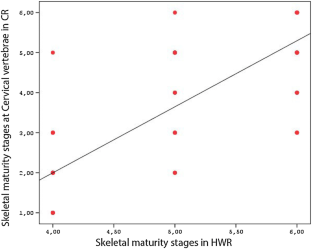 References
1.

Fishman LS. Chronological versus skeletal age, an evaluation of craniofacial growth. Angle Orthod. 1979;49(3):181–9.

2.

Green LJ. The interrelationship among height, weight and chronological, dental and skeletal ages. Angle Orthod. 1961;31:189–93.

3.

Grave KC, Brown T. Skeletal ossification and the adolescent growth spurt. Am J Orthod. 1976;69(6):611–9.

4.

Simmons K, Greulich WW. Menarcheal age and the height, weight, and skeletal age of girls age 7 to 17 years. J Pediatr. 1943;22(5):518–48.

5.

Fishman LS. Maturational patterns and prediction during adolescence. Angle Orthod. 1987;57(3):178–93.

6.

Hägg U, Taranger J. Maturation indicators and the pubertal growth spurt. Am J Orthod. 1982;82(4):299–309.

7.

Björk A. Variations in the growth pattern of the human mandible: longitudinal. Radiographic study by the implant method. J Dent Res. 1963;42:400–11.

8.

Caldas MDP, Ambrosano GMB, Haiter Neto F. New formula to objectively evaluate skeletal maturation using lateral cephalometric radiographs. Braz Oral Res. 2007;21(4):330–5.

9.

Houston WJB. Relationships between skeletal maturity estimated from hand–wrist radiographs and the timing of the adolescent growth spurt. Eur J Orthod. 1980;2(2):81–93.

10.

O'Reilly MT, Yanniello GJ. Mandibular growth changes and maturation of cervical vertebrae: a longitudinal cephalometric study. Angle Orthod. 1988;58(2):179–84.

11.

Lamparski DG. Skeletal age assessment utilizing cervical vertebrae. Am J Orthod. 1975;67(4):458–9.

12.

Hassel B, Farman AG. Skeletal maturation evaluation using cervical vertebrae. Am J Orthod Dentofac Orthop. 1995;107(1):58–66.

13.

Baccetti T, Franchi L, McNamara JA Jr. An improved version of the cervical vertebral maturation (CVM) method for the assessment of mandibular growth. Angle Orthod. 2002;72(4):316–23.

14.

Baccetti T, Franchi L, McNamara JA. The cervical vertebral maturation (CVM) method for the assessment of optimal treatment timing in dentofacial orthopedics. Semi Orthod. 2005;11(3):119–29.

15.

Todd TW, Pyle SI. A quantitative study of the vertebral column by direct and roentgenoscopic methods. Am J Phys Anthropol. 1928;12(2):321–38.

16.

Bick EM, Copel JW. Longitudinal growth of the human vertebra. J Bone Jt Surg Am. 1950;32(4):803–14.

17.

Hellsing E. Cervical vertebral dimensions in 8-, 11-, and 15-year-old children. Acta Odontol Scand. 1991;49(4):207–13.

18.

Franchi L, Baccetti T, McNamara JA. Mandibular growth as related to cervical vertebral maturation and body height. Am J Orthod Dentofac Orthop. 2000;118(3):335–40.

19.

Small BW. Cone beam computed tomography. Gen Dent. 2007;55(3):179–81.

20.

Scarfe WC, Farman AG, Sukovic P. Clinical applications of cone-beam computed tomography in dental practice. J Can Dent Assoc. 2006;72(1):75.

21.

Arai Y, Tammisalo E, Iwai K, Hashimoto K, Shinoda K. Development of a compact computed tomographic apparatus for dental use practice. Dentomaxillofac Radiol. 1999;28:245–8.

22.

Sukovic P. Cone beam computed tomography in craniofacial imaging. Orthod Craniofacial Res. 2003;6:31–6.

23.

Shim JJ, Heo G, Lagravère MO. Assessment of skeletal maturation based on cervical vertebrae in CBCT. Int Orthod. 2012;10(4):351–62.

24.

Byun BR, Kim YI, Yamaguchi T, Maki K, Ko CC, Hwang DS, Son WS. Quantitative skeletal maturation estimation using cone-beam computed tomography-generated cervical vertebral images: a pilot study in 5-to 18-year-old Japanese children. Clin Oral Investig. 2015;19(8):2133–40.

25.

Joshi V, Yamaguchi T, Matsuda Y, Kaneko N, Maki K, Okano T. Skeletal maturity assessment with the use of cone-beam computerized tomography. Oral Surg Oral Med Oral Pathol Oral Radiol. 2012;113(6):841–9.

26.

Gilsanz V, Ratib O. Hand bone age: a digital atlas of skeletal maturity. Berlin, Heidelberg, New York: Springer Science & Business Media; 2005. p. 2–17.

27.

Fishman LS. Radiographic evaluation of skeletal maturation: a clinically oriented method based on hand–wrist films. Angle Orthod. 1982;52(2):88–112.

28.

Hunter CJ. The correlation of facial growth with body height and skeletal maturation at adolescence. Angle Orthod. 1966;36(1):44–54.

29.

Simmons K, Greulich WW. Chronological versus skeletal age, an evaluation of craniofacial growth. Angle Orthod. 1979;49(3):181–9.

30.

Greulich WW, Pyle SI. Radiographic atlas of skeletal development of the hand and wrist. Am J Med Sci. 1959;238(3):393.

31.

Houston WJ, Miller JC, Tanner JM. Prediction of the timing of the adolescent growth spurt from ossification events in hand–wrist films. Br J Orthod. 1979;6(3):145–52.

32.

Tanner JM, Healy MRJ, Goldstein H, Cameron N. Assessment of skeletal maturity and prediction of adult height (TW3). 3rd edn. London: W.B Saunders; 2001. p. 243–54.

33.

Baccetti T, Franchi L, Cameron CG, McNamara JA Jr. Treatment timing for rapid maxillary expansion. Angle Orthod. 2001;71(5):343–50.

34.

Kama JD, Gündüz AS, Darı O, Özer T. Erkek Bireylerde Servikal Vertebra Kemik Yaşının Kronolojik ve İskelet Yaş ile Karşılaştırılması. Dicle Tıp Dergisi. 2006;33(1):36–41.

35.

Flores-Mir C, Burgess CA, Champney M, Jensen RJ, Pitcher MR, Major PW. Correlation of skeletal maturation stages determined by cervical vertebrae and hand–wrist evaluations. Angle Orthod. 2006;76(1):1–5.

36.

Uysal T, Ramoglu SI, Basciftci FA, Sari Z. Chronologic age and skeletal maturation of the cervical vertebrae and hand–wrist: is there a relationship? Am J Orthod Dentofac Orthop. 2006;130(5):622–8.

37.

Lai EHH, Liu JP, Chang JZC, Tsai SJ, Yao CCJ, Chen MH, Lin CP. Radiographic assessment of skeletal maturation stages for orthodontic patients: hand–wrist bones or cervical vertebrae? J Formos Med Assoc. 2008;107(4):316–25.

38.

Kaplowitz P, Srinivasan S, He J, McCarter R, Hayeri MR, Sze R. Comparison of bone age readings by pediatric endocrinologists and pediatric radiologists using two bone age atlases. Pediatr Radiol. 2011;41(6):690–3.

39.

Lin FQ, Zhang J, Zhu Z, Wu YM. Comparative study of Gilsanz-Ratib digital atlas and Greulich-Pyle atlas for bone age estimation in a Chinese sample. Ann Hum Biol. 2015;42(6):523–7.

40.

San Román P, Palma JC, Oteo MD, Nevado E. Skeletal maturation determined by cervical vertebrae development. Eur J Orthod. 2002;24(3):303–11.
Ethics declarations
Conflict of interest
All authors declare that they have no conflict of interest.
Ethical standards
All procedures followed were in accordance with the ethical standards of the responsible committee on human experimentation (institutional and national) and with the Helsinki Declaration of 1964 and later versions.
Informed consent
Informed consent was obtained from all patients for being included in the study.
Additional information
Publisher's Note
Springer Nature remains neutral with regard to jurisdictional claims in published maps and institutional affiliations.
About this article
Cite this article
Tekın, A., Cesur Aydın, K. Comparative determination of skeletal maturity by hand–wrist radiograph, cephalometric radiograph and cone beam computed tomography. Oral Radiol 36, 327–336 (2020). https://doi.org/10.1007/s11282-019-00408-y
Received:

Accepted:

Published:

Issue Date:
Keywords
Cephalometric radiograph

Chronological age

Cone beam computed tomography

Hand–wrist radiograph

Skeletal age

Skeletal maturation