Abstract
The performance of orthogonal frequency multiplexing (OFDM) communication systems is affected by the peak to average power ratio (PAPR). The research work uses a hybrid transform for reducing this PAPR value. In recent years, OFDM is more prevalent in the research field, particularly in wireless communication. OFDM system is found to have a high PAPR value. This high PAPR leads to nonlinear distortions that result in low power efficiency. Hence there is a need to minimize PAPR. Hadamard transform is a commonly used technique for the reduction of PAPR. However, greater efficiency can be carried out using a hybrid way to reducing the PAPR of the signals applying OFDM. Modified Discrete Cosine Transform (MDCT) combined with nonlinear companding technique, is suggested to minimize PAPR, described as a hybrid transform. It is shown that the hybrid transform achieves a better lessening of PAPR and minimized Bit Error Rate (BER) in the OFDM communication system when compared with the basic OFDM, Hadamard transforms, and Companding technique.
Access options
Buy single article
Instant access to the full article PDF.
US$ 39.95
Tax calculation will be finalised during checkout.
Subscribe to journal
Immediate online access to all issues from 2019. Subscription will auto renew annually.
US$ 119
Tax calculation will be finalised during checkout.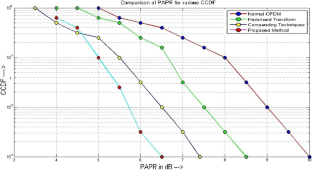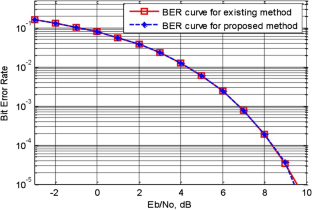 Ethics declarations
Conflict of interest
The authors have no conflict of interest.
Ethical Approval
This article does not contain any studies with human participants performed by any of the authors.
Additional information
Publisher's Note
Springer Nature remains neutral with regard to jurisdictional claims in published maps and institutional affiliations.
About this article
Cite this article
Nageswaran, K., Selvan, M. & Gandhi, M. A Hybrid Transform for Reduction of Peak to Average Power Ratio in OFDM System. Wireless Pers Commun (2021). https://doi.org/10.1007/s11277-021-08174-z
Keywords
OFDM

PAPR

Modified DCT technique

Non-linear companding technique

Hybrid transform