Abstract
Nowadays, remote sensor systems are winding up increasingly prevalent among the human networks. This is done through different applications such as reconnaissance, brilliant structures, shrewd water system, war zone checking, medicinal services. The applications include an enormous number of sensor hubs (SH) conveyed in the district of enthusiasm for a remote region. SH are normally minimal in size. They are controlled by battery source that has restricted vitality. The wireless sensor network (WSN) comprises of locally available sensors to detect different physical parameters of the earth. In the majority of the ongoing applications, SH are conveyed in an unmanned, remote condition where there is no probability for human intercession. In a SH, a large portion of battery vitality gets devoured in two different ways. The ways include sensing the different ecological parameters thereby sending the sensor occasion information to destination hub. The help of the neighbour nodes does this. The wireless sensor network's lifetime for the most part dependent on the installed battery's accessible vitality. Wireless sensor network likewise experiences the ill effects of few different issues. The issues include restricted registering power, correspondence disappointment, and time-fluctuating blurring channels. Vitality is said as a noteworthy problem in sensor organizes because it is essential for doing activities on the sensor hub.
This is a preview of subscription content, log in to check access.
Access options
Buy single article
Instant access to the full article PDF.
US$ 39.95
Price includes VAT for USA
Subscribe to journal
Immediate online access to all issues from 2019. Subscription will auto renew annually.
US$ 199
This is the net price. Taxes to be calculated in checkout.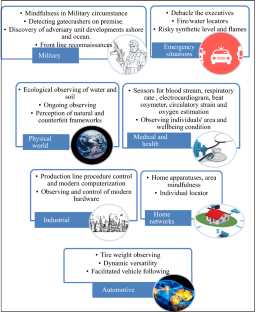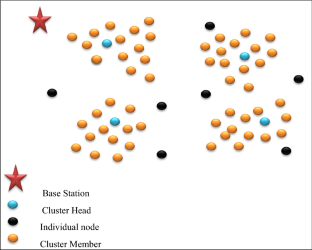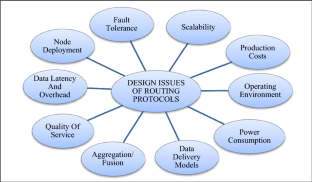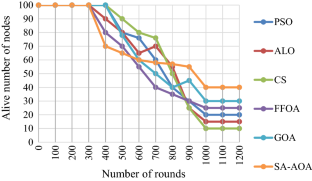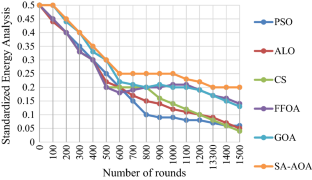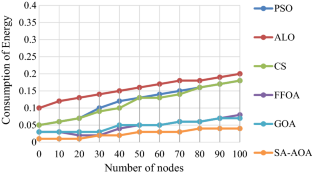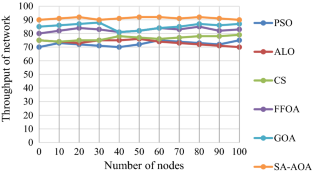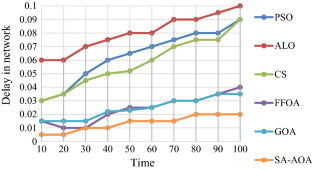 References
1.

Baradaran, A. A., & Navi, K. (2017). CAST-WSN: The presentation of new clustering algorithm based on Steiner tree and C-means algorithm improvement in wireless sensor networks. Wireless Personal Communications,97(1), 1323–1344.

2.

Dattatraya, K. N., & Rao, K. R. (2019). Hybrid based cluster head selection for maximizing network lifetime and energy efficiency in WSN. Journal of King Saud University-Computer and Information Sciences. https://doi.org/10.1016/j.jksuci.2019.04.003.

3.

Elhabyan, R., Shi, W., & St-Hilaire, M. (2018). A Pareto optimization-based approach to clustering and routing in Wireless Sensor Networks. Journal of Network and Computer Applications,114, 57–69.

4.

Farman, H., Jan, B., Javed, H., Ahmad, N., Iqbal, J., Arshad, M., et al. (2018). Multi-criteria based zone head selection in Internet of Things based wireless sensor networks. Future Generation Computer Systems,87, 364–371.

5.

Gavhale, M., & Saraf, P. D. (2016). Survey on algorithms for efficient cluster formation and cluster head selection in MANET. Procedia Computer Science,78, 477–482.

6.

Ge, X., Han, Q. L., & Zhang, X. M. (2017). Achieving cluster formation of multi-agent systems under aperiodic sampling and communication delays. IEEE Transactions on Industrial Electronics,65(4), 3417–3426.

7.

Han, G., & Zhang, L. (2018). WPO-EECRP: Energy-efficient clustering routing protocol based on weighting and parameter optimization in WSN. Wireless Personal Communications,98(1), 1171–1205.

8.

Kalaikumar, K., & Baburaj, E. (2018). FABC-MACRD: Fuzzy and artificial Bee colony based implementation of MAC, clustering, routing and data delivery by cross-layer approach in WSN. Wireless Personal Communications,103(2), 1633–1655.

9.

Kannan, G., & Raja, T. S. R. (2015). Energy efficient distributed cluster head scheduling scheme for two tiered wireless sensor network. Egyptian Informatics Journal,16(2), 167–174.

10.

Ke, W., Yangrui, O., Hong, J., Heli, Z., & Xi, L. (2016). Energy aware hierarchical cluster-based routing protocol for WSNs. The Journal of China Universities of Posts and Telecommunications,23(4), 46–52.

11.

Kumar, N., Ghanshyam, C., & Sharma, A. K. (2015). Effect of multi-path fading model on T-ANT clustering protocol for WSN. Wireless Networks,21(4), 1155–1162.

12.

Mahajan, S., Malhotra, J., & Sharma, S. (2014). An energy balanced QoS based cluster head selection strategy for WSN. Egyptian Informatics Journal,15(3), 189–199.

13.

Mann, P. S., & Singh, S. (2017). Energy efficient clustering protocol based on improved metaheuristic in wireless sensor networks. Journal of Network and Computer Applications,83, 40–52.

14.

Mehra, P. S., Doja, M. N., & Alam, B. (2018). Fuzzy based enhanced cluster head selection (FBECS) for WSN. Journal of King Saud University-Science, 32(1), 390–401.

15.

Mohanasundaram, R., & Periasamy, P. S. (2015). Clustering based optimal data storage strategy using hybrid swarm intelligence in WSN. Wireless Personal Communications,85(3), 1381–1397.

16.

Priyadarshini, R. R., & Sivakumar, N. (2018). Cluster head selection based on minimum connected dominating set and bi-partite inspired methodology for energy conservation in wsns. Journal of King Saud University-Computer and Information Sciences. https://doi.org/10.1016/j.jksuci.2018.08.009.

17.

Rajpoot, P., & Dwivedi, P. (2018). Optimized and load balanced clustering for wireless sensor networks to increase the lifetime of WSN using MADM approaches. Wireless Networks,3, 1–37.

18.

Ray, A., & De, D. (2016). Energy efficient clustering protocol based on K-means (EECPK-means)-midpoint algorithm for enhanced network lifetime in wireless sensor network. IET Wireless Sensor Systems,6(6), 181–191.

19.

RejinaParvin, J., & Vasanthanayaki, C. (2015). Particle swarm optimization-based clustering by preventing residual nodes in wireless sensor networks. IEEE Sensors Journal,15(8), 4264–4274.

20.

Sahoo, R. R., Sardar, A. R., Singh, M., Ray, S., & Sarkar, S. K. (2016). A bio inspired and trust based approach for clustering in WSN. Natural Computing,15(3), 423–434.

21.

Shanthi, G., & Sundarambal, M. (2018). FSO–PSO based multihop clustering in WSN for efficient medical building management system. Cluster Computing,22, 1–12.

22.

Singh, S. K., Kumar, P., & Singh, J. P. (2018). An energy efficient protocol to mitigate hot spot problem using unequal clustering in WSN. Wireless Personal Communications,101(2), 799–827.

23.

Taha, A., Soliman, S. S., & Badawi, A. (2017, October). Genetic algorithms for lifetime elongation of clustered WSN. In 2017 IEEE 28th Annual international symposium on personal, indoor, and mobile radio communications (PIMRC) (pp. 1–7). IEEE.

24.

Xie, W. X., Zhang, Q. Y., Sun, Z. M., & Zhang, F. (2015). A clustering routing protocol for WSN based on type-2 fuzzy logic and ant colony optimization. Wireless Personal Communications,84(2), 1165–1196.

25.

Zhang, D. G., Wang, X., Song, X. D., Zhang, T., & Zhu, Y. N. (2015). A new clustering routing method based on PECE for WSN. EURASIP Journal on Wireless Communications and Networking,2015(1), 162.
Additional information
Publisher's Note
Springer Nature remains neutral with regard to jurisdictional claims in published maps and institutional affiliations.
About this article
Cite this article
Prakash, N., Rajalakshmi, M. & Nedunchezhian, R. Optimized Energy Aware Routing Based on Suitable Based Antlion Group with Advanced Algorithm (SA-AOA) in Wireless Sensor Network. Wireless Pers Commun 113, 59–77 (2020). https://doi.org/10.1007/s11277-020-07178-5
Keywords
Sensor system (SS)

Sensor Hub (SH)

Particle swarm optimization (PSO)

Ant Lion optimization (ALO)

Fruitfly optimization algorithm (FFOA)

Grasshopper optimization algorithm (GOA)