Abstract
The main aim of this paper is to show the specifics of the retail network of three regional towns in the Slovak Republic—Nitra, Trnava and Žilina, and answer the following question: What value of the Population to the Admissible Floor Space (PAFS) indicator will cause saturation of the retail network? The situation of the retail network of the examined towns from 2015 was compared by using the standard methods based on the indicators from detailed passportisation of the retail facilities in the terrain. The indicators are: amount and assortment structure of the stores, sales area size, PAFS and concentration index at the level of the town districts. Based on the result of the comparison, regularities of space structure formation of the retail amenities of the mentioned towns in Slovakia were identified and their features were pointed out. According to the survey results, the size of sales area is the clear indicator of the retail network evaluation. The sales area size defines the following changes in the best detail, and it appears as the most suitable tool for the analysis. However, in this case, more thorough and detailed passportation is needed. Saturation stage was identified only in Nitra, where it was identified after the year 2010. This process has not occurred yet in other two region towns. Quantitatively new stage called: "The stage gradually flowing "purification" of the retail network from the excessive sales area" is expected to start in the Nitra town.
Access options
Buy single article
Instant access to the full article PDF.
US$ 39.95
Tax calculation will be finalised during checkout.
Subscribe to journal
Immediate online access to all issues from 2019. Subscription will auto renew annually.
US$ 79
Tax calculation will be finalised during checkout.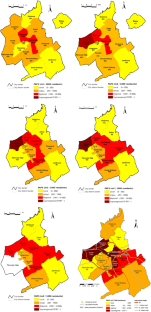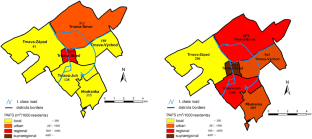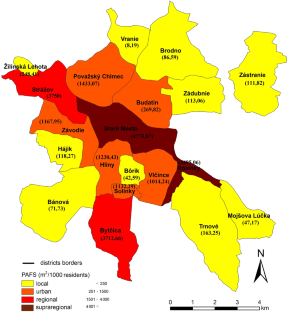 References
1.

Cagáňová, D., Bawa, M., Delgado Sobrino, D. R., & Saniuk, A. (2017). Internet of things and smart city (1st ed.). Zielona Góra: Uniwersytet Zielonogórski.

2.

Balog, M., Cagáňová, D., & Šujanová, J. (2014). Management of Regional Development - Promotion of Innovation Processes. Slovak university of technology in Bratislava.

3.

Bawa, M., Cagáňová, D., & Szilva, I. (2018). Visions of smart cities and its best practices. In IFKAD 2018 [elektronický zdroj]: Societal impact of knowledge and design. 13th international forum of knowledge asset dynamics. University of Basilicata, Netherlands Delft.

4.

Špirková, D., & Cagáňová, D. (2015). Smart housing in sustainable development. In Internet of Things. IoT Infrastructures: First international summit, IoT360 2014 (pp. 52–59). Revised selected papers, Part II. Cham: Springer.

5.

Omer, I., & Goldblatt, R. (2016). Spatial patterns of retail activity and street network structure in new and traditional Israeli cities. Urban Geography,37(4), 629–649.

6.

Kretter, A. (2006). Analysis of retail structure, amount and sale area in Slovakia in period of retail chains expansion. In International scientific days 2006. Faculty of Economic and management SAU, Nitra (pp. 495–499).

7.

Nagyová, Ľ. (2000). Zmeny na slovenskom trhu potravín v dôsledku vstupu zahraničných obchodných sietí. In Zborník z medzinárodnej konferencie Ekonomika firiem 2000. Podnikovohospodárska fakulta, Ekonomická univerzita, Košice (pp. 451–456).

8.

Vicen, M. (2004). Marketingová filozofia a stratégia. In A. Kretter, et al. (Eds.), Marketing. Nitra: SAU.

9.

Hillier, B. (1999). Centrality as a process: Accounting for attraction inequalities in deformed grids. Urban Design International,4(3–4), 107–127.

10.

Vaughan, L., Jones, C. E., Griffiths, S., & Haklay, M. (2010). The spatial signature of suburban town centers. The Journal of Space Syntax,1(1), 77–91.

11.

Lawrence, J., & Kuby, M. (2016). The location types of US retailers. International Journal of Applied Geospatial Research,7(4), 1–22.

12.

Guy, C. (1998). Classifications of retail stores and shopping centres: Some methodological issues. GeoJournal,45(4), 255–264.

13.

Szczyrba, Z. (2005). Maloobchod v ČR po roce 1989. Olomouc: Univerzita Palackého.

14.

Spilková, J. (2012). Geografie maloobchodu a spotřeby. Praha: Karolinum.

15.

Križan, F., & Lauko, V. (2014). Geografia maloobchodu. Bratislava: Úvod do problematiky. Univerzita Komenského.

16.

Nagy, E. (2001). Winners and losers in the transformation of city centre retailing in East Central Europe. European Urban and Regional Studies,8(4), 340–348.

17.

Viturka, M., Maryáš, J., Toušek, V., & Vystoupil, J. (1998). Investiční atraktivita vybraných měst České republiky. Brno: Masarykova Univerzita.

18.

Aubert, A., & Csapó, J. (2004). Transition of retail supply of the small cities of Baranya country. Tagung Forschungssechseck Hartberg, Graz: Neue Einzelhandelstrukturen am Rande von Kleinstädten.

19.

Pulpitlová, M. (2005). Maloobchodná sieť mesta Nitry v rokoch 1992, 2002 a 2005. In Geografie XVI: Geografické aspekty středoevropského prostoru, Masarykova univerzita,Brno (pp. 337–342).

20.

Trembošová, M. (2010). Vybrané aspekty transformácie maloobchodu v meste Nitra v rokoch 1992–2008. Geografický časopis,62(1), 49–73.

21.

Wilk, W. (2006). The services sector in the new socio-economic reality. In M. Czerny (Ed.), Poland in the Geographical Centre of Europe. Political, Social and Economic Consequences, Hauppauge (pp. 165–184). New York: Nova Science Publishers.

22.

Križan, F. (2009). Globalizácia maloobchodu: definícia základných procesov a ich analýza v slovenskej geografii maloobchodu. Geografický časopis,61(1), 49–68.

23.

Mitríková, J. (2011). Vplyv globalizácie maloobchodu na nákupné správanie sa zákazníkov a ich akceptáciu veľkoplošných predajní. Folia Geographica,17(52), 255–273.

24.

Mitríková, J., Šenková, A., & Antolíková, S. (2015). Application of the Huff model of shopping probability in the selected stores in Prešov (Slovak Republic). Geographica Pannonica,19(3), 110–121.

25.

Fertaľová, J., & Klamár, R. (2006). Hodnotenie návštevnosti vybraných veľkoplošných predajní. Folia Geographica,10, 140–155.

26.

Fertaľová, J., & Varga, P. (2008). The Huff's probability model and its application on selected large-area retail units in Košice. Folia Geographica,12, 77–81.

27.

Križan, F. (2007). Regionálna typológia územia Bratislavy na základe dostupnosti supermarketov a hypermarketov. Geografický časopis,59(4), 373–384.

28.

Križan, F., & Danielová, K. (2008). "Potravinové púšte definované" na základe merania dostupnosti—prípadová štúdia mesta Bratislava. Urbanismus a územní rozvoj,9(3), 1–6.

29.

Trembošová, M. (2009). Intraurbánne spádové oblasti maloobchodnej vybavenosti mesta Nitra v roku 2008. Geografické štúdie,13(2), 93–109.

30.

Kunc, J., Frantál, B., Siwek, T., Halás, M., Klapka, P., Szczyrba, Z., et al. (2013). Časoprostorové modely nákupního chování české populace (1st ed.). Brno: Masarykova univerzita.

31.

Szczyrba, Z., & Fiedor, D. (2014). Vývoj velkoplošného maloobchodu Olomouce a výzkum nákupního chování. In 17th International Colloquium on Regional Sciences (pp. 740–748). Brno.

32.

Spilková, J. (2016). Alternativní potravinové sítě: česká cesta. Praha: Karolinum.

33.

Pilat, D. (1997). Regulation and performance in the distribution sector. OECD Economic Department, Working Paper 180. Paris, OECD.

34.

Ennis and Environs Development Plan 2008–2014. (2008). Retail Stratey For The Mid West Region, 2(5).

35.

Bertrand, M., & Kramarz, F. (2002). Does entry regulation hinder job creation? Evidence from the French retail industry. Quarterly Journal of Economics,117(4), 1369–1413.

36.

Griffith, R., & Harmgart, H. (2008). Supermarkets and planning regulatio'. CEPR Discussion Paper 6713.

37.

Haskel, J., & Sadun, R. (2009). Regulation and UK retailing productivity: Evidence from micro data. CEPR Discussion Paper 7140.

38.

Schivardi, F., & Viviano, E. (2011). Entry barriers in retail trade. The Economic Journal,121(551), 145–170.

39.

Baar, K. (2002). Legislative tools for preserving town centres and halting the spread of hypermarkets and malls outside of cities. New York: Institute for Transport and Development Policy.

40.

Sýkora, L. (1999). Transitional states of East Central Europe. Regional policy and planning in Europe (pp. 161–192). London: Routlege.

41.

Klapper, L., Laeven, L., & Rajan, R. (2006). Entry regulation as a barrier to entrepreneurship. Journal of Financial Economics,82(3), 591–602.

42.

Borén, T., & Gentile, M. (2007). Metropolitan processes in post-communist states: An introduction. Geografiska Annaler: Series B, Human Geography,89(2), 95–110.

43.

Pojani, D. (2011). Urban and suburban retail development in Albania's Capital after socialism. Land Use Policy,28(4), 836–845.

44.

Cvetinović, M., & Veselinović, D. (2014). Instrumental participation in Serbia: Online platform for the dialogue about public spaces, their availability and public usage. Technologies for Sustainable Development (pp. 159–170).

45.

Tsenkova, S. (2014). Planning trajectories in post-socialist cities: Patterns of divergence and change. Urban Research & Practice,7(3), 278–301.

46.

Hlaváček, P., Raška, P., & Balej, M. (2016). Regeneration projects in Central and Eastern European post-communist cities: Current trends and community needs. Habitat International,56, 31–41.

47.

Maksić, M. (2016). Institutional obsatcles in large-scale retail developments in the post-socialist period—A case study of Niš, Serbia. Cities,55, 113–121.

48.

Košičiarová, I., Nagyová, Ľ., Kádeková, Z., Holienčinová, M., & Rybanská, J. (2017). Manažment obchodnej spoločnosti (1st ed.). Ostrava: Key Publishing.

49.

Kubicová, Ľ., & Kádeková, Z. (2017). Strategic marketing (1st ed.). Nitra: Slovak University of Agriculture.

50.

Mitríková, J. (2017). Geografia maloobchodu (vybrané kapitoly). Prešov: Bookman.

51.

Bilková, K., & Križan, F. (2013). Koncentrácia podnikateľských subjektov v maloobchode v slovenských mestách. Geographia Cassoviensis,7, 31–44.

52.

Petrovčíková, K. (2015). Lokalizácia maloobchodných jednotiek v regióne. In Ekonomické aspekty územnej samosprávy—medzinárodná vedecká konferencia: Univerzita P. J. Šafárika, Košice.

53.

Buček, J., & Bleha, B. (2013). Urban shrinkage as a challenge to local development planning in Slovakia. Moravian Geographical Reports,21(1), 2–15.

54.

Haase, A., Rink, D., & Grossmann, K. (2016). Shrinking cities in Post-socialist Europe: What can we learn from their analysis for theory building today. Geografiska Annaler: Series B, Human Geography,98(4), 305–319.

55.

Trembošová, M., Dubcová, A., & Civáň, M. (2016). Geografické aspekty maloobchodnej siete mesta Trnava a nákupné správanie jej obyvateľstva. Prírodovedec: Univerzita Konštantína Filozofa, Nitra.

56.

Beluszky, P. (1999). The Hungarian Urban Network an the End of the Second Millenium. Discusion papers. Centre for regional Studies of the Hungarian Academy of Sciences, 44(39).

57.

Weclawowicz, G. (1990). Miasto polskie v transformacji—ksztaltowanie sie miasta postsocialistycznego. Zróznicovanie prszestrzenne struktur spolocznych w duzych miastach (pp. 33–43).

58.

Pokorska, B., & Maleczyk, E. (2002). Koncentracija i integracja w handlu wewnetrznym. Warszawa: PWN.

59.

Cimler, P. (2005). Trendy vývoje českého obchodu. Reliant News – logistický magazín, 2(5).

60.

Viestová, K. (2001). Obchodné domy na Slovensku. Obchod,6(11), 12–13.

61.

Trembošová, M., & Tremboš, P. (2009). Etapy vývoja maloobchodnej siete mesta Nitra v období rokov 1992–2008. Acta Geographica Universitatis Comenianae,53(1), 123–138.

62.

Trembošová, M., & Dubcová, A. (2013). Vývoj maloobchodu v Nitre v nových trhových podmienkach. Acta Geographica Universitatis Comenianae,57(2), 213–230.

63.

Trembošová, M. (2012). Geografické aspekty maloobchodnej siete mesta Nitra. Nitra: Prírodovedec, Univerzita Konštantína Filozofa.

64.

Trembošová, M., & Tremboš, P. (2016). Zmeny priestorovej diferenciácie maloobchodnej siete mesta Nitra v rokoch 1992 až 2011. Geografické informácie,20(1), 115–130.
Acknowledegments
This article was prepared as part of the VEGA No. 1/0799/14 project: Geographical Aspects of the Retail Network of Large Cities in New Market Conditions, APVV-18-0185 Land-use changes of Slovak cultural landscape and prediction of its further development, and with support of KEGA Nr. 030STU-4/2018 project E-platform for improving collabolation among universities and industrial enterprises in the area of education.
Additional information
Publisher's Note
Springer Nature remains neutral with regard to jurisdictional claims in published maps and institutional affiliations.
About this article
Cite this article
Trembošová, M., Dubcová, A., Nagyová, Ľ. et al. Development of retail network on the example of three regional towns comparison in West Slovakia. Wireless Netw (2020). https://doi.org/10.1007/s11276-020-02272-9
Keywords
Retail network

Regional towns

Saturation stage

Large-area stores