Abstract
Pterostilbene (PTE), a dimethylated analogue of resveratrol, mostly contained in Vitis vinifera leaves or in other plant sources is well-known for its antioxidant activity. Due to its bioavailability, low hydrophilicity and thus ability to penetrate hydrophobic biological membranes it was found to be an antimicrobial agent. These properties of PTE offer the possibility of its use in the treatment of microbial infections. The emergence of antibiotic resistance of microorganisms is often caused by their ability to form biofilm; new substances with antibiofilm activity are therefore sought. The representatives of opportunistic pathogenic gram-positive and gram-negative bacteria as well as fungi were used for the determination of minimum inhibitory concentrations (MIC50 and MIC80), minimum biofilm inhibitory concentrations (MBIC50 and MBIC80) and minimum biofilm eradication concentrations (MBEC50 and MBEC80) of PTE and commonly used antibiotics erythromycin, polymyxin B or antimycotic amphotericin B. Total biofilm biomass was investigated by crystal violet staining, and the results were confirmed using microscopic techniques. The most significant antibiofilm action was proved for gram-positive cocci, e.g., MBEC50 of PTE for all strains of Staphylococcus epidermidis tested was 25 mg/L. By contrast, the antibiotic ERM did not exhibit antibiofilm activity in most cases. The permeabilization of cell membranes of gram-positive cocci biofilm by MBIC50 and MBEC50 of PTE was confirmed by LIVE/DEAD staining using spinning disc confocal microscopy. PTE significantly influenced the ability of gram-positive cocci to form biofilm and it effectively eradicated pre-formed biofilm in vitro; its potential for the treatment of biofilm-associated infections of Staphylococcus spp. or Enterococcus faecalis is thus apparent.
Graphic abstract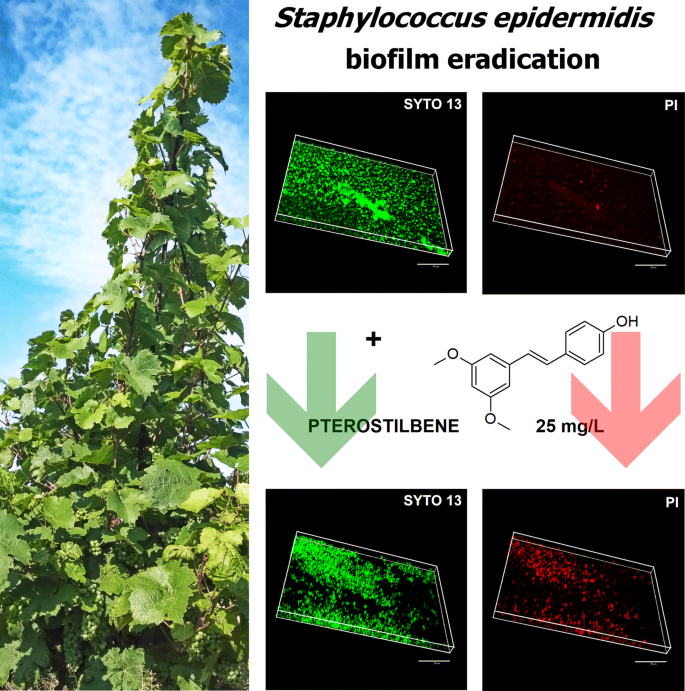 This is a preview of subscription content, log in to check access.
Access options
Buy single article
Instant access to the full article PDF.
US$ 39.95
Price includes VAT for USA
Subscribe to journal
Immediate online access to all issues from 2019. Subscription will auto renew annually.
US$ 199
This is the net price. Taxes to be calculated in checkout.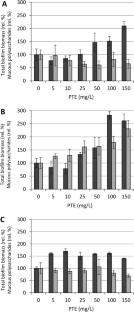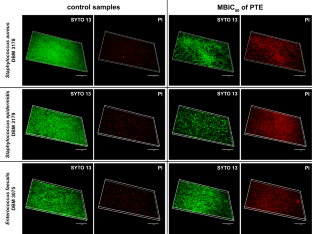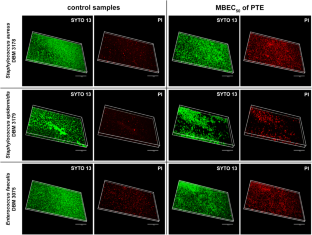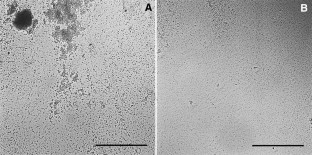 References
Aiyer HS, Warri AM, Woode DR et al (2012) Influence of berry polyphenols on receptor signaling and cell-death pathways: implications for breast cancer prevention. J Agric Food Chem 60:5693–5708

Akinwumi BC, Bordun K-AM, Anderson HD (2018) Biological activities of stilbenoids. Int J Mol Sci 19:792

Albert S, Horbach R, Deising HB et al (2011) Synthesis and antimicrobial activity of (E) stilbene derivatives. Bioorg Med Chem 19:5155–5166

Augustine N, Goel AK, Sivakumar KC et al (2014) Resveratrol: a potential inhibitor of biofilm formation in Vibrio cholerae. Phytomedicine 21:286–289

Bouarab Chibane L, Degraeve P, Ferhout H et al (2019) Plant antimicrobial polyphenols as potential natural food preservatives. J Sci Food Agr 99:1457–1474

Catalgol B, Batirel S, Taga Y et al (2012) Resveratrol: French paradox revisited. Front Pharmacol 3:141–141

Chan EWC, Wong CW, Tan YH et al (2019) Resveratrol and pterostilbene: A comparative overview of their chemistry, biosynthesis, plant sources and pharmacological properties. J Appl Pharm Sci 9:124–129

Coenye T, Brackman G, Rigole P et al (2012) Eradication of Propionibacterium acnes biofilms by plant extracts and putative identification of icariin, resveratrol and salidroside as active compounds. Phytomedicine 19:409–412

Costerton JW, Stewart PS, Greenberg EP (1999) Bacterial biofilms: a common cause of persistent infections. Science 284:1318–1322

Daglia M (2012) Polyphenols as antimicrobial agents. Curr Opin Biotechnol 23:174–181

Escolà-Vergé L, Rodríguez-Pardo D, Lora-Tamayo J et al (2018) Candida periprosthetic joint infection: a rare and difficult-to-treat infection. J Infect 77:151–157

Estrela JM, Ortega A, Mena S et al (2013) Pterostilbene: biomedical applications. Crit Rev Clin Lab Sci 50:65–78

Gochev V, Dobreva A, Girova T et al (2010) Antimicrobial activity of essential oil from Rosa alba. Biotechnol Biotechnol Equip 24:512–515

Gyawali R, Ibrahim SA (2014) Natural products as antimicrobial agents. Food Control 46:412–429

Houille B, Papon N, Boudesocque L et al (2014) Antifungal activity of resveratrol derivatives against Candida species. J Nat Prod 77:1658–1662

Hu D-D, Zhang R-L, Zou Y et al (2017) The structure-activity relationship of pterostilbene against Candida albicans biofilms. Molecules 22:360

Chong J, Poutaraud A, Hugueney P (2009) Metabolism and roles of stilbenes in plants. Plant Sci 177:143–155

Ishak SF, Ghazali AR, Zin NM et al (2016) Pterostilbene enhanced anti-methicillin resistant Staphylococcus aureus (MRSA) activity of oxacillin. Am J Infect Dis 1:1–10

Jamal M, Ahmad W, Andleeb S et al (2018) Bacterial biofilm and associated infections. J Chin Med Assoc 81:7–11

Jimenez PN, Koch G, Thompson JA et al (2012) The multiple signaling systems regulating virulence in Pseudomonas aeruginosa. Microbiol Mol Biol Rev 76:46–65

Jordan N, Newton J, Pearson J et al (1998) A novel method for the visualization of the in situ mucus layer in rat and man. Clin Sci 95:97–106

Kapetanovic IM, Muzzio M, Huang Z et al (2011) Pharmacokinetics, oral bioavailability, and metabolic profile of resveratrol and its dimethylether analog, pterostilbene, in rats. Cancer Chemother Pharmacol 68:593–601

Kingsbury JM, Heitman J, Pinnell SR (2012) Calcofluor white combination antifungal treatments for Trichophyton rubrum and Candida albicans. PLoS ONE 7:e39405

Knudsen G, Sørum H, Press CML et al (1999) In situ adherence of Vibrio spp to cryosections of Atlantic salmon, Salmo salar L., tissue. J Fish Dis 22:409–418

Kolouchová I, Maťátková O, Paldrychová M et al (2018) Resveratrol, pterostilbene, and baicalein: plant-derived anti-biofilm agents. Folia Microbiol 63:1–12

Kvasničková E, Maťátková O, Čejková A et al (2015) Evaluation of baicalein, chitosan and usnic acid effect on Candida parapsilosis and Candida krusei biofilm using a Cellavista device. J Microbiol Methods 118:106–112

Kvasničková E, Paulíček V, Paldrychová M et al (2016) Aspergillus fumigatus DBM 4057 biofilm formation is inhibited by chitosan, in contrast to baicalein and rhamnolipid. World J Microbiol Biotechnol 32:187

Langcake P, Cornford C, Pryce R (1979) Identification of pterostilbene as a phytoalexin from Vitis vinifera leaves. Phytochemistry 18:1025–1027

Lee J-H, Cho HS, Joo SW et al (2013) Diverse plant extracts and trans-resveratrol inhibit biofilm formation and swarming of Escherichia coli O157: H7. Biofouling 29:1189–1203

Lee J, Lee DG (2015) Novel antifungal mechanism of resveratrol: apoptosis inducer in Candida albicans. Curr Microbiol 70:383–389

Li D-D, Zhao L-X, Mylonakis E et al (2014) In vitro and in vivo activities of pterostilbene against Candida albicans biofilms. Antimicrob Agents Chemother 58:2344–2355

Lin HS, Yue BD, Ho PC (2009) Determination of pterostilbene in rat plasma by a simple HPLC-UV method and its application in pre-clinical pharmacokinetic study. Biomed Chromatogr 23:1308–1315

Maťátková O, Kolouchová I, Kvasničková E et al (2017) Synergistic action of amphotericin B and rhamnolipid in combination on Candida parapsilosis and Trichosporon cutaneum. Chem Pap 71:1471–1480

Mulani MS, Kamble EE, Kumkar SN et al (2019) Emerging strategies to combat ESKAPE pathogens in the era of antimicrobial resistance: a review. Front Microbiol 10:539

Nobile CJ, Johnson AD (2015) Candida albicans biofilms and human disease. Annu Rev Microbiol 69:71–92

Paldrychová M, Kolouchová I, Vaňková E et al (2018) Effect of resveratrol and Regrapex-R-forte on Trichosporon cutaneum biofilm. Folia Microbiol 64:1–9

Paulo L, Ferreira S, Gallardo E et al (2010) Antimicrobial activity and effects of resveratrol on human pathogenic bacteria. World J Microbiol Biotechnol 26:1533–1538

Pezet R, Gindro K, Viret O et al (2004) Effects of resveratrol, viniferins and pterostilbene on Plasmopara viticola zoospore mobility and disease development. Vitis 43:145–148

Remsberg CM, Yáñez JA, Ohgami Y et al (2008) Pharmacometrics of pterostilbene: preclinical pharmacokinetics and metabolism, anticancer, antiinflammatory, antioxidant and analgesic activity. Phytother Res 22:169–179

Ren X, An P, Zhai X et al (2019) The antibacterial mechanism of pterostilbene derived from wine grape: a novel apoptosis inducer in Staphyloccocus aureus and Escherichia coli. LWT 101:100–106

Rimando AM, Kalt W, Magee JB et al (2004) Resveratrol, pterostilbene, and piceatannol in vaccinium berries. J Agric Food Chem 52:4713–4719

Semedo MC, Karmali A, Fonseca L (2015) A novel colorimetric assay of β-D-glucans in basidiomycete strains by alcian blue dye in a 96-well microtiter plate. Biotechnol Prog 31:1526–1535

Simonetti G, Palocci C, Valletta A et al (2019) Anti-Candida biofilm activity of pterostilbene or crude extract from non-fermented grape pomace entrapped in biopolymeric nanoparticles. Molecules 24:2070

Späth E, Schläger J (1940) Über die Inhaltsstoffe des roten Sandelholzes. II. Mitteil: Die Konstitution des Pterostilbens. Berichte der deutschen chemischen Gesellschaft (A and B Series) 73:881–884

Tewari A, Jain B, Dhamannapatil PS et al (2018) Biofilm resistance to antimicrobial agents and novel approaches to combat biofilm mediated resistance in bacteria. EC Microbiol 3:71–77

Thimothe J, Bonsi IA, Padilla-Zakour OI et al (2007) Chemical characterization of red wine grape (Vitis vinifera and Vitis interspecific hybrids) and pomace phenolic extracts and their biological activity against Streptococcus mutans. J Agric Food Chem 55:10200–10207

Thornton DC, Fejes EM, DiMarco SF et al (2007) Measurement of acid polysaccharides in marine and freshwater samples using alcian blue. Limnol Oceanogr-Meth 5:73–87

Vaňková E, Válková M, Kašparová P et al (2018) Prevention of biofilm re-development on Ti-6Al-4V alloy by cometary discharge with a metallic grid. Contrib Plasm Phys 59:166–172

Weng JQ, Ali A, Estep A et al (2016) Synthesis and biological evaluation of 3, 5-dimethoxystilbene analogs. Chem Biodivers 13:1165–1177

Yang S-C, Tseng C-H, Wang P-W et al (2017) Pterostilbene, a methoxylated resveratrol derivative, efficiently eradicates planktonic, biofilm, and intracellular MRSA by topical application. Front Microbiol 8:1103

Zhou Y, Wang T, Guo Y et al (2018) In vitro/vivo activity of potential MCR-1 inhibitor in combination with colistin againsts mcr-1-positive Klebsiella pneumonia. Front Microbiol 9:1615
Acknowledgements
This work was supported by the "Operational Programme Prague—Competitiveness" (CZ.2.16/3.1.00/24503) and the "National Programme of Sustainability I"—NPU I LO1601 and Czech Science Foundation (GACR) project 18-26463S.
Ethics declarations
Conflict of interest
The authors declare that they have no conflict of interest.
Additional information
Publisher's Note
Springer Nature remains neutral with regard to jurisdictional claims in published maps and institutional affiliations.
About this article
Cite this article
Vaňková, E., Paldrychová, M., Kašparová, P. et al. Natural antioxidant pterostilbene as an effective antibiofilm agent, particularly for gram-positive cocci. World J Microbiol Biotechnol 36, 101 (2020). https://doi.org/10.1007/s11274-020-02876-5
Received:

Accepted:

Published:
Keywords
Antibiofilm

Biofilm inhibition

Eradication

Gram-positive cocci

Pterostilbene