Abstract
The fungal entomopathogen Beauveria bassiana is a promising biocontrol agent for many pests. Some B. bassiana strains have been found effective against jute pests. To monitor the survival of field released B. bassiana a rapid and efficient detection technique is essential. Conventional methods such as plating method or direct culture method which are based on cultivation on selective media followed by microscopy are time consuming and not so sensitive. PCR based methods are rapid, sensitive and reliable. A single primer PCR may fail to amplify some of the strains. However, multiplex PCR increases the possibility of detection as it uses multiple primers. Therefore, in the present investigation a multiplex PCR protocol was developed by multiplexing three primers SCA 14, SCA 15 and SCB 9 to detect field released B. bassiana strains from soil as well as foliage of jute field. Using our multiplex PCR protocol all the five B. bassiana strains could be detected from soil and three strains viz., ITCC 6063, ITCC 4563 and ITCC 4796 could be detected even from the crop foliage after 45 days of spray.
This is a preview of subscription content, log in to check access.
Access options
Buy single article
Instant access to the full article PDF.
US$ 39.95
Price includes VAT for USA
Subscribe to journal
Immediate online access to all issues from 2019. Subscription will auto renew annually.
US$ 199
This is the net price. Taxes to be calculated in checkout.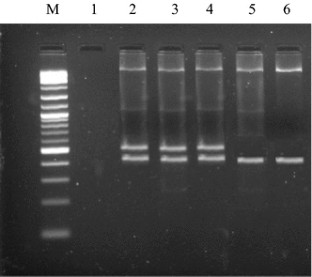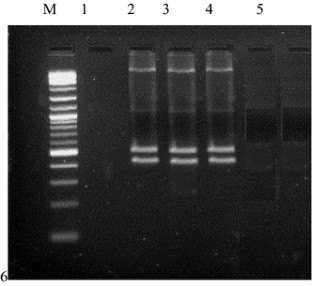 References
Akello J, Dubois T, Coyne D, Kyamanywa S (2008) Endophytic Beauveria bassiana in banana (Musa spp.) reduces banana weevil (Cosmopolites sordidus) fitness and damage. Crop Prot 27:1437–1441

Baric S, Dalla-Via J (2004) A new approach to apple proliferation detection: a highly sensitive real-time PCR assay. J Microbiol Methods 57:135–145

Biswas C, Dey P, Satpathy S, Satya P (2012) Establishment of the fungal entomopathogen Beauveria bassiana as a season long endophyte in jute (Corchorus olitorius) and its rapid detection using SCAR marker. BioControl 57(4):565–571

Biswas C, Dey P, Satpathy S, Satya P, Mahapatra BS (2013) Endophytic colonization of white jute (Corchorus capsularis) plants by different Beauveria bassiana strains for managing stem weevil (Apion corchori). Phytoparasitica 41:17–21

Castrillo LA, Vandenberg JD, Wraight SP (2003) Strain-specific detection of introduced Beauveria bassiana in agricultural fields by use of sequence-characterized amplified region markers. J Invertebr Pathol 82:75–83

Cherry AJ, Banito A, Djegui D, Lomer C (2004) Suppression of the stemborer Sesamia calamistis (Lepidoptera; Noctuidae) in maize following seed dressing, topical application and stem injection with African isolates of Beauveria bassiana. Int J Pest Manag 50(1):67–73

Edwards MC, Gibbs RA (1994) Multiplex PCR: advantages, development, and applications. Genome Res 3:S65–S75

Gonçalves-de-Albuquerque Sda C, Pessoa E Silva R, de Morais RC, Trajano-Silva LA, Régis-da-Silva CG, Brandão-Filho SP, de Paiva-Cavalcanti M (2014) Tracking false-negative results in molecular diagnosis: proposal of a triplex-PCR based method for leishmaniasis diagnosis. J Venom Anim Toxins Incl Trop Dis 20:16

Hatting JL, Wraight SP, Miller RM (2004) Efficacy of Beauveria bassiana (Hyphomycetes) for control of Russian wheat aphid (Homoptera, Aphididae) on resistant wheat under field conditions. Biol Sci Technol 14(5):459–473

Kirkland BH, Cho E-M, Keyhani NO (2004) Differential susceptibility of Amblyomma maculatum and A.americanum (Acari: Ixodida) to entomopathogenic fungi Beauveria bassiana and Metarhizium anisopliae. Biol Control 31(3):414–421

Kundu BC (1956) Jute—world's foremost bast fibre, II. Technology, marketing, production and utilization. Econ Bot 10(3):203–240

Landa BB, López-Díaz C, Jiménez-Fernández D, Montes-Borrego M, Muñoz-Ledesma FJ, Ortiz-Urquiza A, Quesada-Moraga E (2013) In-planta detection and monitorization of endophytic colonization by a Beauveria bassiana strain using a new-developed nested and quantitative PCR-based assay and confocal laser scanning microscopy. J Invertebr Pathol 114(2):128–138

Loncaric I, Donat C, Antlinger B, Oberlerchner J, Heissenberger B, Moosbeckhofer R (2008) Strain-specific detection of two Aureobasidium pullulans strains, fungal biocontrol agents of fire blight by new, developed multiplex-PCR. J Appl Microbiol 104:1433–1441

Maniania NK (1993) Effectiveness of the entomopathogenic fungus Beauveria bassiana (Bals.) Vuill. for control of the stem borer Chilo partellus (Swinhoe) in maize in Kenya. Crop Prot 12(8):601–604

Murray MG, Thompson WF (1980) Rapid isolation of high molecular weight plant DNA. Nucleic Acids Res 8(19):4321–4326

Ownley BH, Griffin MR, Klingeman WE, Gwinn KD, Moulton JK, Pereira RM (2008) Beauveria bassiana: endophytic colonization and plant disease control. J Invertebr Pathol 98:267–270

Pandit NC, Som D (1988) Culture of Beauveria bassiana and its pathogenicity to insect pests of jute (Corchorus capsularis and C. olitorius) and mesta (Hibiscus cannabinus and H. sabdariffa). Indian J Agric Sci 58(1):75–76

Quesada-Moraga E, Landa BB, Muñoz-Ledesma J, Jiménez-Diáz RM, Santiago-Alvarez C (2006) Endophytic colonisation of opium poppy, Papaver somniferum, by an entomopathogenic Beauveria bassiana strain. Mycopathologia 161(5):323–329

Ramasubramanian T, Sarkar SK, Satpathy S, Laha SK, De RK, Gotyal BS, Biswas C (2010) Integrated pest and disease management for jute and allied fibres. Indian Farming 59(12):33–39

Ramesh K, Mohan CM, Lakshmi KA, Padmavathi J, Devi KU (1999) Beauveria bassiana (Bals.) Vuill. (Hyphomycetes, Monoliales) in cotton pest management : a field trial on the cotton leaf roller, Sylepta derogata, Fabricius (Lepidoptera: Pyraustidae). J Entomol Res 23(3):267–271

Reddy NP, Alikhan AP, Devi KU, Sharma HC, Reineke A (2009) Treatment of millet crop plant (Sorghum bicolor) with the entomopathogenic fungus Beauveria bassiana to combat infestation by the stem borer, Chilo partellus Swinhoe (Lepidoptera: Pyralidae). J Asia Pac Entomol 12(4):221–226

Robe P, Nalin R, Capellano C, Vogel TM, Simonet P (2003) Extraction of DNA from soil. Eur J Soil Biol 39:183–190

Shadrach B, Warshawsky I (2004) A comparison of multiplex and monoplex T-cell receptor gamma PCR. Diagn Mol Pathol 13(3):127–134

Vega FE, Posada F, Aime MC, Pava-Ripoll M, Infante F, Rehner SA (2008) Entomopathogenic fungal endophytes. Biol Control 46:72–82

Wraight SP, Ramos ME (2002) Application parameters affecting field efficacy of Beauveria bassiana foliar treatments against Colorado potato bettle, Leptinotarsa decemlineata. Biol Control 23(2):164–178

Yamamoto Y (2002) PCR in diagnosis of infection: detection of bacteria in cerebrospinal fluids. Clin Vaccine Immunol 9(3):508–514
Additional information
The Editor-in-Chief has retracted this article due to similarities between lanes 1-4 in Figures 1 and 2. These similarities have raised concerns about the reliability of the data presented. The authors, Chinmay Biswas, Piyali Dey, B. S. Gotyal & Subrata Satpathy have not responded to correspondence about this retraction.
About this article
Cite this article
Biswas, C., Dey, P., Gotyal, B.S. et al. RETRACTED ARTICLE: A method of multiplex PCR for detection of field released Beauveria bassiana, a fungal entomopathogen applied for pest management in jute (Corchorusolitorius). World J Microbiol Biotechnol 31, 675–679 (2015). https://doi.org/10.1007/s11274-015-1821-6
Received:

Accepted:

Published:

Issue Date:
Keywords
Multiplex PCR

Beauveria bassiana

Jute

SCAR marker

Endophyte