Abstract
Leonardite (LND) and its biochar have gained much attention as it can improve soil quality and immobilize herbicides in the subsurface. Our objective was to quantify the herbicide adsorption characteristics of carbonized LND (cLND). The physiochemical properties were compared side by side between LND and cLND at different pyrolysis temperatures (450–850 °C). Fourier-transform infrared spectroscopy and X-ray photoelectron spectroscopy spectral analysis confirmed the loss of oxygen-containing functional groups such as H-bonded OH, carbonyl, or C=O and the presence of the aromatic C=C group up to 650 °C. Both of which were later used to establish the governing adsorption mechanism. At >450 °C, the Si content decreased slightly and the calcium content increased, indicating proper use of cLND for Si-deficit soil and acidified soil. By conducting multiple linear regression analyses, the atrazine adsorption kinetic fitted well with pseudo-second-order models while both alachlor and atrazine sorption behavior were well described using a monolayer isotherm (Langmuir and Jovanovich, respectively). The herbicide hydrophilicity slightly affected the sorption mechanism which indirectly resulted from the existence of graphitic carbon on the LND carbonized at a higher temperature. Increased cLND in the soil resulted in much better improvement in the water holding capacity than from LND due to the presence of sufficient mesopores and adequate surface porosity. Our results showed that LND can be readily transformed into better adsorbing biochar at 550 °C compared to higher temperatures. Overall, the study provided a better understanding of the application of leonardite derived-biochar as an effective alternative soil amendment and herbicide-immobilizing adsorbent.
Access options
Buy single article
Instant access to the full article PDF.
US$ 39.95
Tax calculation will be finalised during checkout.
Subscribe to journal
Immediate online access to all issues from 2019. Subscription will auto renew annually.
US$ 119
Tax calculation will be finalised during checkout.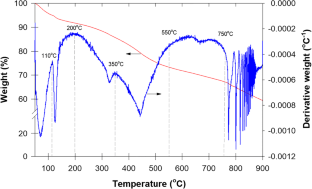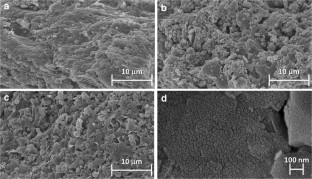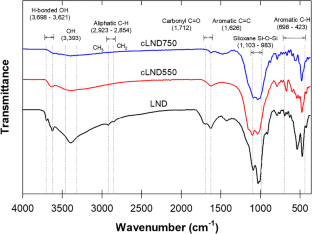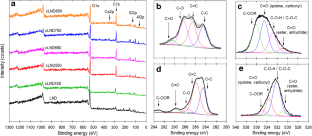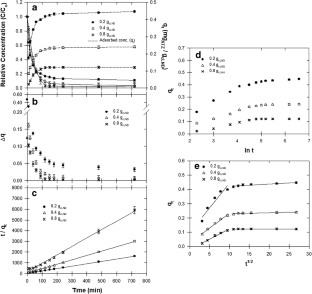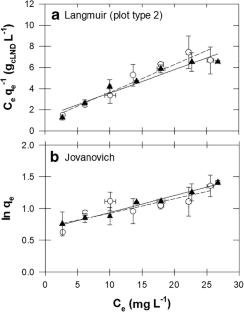 References
Ali, I., & Gupta, V. K. (2006). Advances in water treatment by adsorption technology. Nature Protocols, 1(6), 2661–2667.

Ausavasukhi, A., Kampoosaen, C., & Kengnok, O. (2016). Adsorption characteristics of Congo red on carbonized leonardite. Journal of Cleaner Production, 134506–134514.

Bartenfelder, D. C., & Karathanasis, A. D. (1989). A differential scanning calorimetry evaluation of quartz status in geogenic and pedogenic environments. Soil Science Society of America Journal, 53(3), 961–967.

Braghiroli, F. L., Bouafif, H., Neculita, C., & Koubaa, A. (2018). Activated biochar as an effective sorbent for organic and inorganic contaminants in water. Water, Air, & Soil Pollution, 230, 229.

Chammui, Y., Sooksamiti, P., Naksata, W., Thiansem, S., & O-A, A. (2014). Removal of arsenic from aqueous solution by adsorption on Leonardite. Chemical Engineering Journal, 240, 202–210. https://doi.org/10.1016/j.cej.2013.11.083.

Chia, C., Gong, B., Joseph, S., Marjo, C., Munroe, P., & Rich, A. (2012). Imaging of mineral-enriched biochar by FTIR, Raman and SEM-EDX. Vibrational Spectroscopy, 62, 248–257.

Chiaramonti, D., Prussi, M., Nistri, R., Pettorali, M., & Rizzo, A. M. (2014). Biomass carbonization: process options and economics for small scale forestry farms. Energy Procedia, 61, 1515–1518.

Chokejaroenrat, C., Watcharenwong, A., Sakulthaew, C., & Rittirat, A. (2020). Immobilization of atrazine using oxidized lignite amendments in agricultural soils. Water, Air, & Soil Pollution, 231(5), 249.

Chun, Y., Sheng, G., Chiou, C. T., & Xing, B. (2004). Compositions and sorptive properties of crop residue-derived chars. Environmental Science & Technology, 38(17), 4649–4655.

Deng, H., Yu, H., Chen, M., & Ge, C. (2014). Sorption of atrazine in tropical soil by biochar prepared from cassava waste. BioResources, 9(4), 6627–6643.

Deng, H., Feng, D., He, J.-x., F-z, L., Yu, H.-m., & C-j, G. (2017). Influence of biochar amendments to soil on the mobility of atrazine using sorption-desorption and soil thin-layer chromatography. Ecological Engineering, 99, 381–390. https://doi.org/10.1016/j.ecoleng.2016.11.021.

EPPO, (2020). Energy Policy and Planning Office, Ministry of Energy of Thailand, Coal/lignite: production, consumption and import. http://www.eppo.go.th/index.php/en/en-energystatistics/coal-and-lignite [Accessed 4th June 2020].

Escudey, M., Díaz, P., Galindo, G., & Chang, A. C. (1999). Differential thermogravimetric analysis of oxalate in hydrogen peroxide-treated allophanic soils. Communications in Soil Science and Plant Analysis, 30(7–8), 937–946.

Fan, Q., Cui, L., Quan, G., Wang, S., Sun, J., Han, X., Wang, J., & Yan, J. (2018). Effects of wet oxidation process on biochar surface in acid and alkaline soil environments. Materials (Basel, Switzerland), 11, 2362. https://doi.org/10.3390/ma11122362.

Gao, Y., Jiang, Z., Li, J., Xie, W., Jiang, Q., Bi, M., & Zhang, Y. (2019). A comparison of the characteristics and atrazine adsorption capacity of co-pyrolysed and mixed biochars generated from corn straw and sawdust. Environmental Research, 172, 561–568. https://doi.org/10.1016/j.envres.2019.03.010.

Gonzalez, J., Shipitalo, M., Smith, D., Warnemuende-Pappas, E., & Livingston, S. (2016). Atrazine sorption by biochar, tire chips, and steel slag as media for blind inlets: a kinetic and isotherm sorption approach. Journal of Water Resource and Protection, 8, 1266–1282.

Hemaviboon, K., & Klamtet, J. (2020). Removal of methylene blue dye from aqueous solution by adsorption on leonardite char. Naresuan University Journal: Science and Technology (NUJST), 28(1), 82–93. https://doi.org/10.14456/nujst.2020.8.

Ho, Y.-S. (2006). Isotherms for the sorption of lead onto peat: comparison of linear and non-linear methods. Polish Journal of Environmental Studies, 15(1), 81–86.

Huang, H., Zhang, C., Zhang, P., Cao, M., Xu, G., Wu, H., Zhang, J., Li, C., & Rong, Q. (2018). Effects of biochar amendment on the sorption and degradation of atrazine in different soils. Soil and Sediment Contamination: An International Journal, 27, 643–657. https://doi.org/10.1080/15320383.2018.1495691.

Kruger, E. L., Somasundaram, L., Coats, J. R., & Kanwar, R. S. (1993). Persistence and degradation of [14C]atrazine and [14C]deisopropylatrazine as affected by soil depth and moisture conditions. Environmental Toxicology and Chemistry, 12(11), 1959–1967.

Li, S., Lü, J., Zhang, T., Cao, Y., & Li, J. (2017). Relationship between biochars' porosity and adsorption of three neutral herbicides from water. Water Science and Technology, 75(2), 482–489.

Lin, Y., Munroe, P., Joseph, S., Kimber, S., & Van Zwieten, L. (2012). Nanoscale organo-mineral reactions of biochars in ferrosol: an investigation using microscopy. Plant and Soil, 357, 369–380. https://doi.org/10.1007/s11104-012-1169-8.

Lu, Y., Chen, J., Zhang, J., & Fu, C. (2019). Kinetic, isotherm and thermodynamic studies on the adsorption behavior of atrazine onto sheep manure-derived biochar. Polish Journal of Environmental Studies, 28(4), 2725–2733.

Lupul, I., Yperman, J., Carleer, R., & Gryglewicz, G. (2015). Adsorption of atrazine on hemp stem-based activated carbons with different surface chemistry. Adsorption., 21489-98.

Major, J. (2010). Guidelines on practical aspects of biochar application to field soil in various soil management systems. https://www.biochar-international.org/wp-content/uploads/2018/04/IBI_Biochar_Application.pdf [Accessed 14th November 2020].

Manariotis, I. D., Fotopoulou, K. N., & Karapanagioti, H. K. (2015). Preparation and characterization of biochar sorbents produced from malt spent rootlets. Industrial & Engineering Chemistry Research, 54, 9577–9584. https://doi.org/10.1021/acs.iecr.5b02698.

Mandal, A., Singh, N., & Purakayastha, T. J. (2017). Characterization of pesticide sorption behaviour of slow pyrolysis biochars as low cost adsorbent for atrazine and imidacloprid removal. Science of The Total Environment, 376–385. https://doi.org/10.1016/j.scitotenv.2016.10.204.

McKay, G., Otterburn, M. S., & Sweeney, A. G. (1980). The removal of colour from effluent using various adsorbents—III. Silica: rate processes. Water Research, 14(1), 15–20.

Misra, D. N. (1973). Jovanovich adsorption isotherm for heterogeneous surfaces. Journal of Colloid and Interface Science, 43(1), 85–88.

Mohan, D., Sarswat, A., Ok, Y. S., & Pittman, C. U. (2014). Organic and inorganic contaminants removal from water with biochar, a renewable, low cost and sustainable adsorbent – A critical review. Bioresource Technology, 160, 191–202. https://doi.org/10.1016/j.biortech.2014.01.120.

Moreno-González, R., Campillo, J. A., García, V., & León, V. M. (2013). Seasonal input of regulated and emerging organic pollutants through surface watercourses to a Mediterranean coastal lagoon. Chemosphere, 92, 247–257. https://doi.org/10.1016/j.chemosphere.2012.12.022.

Otowa, T., Tanibata, R., & Itoh, M. (1993). Production and adsorption characteristics of MAXSORB: high-surface-area active carbon. Gas Separation and Purification, 7(4), 241–245.

Papadopoulou-Mourkidou, E., Karpouzas, D. G., Patsias, J., Kotopoulou, A., Milothridou, A., Kintzikoglou, K., & Vlachou, P. (2004). The potential of pesticides to contaminate the groundwater resources of the Axios river basin in Macedonia, northern Greece. Part I. Monitoring study in the north part of the basin. Science of the Total Environment, 321(1–3), 127–146.

Quignot, N., Arnaud, M., Robidel, F., Lecomte, A., Tournier, M., Cren-olivé, C., Barouki, R., & Lemazurier, E. (2012). Characterization of endocrine-disrupting chemicals based on hormonal balance disruption in male and female adult rats. Reproductive Toxicology, 33(3), 339–352.

Rafiq, M., Bachmann, R., Rafiq, M. T., Shang, Z., Joseph, S., & Long, R. (2016). Influence of pyrolysis temperature on physico-chemical properties of corn stover (Zea mays L.) biochar and feasibility for carbon capture and energy balance. PLoS One, 11, e0156894. https://doi.org/10.1371/journal.pone.0156894.

Rizwan, M., Zia-ur-Rehman, M., Ali, S., Abbas, T., Maqbool, A., Bashir, A. (2018). Biochar is a potential source of silicon fertilizer: an overview. in.

Sakulthaew, C., Chokejaroenrat, C., Poapolathep, A., Satapanajaru, T., & Poapolathep, S. (2017). Hexavalent chromium adsorption from aqueous solution using carbon nano-onions (CNOs). Chemosphere, 184, 1168–1174. https://doi.org/10.1016/j.chemosphere.2017.06.094.

Soni, N., Leon, R., Erickson, J., Ferrell, J., & Silveira, M. (2015). Biochar decreases atrazine and pendimethalin preemergence herbicidal activity. Weed Technology, 29, 150304143135004. https://doi.org/10.1614/WT-D-14-00142.1.

Sorrenti, G., Masiello, C. A., Dugan, B., & Toselli, M. (2016). Biochar physico-chemical properties as affected by environmental exposure. Science of the Total Environment, 563-564, 237–246.

Tan, I. A. W., Hameed, B. H., & Ahmad, A. L. (2007). Equilibrium and kinetic studies on basic dye adsorption by oil palm fibre activated carbon. Chemical Engineering Journal, 127(1–3), 111–119.

Tao, Y., Hu, S., Han, S., Shi, H., Yang, Y., Li, H., Jiao, Y., Zhang, Q., Akindolie, M., Ji, M., Chen, Z., & Zhang, Y. (2019). Efficient removal of atrazine by iron-modified biochar loaded Acinetobacter lwoffii DNS32. Science of The Total Environment, 682, 59–69. https://doi.org/10.1016/j.scitotenv.2019.05.134.

Terdputtakun, A., Arquero, O.-A., Janhom, S., Sooksamiti, P., & Naksata, W. (2017). Adsorption characteristics of leonardite for removal of Cd(II) and Zn(II) from aqueous solutions. International Journal of Environmental Science and Development, 8, 393–398. https://doi.org/10.18178/ijesd.2017.8.6.984.

Thorpe, N., & Shirmohammadi, A. (2005). Herbicides and nitrates in groundwater of Maryland and childhood cancers: a geographic information systems approach. Journal of Environmental Science and Health. Part C, Environmental Carcinogenesis & Ecotoxicology Reviews, 23(2), 261–278.

U.S. EPA, (2007). U.S. EPA, Toxicity and exposure assessment for children's health: ATRAZINE chemical summary https://archive.epa.gov/region5/teach/web/pdf/atrazine_summary.pdf [Accessed 4th June 2020].

Udiković-Kolić, N., Scott, C., & Martin-Laurent, F. (2012). Evolution of atrazine-degrading capabilities in the environment. Applied Microbiology and Biotechnology, 96(5), 1175–1189.

Wang, P., Liu, X., Yu, B., Wu, X., Xu, J., Dong, F., & Zheng, Y. (2020). Characterization of peanut-shell biochar and the mechanisms underlying its sorption for atrazine and nicosulfuron in aqueous solution. Science of The Total Environment, 702, 134767. https://doi.org/10.1016/j.scitotenv.2019.134767.

WHO, (2011). Background document for development of WHO guidelines for drinking-water quality: atrazine and its metabolites in drinking-water. http://origin.who.int/water_sanitation_health/dwq/chemicals/antrazine.pdf [Accessed 4th June 2020].

Xiao, F., & Pignatello, J. J. (2015). Interactions of triazine herbicides with biochar: Steric and electronic effects. Water Research, 80, 179–188.

Yadav, A., Ansari, K. B., Simha, P., Gaikar, V. G., & Pandit, A. B. (2016). Vacuum pyrolysed biochar for soil amendment. Resource-Efficient Technologies, 2, S177–SS85. https://doi.org/10.1016/j.reffit.2016.11.004.

Yang, F., Gao, Y., Sun, L., Zhang, S., Li, J., & Zhang, Y. (2018). Effective sorption of atrazine by biochar colloids and residues derived from different pyrolysis temperatures. Environmental Science and Pollution Research, 25, 18528–18539. https://doi.org/10.1007/s11356-018-2077-0.

Yu, O. Y., Harper, M., Hoepfl, M., & Domermuth, D. (2017). Characterization of biochar and its effects on the water holding capacity of loamy sand soil: Comparison of hemlock biochar and switchblade grass biochar characteristics. Environmental Progress & Sustainable Energy, 36. https://doi.org/10.1002/ep.12592.

Zeledón-Toruño, Z. C., Lao-Luque, C., de las Heras, F. X. C., & Sole-Sardans, M. (2007). Removal of PAHs from water using an immature coal (leonardite). Chemosphere., 67(3), 505–512.

Zengin, G. (2013). Effective removal of zinc from an aqueous solution using Turkish leonardite–clinoptilolite mixture as a sorbent. Environmental Earth Sciences, 70, 3031–3041. https://doi.org/10.1007/s12665-013-2364-5.

Zhang, J., Lü, F., Luo, C., Shao, L., & He, P. (2014). Humification characterization of biochar and its potential as a composting amendment. Journal of Environmental Sciences, 26, 390–397. https://doi.org/10.1016/S1001-0742(13)60421-0.

Zhao, S., Ta, N., & Wang, X. (2017). Effect of temperature on the structural and physicochemical properties of biochar with apple tree branches as feedstock material. Energies, 10, 1293. https://doi.org/10.3390/en10091293.

Zhou, F., Wang, H., Fang, S.e., Zhang, W., & Qiu, R. (2015). Pb(II), Cr(VI) and atrazine sorption behavior on sludge-derived biochar: role of humic acids. Environmental Science and Pollution Research, 22(20), 16031–16039.
Acknowledgments
Dr. Kanitta Wongyai, a level 10 scientist from the Electricity Generating Authority of Thailand (EGAT) at the Mae Moh lignite mine, provided the leonardite raw material. Dr. Narong Chanlek, at BL5.3 station in the Synchrotron Light Research Institute (Public Organization), offered valuable suggestions. Technical assistance was provided by Ms. Sidaporn Punya in the laboratory and by Mrs. Sunee Rittirat for agricultural soil sampling for the soil-water retention experiments.
Additional information
Publisher's Note
Springer Nature remains neutral with regard to jurisdictional claims in published maps and institutional affiliations.
Supplementary Information
About this article
Cite this article
Sakulthaew, C., Watcharenwong, A., Chokejaroenrat, C. et al. Leonardite-Derived Biochar Suitability for Effective Sorption of Herbicides. Water Air Soil Pollut 232, 36 (2021). https://doi.org/10.1007/s11270-020-04974-4
Received:

Accepted:

Published:
Keywords
Adsorption

Depleted herbicide

Herbicide immobilization

Leonardite-derived biochar

Soil amendment