Abstract
A composite flocculant (PSAS-CS) consisted of cationic starch (CS) and polyaluminum silicate (PSAS) was prepared and used for the flocculation of simulated water samples. The morphology and structure of PSAS-CS were characterized by X-ray diffraction, scanning electron microscopy, and infrared spectroscopy. The effect of flocculation conditions such as the flocculant dosage and the simulated water pH were investigated. The turbidity and color removal rates could reach 97.79% and 98.07% at PSAS-CS dosage of 1.5 mL/L and the simulated water pH of 5–9. Furthermore, the flocculation efficiency of PSAS-CS was compared with PSAS, CS and the starch modified polyaluminum silicate at different dosage. The results indicated that PSAS-CS showed the highest flocculation efficiency due to its plentiful of positive charges and extended molecular chain. Moreover, the removal rate of PSAS-CS could remain 85% at a low dosage of 0.2 mL/L.
This is a preview of subscription content, log in to check access.
Access options
Buy single article
Instant access to the full article PDF.
US$ 39.95
Price includes VAT for USA
Subscribe to journal
Immediate online access to all issues from 2019. Subscription will auto renew annually.
US$ 199
This is the net price. Taxes to be calculated in checkout.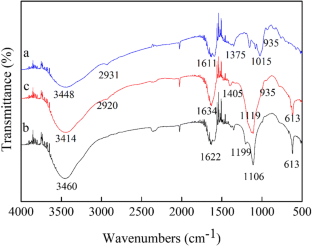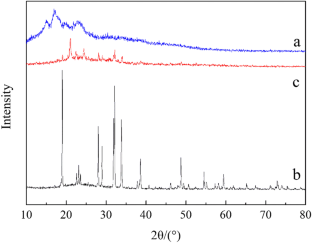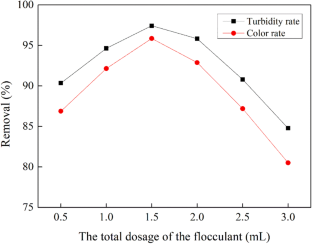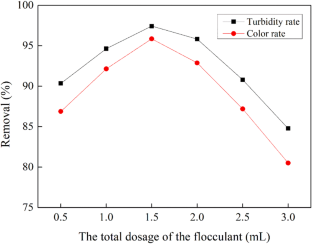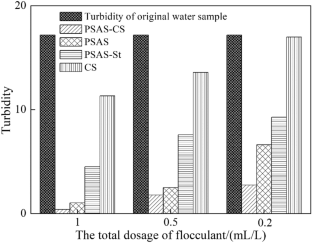 References
Abejón, R., & Garea, A. (2015). A bibliometric analysis of research on arsenic in drinking water during the 1992–2012 period: an outlook to treatment alternatives for arsenic removal. Journal of Water Process Engineering, 6, 105–119.

Beltrán-Heredia, J., & Sánchez-Martín, J. (2009). Municipal wastewater treatment by modified tannin flocculant agent. Desalination, 249(1), 353–358.

Chen, Y., Tian, G. W., Zhai, B. Y., Zhang, H. L., Liang, Y. N., & Liang, H. B. (2019). Cationic starch-grafted-cationic polyacrylamide based graphene oxide ternary composite flocculant for the enhanced flocculation of oil sludge suspension. Composites Part B Engineering, 177, 107416.

Chong, M. F., Lee, K. P., Chieng, H. J., & Ramli, I. I. S. B. (2009). Removal of boron from ceramic industry wastewater by adsorption-flocculation mechanism using palm oil mill boiler (POMB) bottom ash and polymer. Water Research, 43(13), 3326–3334.

Dao, V. H., Cameron, N. R., & Saito, K. (2015). Synthesis properties and performance of organic polymers employed in flocculation applications. Polymer Chemistry, 7, 11–25.

Du, Y. J., Cao, B. D., Zhang, W. J., Yang, P., Xu, Q. Y., Wang, D. S., & Shen, X. (2017a). Improvement of wastewater sludge dewatering properties using polymeric aluminum-silicon complex flocculants conditioning: importance of aluminum/silicon ratio. Colloids and Surfaces A: Physicochemical and Engineering Aspects, 530, 134–145.

Du, Q., Wei, H., Li, A. M., & Yang, H. (2017b). Evaluation of the starch-based flocculants on flocculation of hairwork wastewater. Science of the Total Environment, 601–602, 1628–1637.

Fang, R., Cheng, X., & Xu, X. (2010). Synthesis of lignin-base cationic flocculant and its application in removing anionic azo-dyes from simulated wastewater. Bioresource Technology, 101(19), 7323–7329.

Geng, R. Y., Lv, X. C., Li, G. K., Jiao, Y. J., Gao, X. H., & Li, F. Y. (2016). Modification and flocculating performance of epichlorohydrin and polyamine cationic flocculants. Research of Environmental Sciences, 29, 1521–1526.

Guo, J. Y., Nengzi, L. C., Zhao, J., & Zhang, Y. Z. (2015). Enhanced dewatering of sludge with the composite of bioflocculant MBFGA1 and P(AM-DMC) as a conditioner. Applied Microbiology and Biotechnology, 99, 2989–2998.

Huang, Y., Wei, C., Liao, Q., Xia, A., Zhu, X., & Zhu, X. Q. (2019). Biodegradable branched cationic starch with high C/N ratio for Chlorella vulgaris cells concentration: Regulating microalgae flocculation performance by pH. Bioresource Technology, 276, 133–139.

Jyothi, A. N., Rajasekharan, K. N., Moorthy, S. N., & Sreekumar, J. (2005). Synthesis and characterization of low ds succinate derivatives of cassava (manihot esculenta crantz) starch. Starch-Starke, 57(7), 319–324.

Kadooka, H., Kiso, Y., Goto, S., Tanaka, T., Jami, M. S., & Iwata, M. (2017). Flocculation behavior of colloidal suspension by use of inorganic and polymer flocculants in powder form. Journal of Water Process Engineering, 18, 169–175.

Lapointe, M., & Barbeau, B. (2020). Understanding the roles and characterizing the intrinsic properties of synthetic vs. natural polymers to improve clarification through interparticle Bridging: a review. Separation and Purification Technology, 231, 115893.

Lee, C. S., Robinson, J., & Chong, M. F. (2014). A review on application of flocculants in wastewater treatment. Process Safety and Environmental Protection, 92(6), 489–508.

Lekniute Kyzike, E., Bendoraitiene, J., Pavelas Danilovas, P., & Zemaitaitis, A. (2016). A novel way to obtain effective cationic starch flocculants. Desalination and Water Treatment, 57, 1–11.

Leng, C. H., Razali, M. A. A., Rosdi, M. R. H., & Ariffin, A. (2015). Composite flocculants based on magnesium salt–poly dially dimethylammonium chloride: characterization and flocculation behavior. RSC Advances, 5(66), 53462–53470.

Lin, Q. T., Qian, S., Li, C. J., Pan, H. P., Wu, Z. Y., & Liu, G. G. (2012). Synthesis, flocculation and adsorption performance of amphoteric starch. Carbohydrate Polymers, 90(1), 275–283.

Lin, Q. T., Peng, H. L., & Zhong, S. X. (2015). Synthesis, characterization, and secondary sludge dewatering performance of a novel combined silicon-aluminum-iron-starch flocculant. Journal of Hazardous Materials, 285, 199–206.

Liu, Z., Wei, H., Li, A., & Yang, H. (2017). Evaluation of structural effects on the flocculation performance of a co-graft starch-based flocculant. Water Research, 118, 160–166.

Liu, Y. Z., Zheng, H. L., Sun, Y. J., Ren, J., Zheng, X. Y., Sun, Q., Jiang, S. J., & Ding, W. (2020). Synthesis of novel chitosan-based flocculants with amphiphilic structure and its application in sludge dewatering: role of hydrophobic groups. Journal of Cleaner Production, 249, 119350.

Ma, J., Wang, R. N., Wang, X. Y., Zhang, H., Zhu, B., Lian, L. L., & Lou, D. W. (2019). Drinking water treatment by stepwise flocculation using polysilicate aluminum magnesium and cationic polyacrylamide. Journal of Environmental Chemical Engineering, 7, 103049.

Mubarak, M., Shaija, A., & Suchithra, T. V. (2019). Flocculation: an effective way to harvest microalgae for biodiesel production. Journal of Environmental Chemical Engineering, 7(4), 103221.

Radoiu, M. T., Martin, D. I., Calinescu, I., & Iovu, H. (2004). Preparation of polyelectrolytes for wastewater treatment. Journal of Hazardous Materials, 106(1), 27–37.

Shen, J. J., Ren, L. L., & Zhuang, Y. Y. (2006). Interaction between anionic dyes and cationic flocculant P(AM-DMC) in synthetic solutions. Journal of Hazardous Materials, 136(3), 809–815.

Su, Y. T., Du, H. Y., Huo, Y. Q., Xu, Y. L., Wang, J., Zhao, S. M., & Xiong, S. B. (2016). Characterization of cationic starch flocculants synthesized by dry process with ball milling activating method. International Journal of Biological Macromolecules, 87, 34–40.

Wang, H. W., Zhang, Y. K., Gao, D. K., Wang, G. Q., Ma, Y., Wu, Z. J., Pu, H. Q., Li, Y. M., Guo, Y. X., Wang, B. Z., Qi, X. W., & Yang, J. (2019). Research on self-degradation of RGO/TiO2-P(AM-DAC) organic-inorganic composite flocculant prepared by surface initiated polymerization and its flocculation mechanism of oil sand tailings. European Polymer Journal, 120, 109165.

Wei, H., Ren, J., Li, A. M., & Yang, H. (2018). Sludge dewaterability of a starch-based flocculant and its combined usage with ferric chloride. Chemical Engineering Journal, 349, 737–747.

Wu, H., Liu, Z., Yang, H., & Li, A. M. (2016). Evaluation of chain architectures and charge properties of various starch-based flocculants for flocculation of humic acid from water. Water Research, 96, 126–135.

Yang, Z., Wu, H., Yuan, B., Huang, M., Yang, H., Li, A. M., Bai, J. F., & Cheng, R. S. (2014). Synthesis of amphoteric starch-based grafting flocculants for flocculation of both positively and negatively charged colloidal contaminants from water. Chemical Engineering Journal, 244, 209–217.

Yang, R., Li, H. J., Huang, M., Hu, Y., & Li, A. M. (2016). A review on chitosan-based flocculants and their applications in water treatment. Water Research, 95, 59–89.

Zeng, T., Hu, X. Q., Wu, H., Yang, J. W., & Zhang, H. B. (2019). Microwave assisted synthesis and characterization of a novel bio-based flocculant from dextran and chitosan. International Journal of Biological Macromolecules, 131, 760–768.

Zhao, C. F., Shao, S., Zhou, Y. Y., Yang, Y. H., Shao, Y., Zhang, L. P., Zhou, Y. J., Xie, L. N., & Luo, L. (2018). Optimization of flocculation conditions for soluble cadmium removal using the composite flocculant of green anion polyacrylamide and PAC by response surface methodology. The Science of the Total Environment, 645, 267–276.
Funding
The present work is supported by the projects of Science and Technology Development of Jilin Province (20190303116SF), Natural Science Foundation of Jilin Province (20180101292JC), the Research Foundation of Education Bureau of Jilin Province (JJKH20200238KJ), and the Science Foundation for Distinguished Young Scholars of Jilin City (No. 20190104158). Financial support from the Key Laboratory of Fine Chemicals of Jilin Province is also acknowledged.
Additional information
Publisher's Note
Springer Nature remains neutral with regard to jurisdictional claims in published maps and institutional affiliations.
About this article
Cite this article
Li, Y., Zhang, H., Wang, X. et al. Preparation and Flocculation Performance of Polysilicate Aluminum-Cationic Starch Composite Flocculant. Water Air Soil Pollut 231, 339 (2020). https://doi.org/10.1007/s11270-020-04711-x
Received:

Accepted:

Published:
Keywords
Polyaluminum silicate

Cationic starch

Composite flocculant

Removal rate