Abstract
Several industrial sectors produce tons of effluents daily containing a high amount of hazardous chemical pollutants that pose a major threat to the environment and human health. Current wastewater treatment methods, such as flocculation and activated carbon adsorption, have drawbacks linked to high material cost and too much energy consumption. Thus, the search for renewable, biodegradable, and efficient materials has been the object of research aimed at replacing the conventional materials used to cheapen processes and reduce environmental impacts. Lignin stands out in this context as it has low cost and high availability. Therefore, several scientific researches were developed to harness the potential of lignin, especially as adsorbent, for the removal of chemical agents from effluents. This paper presents a bibliometric review performed on the Scopus database, showing the evolution of studies related to the applicability of lignin in the removal of chemical pollutants in waters over the last five years. Data regarding annual publications, languages, journals, countries, institutions, keywords, and subjects were analyzed. The realized screening selected 130 articles that met the previously defined criteria. Results indicated a strong collaboration between countries and China's substantial contribution to the documents. The analysis also has shown that lignin is mainly used as adsorbent material, sorbent, flocculant agent, and hydrogel and presents important results and information for future researchers on this topic.
This is a preview of subscription content, log in to check access.
Access options
Buy single article
Instant access to the full article PDF.
US$ 39.95
Price includes VAT for USA
Subscribe to journal
Immediate online access to all issues from 2019. Subscription will auto renew annually.
US$ 199
This is the net price. Taxes to be calculated in checkout.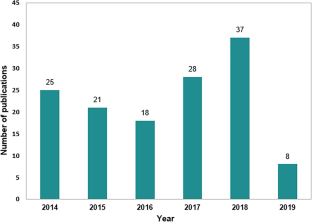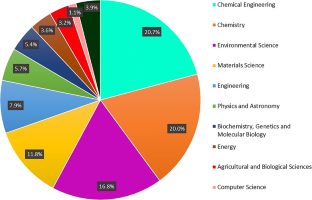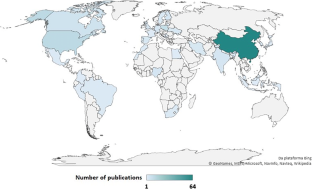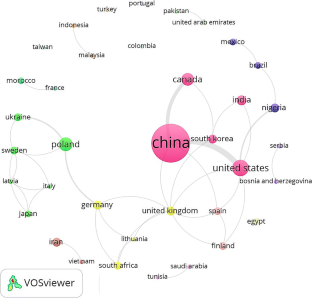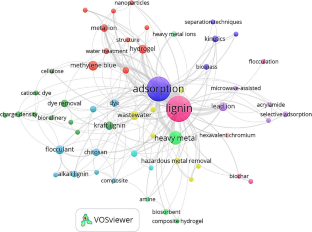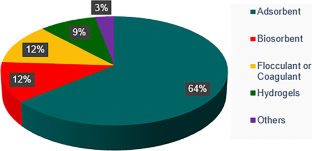 References
Abejón, R. (2018). A bibliometric study of scientific publications regarding hemicellulose valorization during the 2000–2016 period: identification of alternatives and hot topics. ChemEngineering, 2.

Abejón, R., Pérez-Acebo, H., Clavijo L. (2018). Alternatives for chemical and biochemical lignin valorization: hot topics from a bibliometric analysis of the research published during the 2000–2016 period. Processes, 6.

Adebayo, M. A., Prola, L. D. T., Lima, E. C., Puchana-Rosero, M. J., Cataluña, R., Saucier, C., Umpierres, C. S., Vaghetti, J. C. P., Silva, L. G., & Ruggiero, R. (2014). Adsorption of Procion Blue MX-R dye from aqueous solutions by lignin chemically modified with aluminium and manganese. Journal of Hazardous Materials, 268, 43–50.

Almeida, E., Assalin, M. R., Rosa, M. A., & Durán, N. (2004). Tratamento de efluentes industriais por processos oxidativos na presença de ozônio. Química Nova, 27, 818–824.

Aniagor, C. O., & Menkiti, M. C. (2018). Kinetics and mechanistic description of adsorptive uptake of crystal violet dye by lignified elephant grass complexed isolate. Journal of Environmental Chemical Engineering, 6, 2105–2118.

Bhatia, S. K., Jagtap, S. S., Bedekar, A. A., Bhatia, R. K., Patel, A. K., Pant, D., Rajesh Banu, J., Rao, C. V., Kim, Y., & Yang, Y. (2020). Recent developments in pretreatment technologies on lignocellulosic biomass: effect of key parameters, technological improvements, and challenges. Bioresource Technology, 300, 122724.

Budnyak, T. M., Aminzadeh, S., Pylypchuk, I. V., Sternik, D., Tertykh, V. A., Lindström, M. E., & Sevastyanova, O. (2018). Methylene Blue dye sorption by hybrid materials from technical lignins. Journal of Environmental Chemical Engineering, 6, 4997–5007.

Cui, G., Wang, X., Xun, J., & Lou, T. (2017). Microwave assisted synthesis and characterization of a ternary flocculant from chitosan, acrylamide and lignin. International Biodeterioration & Biodegradation, 123, 269–275.

Demcak, S., Balintova, M., Hurakova, M., Frontasyeva, M. V., Zinicovscaia, I., & Yushin, N. (2017). Utilization of poplar wood sawdust for heavy metals removal from model solutions. Nova Biotechnologica et Chimica, 16, 26–31.

Domínguez-Robles, J., Peresin, M. S., Tamminen, T., Rodríguez, A., Larrañeta, E., & Jääskeläinen, A. (2018). Lignin-based hydrogels with "super-swelling" capacities for dye removal. International Journal of Biological Macromolecules, 115, 1249–1259.

Duan, Y., Freyburger, A., Kunz, W., & Zollfrank, C. (2018). Lignin/chitin films and their adsorption characteristics for heavy metal ions. ACS Sustainable Chemistry & Engineering, 6, 6965–6973.

Ennaert, T., Beeck, B. O., Vanneste, J., Smit, A. T., Huijgen, W. J. J., Vanhulsel, A., Jacobsa, P. A., & Sels, B. F. (2016). The importance of pretreatment and feedstock purity in the reductive splitting of (ligno) cellulose by metal supported USY zeolite. Green Chemistry, 18, 2095–2105.

Food and Agriculture Organization of The United Nations, FAO. (2019). Pulp and paper capacities. http://www.fao.org/3/ca5690t/CA5690T.pdf. Accessed 19 November 2019.

Ge, Y., Li, Z., Kong, Y., Song, Q., & Wang, K. (2014a). Heavy metal ions retention by bi-functionalized lignin: synthesis, applications, and adsorption mechanisms. Journal of Industrial and Engineering Chemistry, 20, 4429–4436.

Ge, Y., Xiao, D., Li, Z., & Cui, X. (2014b). Dithiocarbamate functionalized lignin for efficient removal of metallic ions and the usage of the metal-loaded bio-sorbents as potential free radical scavengers. Journal of Materials Chemistry A, 2, 2136–2145.

Ge, Y., Xiao, D., Li, Z., & Cui, X. (2016). Conversion of organosolv lignin into an efficient mercury ion adsorbent by a microwave-assisted method. Journal of the Taiwan Institute of Chemical Engineers, 63, 500–505.

Guo, K., Gao, B., Li, R., Wang, W., Yue, Q., & Wang, Y. (2018a). Flocculation performance of lignin-based flocculant during reactive blue dye removal: comparison with commercial flocculants. Environmental Science and Pollution Research, 25, 2083–2095.

Guo, X., Zhang, S., & Shan, X. (2008). Adsorption of metal ions on lignin. Journal of Hazardous Materials, 151, 134–142.

Guo, Y., Gao, W., & Fatehi, P. (2018b). Hydroxypropyl sulfonated kraft lignin as a coagulant for cationic dye. Industrial Crops and Products, 124, 273–283.

Halysh, V., Sevastyanova, O., Riazanova, A. V., Pasalskiy, B., Budnyak, T., Lindström, M. E., & Кartel, M. (2018). Walnut shells as a potential low-cost lignocellulosic sorbent for dyes and metal ions. Cellulose, 25, 4729–4742.

Han, Y., Shi, L., Meng, J., Yu, H., & Zhang, X. (2014). Azo dye biodecolorization enhanced by Echinodontium taxodii cultured with lignin. PLoS One, 9, e109786.

Hu, S.-W., & Chen, S. (2015). A multipurpose lignin-based adsorbent for metallic ions, nanoparticles and various organophosphate pesticides in hexane. Journal of the Chinese Chemical Society, 62, 875–888.

Huang, G., Wang, D., Ma, S., Chen, J., Jiang, L., & Wang, P. (2015). A new, low-cost adsorbent: preparation, characterization, and adsorption behavior of Pb(II) and Cu(II). Journal of Colloid and Interface Science, 445, 294–302.

Huang, H., Han, C., Wang, G., & Feng, C. (2018). Lignin combined with polypyrrole as a renewable cathode material for H2O2 generation and its application in the electro-Fenton process for azo dye removal. Electrochimica Acta, 259, 637–646.

Huang, X., Zhao, S., Abu-Omar, M., & Whelton, A. J. (2017). In-situ cleaning of heavy metal contaminated plastic water pipes using a biomass derived ligand. Journal of Environmental Chemical Engineering, 5, 3622–3631.

Jin, C., Zhang, X., Xin, J., Liu, G., Chen, J., Wu, G., Liu, T., Zhang, J., & Kong, Z. (2018). Thiol–ene synthesis of cysteine-functionalized lignin for the enhanced adsorption of Cu(II) and Pb(II). Industrial & Engineering Chemistry Research, 57, 7872–7880.

Klapiszewski, Ł., Bartczak, P., Wysokowski, M., Jankowska, M., Kabat, K., & Jesionowski, T. (2015). Silica conjugated with kraft lignin and its use as a novel 'green'sorbent for hazardous metal ions removal. Chemical Engineering Journal, 260, 684–693.

Kolbasov, A., Sinha-Ray, S., Yarin, A. L., & Pourdeyhimi, B. (2017). Heavy metal adsorption on solution-blown biopolymer nanofiber membranes. Journal of Membrane Science, 530, 250–263.

Kozyatnyk, I., Haglund, P., Lövgren, L., Tysklind, M., Gustafsson, A., & Törneman, N. (2014). Evaluation of barrier materials for removing pollutants from groundwater rich in natural organic matter. Water Science & Technology, 70, 32–39.

Kumari, S., Chauhan, G. S., Monga, S., Kaushik, A., & Ahn, J.-H. (2016). New lignin-based polyurethane foam for wastewater treatment. RSC Advances, 6, 77768–77776.

Kwak, H. W., Shin, M., Yun, H., Lee, K. H. (2016). Preparation of silk sericin/lignin blend beads for the removal of hexavalent chromium ions. International Journal of Molecular Sciences, 17.

Li, X., He, Y., Sui, H., He, L. (2018b). One-step fabrication of dual responsive lignin coated Fe3O4 nanoparticles for efficient removal of cationic and anionic dyes. Nanomaterials, 8.

Li, Y., Wu, M., Wang, B., Wu, Y., Ma, M., & Zhang, X. (2016). Synthesis of magnetic lignin-based hollow microspheres: a highly adsorptive and reusable adsorbent derived from renewable resources. ACS Sustainable Chemistry & Engineering, 4, 5523–5532.

Li, Y., Zhao, R., Pang, Y., Qiu, X., & Yang, D. (2018a). Microwave-assisted synthesis of high carboxyl content of lignin for enhancing adsorption of lead. Colloids and Surfaces A: Physicochemical and Engineering Aspects, 553, 187–194.

Li, Z., Ge, Y., & Wan, L. (2015a). Fabrication of a green porous lignin-based sphere for the removal of lead ions from aqueous media. Journal of Hazardous Materials, 285, 77–83.

Li, Z., Kong, Y., & Ge, Y. (2015b). Synthesis of porous lignin xanthate resin for Pb2+ removal from aqueous solution. Chemical Engineering Journal, 270, 229–234.

Li, Z., Xiao, D., Ge, Y., & Koehler, S. (2015c). Surface-functionalized porous lignin for fast and efficient lead removal from aqueous solution. ACS Applied Materials and Interfaces, 5, 15000–15009.

Mao, G., Huang, N., Chen, L., & Wang, H. (2018). Research on biomass energy and environment from the past to the future: a bibliometric analysis. Science of the Total Environment, 635, 1081–1090.

Marouani, E. M., Fakir, L. E., Yakhaf, S. M. L., Hrech, N. E., Dahchour, A., Sebbahi, S., Hajjaji, S. E., & Kifani-Sahban, F. (2017). Removal of textile dyes from aqueous solutions by lignin and its derivative charcoals: characterization, adsorption kinetics and isotherms. Desalination and Water Treatment, 81, 265–273.

Martin-Martinez, M., Barreiro, M. F. F., Silva, A. M. T., Figueiredo, J. L., Faria, J. L., & Gomes, H. T. (2017). Lignin-based activated carbons as metal-free catalysts for the oxidative degradation of 4-nitrophenol in aqueous solution. Applied Catalysis B: Environmental, 219, 372–378.

Md Khudzari, J., Kurian, J., Tartakovsky, B., & Raghavan, G. S. V. (2018). Bibliometric analysis of global research trends on microbial fuel cells using Scopus database. Biochemical Engineering Journal, 136, 51–60.

Michelin, M., Maria de, T. M. P. L., Ruzene, D. S., Silva, D. P., Vicente, A. A., Jorge, J. A., Terenzi, H. F., & Teixeira, J. A. (2012). Xylanase and β-xylosidase production by Aspergillus ochraceus: new perspectives for the application of wheat straw autohydrolysis liquor. Applied Biochemistry and Biotechnology, 166, 336–347.

Nair, V., Panigrahy, A., & Vinu, R. (2014). Development of novel chitosan-lignin composites for adsorption of dyes and metal ions from wastewater. Chemical Engineering Journal, 254, 491–502.

Nasrullah, A., Bhat, A. H., Isa, M. H. (2016). Lignin: a sustainable biosorbent for heavy metal adsorption from wastewater, a review. AIP Conference Proceedings, 1787, 040001-1–040001-7.

Ogunsile, B. O., & Bamgboye, M. O. (2017). Biosorption of lead (II) onto soda lignin gels extracted from Nypa fruiticans. Journal of Environmental Chemical Engineering, 5, 2708–2717.

Pereira, G. C., & Ebecken, N. F. F. (2009). Knowledge discovering for coastal waters classification. Expert Systems with Applications, 36, 8604–8609.

Qiu, X., Yu, J., Yang, D., Wang, J., Mo, W., & Qian, Y. (2018). Whitening sulfonated alkali lignin via H2O2/UV radiation and its application as dye dispersant. ACS Sustainable Chemistry & Engineering, 6, 1055–1060.

Ruas, T. L., & Pereira, L. (2014). Como construir indicadores de Ciência, Tecnologia e Inovação usando Web of Science, Derwent World Patent Index, Bibexcel e Pajek? Perspectivas em Ciência da Informação, 19, 52–81.

Shen, Z., Luo, Y., Wang, Q., Wang, X., & Sun, R. (2014). High-value utilization of lignin to synthesize Ag nanoparticles with detection capacity for Hg2+. ACS Applied Materials and Interfaces, 6, 16147–16155.

Shuhailath, K. A., Linsha, V., Kumar, S. N., Babitha, K. B., Peer Mohamed, A. A., & Ananthakumar, S. (2016). Photoactive, antimicrobial CeO2 decorated AlOOH/PEI hybrid nanocomposite: a multifunctional catalytic-sorbent for lignin and organic dye. RSC Advances, 6, 54357–54370.

Tang, Y., Zeng, Y., Hu, T., Zhou, Q., & Peng, Y. (2016). Preparation of lignin sulfonate-based mesoporous materials for adsorbing malachite green from aqueous solution. Journal of Environmental Chemical Engineering, 4, 2900–2910.

Tian, J., Ren, S., Fang, G., & Ai, Q. (2014a). Synthesis and property of dimethyl-butyl-sulfonated lignin ammonium chloride. Chemistry and Industry of Forest Products, 34, 42–50.

Tian, J., Ren, S., Fang, G., & Ai, Q. (2014b). Preparation and performance of dimethyl-acetoxy-(2-carboxymethyl ether)-lignin ammonium chloride amphoteric surfactant. Bioresources, 9, 6290–6303.

Tsay, M. (2008). A bibliometric analysis of hydrogen energy literature, 1965–2005. Scientometrics, 75, 421–438.

Wahlström, R., Kalliola, A., Heikkinen, J., Kyllönen, H., & Tamminen, T. (2017). Lignin cationization with glycidyltrimethylammonium chloride aiming at water purification applications. Industrial Crops and Products, 104, 188–194.

Wang, B., Wen, J.-L., Sun, S.-L., Wang, H.-M., Wang, S.-F., Liu, Q.-Y., Charlton, A., & Sun, R.-C. (2017). Chemosynthesis and structural characterization of a novel lignin-based bio-sorbent and its strong adsorption for Pb (II). Industrial Crops and Products, 108, 72–80.

Wysokowski, M., Klapiszewski, Ł., Moszyński, D., Bartczak, P., Szatkowski, T., Majchrzak, I., Siwińska-Stefańska, K., Bazhenov, V. V., & Jesionowski, T. (2014). Modification of chitin with kraft lignin and development of new biosorbents for removal of cadmium(II) and nickel(II) ions. Marine Drugs, 10, 2245–2268.

Xu, F., Zhu, T.-T., Rao, Q.-Q., Shui, S.-W., Li, W.-W., He, H.-B., & Yao, R.-S. (2017). Fabrication of mesoporous lignin-based biosorbent from rice straw and its application for heavy-metal-ion removal. Journal of Environmental Sciences, 53, 132–140.

Yadav, B. R., & Garg, A. (2016). Catalytic oxidation of pulping effluent by activated carbon-supported heterogeneous catalysts. Environmental Technology, 37, 1018–1025.

Yao, Q., Xie, J., Liu, J., Kang, H., & Liu, Y. (2014). Adsorption of lead ions using a modified lignin hydrogel. Journal of Polymer Research, 21, 465.

Yao, Z., Wang, L., & Qi, J. (2009). Biosorption of methylene blue from aqueous solution using a bioenergy forest waste: Xanthoceras sorbifolia seed coat. CLEAN—Soil, Air, Water, 37, 642–648.

Zhang, W., Han, Y., Haijiang, L., Ziwen, J., Lei, D., Xiaowei, K., Hu, Y., Aimin, L., & Rongshi, C. (2011). Removal of dyes from aqueous solutions by straw based adsorbents: batch and column studies. Chemical Engineering Journal, 168, 1120–1127.

Zhao, Q. (2016). Lignification: flexibility, biosynthesis and regulation. Trends in Plant Science, 21, 713–721.

Zyoud, S. H., Fuchs-Hanusch, D., Zyoud, S. H., Al-Rawajfeh, A. E., & Shaheen, H. Q. (2017). A bibliometric-based evaluation on environmental research in the Arab world. International journal of Environmental Science and Technology, 14, 689–706.
Acknowledgments
The authors acknowledge financial assistance from the Brazilian research funding agencies such as CAPES (Coordination for the Improvement of Higher Education Personnel) under Finance Code 001, a Brazilian foundation within the Ministry of Education (MEC), CNPq (National Council for Scientific and Technological Development), a Brazilian foundation associated to the Ministry of Science and Technology (MCT), and FAPITEC/SE (the Foundation of Support to Research and Technological Innovation of the State of Sergipe).
Additional information
Publisher's Note
Springer Nature remains neutral with regard to jurisdictional claims in published maps and institutional affiliations.
About this article
Cite this article
Teles, M.N.O., Santos, B.L.P., Silva, D.P. et al. A Bibliometric Description of Lignin Applicability for the Removal of Chemical Pollutants in Effluents. Water Air Soil Pollut 231, 333 (2020). https://doi.org/10.1007/s11270-020-04702-y
Received:

Accepted:

Published:
Keywords
Lignin

Chemical pollutants

Effluents

Bibliometric analysis