Abstract
Soil contamination by pharmaceutical and personal care products (PPCPs) has attracted the attention of many researchers. Continued release of these products into the environment can compromise the health of non-target organisms as well as interfere in ecological interactions between species. We hypothesized that contamination of the soil by these products affects the gut microbiota of macrodecomposers that live in symbiosis with these microorganisms and therefore interferes with the assimilation of nutrients by these animals. Therefore, this study aims to evaluate the effects of soil contaminated by triclosan (TCS) and chlorhexidine (CHX) by analyzing changes in nutrient assimilation and in the assimilation pattern of carbon sources from the Balloniscus selowii gut microbiota. The food consumption rate in B. selowii was not altered by biocides, and assimilation rate as well as assimilation efficiency (%) decreased under triclosan treatment. Based on the results obtained, the soil and gut microbiota demonstrated similar response to each study treatment when compared to other treatments. However, there were no significant differences in the diversity, evenness, and richness values. Dehydrogenase activity showed no significant differences between TCS and CHX exposure and control. In this study, exposure to TCS and CHX biocides changed the metabolic profile of the soil microbiota and consequently of the B. selowii digestive tract. With TCS exposure, this change was enough to affect the assimilation of nutrients by B. selowii. The continuous release of antimicrobials such as chlorhexidine and triclosan into the environment may compromise the health of non-target organisms and interfere with symbiotic relationships.
This is a preview of subscription content, log in to check access.
Access options
Buy single article
Instant access to the full article PDF.
US$ 39.95
Price includes VAT for USA
Subscribe to journal
Immediate online access to all issues from 2019. Subscription will auto renew annually.
US$ 199
This is the net price. Taxes to be calculated in checkout.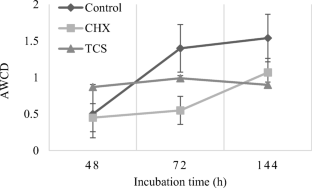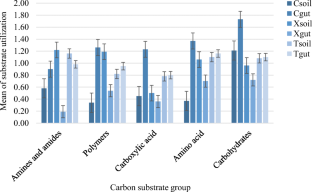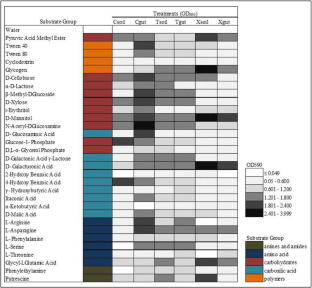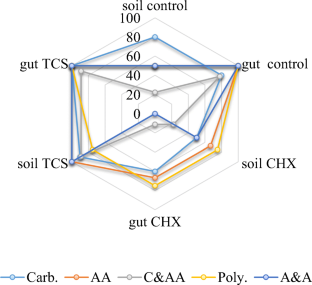 References
Canteri, M. G., Althaus, R. A., Virgens Filho, J. S., Giglioti, E. A., & Godoy, C. V. (2001). SASM – Agri.: Sistema para análise e separação de médias em experimentos agrícolas pelos métodos Scoft-Knott, Tukey e Duncan. Revista Brasileira de Agrocomputação, 1(2), 18–24 (in Portuguese).

Caracciolo, A. B., Topp, E., & Grenni, P. (2015). Pharmaceuticals in the environment: biodegradation and effects on natural microbial communities. A review. J Pharm Biomed Anal, 106, 25–36. https://doi.org/10.1016/j.jpba.2014.11.040.

de Casida Jr., L. E., Klein, D. A., & Santoro, T. (1964). Soil dehydrogenase activity. Soil Science, 98(6), 371–376.

Chen, Z. F., Ying, G. G., Lai, H. J., Chen, F., Su, H. C., Liu, Y. S., Peng, F. Q., & Zhao, J. L. (2012). Determination of biocides in different environmental matrices by use of ultra-high-performance liquid chromatography-tandem mass spectrometry. Analytical and Bioanalytical Chemistry, 404(10), 3175–3188. https://doi.org/10.1007/s00216-012-6444-2.

Cheung, H. Y., Wong, M. M. K., Cheung, S. H., Liang, L. Y., Lam, Y. W., & Chiu, S. K. (2012). Differential actions of chlorhexidine on the cell wall of Bacillus subtilis and Escherichia coli. PLoS One, 7(5), 1–14. https://doi.org/10.1371/journal.pone.0036659.

Da Silva Júnior, F. M. R., Silva, P. F., Garcia, E. M., Klein, R. D., Peraza-Cardoso, G., Baisch, P. R., Vargas, V. M. F., & Muccillo-Baisch, A. L. (2013a). Toxic effects of the ingestion of water-soluble elements found in soil under the atmospheric influence of an industrial complex. Environmental Geochemistry and Health, 35(3), 317–331.

Da Silva Júnior, F. M. R., Garcia, E. M., Baisch, P. R. M., Mirlean, N., & Mucillo-Baisch, A. L. (2013b). Assessment of a soil with moderate level of contamination using lettuce seed assay and terrestrial isopods assimilation assay. Soil Water Resour, 8(2), 56–62. https://doi.org/10.17221/28/2012-SWR.

Da Silva Júnior, F. M., Mendonça, F. S., Volcão, L. M., & Honscha, L. C. (2019). Ecotoxicological assessment of BTEX to soil organisms using a terrestrial microcosm: multispecies soil system (MS-3). International journal of Environmental Science and Technology, 16(8), 4465–4470.

Dann, A. B., & Hontela, A. (2011). Triclosan: environmental exposure, toxicity and mechanisms of action. Journal of Applied Toxicology, 31, 285–311. https://doi.org/10.1002/jat.1660.

De Souza, L. M., Schlemmer, F., Alencar, P. M., Lopes, A. A. C., Passos, S. R., Xavier, G. R., Fernandes, M. F., Mendes Jr., I. C., & Reis, F. B. (2012). Metabolic and genetic structure of bacterial communities in cerrado soil under different management. Pesquisa Agropecuária Brasileira, 47(2), 269–276 (in Portuguese).

Decaēns T, Lavelle P, Jiménez JJ, Escobar G, Rippstein G, Schneidmadl J, Sanz JI, Hoyos P, Thomas RJ (2003) Impacto del uso de la tierra en la macrofauna del suelo de los llanos orientales de Colombia. In: Jiménez, J.J.J., Thomas, R.J. El Arado Natural: Las Comunidades de Macroinvertebrados del Suelo en las Sabanas Neotropicales de Colombia. CIAT (centro internacional de agricultura tropical), Cali, CO. 443p.

Drobne, D., Rupnik, M., Lapanje, A., Strus, J., & Janc, M. (2002). Isopod gut microflora parameters as endpoints in toxicity studies. Environmental Toxicology and Chemistry, 21(3), 604–609.

El-Moug, T., Furr, J. R., & Russell, A. D. (1985). Effect of chlorhexidine on a chlorhexidine-sensitive and a chlorhexidine-resistant strain of Providencia stuartii. Letters in Applied Microbiology, 1(2), 37–40. https://doi.org/10.1111/j.1472-765X.1985.tb01484.x.

Escarrone, A. L. V., Caldas, S. S., Primel, E. G., Martins, S. E., & Nery, L. E. M. (2016). Uptake, tissue distribution and depuration of triclosan in the guppy Poecilia vivipara acclimated to freshwater. Sci Total Environm, 560–561, 218–224. https://doi.org/10.1016/j.scitotenv.2016.04.039.

Flores, L., Díez, J. R., Larranaga, A., Pascoal, C., & Elosegi, A. (2013). Effects of retention site on breakdown of organic matter in a mountain stream. Freshwater Biology, 58, 1267–1278. https://doi.org/10.1111/fwb.12125.

Gryta, A., Frac, M., & Oszust, K. (2014). The application of the Biolog EcoPlate approach in ecotoxicological evaluation of dairy sewage sludge. Applied Biochemistry and Biotechnology, 174(2014), 1434–1443. https://doi.org/10.1007/s12010-014-1131-8.

Ghemari, C., Waterlot, C., Ayari, A., Leclercq, J., Douay, F., & Nasri-Ammar, K. (2017). Assessment of heavy metals in soil and terrestrial isopod Porcellio laevis in Tunisian industrialized areas. Environm Earth Sci, 76, 623.

Hannachi, A., Elarbaoui, S., Khazri, A., D'Agostino, F., Sellami, B., Beyrem, H., Gambi, C., Danovaro, R., & Mahmoudi, E. (2016). Effects of antifouling booster biocide Irgarol 1051 on the structure of free living nematodes: a laboratory experiment. Environm Sci Processes Impacts, 18(7), 832–843.

Hassal, M., & Rushton, S. P. (1982). The role of coprophagy in the feeding strategies of terrestrial isopods. Oecologia, 53, 374–381. https://doi.org/10.1007/BF00389017.

HSDB (2017) Avaible in: https://toxnet.nlm.nih.gov/cgibin/sis/search/r?dbs+hsdb:@term+@rn+@rel+55-56-1. Acessed in: 14 feb 20180.

Honscha, L. C., de Moura, R. R., Baisch, P. R. M., & Da Silva Júnior, F. M. R. (2019). Increasingly distant from Eden—a look at the soils of protected areas using ecotoxicological tests and chemical analysis. Water, Air, & Soil Pollution, 230(7), 162.

Li, L., Xu, Z., Wu, J., & Tian, G. (2010). Bioaccumulation of heavy metals in the earthworm Eisenia fetida in relation to bioavailable metal concentrations in pig manure. Bioresource Technology, 101, 3430–3436.

Lippo, J., Kousa, P., & Lammintausta, K. (2011). The relevance of chlorhexidine contact allergy. Contact Dermatitis, 64, 229–234. https://doi.org/10.1111/j.1600-0536.2010.01851.x.

Lu, M., Xu, K., & Chen, J. (2013). Effect of pyrene and cadmium on microbial activity and community structure in soil. Chemosphere, 91(4), 491–497.

Megharaj, M., Singleton, I., Kookana, R., & Naidu, R. (1999). Persistence and effects of fenamiphos on native algal populations and enzymatic activities in soil. Soil Biology and Biochemistry, 31, 1549–1553. https://doi.org/10.1016/S0038-0717(99)00078-4.

Noguera-Oviedo, K., & Aga, D. S. (2016). Lessons learned from more than two decades of research on emerging contaminants in the environment. Journal of Hazardous Materials, 316, 242–251.

Parelho, C., Rodrigues, A. S., Barreto, M. C., Ferreira, N. G. C., & Garcia, P. (2016). Assessing microbial activities in metal contaminated agricultural volcanic soils – an integrative approach. Ecotox Environ Safe, 129, 242–249. https://doi.org/10.1016/j.ecoenv.2016.03.019.

Pino-Otín, M. R., Muñiz, S., Val, J., & Navarro, E. (2017). Effects of 18 pharmaceuticals on the physiological diversity of edaphic microorganisms. Sci Total Environ, 595, 441–450. https://doi.org/10.1016/j.scitotenv.2017.04.00.

Quadros, A. F. (2010). Os isopódos terrestre são boas ferramentas para monitoras e restaurar áreas impactadas por metais pesados no Brasil? Oecol Aust, 14(2), 569–583. https://doi.org/10.4257/oeco.2=010.1402.13.

Ribeiro, S., Sousa, J. P., Nogueira, A. J., & Soares, A. M. (2001). Effect of endosulfan and parathion on energy reserves and physiological parameters of the terrestrial isopod Porcellio dilatus. Ecotoxi Environ Safe, 49(2), 131–138. https://doi.org/10.1006/eesa.2001.2045.

Silveira, L. S., Martins, R. T., Silveira, G. A., Grazul, R. M., Lobo, D. P., & Alves, R. G. (2013). System in southeastern Brazil. Journal of Insect Science, 13(20), 1–13. https://doi.org/10.1673/031.013.2001.

Szlávecz, K., & Polozsny, M. (1995). Coprophagy in isopods and diplopods: a case for indirect interaction. Acta Zoologica Fennica, 196, 124–128.

Tu, C. M. (1995). Effect of five insecticides on microbial and enzymatic activities in sandy soil. J Envir Sci Health, part B: pesticides, food contaminants, and agricultural wastes, 30(3), 289–306.

Ying, G. G., & Kookana, R. S. (2007). Triclosan in wastewaters and biosolids from Australian wastewater treatment plants. Envirom Int, 33(2), 199–205.

Zak, J. C., Wrillig, M. R., Moorhead, D. L., & Wildman, H. G. (1994). Functional diversity of microbial communities: a quantitave approach. Soil Biology and Biochemistry, 26(9), 1101–1108. https://doi.org/10.1016/0038-0717(94)90131-7.
Funding
This study was financed in part by the Coordenação de Aperfeiçoamento de Pessoal de Nível Superior—Brasil (CAPES)—Finance Code 001.
Ethics declarations
Conflict of Interest
The authors declare that there is no conflict of interest.
Ethical Approval
The study was carried out on invertebrate animals. In Brazil, there is no need for approval of this type of study in Ethics Committee.
Additional information
Publisher's Note
Springer Nature remains neutral with regard to jurisdictional claims in published maps and institutional affiliations.
About this article
Cite this article
Volcão, L.M., Fraga, L.S., de Lima Brum, R. et al. Toxicity of Biocide Formulations in the Soil to the Gut Community in Balloniscus selowii Brandt, 1983 (Crustacea: Isopoda: Oniscidea). Water Air Soil Pollut 231, 306 (2020). https://doi.org/10.1007/s11270-020-04689-6
Received:

Accepted:

Published:
Keywords
Terrestrial ecotoxicology

Soil biodiversity

Carbon assimilation

Biolog EcoPlates

Chlorhexidine

Triclosan