Abstract
Embankment rockfill dams are the most common dam construction types used in the world today. One third of all embankment dam failures are caused by dam slope instability. The dam is stable when the slopes are stable. Slope safety of the dam is assessed through pore and total pressure data analysis registered on pressure measurement cells installed in the dam. During the service life of a dam, one or more cells may malfunction after years of operation. Cell replacement implies economically unjustified high costs and is usually technically impossible and high risk. In this paper, the problem of a malfunctioning cell with a small available dataset is analysed. A new method for pore pressure prediction on malfunctioning cells has been developed using several successive artificial neural networks (ANNs) to obtain high accuracy of the predicted values. The results show that these predicted values are more precise than values we could have obtained using only one artificial neural network for prediction.
Access options
Buy single article
Instant access to the full article PDF.
US$ 39.95
Tax calculation will be finalised during checkout.
Subscribe to journal
Immediate online access to all issues from 2019. Subscription will auto renew annually.
US$ 79
Tax calculation will be finalised during checkout.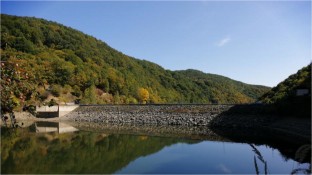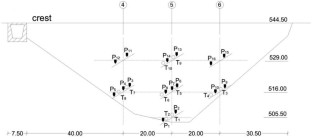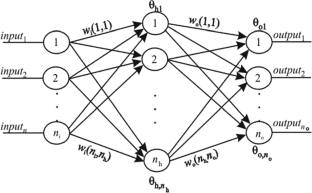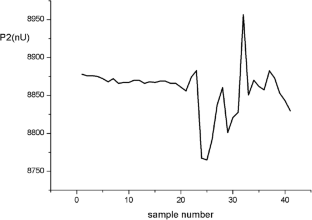 Data Availability
All data generated or analysed during this study are included in this published article.
References
Alberro J, Moreno E (1982) Interaction phenomena in the Chicoasén dam: construction and first filling. In Fourteenth ICOLD Congress 1Q52-R10: 183-202

Anaraki MV, Farzin S, Mousavi SF, Karami H (2020) Uncertainty analysis of climate change impacts on flood frequency by using hybrid machine learning methods. Water Resour Manag. https://doi.org/10.1007/s11269-020-02719-w

Ardeshirtanha K, Sharafati A (2020) Assessment of water supply dam failure risk: development of new stochastic failure modes and effects analysis. Water Resour Manag 34:1827–1841. https://doi.org/10.1007/s11269-020-02535-2

Bauduin C, Molenkamp F (1991) Evaluation of failure of embankment during heightening. Géotechnique. 41(3):423–435. https://doi.org/10.1680/geot.1991.41.3.423

Baum EB, Haussler D (1989) What size net gives valid generalization. Neural Computing 1:151–160

Belhaddad H, Benkadja R (2015) Comportement des pressions interstitielles et leur variabilité temporelle dans le noyau argileux du barrage Ain Zada (Est Algérien). Bull Eng Geol Environ 75(4):1541–1553. https://doi.org/10.1007/s10064-015-0826-6

Bishop AW (1955) The use of the slip circle in the stability analysis of slopes. Géotechnique 5(1):7–17. https://doi.org/10.1680/geot.1955.5.1.7

Chen RH, Chameau JL (1983) Three-dimensional limit equilibrium analysis of slopes. Géotechnique. 33(1):31–40. https://doi.org/10.1680/geot.1983.33.1.31

Chen Y, Hu R, Lu W, Li D, Zhou C (2011) Modeling coupled processes of non-steady seepage flow and non-linear deformation for a concrete-faced rockfill dam. Comput Struct 89(13–14):1333–1351. https://doi.org/10.1016/j.compstruc.2011.03.012

Comerford JB, Blockley DI (1993) Managing safety and hazard through dependability. Struct Saf 12(1):21–33. https://doi.org/10.1016/j.compstruc.2011.03.012

Druzeta S et al (2009) Usporedba numerickih modela strujanja na primjeru rusenja brane. Gradjevinar. 61(05):429–434

Fadaee M, Zounemat-Kermani M (2020) Experimental study and numerical simulation of dam reservoir sediment release. Water 46(4):656–664. https://doi.org/10.17159/wsa/2020.v46.i4.9079

Fattah MY et al (2017) Flow and stability of Al-Wand earth dam during rapid drawdown of water in reservoir. Acta Montan Slovaca 22(1):43–57

Gens A, Alonso EE (2006) Aznalcóllar dam failure, part 2: stability conditions and failure mechanism. Géotechnique. 56(3):185–201. https://doi.org/10.1680/geot.2006.56.3.185

Haykin SS (1999) Neural networks. Prentice Hall

Hnang T (1996) Stability analysis of an earth dam under steady state seepage. Comput Struct 58(6):1075–1082. https://doi.org/10.1016/0045-7949(95)00230-8

Jun Y, Si-hong L, Ying-qi W, Song-li J, Hong C, Jian-zhang X (2019) A new numerical method for the analysis of monolithic seepage problems with complex drainage systems in a groundwater recharge area for a hydropower station in China. Geologia Croatica 72:47–56. https://doi.org/10.4154/gc.2019.24

Knight DJ (1986) Geotechnical properties and behaviour of the Monasavu halloysite clay. Fiji Clay Minerals 21(3):311–332. https://doi.org/10.1180/claymin.1986.021.3.05

Masters T (1993) Practical neural network recipes in C++. Amsterdam University Press

Noorbeh P, Roozbahani A, Kardan Moghaddam H (2020) Annual and monthly dam inflow prediction using Bayesian networks. Water Resour Manag 34:2933–2295. https://doi.org/10.1007/s11269-020-02591-8

Papadrakakis M, Papadopoulos V, Lagaros ND, Oliver J, Huespe AE, Sánchez P (2008) Vulnerability analysis of large concrete dams using the continuum strong discontinuity approach and neural networks. Struct Saf 30(3):217–235. https://doi.org/10.1016/j.strusafe.2006.11.005

Parisouj P, Mohebzadeh H, Lee T (2020) Employing machine learning algorithms for Streamflow prediction: a case study of four river basins with different climatic zones in the United States. Water Resour Manag 34:4113–4131. https://doi.org/10.1007/s11269-020-02659-5

Pejovic R, Mrdak R (2016) Seismic analysis of the high arch concrete dam of the water power plant "Piva". Tehnicki vjesnik. 23(4):1067-1072. https://doi.org/10.17559/TV-20150512132717

Peng H, Li F, Zhang S, Chen B (2017) A novel fast model predictive control with actuator saturation for large-scale structures. Comput Struct 187:35–49. https://doi.org/10.1016/j.compstruc.2017.03.014

Rankovic V, Grujovic N, Divac D, Milivojevic N (2014) Development of support vector regression identification model for prediction of dam structural behavior. Struct Saf 48:33–39. https://doi.org/10.1016/j.strusafe.2014.02.004

Ridley A, McGinnity B, Vaughan P (2004) Role of pore water pressures in embankment stability. Proceedings of the Institution of Civil Engineers - Geotechnical Engineering 157(4):193–198. https://doi.org/10.1680/geng.2004.157.4.193

Salazar F, Toledo MA, Oñate E, Morán R (2015) An empirical comparison of machine learning techniques for dam behaviour modeling. Struct Saf 56:9–17. https://doi.org/10.1016/j.strusafe.2015.05.001

Saleh M, Edwards L (2015) Evaluation of soil and fluid structure interaction in blast modelling of the flying plate test. Comput Struct 151:96–114. https://doi.org/10.1016/j.compstruc.2015.01.010

Salmasi F et al (2020) Upstream cutoff and downstream filters to control of seepage in dams. Water Resour Manage 34:4271–4288. https://doi.org/10.1007/s11269-020-02674-6

Scarselli F, Chung Tsoi A (1998) Universal approximation using feedforward neural networks: a survey of some existing methods, and some new results. Neural Netw 11(1):15–37. https://doi.org/10.1016/S0893-6080(97)00097-X

Sherard JL, Dunnigan LP (1985) Filters and leakage control in embankment dams. Seepage and leakage from dams and impoundment. ASCE:1–30

Stojanovic B, Milivojevic M, Ivanovic M, Milivojevic N, Divac D (2013) Adaptive system for dam behavior modeling based on linear regression and genetic algorithms. Adv Eng Softw 65:182–190. https://doi.org/10.1016/j.advengsoft.2013.06.019

Zhang H et al (2018) Research on method of dynamic stability analysis for slopes of earth and Rockfill dam basing on the P-Z model. Tehnicki vjesnik 25(1):230–235. https://doi.org/10.17559/TV-20170322074315

Zografski Z (1991) A novel machine learning algorithm and its use in the modelling and simulation of dynamical systems Proceedings, Advanced Computer Technology, Reliable Systems and Applications. 860–864. https://doi.org/10.1109/CMPEUR.1991.257504
Ethics declarations
Ethical Approval
This article does not contain any studies with human participants or animals performed by any of the authors.
Consent to Participate
Not applicable.
Consent to Publish
Not applicable.
Competing Interests
The authors declare that they have no competing interests.
Additional information
Publisher's Note
Springer Nature remains neutral with regard to jurisdictional claims in published maps and institutional affiliations.
About this article
Cite this article
Markovic, M., Brankovic, J.M., Stosovic, M.A. et al. A New Method for Pore Pressure Prediction on Malfunctioning Cells Using Artificial Neural Networks. Water Resour Manage 35, 979–992 (2021). https://doi.org/10.1007/s11269-021-02763-0
Received:

Accepted:

Published:

Issue Date:
Keywords
Dam stability

Embankment dam

Pore pressure

ANN