Abstract
Agricultural water rights trading, involving the sale of saved irrigation water to users experiencing a water shortage, has become an efficient means of improving water use efficiency and optimizing water management. However, after the amount of irrigation water is reduced, it is prone to externalities, resulting in a decline in the ecosystem service functions of water sellers and economic, social, ecological, and environmental losses. Sufficient compensation for such losses is the key to the sustainable development of water markets. Based on the emergy theory of ecological economics and externality theory, the eco-economic losses of water sellers caused by agricultural water rights trading are analysed. An innovative emergy quantification method that includes economic, social, and eco-environmental compensation is proposed. Additionally, eco-economic compensation for water rights trading in Dongyang-Yiwu, China, is quantified as a case study. The results show that eco-economic compensation has generally risen continuously, from 94 million Chinese Yuan (¥) in 2013 to ¥114 million in 2017. Taking 2005 as the base year, this study finds that the present value of eco-economic compensation is ¥755 million, while the actual trading price is only ¥256 million. These results indicate that the actual price does not fully reflect the economic, social, and eco-environmental losses caused by trading. The method proposed in this study can provide a reference for the reasonable quantification of the compensation of water sellers.
Access options
Buy single article
Instant access to the full article PDF.
US$ 39.95
Tax calculation will be finalised during checkout.
Subscribe to journal
Immediate online access to all issues from 2019. Subscription will auto renew annually.
US$ 79
Tax calculation will be finalised during checkout.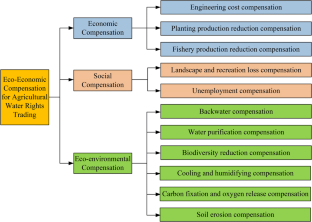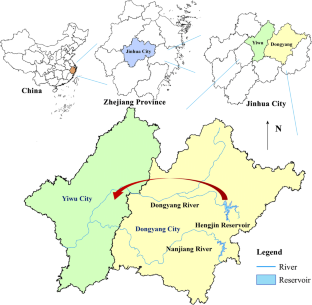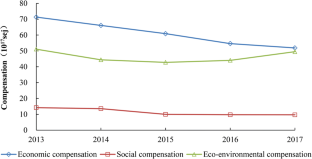 Data availability
All data and materials support our published claims and comply with field standards.
References
Alarcón J, Juana L (2016) The water markets as effective tools of managing water shortages in an irrigation district. Water Resour Manag 30:2611–2625

Bekchanov M, Bhaduri A, Ringler C (2015) Potential gains from water rights trading in the Aral Sea Basin. Agric Water Manag 152:41–56

Bourgeon JM, Easter KW, Smith RBW (2008) Water markets and third-party effects. Am J Agr Econ 90(4):902–917

Brown MT, Ulgiati S (2004) Energy quality, emergy, and transformity: H.T. Odum's contributions to quantifying and understanding systems. Ecol Model 178(1–2):201–213

Cao LD, Li JL, Ye MY et al (2018) Changes of ecosystem service value in a coastal zone of Zhejiang Province, China, during Rapid Urbanization. Int J Environ Res Public Health 15(7):1301

Chen J, Dai XP, Chen X et al (2011) Calculation of compensation amount for agricultural water saving based on improved Shapley method. J Hydraul Eng 42(06):750–756

Chong H, Sunding D (2006) Water markets and trading. Annu Rev Environ Resour 31:239–264

Colby BG (1990) Transactions costs and efficiency in western water allocation. Am J Agr Econ 72(5):1184–1192

Dai XP, Chen J, Zhang XH et al (2009) Evaluation of agricultural water rights transfer impact based on the irrigation multi-functionality. Water Sav Irrig 10:34–37

Dai XP, Chen J, Chu LL et al (2010) Study on Comprehensive Method for Calculating Compensation Amount of Agricultural Water Rights Transfer. Water Sav Irrig 10:66–71

Delorit JD, Block PJ (2018) Promoting competitive water resource use efficiency at the water-market scale: An intercooperative demand equilibrium-based approach to water trading. Water Resour Res 54:5394–5421

Di DY, Wu ZN, Wang HL et al (2020) A double-layer dynamic differential game model for the optimal trading quantity of water and price setting in water rights transactions. Water Resour Manage 34:245–262

Fu Q, Zhao K, Liu D et al (2016) The Application of a Water Rights Trading Model Based on two-Stage Interval-Parameter Stochastic Programming. Water Resour Manage 30:2227–2243

Hao SR, Cui PC, Zhang ZY et al (2015) Rice water-saving irrigation quota and suitable irrigation mode in Nanjing. Water Resour Prot 31(06):150–153

Herendeen RA (2004) Energy analysis and EMERGY analysis- a comparison. Ecol Model 178(1–2):227–237

Hung MF, Shaw D, Chie BT (2014) Water trading: locational water rights, economic efficiency, and third-party effect. Water 6(3):723–744

JSB (Jinhua Statistical Bureau) (2013–2017) The statistical yearbook of Jinhua City. http://tjj.jinhua.gov.cn/. Accessed 31 Oct 2013, 12 Nov 2014, 05 Nov 2015, 17 Nov 2016, and 16 Nov 2017

JWCB (Jinhua Water Conservancy Bureau) (2013–2017) The water resources bulletin of Jinhua City. http://slj.jinhua.gov.cn/. Accessed 14 July 2014, 29 June 2015, 17 Aug 2016, 19 June 2017, 29 Aug 2018

Kuriqi A, Pinheiro AN, Sordo-Ward A, Garrote L (2019) Influence of hydrologically based environmental flow methods on flow alteration and energy production in a run-of-river hydropower plant. J Clean Prod 232:1028–1042

Lan SF, Qin P, Lu HF (2002) Emergy analysis of ecological-economic system. Chemical Industry Press, Beijing

Leonard B, Costello C, Libecap GD (2019) Expanding water markets in the western United States: barriers and lessons from other natural resource markets. Rev Env Econ Policy 13(1):43–61

Li M (2019) Study on land use landscape pattern change and ecosystem service value accounting in Guizhou Province. Dissertation, Nanjing Forestry University

Lv CM, Wu ZN (2009) Emergy analysis of regional water ecological-economic system. Ecol Eng 35(5):703–710

Ma XQ, Han JM (2011) Identification of the third-party effects in the process of water property rights transaction. China Popul Resour Environ 21(12):85–91

Molinos-Senante M, Mocholí-Arce M, Sala-Garrido R (2016) Estimating the environmental and resource costs of leakage in water distribution systems: A shadow price approach. Sci Total Environ 568:180–188

MWRPRC (Ministry of Water Resources of the People's Republic of China) (2013) Regulation for economic evaluation of water conservancy construction projects (SL72-2013). China Water & Power Press, Beijing

Odum HT (1996) Environment accounting: emergy and environment decision making. Wiley, New York

Poddar R, Qureshi ME, Shi TA (2014) Comparison of water policies for sustainable irrigation management: the case of India and Australia. Water Resour Manag 28:1079–1094

Qureshi ME, Schwabe K, Connor J (2010) Environmental water incentive policy and return flows. Water Resour Res 46(4):W04517

SEPAC (State Environment Protection Administration of China) (2002) Environmental quality standards for surface water (GB3838-2002). http://www.mee.gov.cn/. Accessed 28 Apr 2002

Shah SM, Liu GY, Yang Q et al (2019) Emergy-based valuation of agriculture ecosystem services and dis-services. J Clean Prod 239:118019

Skurray JH, Roberts EJ, Pannell DJ (2012) Hydrological challenges to groundwater trading: Lessons from south-west Western Australia. J Hydrol 412:256–268

Sun JF (2008) Evaluation of ecosystem service value of wuyishan nature reserve based on the emergy analysis. Dissertation, Fujian Agriculture & Forestry University

Takahashi T, Aizaki H, Ge YC et al (2013) Agricultural water trade under farmland fragmentation: A simulation analysis of an irrigation district in northwestern China. Agric Water Manage 122:63–66

Wan Z (2019) Study on comprehensive benefits and ecological impact assessment of water right conversion based on sustainable utilization of water resources. Dissertation, Inner Mongolia Agricultural University

Wang YB, Liu D, Cao XC et al (2017) Agricultural water rights trading and virtual water export compensation coupling model: A case study of an irrigation district in China. Agric Water Manag 180:99–106

Womble P, Hanemann WM (2020) Legal change and water market transaction costs in Colorado. Water Resour Res 56:WR025508

Xu L, Ma JJ (2016) Effect of CCS technology for CO2 leakage on biomass of C4 crops. Bull Soil Water Conserv 23(05):350–353

Xu XH, Yao L, Huang SH (2017) Analysis on the utilization of irrigation backwater in Dongyang City. Zhejiang Hydrotech 45(04):24–25 + 36

Xu ZW, Yao LM, Zhou XY, Moudi M et al (2019) Optimal irrigation for sustainable development considering water rights transaction: A Stackelberg-Nash-Cournot equilibrium model. J Hydrol 575:628–637

Yan HF, Zhang C, Hiroki O, Wang GQ (2014) Calculations of crop evapotranspiration of rice and soil evaporation beneath rice canopy based on water surface evaporation of canopy top. J Irrig Drain 33(Z1):11–15

Yin XA, Yang ZF, Petts GE (2011) Reservoir operating rules to sustain environmental flows in regulated rivers. Water Resour Res 47:W08509

Yu CF, Luo ZH, Liu DD (2009) Eco-environment water requirements in Qiantang River Basin of Zhejiang Province. Bull Soil Water Conserv 29(06):34–40

Zhang SC (2014) Rural land transformation, resources integration, and land value changes. Dissertation, Southwest University

Zhao LG, Hu CS (2007) The analysis of the economic impact of water right exchange in Dongyang-Yiwu, Zhejiang. Issue Agricu Econ 04:47–54 + 111

Zhao CS, Yang Y, Yang ST et al (2020) Effects of spatial variation in water quality and hydrological factors on environmental flows. Sci Total Environ 728:138695

Zhong SZ, Geng Y, Huang BB et al (2020) Quantitative assessment of eco-compensation standard from the perspective of ecosystem services: A case study of Erhai in China. J Clean Prod 263:121530
Funding
This research was funded by the National Natural Science Foundation of China (No.NSCF-51,909,240 and No.NSCF-52,079,125).
Ethics declarations
Conflict of Interest
None. 
Ethical Approval
Informed consent. 
Consent to Participate
Informed consent. 
Consent to Publish
Informed consent.
Additional information
Publisher's Note
Springer Nature remains neutral with regard to jurisdictional claims in published maps and institutional affiliations.
About this article
Cite this article
Lv, C., Li, H., Ling, M. et al. An Innovative Emergy Quantification Method for Eco-economic Compensation for Agricultural Water Rights Trading. Water Resour Manage 35, 775–792 (2021). https://doi.org/10.1007/s11269-020-02717-y
Received:

Accepted:

Published:

Issue Date:
Keywords
Water rights trading

Ecological economic compensation

Emergy

Externality