Abstract
Plants often exhibit positive responses to multiple nutrient additions, but generalities about the life form and traits of the most responsive species are few. Findings from long-term experiments in dry meadow alpine tundra in Colorado, USA, were used here to examine univariate and multivariate analyses of plant and plant trait responses. We found transient responses for community richness–biomass relationships, but a consistent increase in forb dominance in nitrogen (N) and phosphorus (P) addition plots. The response seen in the N + P plots was not affected by additions of micronutrients or potassium. Multivariate analyses corroborate transient responses in community shifts over shorter-time scales, and directional shifts in N + P over two decades. Using species-level aboveground trait data when available, we found N + P may favor species with resource-acquisitive traits, regardless of their lifeform, as well as relatively tall grasses, regardless of their resource strategy. In the absence of N and P limitation but with the environmental constraints found in dry alpine meadows, plant richness and community structure continued to exhibit transient states for decadal time frames.
This is a preview of subscription content, log in to check access.
Access options
Buy single article
Instant access to the full article PDF.
US$ 39.95
Price includes VAT for USA
Subscribe to journal
Immediate online access to all issues from 2019. Subscription will auto renew annually.
US$ 199
This is the net price. Taxes to be calculated in checkout.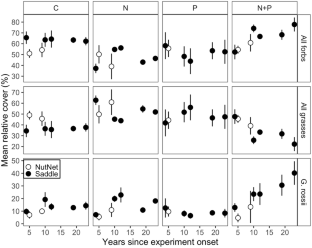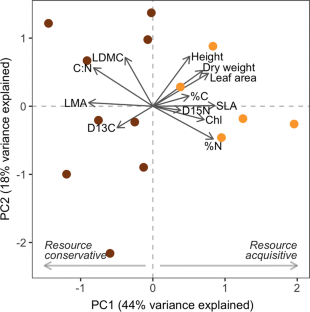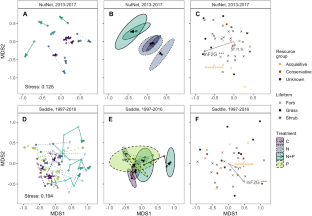 References
Adler PB, Seabloom EW, Borer ET, Hillebrand H, Hautier Y, Hector A et al (2011) Productivity is a poor predictor of plant species richness. Science 333:1750–1753

Avolio M, Koerner SE, La Pierre KJ, Wilcox KR, Wilson GW, SmithMD CollinsSL (2014) Changes in plant community composition, not diversity, during a decade of nitrogen and phosphorus additions drive above-ground productivity in a tallgrass prairie. J Ecol 102:1649–1660

Billings WD, Mooney HA (1968) The ecology of arctic and alpine plants. Biol Rev 43:481–529

Bowman WD, Steltzer HM (1998) Positive feedbacks to anthropogenic nitrogen deposition in Rocky Mountain alpine tundra. Ambio 27:514–517

Bowman WD, Seastedt TR (2001) Structure and function of an alpine ecosystem: Niwot Ridge, Colorado. Oxford Univ Press, Oxford

Bowman WD, Ayyad A, Bueno de Mesquita CP, Fierer N, Potter TS, Sternagel S (2018) Limited ecosystem recovery from simulated chronic nitrogen deposition. Ecol Appl 28:1762–1772

Bueno de Mesquita CP, Tillmann LS, Bernard CD, Rosemond KC, Molotch NP, Suding KN (2018) Topographic heterogeneity explains patterns of vegetation response to climate change (1972–2008) across a mountain landscape, Niwot Ridge, Colorado. Arctic Antarctic Alpine Res 50:e1504492. https://doi.org/10.1080/15230430.2018.1504492

Burns SF (1980) Alpine soil distribution and development, Indian Peaks, Colorado Front Range. Dissertation, University of Colorado, Boulder

Chambers JC (1995) Disturbance, life history strategies, and seed fates in alpine herbfield communities. Am J Bot 82:421–433

Diggle PK (2002) A developmental morphologist's perspective on plasticity. Evol Ecol 16:267–283

Fay PA, Prober SM, Harpole WS, Knops JM et al (2015) Grassland productivity limited by multiple nutrients. Nat Plants 1:15080

Galen C (1990) Limits to the distributions of alpine tundra plants: herbivores and the alpine skypilot, Polemonium viscosum. Oikos 59:355–358

Galen C, Stanton ML (1993) Short-term responses of alpine buttercups to experimental manipulations of growing season length. Ecology 74:1052–1058

Gasarch EI, Seastedt TR (2015) Plant community response to nitrogen and phosphorus enrichment varies across an alpine tundra moisture gradient. Plant Ecol Divers 8:739–749

Gough L, Osenberg CW, Gross KL, Collins SL (2000) Fertilization effects on species density and primary productivity in herbaceous plant communities. Oikos 89:428–439

Körner C (2003) Alpine plant life: functional plant ecology of high mountain ecosystems. Springer, Berlin

Li W, Cheng JM, Yu KL, Epstein HE, Guo L, Jing GH, Juing GH, Zhao J, Du GZ (2015) Plant functional diversity can be independent of species diversity: observations based on the impact of 4-yrs of nitrogen and phosphorus additions in an alpine meadow. PLoS ONE 10:e0136040

Liu Y, Shi G, Mao L, Cheng G, Jiang S, Ma X, An L, Du G, Johnson NC, Feng H (2012) Direct and indirect influences of 8 yr of nitrogen and phosphorus fertilization on Glomeromycota in an alpine meadow ecosystem. New Phytol 194:523–535

Madan NJ, Deacon LJ, Robinson CH (2007) Greater nitrogen and/or phosphorus availability increase plant species' cover and diversity at a High Arctic polar semidesert. Polar Biol 30:559–570

Meier CL, Bowman WD (2008) Links between plant litter chemistry, species diversity, and below-ground ecosystem function. Proc Nat Acad Sci USA 105:19780–19785

Niu K, Choler P, de Bello F, Mirotchnick ND, Su S (2014) Fertilization decreases species diversity but increases functional diversity: a three-year experiment in a Tibetan alpine meadow. Agri Ecosyst Environ 182:106–112

NutNet (2019) The Nutrient Network. https://www.nutnet.umn.edu/. Accessed 14 Nov 2019

Oksanen JF, Guillaume B, Friendly M, Kindt R, Legendre P, McGlinn D, Minchin PR, O'Hara RB, Simpson GL, Solymos P, Stevens MHH, Szoecs E, Wagner H (2019). vegan: community ecology package. R package version 2.5–5. https://CRAN.R-project.org/package=vegan

Pillai P, Gouhier TC (2019) Not even wrong: The spurious measurement of biodiversity's effects on ecosystem functioning. Ecology 100:e02645

R Core Team (2019) R: a language and environment for statistical computing. R Foundation for Statistical Computing, Vienna

Reich PB (2014) The world-wide 'fast–slow'plant economics spectrum: a traits manifesto. J Ecol 102:275–301

Ren Z, Li Q, Chu C, Zhao L, Zhang J, Ai D, Wang G (2009) Effects of resource additions on species richness and ANPP in an alpine meadow community. J Plant Ecol 3:25–31

Roberts J (2018) Effects of erosion matting and rock cover on restoration of alpine tundra. Thesis, Univ. Colorado, Boulder

SAS (2019) Version 9.4 https://www.sas.com/en_us/software/sas9.html. Accessed 10 April 2019

Seastedt TR, Vaccaro L (2001) Plant species richness, productivity, and nitrogen and phosphorus limitations across a snowpack gradient in alpine tundra, Colorado, USA. Arctic Antarctic Alpine Res 33:100–106

Seastedt TR, White CT, Gasarch EI, Smith JG. (2019) Plant species composition and aboveground biomass data for Saddle snowfence, 1996—ongoing. Environmental Data Initiative. Accessed 29 Nov 2019

Sherrod SK, Seastedt TR, Walker MD (2005) Northern pocket gopher (Thomomys talpoides) control of alpine plant community structure. Arctic Antarctic Alpine Res 37:585–590

Soons MB, Hefting MM, Dorland E, Lamers LP, Versteeg C, Bobbink R (2017) Nitrogen effects on plant species richness in herbaceous communities are more widespread and stronger than those of phosphorus. Biol Conserv 212:390–397

Spasojevic MJ, Weber S (2018) Niwot plant functional traits. Environmental Data Initiative. Accessed 14 Nov 2019

Spasojevic MJ, Suding KN (2012) Inferring community assembly mechanisms from functional diversity patterns: the importance of multiple assembly processes. J Ecol 100:652–661

Spasojevic MJ, Bowman WD, Humphries HC, Seastedt TR, Suding KN (2013) Changes in alpine vegetation over 21 years: are patterns across a heterogeneous landscape consistent with predictions? Ecosphere 4:1–18. https://doi.org/10.1890/ES13-00133.1

Stokstad E (2011) Open-source ecology takes root across the world. Science 334:308–309

Suding KN, Collins SL, Gough L, Clark C, Cleland EE, Gross KL, Michunas DG, Pennings S (2005) Functional-and abundance-based mechanisms explain diversity loss due to N fertilization. Proc Nat Acad Sci USA 102:4387–4392

Theodose TA, Bowman WD (1997) Nutrient availability, plant abundance, and species diversity in two alpine tundra communities. Ecology 78:1861–1872

Turner PL (2002) Effects of augmented snow on phenology, reproduction, community structure and spatial distribution of alpine plants. Dissertation, University Colorado Boulder

USDA, NRCS. 2019. The PLANTS Database (https://plants.usda.gov, 30 November 2019). National Plant Data Team, Greensboro, NC 27401–4901 USA.

Walker DA, Halfpenny JC, Walke MD, Wessman CA (1993) Long-term studies of snow-vegetation interactions. Bioscience 43:287–301

Walker MD, Walker DA, Theodose TA, Weber PJ (2001) The vegetation hierarchical species-environment. In: Bowman WD, Seastedt TR (eds) Structure and function of an alpine ecosystem: Niwot Ridge, Colorado. Oxford University Press, Oxford, pp 99–127

Wielgolaski FE (1975) Primary productivity of alpine meadow communities. In: Wielgolaski FE (ed) Fennoscandian tundra ecosystems. Springer, Berlin, pp 121–128

Williams MW, Seastedt TR, Bowman WD, McKnight DM, Suding KN (2015) An overview of research from a high elevation landscape: the Niwot Ridge, Colorado Long Term Ecological Research programme. Plant Ecol Divers 8:597–605

Winkler DE, Chapin KJ, Kueppers LM (2016) Soil moisture mediates alpine life form and community productivity responses to warming. Ecology 97:1553–1563
Acknowledgements
Research at Niwot Ridge has been funded by NSF to the Long-Term Ecological Research Program, most recently by grant DEB 1637686. We thank Drs. William Bowman, Kacheng Niu, and Katharine Suding for reviewing earlier versions of this work, and the data publication of plant traits by Marko Spasojevic and Soren Weber greatly facilitated our effort. All data used in this study are archived at the Environmental Data Initiative (https://portal.edirepository.org/) under package numbers knb-lter-nwt.138, knb-lter-nwt.418, and knb-lter-nwt.500. We thank Sarah Elmendorf and Anna Wainright for their guidance and contribution in data archiving and several anonymous reviewers for suggesting improvements in the manuscript.
Additional information
Publisher's Note
Springer Nature remains neutral with regard to jurisdictional claims in published maps and institutional affiliations.
Communicated by Philip Fay.
Electronic supplementary material
Below is the link to the electronic supplementary material.
About this article
Cite this article
Seastedt, T.R., White, C.T., Tucker, C. et al. Decadal dynamics of dry alpine meadows under nitrogen and phosphorus additions. Plant Ecol 221, 647–658 (2020). https://doi.org/10.1007/s11258-020-01039-8
Received:

Accepted:

Published:

Issue Date:
Keywords
Alpine

Community dynamics

Graminoids

Forbs

Nitrogen

Phosphorus