Abstract
Riparian ecosystems are among the most degraded worldwide as they are subject to a range of human-mediated disturbances at different scales. As riparian vegetation plays a key role in maintaining waterway and landscape health, restoration often focuses on promoting riparian vegetation re-establishment. The role of below-ground processes and agents in the process of revegetation is often overlooked even though agents like mycorrhizal fungi enhance seedling establishment and plant growth. In this study we aimed to understand whether colonisation by local mycorrhizal fungi can be advantageous to the early phases of plant establishment during revegetation, whether revegetation technique influences the extent of this potential colonisation, and has the potential to enhance revegetation outcomes. We examined mycorrhizal colonisation rate and species composition of root fungal communities in direct seeded and tube-stock plants and compared them with local native vegetation in a retarding basin in Victoria, Australia, then modelled the relationship between root fungal community attributes and plant size. Results indicate that revegetation technique influenced the colonisation rate, diversity and composition of root fungal communities. Moreover, greater fungal diversity and greater similarity of fungal communities to the mycobiota of native vegetation were positively related with growth of seeded plants but showed negative or little relationship to size of tube-stock plants. High colonisation rates of plant species studied, and relationships between fungal community characteristics and plant growth of seeded plants provide the first evidence of the potential importance of mycorrhizal associations for these plant species in a revegetation context.
Access options
Buy single article
Instant access to the full article PDF.
US$ 39.95
Tax calculation will be finalised during checkout.
Subscribe to journal
Immediate online access to all issues from 2019. Subscription will auto renew annually.
US$ 119
Tax calculation will be finalised during checkout.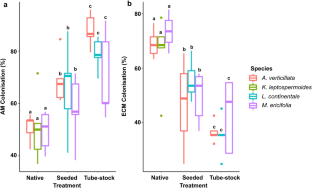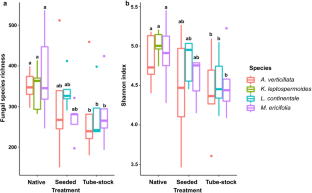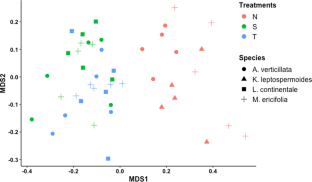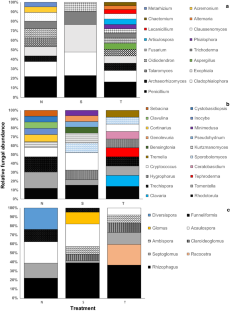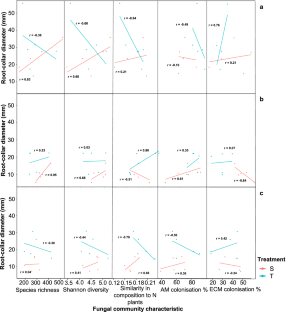 References
Adjoud D, Plenchette C, Halli-Hargas R, Lapeyrie F (1996) Response of 11 eucalyptus species to inoculation with three arbuscular mycorrhizal fungi. Mycorrhiza 6:129–135. https://doi.org/10.1007/s005720050117

Atondo-Bueno EJ, Bonilla-Moheno M, López-Barrera F (2018) Cost-efficiency analysis of seedling introduction vs. direct seeding of Oreomunnea mexicana for secondary forest enrichment. For Ecol Manage 409:399–406. https://doi.org/10.1016/j.foreco.2017.11.028

Azam G, Grant CD, Nuberg IK, Murray RS, Misra RK (2012) Establishing woody perennials on hostile soils in arid and semi-arid regions—A review. Plant Soil 360:55–76. https://doi.org/10.1007/s11104-012-1215-6

Barrett-Lennard EG, Norman HC, Dixon K (2016) Improving saltland revegetation through understanding the "recruitment niche": potential lessons for ecological restoration in extreme environments. Restor Ecol 24:S91–S97. https://doi.org/10.1111/rec.12345

Berruti A, Desirò A, Visentin S, Zecca O, Bonfante P (2017) ITS fungal barcoding primers vs 18S AMF-specific primers reveal similar AMF-based diversity patterns in roots and soils of three mountain vineyards. Environ Microbiol Rep 9:658–667

Brooks SS, Lake PS (2007) River restoration in Victoria, Australia: change is in the wind, and none too soon. Restor Ecol 15:584–591. https://doi.org/10.1111/j.1526-100X.2007.00253.x

Brundrett M, Bougher N, Dell B, Grove T, Malajczuk N (1996) Working with mycorrhizas in forestry and agriculture. Australian Centre for International Agricultural Research, Canberra

Capon SJ, Chambers LE, Mac Nally R, Naiman RJ, Davies P, Marshall N, Pittock J, Reid M, Capon T, Douglas M, Catford J, Baldwin DS, Stewardson M, Roberts J, Parsons M, Williams SE (2013) Riparian ecosystems in the 21st century: hotspots for climate change adaptation? Ecosystems 16:359–381. https://doi.org/10.1007/s10021-013-9656-1

Chen YL, Brundrett M, Dell B (2000) Effects of ectomycorrhizas and vesicular–arbuscular mycorrhizas, alone or in competition, on root colonization and growth of Eucalyptus globulus and E. urophylla. New Phytol 146:545–556. https://doi.org/10.1046/j.1469-8137.2000.00663.x

Chilvers GA, Gust LW (1982) Comparisons between the growth rates of mycorrhizas, uninfected roots and a mycorrhizal fungus of Eucalyptus st-johnii R.T Bak. New Phytol 91:453–466. https://doi.org/10.1111/j.1469-8137.1982.tb03324.x

Chilvers GA, Lapeyrie F, Horan DP (1987) Ectomycorrhizal vs endomycorrhizal fungi within the same root system. New Phytol 107:441–448

Churchland C, Grayston SJ (2014) Specificity of plant-microbe interactions in the tree mycorrhizosphere biome and consequences for soil C cycling. Front Microbiol 5:1–20. https://doi.org/10.3389/fmicb.2014.00261

Cortese AM, Bunn RA (2017) Availability and function of arbuscular mycorrhizal and ectomycorrhizal fungi during revegetation of dewatered reservoirs left after dam removal. Restor Ecol 25:63–71. https://doi.org/10.1111/rec.12406

de Souza EL, Antoniolli ZI, Machado RG, Eckhardt DP, Dahmer SDFB (2014) Eucalyptus grandis Hill ex maiden inoculated with Pisolithus microcarpus (UFSC-PT116) in land subject to the sandy process in Southern Brazil. Braz J Microbiol 45:1145–1151. https://doi.org/10.1590/S1517-83822013005000042

Ede F (2018) Counting the cost of revegetation: is direct seeding cheaper than planting tube-stock? In: Smith R (ed) In: Proceedings of restore, regenerate, revegetate: a Conference on restoring Ecological Processes, Ecosystems and Landscapes in a changing world. Armidale, New South Wales, Australia

Egerton-Warburton L, Allen MF (2001) Endo- and ectomycorrhizas in Quercus agrifolia Nee. (Fagaceae): patterns of root colonization and effects on seedling growth. Mycorrhiza 11:283–290. https://doi.org/10.1007/s005720100134

Gellie NJC, Breed MF, Thurgate N, Kennedy SA, Lowe AJ (2016) Local maladaptation in a foundation tree species: implications for restoration. Biol Conserv 203:226–232. https://doi.org/10.1016/j.biocon.2016.08.036

Giller PS (2005) River restoration: seeking ecological standards Editor's introduction. J Appl Ecol 42:201–207. https://doi.org/10.1111/j.1365-2664.2005.01020.x

Giovannetti M, Mosse B (1980) An evaluation of techniques for measuring vesicular arbuscular mycorrhizal infenction in roots. New Phytol 84:489–500. https://doi.org/10.1111/j.1469-8137.1980.tb04556.x

Göhre V, Paszkowski U (2006) Contribution of the arbuscular mycorrhizal symbiosis to heavy metal phytoremediation. Planta 223:1115–1122. https://doi.org/10.1007/s00425-006-0225-0

Grabau MR (2009) Irrigation and seeding technique development for riparian corridor habitat revegetation. The University of Arizona, Tucson

Grossnickle SC, Ivetić V (2017) Direct seeding in reforestation—A field performance review. Reforesta 4:94–142. https://doi.org/10.21750/REFOR.4.07.46

Hardoim PR, van Overbeek LS, Berg G, Pirttilä AM, Compant S, Campisano A, Döring M, Sessitsch A (2015) The hidden world within plants: ecological and evolutionary considerations for defining functioning of microbial endophytes. Microbiol Mol Biol Rev. https://doi.org/10.1128/MMBR.00050-14

Harris J (2009) Soil microbial communities and restoration ecology: facilitators or followers? Science 325:573–574. https://doi.org/10.1126/science.287.5461.2159b

Hazard C, Johnson D (2018) Does genotypic and species diversity of mycorrhizal plants and fungi affect ecosystem function? New Phytol 220:1122–1128. https://doi.org/10.1111/nph.15010

Holste EK, Kobe RK, Gehring CA (2017) Plant species differ in early seedling growth and tissue nutrient responses to arbuscular and ectomycorrhizal fungi. Mycorrhiza 27:211–223. https://doi.org/10.1007/s00572-016-0744-x

Janoušková M, Krak K, Vosátka M, Püschel D, Štorchová H (2017) Inoculation effects on root-colonizing arbuscular mycorrhizal fungal communities spread beyond directly inoculated plants. PLoS ONE 12:1–21. https://doi.org/10.1371/journal.pone.0181525

Jeffries P, Gianinazzi S, Perotto S, Turnau K, Barea JM (2003) The contribution of arbuscular mycorrhizal fungi in sustainable maintenance of plant health and soil fertility. Biol Fertil Soils 37:1–16. https://doi.org/10.1007/s00374-002-0546-5

Kadowaki K, Yamamoto S, Sato H, Tanabe AS, Hidaka A, Toju H (2018) Mycorrhizal fungi mediate the direction and strength of plant–soil feedbacks differently between arbuscular mycorrhizal and ectomycorrhizal communities. Commun Biol 1:196. https://doi.org/10.1038/s42003-018-0201-9

Klironomos JN (2000) Host-specificity and functional diversity among arbuscular mycorrhizal fungi. In: Bell CR, Brylinsky M, Johnson-Green P (eds) Microbial biosystems: new frontiers. Atlantic Canada Society from Microbial Ecology, Halifax, pp 845–851

Kranabetter JM (2005) Understory conifer seedling response to a gradient of root and ectomycorrhizal fungal contact. Can J Bot 83:638–646. https://doi.org/10.1139/b05-035

Krüger M, Stockinger H, Krüger C, Schüßler A (2009) DNA-based species level detection of Glomeromycota: one PCR primer set for all arbuscular mycorrhizal fungi. New Phytol. https://doi.org/10.1111/j.1469-8137.2009.02835.x

Lapeyrie FF, Chilvers GA (1985) An endomycorrhiza-ectomycorrhiza succession associated with enhanced growth of Eucalyptus dumosa seedlings planted in a calcareous soil. New Phytol 100:93–104. https://doi.org/10.5642/aliso.20082601.08

Lekberg Y, Vasar M, Bullington LS, Sepp SK, Antunes PM, Bunn R, Larkin BG, Öpik M (2018) More bang for the buck? Can arbuscular mycorrhizal fungal communities be characterized adequately alongside other fungi using general fungal primers? New Phytol 220:971–976. https://doi.org/10.1111/nph.15035

Lovelock CE, Miller R (2002) Heterogeneity in inoculum potential and effectiveness of arbuscular mycorrhizal fungi. Ecology 83:823–832

McMurdie PJ, Holmes S (2014) Waste not, want not: why rarefying microbiome data is inadmissible. PLoS Comput Biol. https://doi.org/10.1371/journal.pcbi.1003531

Meinhardt KA, Gehring CA (2012) Disrupting mycorrhizal mutualisms: a potential mechanism by which exotic tamarisk outcompetes native cottonwoods. Ecol Appl 22:532–549. https://doi.org/10.1890/11-1247.1

Michelsen A (1992) Mycorrhiza and root nodulation in tree seedlings from five nurseries in Ethiopia and Somalia. For Ecol Manage 48:335–344. https://doi.org/10.1016/0378-1127(92)90154-2

Middleton EL, Richardson S, Koziol L, Palmer CE, Yermakov Z, Henning JA, Schultz PA, Bever JD (2015) Locally adapted arbuscular mycorrhizal fungi improve vigor and resistance to herbivory of native prairie plant species. Ecosphere. https://doi.org/10.1890/ES15-00152.1

Nara K (2006) Ectomycorrhizal networks and seedling establishment during early primary succession. New Phytol 169:169–178. https://doi.org/10.1111/j.1469-8137.2005.01545.x

Orloff LN, Mangold JM, Menalled FD (2015) Site-specific effects of exotic annual grass control integrated with revegetation. Ecol Restor 33:147–155. https://doi.org/10.3368/er.33.2.147

Pagano M (2011) Mycorrhiza: occurrence and role in natural and restored environments. Nova Science Publishers Inc, New York

Palma AC, Laurance SGW (2015) A review of the use of direct seeding and seedling plantings in restoration: what do we know and where should we go? Appl Veg Sci 18:561–568. https://doi.org/10.1111/avsc.12173

Palmer MA, Bernhardt ES, Allan JD, Lake PS, Alexander G, Brooks S, Carr J, Clayton S, Dahm CN, Follstad Shah J, Galat DL, Loss SG, Goodwin P, Hart DD, Hassett B, Jenkinson R, Kondolf GM, Lave R, Meyer JL, O'Donnell TK, Pagano L, Sudduth E (2005) Standards for ecologically successful river restoration. J Appl Ecol 42:208–217. https://doi.org/10.1111/j.1365-2664.2005.01004.x

R development Core Team (2008) R: A language and environment for statistical computing. R foundation for statistical computing, Vienna, Austria. https://www.R-project.org/

Raju PS, Clark RB, Ellis JR, Maranville JW (1990) Effects of species of VA-mycorrhizal fungi on growth and mineral uptake of sorghum at different temperatures. Plant Soil 121:165–170

Ramlow M, Rhoades CC, Cotrufo MF (2018) Promoting revegetation and soil carbon sequestration on decommissioned forest roads in Colorado, USA: a comparative assessment of organic soil amendments. For Ecol Manage 427:230–241. https://doi.org/10.1016/j.foreco.2018.05.059

Revillini D, Gehring CA, Johnson NC (2016) The role of locally adapted mycorrhizas and rhizobacteria in plant–soil feedback systems. Funct Ecol 30:1086–1098. https://doi.org/10.1111/1365-2435.12668

Richardson DM, Holmes P, Esler KJ, Galatowitsch SM, Stromberg JC, Kirkman SP, Pysek P, Hobbs RJ (2007) Riparian vegetation: degradation, alien plant invasions, and restoration prospects. Divers Distrib 13:126–139. https://doi.org/10.1111/j.1472-4642.2006.00314.x

Rillig MC (2004) Arbuscular mycorrhizae and terrestrial ecosystem processes. Ecol Lett 7:740–754. https://doi.org/10.1111/j.1461-0248.2004.00620.x

Rillig MC, Mummey DL (2006) Mycorrhizas and soil structure. New Phytol 171:41–53. https://doi.org/10.1111/j.1469-8137.2006.01750.x

Rodriguez RJ, White JF Jr, Arnold AE, Redman RS (2009) Fungal endophytes: diversity and functional roles. New Phytol 182:314–330. https://doi.org/10.1111/j.1469-8137.2009.02773.x

Schoch CL, Seifert KA, Huhndorf S, Robert V, Spouge JL, Levesque CA, Chen W, Bolchacova E, Voigt K, Crous PW, Miller AN, Wingfield MJ, Aime MC, An KD, Bai FY, Barreto RW, Begerow D, Bergeron MJ, Blackwell M, Boekhout T, Bogale M, Boonyuen N, Burgaz AR, Buyck B, Cai L, Cai Q, Cardinali G, Chaverri P, Coppins BJ, Crespo A, Cubas P, Cummings C, Damm U, de Beer ZW, de Hoog GS, Del-Prado R, Dentinger B, Diéguez-Uribeondo J, Divakar PK, Douglas B, Dueñas M, Duong TA, Eberhardt U, Edwards JE, Elshahed MS, Fliegerova K, Furtado M, García MA, Ge ZW, Griffith GW, Griffiths K, Groenewald JZ, Groenewald M, Grube M, Gryzenhout M, Guo LD, Hagen F, Hambleton S, Hamelin RC, Hansen K, Harrold P, Heller G, Herrera C, Hirayama K, Hirooka Y, Ho HM, Hoffmann K, Hofstetter V, Högnabba F, Hollingsworth PM, Hong SB, Hosaka K, Houbraken J, Hughes K, Huhtinen S, Hyde KD, James T, Johnson EM, Johnson JE, Johnston PR, Jones EBG, Kelly LJ, Kirk PM, Knapp DG, Kõljalg U, Kovács GM, Kurtzman CP, Landvik S, Leavitt SD, Liggenstoffer AS, Liimatainen K, Lombard L, Luangsa-ard JJ, Lumbsch HT, Maganti H, Maharachchikumbura SSN, Martin MP, May TW, McTaggart AR, Methven AS, Meyer W, Moncalvo JM, Mongkolsamrit S, Nagy LG, Nilsson RH, Niskanen T, Nyilasi I, Okada G, Okane I, Olariaga I, Otte J, Papp T, Park D, Petkovits T, Pino-Bodas R, Quaedvlieg W, Raja HA, Redecker D, Rintoul TL, Ruibal C, Sarmiento-Ramírez JM, Schmitt I, Schüßler A, Shearer C, Sotome K, Stefani FOP, Stenroos S, Stielow B, Stockinger H, Suetrong S, Suh SO, Sung GH, Suzuki M, Tanaka K, Tedersoo L, Telleria MT, Tretter E, Untereiner WA, Urbina H, Vágvölgyi C, Vialle A, Vu TD, Walther G, Wang QM, Wang Y, Weir BS, Weiß M, White MM, Xu J, Yahr R, Yang ZL, Yurkov A, Zamora JC, Zhang N, Zhuang WY, Schindel D (2012) Nuclear ribosomal internal transcribed spacer (ITS) region as a universal DNA barcode marker for Fungi. Proc Natl Acad Sci USA 109:6241–6246. https://doi.org/10.1073/pnas.1117018109

Selosse MA, Richard F, He X, Simard SW (2006) Mycorrhizal networks: des liaisons dangereuses? Trends Ecol Evol 21:621–628. https://doi.org/10.1016/j.tree.2006.07.003

Simard SW, Durall DM (2004) Mycorrhizal networks: a review of their extent, function, and importance. Can J Bot 82:1140–1165. https://doi.org/10.1139/b04-116

Small CC, Degenhardt D (2018) Plant growth regulators for enhancing revegetation success in reclamation: a review. Ecol Eng 118:43–51. https://doi.org/10.1016/j.ecoleng.2018.04.010

Smith SE, Read D (2008) Mycorrhizal symbiosis, 3rd edn. Academic Press, Cambridge

Stockinger H, Krüger M, Schüßler A (2010) DNA barcoding of arbuscular mycorrhizal fungi. New Phytol 187:461–474. https://doi.org/10.1111/j.1469-8137.2010.03262.x

Teste FP, Jones MD, Dickie IA (2019) Dual-mycorrhizal plants: their ecology and relevance. New Phytol. https://doi.org/10.1111/nph.16190

Thorp JH, Flotemersch JE, Delong MD, Casper AF, Thoms MC, Ballantyne F, Williams BS, O'Neill BJ, Haase CS (2010) Linking ecosystem services, rehabilitation, and river hydrogeomorphology. Bioscience 60:67–74. https://doi.org/10.1525/bio.2010.60.1.11

Vályi K, Mardhiah U, Rillig MC, Hempel S (2016) Community assembly and coexistence in communities of arbuscular mycorrhizal fungi. ISME J 10:2341–2351. https://doi.org/10.1038/ismej.2016.46

van der Heijden MGA, Boller T, Wiemken A, Sanders IR (1998a) Different arbuscular mycorrhizal fungal species are potential determinants of plant community structure. Ecology 79:2082–2091. https://doi.org/10.1890/0012-9658(1998)079[2082:DAMFSA]2.0.CO;2

van der Heijden MGA, Klironomos JN, Ursic M, Moutoglis P, Streitwolf-Engel R, Boller T, Sanders IR, Wiemken A (1998b) Mycorrhizal fungal diversity determines plant biodiversity, ecosystem variability and productivity. Nature 396:69–72. https://doi.org/10.1038/23932

van der Heijden MGA, Horton TR (2009) Socialism in soil? the importance of mycorrhizal fungal networks for facilitation in natural ecosystems. J Ecol 97:1139–1150. https://doi.org/10.1111/j.1365-2745.2009.01570.x

Vierheilig H, Coughlan AP, Wyss U, Piché Y (1998) Ink and vinegar, a simple staining technique for arbuscular-mycorrhizal fungi. Appl Environ Microbiol 64:5004–5007

Werner GDA, Kiers ET (2015) Order of arrival structures arbuscular mycorrhizal colonization of plants. New Phytol 205:1515–1524. https://doi.org/10.1111/nph.13092

Willis AD (2019) Rarefaction, alpha diversity, and statistics. Front Microbiol. https://doi.org/10.3389/fmicb.2019.02407

Willis AD, Bungle J (2014) Breakaway: species richness estimation and modelling. R package version 3.0
Acknowledgements
The authors gratefully acknowledge the financial support of VEAC (Victorian Environmental Assessment Council) through the Bill Borthwick Scholarship, the ESA (Ecological Society of Australia) through the Applied Forest Ecology Scholarship, and Mexico´s CONACYT (Consejo Nacional de Ciencia y Tecnología) and SENER (Secretaría de Energía) for funding the master programme of Ana Isabel Bermúdez Contreras through Scholarship Number 617928.
Additional information
Publisher's Note
Springer Nature remains neutral with regard to jurisdictional claims in published maps and institutional affiliations.
Communicated by Christina Birnbaum.
Electronic supplementary material
Below is the link to the electronic supplementary material.
About this article
Cite this article
Bermúdez-Contreras, A.I., Ede, F., Waymouth, V. et al. Revegetation technique changes root mycorrhizal colonisation and root fungal communities: the advantage of direct seeding over transplanting tube-stock in riparian ecosystems. Plant Ecol 221, 813–828 (2020). https://doi.org/10.1007/s11258-020-01031-2
Received:

Accepted:

Published:

Issue Date:
Keywords
Direct seeding

Mycorrhizal fungi

Tube-stock transplanting

Soil microbial community

Revegetation

Riparian