Abstract
Objective
A functional magnetic resonance imaging (fMRI) study was performed during urodynamic examination in healthy adults to determine the responses of functional brain networks to bladder control during urine storage.
Methods
The brain imaging was performed in empty and full bladder states during urodynamic examination. First, we used independent component analysis (ICA) to obtain several resting state network masks, then the brain regions with significantly different regional homogeneity (ReHo) values between the two states were determined using a paired t test (p < 0.05; Gaussian random field correction [GRF]: voxel p < 0.01 and cluster p < 0.05) and presented in their corresponding resting state network (RSN) masks.
Results
Data sets obtained from the remaining 20 subjects were analyzed after motion correction. Nine RSNs were identified by group-ICA, including the salience network (SN), default mode network (DMN), central executive network (CEN), dorsal attention network (dAN), auditory network (AN), sensorimotor network (SMN), language network (LN), visual network (VN), and cerebellum network (CN). The ReHo values were significantly increased (p < 0.05, GRF corrected) within the SN, DMN, and CEN in the full bladder state compared with the empty bladder state.
Conclusion
Significant changes within the three functional brain networks were demonstrated when the bladder was full, suggesting that SN provides bladder sensation and DMN may provide self-reference, self-reflection, and decision-making about whether to void after assessment of the external environment, while CEN may provide support related to episodic memory, which provides new insight into the processing of bladder control and could serve as a premise to further explore the pathologic process underlying bladder dysfunction.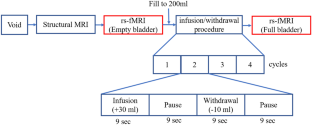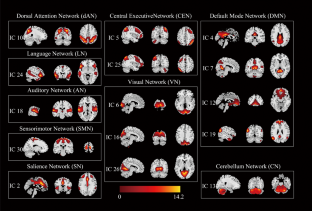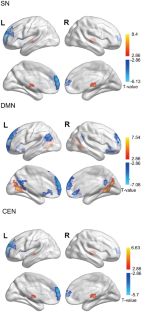 Acknowledgements
The work was supported by the National Natural Scientific Foundation of China (No. 81570688). Thanks to Lingna Zhao for fMRI data collection.
Funding
The study was funded by the by grants from the National Natural Scientific Foundation of China (No. 81570688).
Ethics declarations
Conflict of interest
No one declared.
Ethical approval
The study was performed in accordance with the rules laid down in the 1964 Declaration of Helsinki and its later amendments and was approved by the Ethics Committee of China Rehabilitation Research Center (IRB: 2017-002-1).
Informed consent
All subjects have provided informed consent.
Additional information
Publisher's Note
Springer Nature remains neutral with regard to jurisdictional claims in published maps and institutional affiliations.
About this article
Cite this article
Pang, D., Gao, Y. & Liao, L. Responses of functional brain networks to bladder control in healthy adults: a study using regional homogeneity combined with independent component analysis methods. Int Urol Nephrol (2021). https://doi.org/10.1007/s11255-020-02742-1
Received:

Accepted:

Published:
Keywords
Brain-bladder control

Default mode network

Functional magnetic resonance imaging

Urodynamic examination

Void