Abstract
Purpose
Prostate cancer largely affects older men. This study aims to investigate prostate cancer in younger men (< 55 years) to shed light on the survival outcomes of this unique subset of patients in Asian context.
Methods
Data were obtained from the Singapore General Hospital Prostate Cancer Registry. Data on all men with clinically organ confined prostate cancer who underwent radical prostatectomy between 1998 and 2016 were obtained from the registry. Tumor characteristics, follow-up data, and cause of death were acquired.
Results
A total of 1120 men underwent radical prostatectomy between 1998 and 2016. Of these, 12 were aged ≤ 44 years, 106 were aged 45–54 years, 596 were aged 55–64, 397 were aged 65–74 and 9 were aged ≥ 75. There was no difference across age groups when comparing Gleason ≤ 7 vs Gleason ≥ 8 disease, T1/2 vs T3/4 disease and the median PSA values were similar. No difference was observed in overall survival or prostate cancer specific survival among 4 age groups (≤ 44, 45–54, 55–64, 65–74) (p = 0.156 and p = 0.227 respectively). Although there was a trend of increasing rate of biochemical recurrence for older patients, it's not statistically significant (p = 0.157). Time to biochemical recurrence was similar as well (p = 0.257).
Conclusion
This large cohort of Asian patients who underwent radical prostatectomy did not show significant age-related differences in important parameters and outcomes.
This is a preview of subscription content, log in to check access.
Access options
Buy single article
Instant access to the full article PDF.
US$ 39.95
Price includes VAT for USA
Subscribe to journal
Immediate online access to all issues from 2019. Subscription will auto renew annually.
US$ 99
This is the net price. Taxes to be calculated in checkout.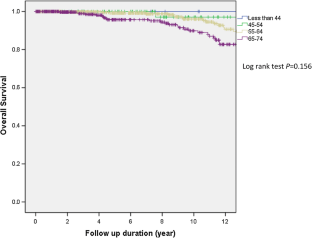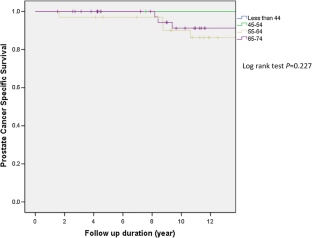 References
1.

Singapore Cancer Registry 50th Anniversary Monograph (1968–2017) published 2019. https://www.nrdo.gov.sg/publications/cancer. Accessed 31 Mar 2020

2.

Tjaden HB, Culp DA, Flocks RH (1965) Clinical adenocarcinoma of the prostate in patients under 50 years of age. J Urol 93:618–621

3.

Byar DP, Mostofi FK (1969) Cancer of the prostate in men less than 50 years old: an analysis of 51 cases. J Urol 102(6):726–733

4.

Silber I, McGavran MH (1971) Adenocarcinoma of the prostate in men less than 56 years old: a study of 65 cases. J Urol 105(2):283–285

5.

Johnson DE, Lanieri JP Jr, Ayala AG (1972) Prostatic adenocarcinoma occurring in men under 50 years of age. J Surg Oncol 4(3):207–216

6.

Salinas CA et al (2014) Prostate cancer in young men: an important clinical entity. Nat Rev Urol 11(6):317–323

7.

Smith CV et al (2000) Prostate cancer in men age 50 years or younger: a review of the Department of Defense Center for Prostate Disease Research multicenter prostate cancer database. J Urol 164(6):1964–1967

8.

Benson MC, Kaplan SA, Olsson CA (1987) Prostate cancer in men less than 45 years old: influence of stage, grade and therapy. J Urol 137(5):888–890

9.

Huben R et al (1982) Carcinoma of prostate in men less than fifty years old. Data from American College of Surgeons' National Survey. Urology 20(6):585–588

10.

Werthman P et al (1992) Carcinoma of prostate in men aged fifty and under: therapeutic options. Urology 39(1):48–51

11.

Aprikian AG, Zhang ZF, Fair WR (1994) Prostate adenocarcinoma in men younger than 50 years. A retrospective review of 151 patients. Cancer 74(6):1768–1777

12.

Catalona WJ et al (1993) Detection of organ-confined prostate cancer is increased through prostate-specific antigen-based screening. JAMA 270(8):948–954

13.

Catalona WJ et al (1991) Measurement of prostate-specific antigen in serum as a screening test for prostate cancer. N Engl J Med 324(17):1156–1161

14.

Howlader N, Noone A, Krapcho M, Noone AM et al (2012) SEER cancer statistics review, 1975–2009 (vintage 2009 populations). National Cancer Institute, Bethesda

15.

Siegel RL, Miller KD, Jemal A (2016) Cancer statistics, 2016. CA Cancer J Clin 66(1):7–30

16.

Stephenson RA, Stanford JL (1997) Population-based prostate cancer trends in the United States: patterns of change in the era of prostate-specific antigen. World J Urol 15(6):331–335

17.

SEER18 Surveillance, Epidemiology, and End Results (SEER) Stat Database. https://seer.cancer.gov/statfacts/html/prost.html. Accessed 31 Mar 2020

18.

Bleyer A, Spreafico F, Barr R (2020) Prostate cancer in young men: an emerging young adult and older adolescent challenge. Cancer 126(1):46–57

19.

Thorstenson A et al (2017) Cancer specific mortality in men diagnosed with prostate cancer before age 50 years: a nationwide population based study. J Urol 197(1):61–66

20.

Lin DW, Porter M, Montgomery B (2009) Treatment and survival outcomes in young men diagnosed with prostate cancer: a population-based cohort study. Cancer 115(13):2863–2871

21.

Khoo HS, Lim YW, Vrijhoef HJ (2014) Primary healthcare system and practice characteristics in Singapore. Asia Pac Fam Med 13(1):8

22.

Daniyal M et al (2014) Epidemiology, etiology, diagnosis and treatment of prostate cancer. Asian Pac J Cancer Prev 15(22):9575–9578

23.

Kimura T, Egawa S (2018) Epidemiology of prostate cancer in Asian countries. Int J Urol 25(6):524–531

24.

Ito K (2014) Prostate cancer in Asian men. Nat Rev Urol 11(4):197–212

25.

Kimura T (2012) East meets West: ethnic differences in prostate cancer epidemiology between East Asians and Caucasians. Chin J Cancer 31(9):421–429

26.

Kong DP et al (2020) Prevalence and clinical application of TMPRSS2-ERG fusion in Asian prostate cancer patients: a large-sample study in Chinese people and a systematic review. Asian J Androl. 22(2):200–207. https://doi.org/10.4103/aja.aja_45_19

27.

Mao X et al (2010) Distinct genomic alterations in prostate cancers in Chinese and Western populations suggest alternative pathways of prostate carcinogenesis. Cancer Res 70(13):5207–5212

28.

Xue L et al (2012) Chinese and Western prostate cancers show alternate pathogenetic pathways in association with ERG status. Am J Cancer Res 2(6):736–744

29.

Miyagi Y et al (2010) ETS family-associated gene fusions in Japanese prostate cancer: analysis of 194 radical prostatectomy samples. Mod Pathol 23(11):1492–1498

30.

Lee K et al (1268e) TMPRSS2-ERG gene fusion and clinicopathologic characteristics of Korean prostate cancer patients. Urology 76(5):1268e7–1268e13

31.

Hussein S, Satturwar S, Van der Kwast T (2015) Young-age prostate cancer. J Clin Pathol 68(7):511–515

32.

Ewing CM et al (2012) Germline mutations in HOXB13 and prostate-cancer risk. N Engl J Med 366(2):141–149

33.

Ostrander EA, Johannesson B (2008) Prostate cancer susceptibility loci: finding the genes. Adv Exp Med Biol 617:179–190

34.

Tan L et al (2018) Survival outcomes of younger men (%3c 55 years) undergoing radical prostatectomy. Prostate Int 6(1):31–35

35.

Becker A et al (2014) Functional and oncological outcomes of patients aged %3c 50 years treated with radical prostatectomy for localised prostate cancer in a European population. BJU Int 114(1):38–45

36.

Loeb S et al (2008) Progression after radical prostatectomy for men in their thirties compared to older men. BJU Int 101(12):1503–1506

37.

Magheli A et al (2007) Impact of patient age on biochemical recurrence rates following radical prostatectomy. J Urol 178(5):1933–1937 (discussion 1937–8)

38.

Siddiqui SA et al (2006) Impact of patient age at treatment on outcome following radical retropubic prostatectomy for prostate cancer. J Urol 175(3 Pt 1):952–957

39.

Twiss C, Slova D, Lepor H (2005) Outcomes for men younger than 50 years undergoing radical prostatectomy. Urology 66(1):141–146

40.

Freedland SJ et al (2004) Do younger men have better biochemical outcomes after radical prostatectomy? Urology 63(3):518–522

41.

Khan MA et al (2003) Long-term cancer control of radical prostatectomy in men younger than 50 years of age: update 2003. Urology 62(1):86–91 (discussion 91–2)

42.

Droz JP et al (2010) Management of prostate cancer in older men: recommendations of a working group of the International Society of Geriatric Oncology. BJU Int 106(4):462–469

43.

Alibhai SM et al (2004) Is there age bias in the treatment of localized prostate carcinoma? Cancer 100(1):72–81

44.

Potosky AL et al (2004) Five-year outcomes after prostatectomy or radiotherapy for prostate cancer: the prostate cancer outcomes study. J Natl Cancer Inst 96(18):1358–1367

45.

Cooperberg MR, Broering JM, Carroll PR (2010) Time trends and local variation in primary treatment of localized prostate cancer. J Clin Oncol 28(7):1117–1123

46.

Sidana A et al (2012) Treatment decision-making for localized prostate cancer: what younger men choose and why. Prostate 72(1):58–64
Acknowledgements
We would like to extend our gratitude to all staff who are involved in building and maintaining SGH Prostate Cancer Registry for their hard work and dedication.
Ethics declarations
Conflict of interest
The author(s) declare that they have no competing interests.
Additional information
Publisher's Note
Springer Nature remains neutral with regard to jurisdictional claims in published maps and institutional affiliations.
About this article
Cite this article
Lu, Y., Huang, H.H. & Lau, W.K.O. Survival outcomes of Asian younger men (< 55 years) undergoing radical prostatectomy: a review of prostate cancer database in a tertiary hospital in Singapore. Int Urol Nephrol (2020). https://doi.org/10.1007/s11255-020-02518-7
Received:

Accepted:

Published:
Keywords
Prostate cancer

Radical prostatectomy

Age groups

Survival outcome

Young men