Abstract
Objective
The aim of this study was to summarize in a literature review our treatment experience involving microscopic replantation in a rare case of a completely amputated penis and testes.
Patient and methods
The penis and testes were completely amputated due to self-mutilation. The 26-year-old patient immediately underwent microscopic replantation of the penis and testes after pre-operative preparation. Potent anti-infectives and anti-depressives, and microcirculation-improving hyperbaric oxygen therapy were utilized after surgery.
Results
The time between the amputation and surgery was about 10 h. The patient was followed for 12 months post-surgery. The replanted penis recovered and the patient could urinate normally in the standing position with a maximal urinary flow rate of 20 ml/s. The testes also survived, but their size showed obvious atrophy. The serum testosterone level at 2 months after the operation was 120 ng/dL (normal reference range: 175–781 ng/dL). Erectile function gradually recovered after androgen replacement therapy.
Conclusion
Complete amputation of the penis and testis is very rare. Efforts should be made to perform the replantation surgery as soon as possible. Microscopic surgical techniques for elaborate vascular and neural anastomosis constitute the basis for a successful replantation. Post-operative comprehensive treatment such as strong anti-infection, analgesia, anti-depression, improvement of microcirculation, and hyperbaric oxygen is crucial for the survival and functional recovery of replanted organs.
This is a preview of subscription content, log in to check access.
Access options
Buy single article
Instant access to the full article PDF.
US$ 39.95
Price includes VAT for USA
Subscribe to journal
Immediate online access to all issues from 2019. Subscription will auto renew annually.
US$ 99
This is the net price. Taxes to be calculated in checkout.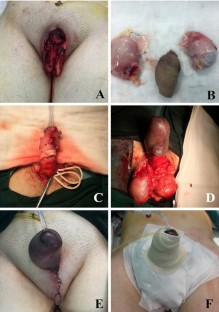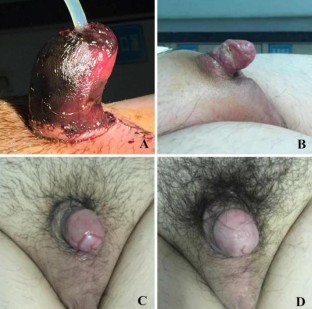 References
1.

Phonsombat S, Master VA, Mcaninch JW et al (2008) Penetrating external genital trauma: a 30-year single institution experience. J Urol 180:192–196

2.

Jr FF, Spessoto LC, Arruda P et al (2015) Penile replantation after five hours of warm ischemia. Urol Case Rep 3:77–79

3.

Li GZ, He F, Huang GL et al (2013) Penile replantation: report of two cases and review of the literature. Chin J Traumatol 16:54–57

4.

Li GZ, Man LB, He F et al (2013) Replantation of amputated penis in Chinese men: a meta-analysis. Zhonghua Nan Ke Xue 19:722–726

5.

Griffiths M, Britto J, Frame J (2003) 5-year follow-up of replantation of penis and testis in a child. Lancet 361:263

6.

Kangesu T, Ho-Asjoe M, Sood MK et al (1995) Replantation of testis and penis in a child. Lancet 345:1368–1369

7.

Darewicz J, Gatek L, Malczyk E et al (1996) Microsurgical replantation of the amputated penis and scrotum in a 29-year-old man. Urol Int 57:197–198

8.

Choi S, Lee CK, Rhew HY et al (1998) Penile and bilateral testicular replantation after self-inflicted complete amputation: case report. Korean J Androl 16:99–102

9.

Zhang HF, Zhang CY, Fu YM et al (2003) Successful replantation of penis, scrotum and testes: a case report. Zhonghua Nan Ke Xue 6:473–474

10.

Gyan S, Sushma S, Maneesh S et al (2010) Successful microsurgical penile replantation following self amputation in a schizophrenic patient. Indian J Urol 26:434–437

11.

Fujiki M, Ozaki M, Kai A et al (2017) Successful second microsurgical replantation for amputated penis. Plast Reconstr Surg Glob Open 5:e1512

12.

Ozturk A, Kilinc M, Guven S et al (2009) Penis replantation after self-mutilation. Int Urol Nephrol 41:109–111

13.

Co Y, Yener H, Keçeci Y et al (2002) Microvascular replantation of a self amputated penis. Int Urol Nephrol 33:117–119

14.

Ehrich WS (1929) Two unusual penile injuries. J Urol 21:239–243

15.

Cohen BE, May JWJR, Daly JS et al (1977) Successful clinical replantation of an amputated penis by microneurovascular repair. Case report. Plast Reconstr Surg 59:276–280

16.

Morrison SD, Shakir A, Vyas KS et al (2017) Penile replantation: a retrospective analysis of outcomes and complications. J Reconstr Microsurg 33:227–232

17.

Lowe MA, Chapman W, Berger RE (1991) Repair of a traumatically amputated penis with return of erectile function. J Urol 145:1267–1270

18.

Zhen M, He YW, Wen XD (2000) Successful replantation of severed penis without vessels anastomosis: a case report. Chin J Urol 21:432

19.

Zhong Z, Dong Z, Lu Q et al (2007) Successful penile replantation with adjuvant hyperbaric oxygen treatment. J Urol 69:983.e3–983.e5

20.

Zhu H, Zhu X, Zheng X (2017) Antithrombotic therapies in digit replantation with papaverine administration: a prospective, observational study. Plast Reconstr Surg 140:743–746

21.

Matsusue T (2019) Is antithrombotic therapy necessary following replantation of an amputated digit? J Hand Surg Asian Pac 24:1–5

22.

Eo S, Hur G, Cho S et al (2009) Successful composite graft for fingertip amputations using ice-cooling and lipo-prostaglandin E1. J Plast Reconstr Aesthet Surg 62:764–770

23.

Cavadas PC (2002) Supramicrosurgical ear replantation: case report. J Reconstr Microsurg 18:393–395

24.

Rodríguez Vegas JM, Ruiz Alonso ME, Terán Saavedra PP (2007) PGE-1 in replantation and free tissue transfer: early preliminary experience. Microsurgery 27:395–397

25.

Ishida O, Ikuta Y, Shirane T et al (1996) Penile replantation after self-inflicted complete amputation: case report. J Reconstr Microsurg 12:23–26

26.

Landstrom JT, Schuyler RW, Macris GP (2004) Microsurgical penile replantation Facilitated by postoperative HBO treatment. Microsurgery 24:49–55

27.

Lidman D, Danielsson P, Abdiu A et al (1999) The functional result two years after a microsurgical penile replantation. Case report. Scand J Plast Reconstr Surg Hand Surg 33:325–328

28.

Fu S, Zheng D, Xie M et al (2019) Successful penile replantation and the role of postreplantation sildenafil therapy: report of 2 cases and literature review. Sex Med 7:352–356

29.

Chen R, Zhu KW, Tian HQ et al (2004) Vein arterialization replantation for testicular avulsion: a case report. Chin J Urol 25:700
Additional information
Publisher's Note
Springer Nature remains neutral with regard to jurisdictional claims in published maps and institutional affiliations.
About this article
Cite this article
Liu, X., Li, Y., Wang, Q. et al. Microscopic replantation of completely amputated penis and testes: a case report and literature review. Int Urol Nephrol 52, 1271–1277 (2020). https://doi.org/10.1007/s11255-020-02407-z
Received:

Accepted:

Published:

Issue Date:
Keywords
Penis

Testis

Amputation

Microscopic surgery

Replantation