Abstract
Urbanization is one of the most important causes of ecological changes and biodiversity loss worldwide, and forests in Latin America provide valuable scenarios to understand the ecological effects of this human-driven phenomenon due to its high urbanization rate. Our aim was to investigate how urbanization shapes species richness (SR) and composition of anuran communities in NW Argentina, and to determine which suite of life history traits are related to anuran tolerance to urban development. We classified anuran species in Functional Groups (FG) based on a series of ecological traits and recognized them as urban-tolerant or urban-avoiders. We constructed an urbanization composite index (UI) through an exploratory factor analysis based on measures of artificial light intensity, noise pollution, land use types, and mean values of LTS, NDMI, and NDVI. We tested the response of SR, FG and species occurrence to UI with Generalized Linear Models and a variation partitioning analysis. Our results showed the negative influence of urbanization on anuran diversity and suggested that the loss of anuran species is not random, pointing to the presence of environmental filters. Only terrestrial frogs that build aquatic foam nests were not affected by an increase in urbanization, so they may be considered as urban--tolerant. Further, our results highlighted the important role of dispersal capacity in structuring the urban anuran assemblages. As ecologists working in urban habitats, we emphasize the need of a more comprehensive and generalized understanding of ecological and life history traits associated with urban tolerant anurans.
This is a preview of subscription content, log in to check access.
Access options
Buy single article
Instant access to the full article PDF.
US$ 39.95
Price includes VAT for USA
Subscribe to journal
Immediate online access to all issues from 2019. Subscription will auto renew annually.
US$ 99
This is the net price. Taxes to be calculated in checkout.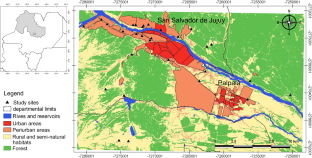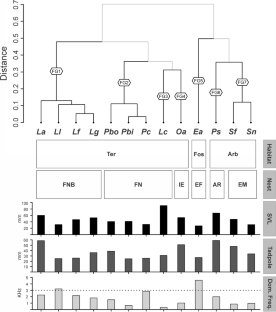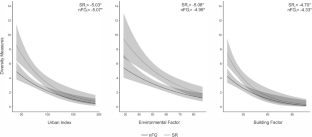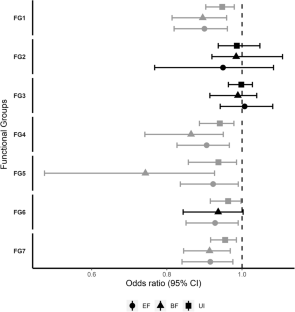 References
Andersson E, Ahrné K, Pyykönen M, Elmqvist T (2009) Patterns and scale relations among urbanization measures in Stockholm, Sweden. Landsc Ecol 24:1331–1339

Arnan X, Cerdá X, Retana J (2015) Partitioning the impact of environment and spatial structure on alpha and beta components of taxonomic, functional, and phylogenetic diversity in European ants. PeerJ 3:e1241

Aronson MF, Nilon CH, Lepczyk CA, Parker TS, Warren PS, Cilliers SS, Goddard MA, Hahs AK, Herog C, Katti M, La Sorte FA, Williams NSG, Zipperer W (2016) Hierarchical filters determine community assembly of urban species pools. Ecology 97:2952–2963

Arzabe C, Prado CPA (2006) Distinct architectures of subterranean nests in the genus Leptodactylus of the fuscus group (Anura, Leptodactylidae). Herpetol Rev 37:23–26

Assessment ME (2005) Urban systems. In: Hassan R, Scholes R, Ash N (eds) Ecosystems and human well-being: current state and trends. Island Press, Washington, pp 795–826

Barrio A (1966) Divergencia acústica entre el canto nupcial de Leptodactylus ocellatus (Linne) y L. chaquensis Cei (Anura, Leptodactylidae). Physis 26:275–277

Borcard D, Legendre P, Avois-Jacquet P, Tuomisto H (2004) Dissecting the spatial structure of ecological data at multiple scales. Ecology 85:1826–1832

Boullhesen M, Salica MJ, Pereyra LC, Akmentins MS (2019) Actividad vocal diaria y su relación con claves ambientales en un ensamble de anuros en las Yungas de Jujuy, Argentina. Cuad Herpetol 33:59–70

Brown AD, Pacheco S, Lomascolo T, Malizia L (2006) Situación ambiental en los bosques andinos yungueños. In: Brown AD, Ortiz UM, Acerbi M, Corcuera J (eds) La situación ambiental argentina. Fundación Vida Silvestre Argentina, Buenos Aires, pp 53–72

Cadotte MW, Tucker CM (2017) Should environmental filtering be abandoned? Trends Ecol Evol 32:429–437

Callaghan CT, Major RE, Wilshire JH, Martin JM, Kingsford RT, Cornwell WK (2019) Generalists are the most urban-tolerant of birds: a phylogenetically controlled analysis of ecological and life history traits using a novel continuous measure of bird responses to urbanization. Oikos 128:845–858

Chadee S, Stoute V (2017) Development of an urban intensity index to facilitate urban ecosystem studies in Trinidad and Tobago. J Appl Stat 45:508–527

Champion AG, Hugo G (2004) New forms of urbanization: beyond the urban-rural dichotomy. Aldershot, Hants, England; Burlington, VT: Ashgate

Cobos ME, Alonso Bosch R (2018) Breeding sites of a narrowly distributed amphibian, a key element in its conservation in the face of global change. Aquat Conserv 28:1089–1098

Crump ML, Scott NJ (1994) Visual encounter surveys. In: Heyer WR, Donnelly MA, McDiarmid RW, Hayek LA, Foster MS (eds) Measuring and monitoring biological diversity: standard methods for amphibians. Smithsonian Institution Press, Washington, pp 84–92

Czúni L, Lipovits Á, Seress G (2012) Estimation of urbanization using visual features of satellite images. In: Multidisciplinary research on geographical information in Europe and beyond. Proceedings of the AGILE'2012 International conference on geographic information science (pp. 233–238)

De la Riva ID, Márquez R, Bosch J (1994) Advertisement calls of Bolivian species of Scinax (Amphibia, Anura, Hylidae). Bijdragen tot de Dierkunde 64:75–85

Dobkin DS, Gettinger RD (1985) Thermal aspects of anuran foam nests. J Herpetol 19:271–275

Dray S, Legendre P, Peres-Neto PR (2006) Spatial modelling: a comprehensive framework for principal coordinate analysis of neighbour matrices (PCNM). Ecol Model 196:483–493

Dray S, Pellissier L, Couteron P, Fortin MJ, Legendre P, Neto P et al (2012) Community ecology in the age of multivariate multiscale spatial analysis. Ecol Monogr 82:257–275

Elzanowski A, Ciesiolkiewicz J, Kaczor M, Radwanska J, Urban R (2009) Amphibian road mortality in Europe: a meta-analysis with new data from Poland. Eur J Wildl Res 55:33–43

Ernst R, Linsenmair KE, Rödel MO (2006) Diversity erosion beyond the species level: dramatic loss of functional diversity after selective logging in two tropical amphibian communities. Biol Conserv 133:143–155

Figueiredo GT, Storti LF, Lourenço‐de‐Moraes R, Shibatta OA, Anjos L (2019) Influence of microhabitat on the richness of anuran species: A case study of different landscapes in the Atlantic Forest of southern Brazil. An Acad Bras Ciênc 91:e20171023

Flynn DF, Gogol-Prokurat M, Nogeire T, Molinari N, Richers BT, Lin BB, Simpson N, Mayfield MM, DeClerck F (2009) Loss of functional diversity under land use intensification across multiple taxa. Ecol Lett 12:22–33

Forman RTT, Sperling D, Bissonette JA, Clevenger AP, Cutshall CD, Dale VH, Fahrig L, France R, Goldman CR, Heanue K, Jones JA, Swanson FJ, Turrentine T, Winter TC (2003) Road ecology. Science and Solutions. Island Press, Washington, D.C.

Gagné SA, Fahrig L (2007) Effect of landscape context on anuran communities in breeding ponds in the National Capital Region, Canada. Landsc Ecol 22:205–215

Gibbs JP, Whiteleather KK, Schueler FW (2005) Changes in frog and toad populations over 30 years in New York state. Ecol Appl 15:1148–1157

Goodwin SE, Shriver WG (2011) Effects of traffic noise on occupancy patterns of forest birds. Conserv Biol 25:406–411

Gorzula S (1977) Foam nesting in Leptodactylids: a possible function. Brit J Herpetol 5:657–659

Griffith DA, Peres-Neto PR (2006) Spatial modeling in ecology: the flexibility of eigenfunction spatial analyses. Ecology 87:2603–2613

Grimm NB, Faeth SH, Golubiewski NE, Redman CL, Wu J, Bai X, Briggs JM (2008) Global change and the ecology of cities. Science 319:756–760

Haddad CFB, Prado CPA (2005) Reproductive modes in frogs and their unexpected diversity in the Atlantic Forest of Brazil. BioScience 55:207–217

Hahs AK, McDonnell MJ (2006) Selecting independent measures to quantify Melbourne's urban–rural gradient. Landsc Urban Plan 78:435–448

Hamer AJ, McDonnell MJ (2008) Amphibian ecology and conservation in the urbanising world: a review. Biol Conserv 141:2432–2449

Hamer AJ, Parris KM (2011) Local and landscape determinants of amphibian communities in urban ponds. Ecol Appl 21:378–390

Heyer WR (1969) The adaptive ecology of the species groups of the genus Leptodactylus (Amphibia, Leptodactylidae). Evolution 23:421–428

Heyer WR (1978) Systematics of the fuscus group of the frog genus Leptodactylus (Amphibia, Leptodactylidae). Natural History Museum of Los Angeles County Science Bulletin 29:1–85

Kaiser HF (1970) A second generation little jiffy. Psychometrika 35:401–415

Kaiser H (1974) An index of factorial simplicity. Psychometrika 39:31–36

Kusano T, Sakai A, Hatanaka S (2006) Ecological functions of the foam nests of the Japanese treefrog, Rhacophorus arboreus (Amphibia, Rhacophoridae). Herpetol J 16:163–169

Lavilla EO, Heatwole H (2010) Status of amphibian conservation and decline in Argentina. In: Heatwole H (eds) amphibian biology. Volume 9. Status of decline of amphibians: Western hemisphere. Part 1. Paraguay, Chile, and Argentina. Sidney, Surrey Beatty & Sons, pp 30–78

Legendre P, Gallagher ED (2001) Ecologically meaningful transformations for ordination of species data. Oecologia 129:271–280

Lehtinen RM, Galatowitsch SM, Tester JR (1999) Consequences of habitat loss and fragmentation for wetland amphibian assemblages. Wetlands 19:1–12

Leon E, Peltzer PM, Lorenzon R, Lajmanovich RC, Beltzer AH (2019) Effect of traffic noise on Scinax nasicus advertisement call (Amphibia, Anura). Iheringia, Série Zoologia 109:e2019007

Lepczyk CA, Flather CH, Radeloff VC, Pidgeon AM, Hammer RB, Liu J (2008) Human impacts on regional avian diversity and abundance. Conserv Biol 22:405–416

Liker A, Papp Z, Bókony V, Lendvai AZ (2008) Lean birds in the city: body size and condition of house sparrows along the urbanization gradient. J Anim Ecol 77:789–795

Lourenço-de-Moraes R, Malagoli LR, Guerra V, Ferreira RB, de Paiva AI, Haddad CF, Sawaya RJ, Bastos RP (2018) Nesting patterns among Neotropical species assemblages: can reserves in urban areas be failing to protect anurans? Urban Ecosyst 21:933–942

Lourenço-de-Moraes R, Campos FS, Ferreira RB, Beard KH, Solé M, Llorente GA, Bastos RP (2020) Functional traits explain amphibian distribution in the Brazilian Atlantic Forest. J Biogeogr 47:275–287

MacGregor-Fors I, Ordoñez OH, Ortega-Álvarez R (2013) Urban croaking: diversity and distribution of anurans in a Neotropical city. Urban Ecosyst 16:389–396

Márquez R, De la Riva I, Bosch J (1995) Advertisement calls of Bolivian Leptodactylidae (Amphibia, Anura). J Zool 237:313–336

McDonald RI, Marcotullio PJ, Güneralp B (2013) Urbanization and global trends in biodiversity and ecosystem services. In: Elmqvist T, Fragkias M, goodness J, Güneralp B, Marcotullio PJ, McDonald RI, Parnell S, Schewenius M, Sendstad M, Seto KC, Wilkinson C (eds) urbanization, biodiversity and ecosystem services: challenges and opportunities. A global Assessment, pp 31–52

McDonnell MJ, Hahs AK (2013) The future of urban biodiversity research: moving beyond the 'low-hanging fruit'. Urban Ecosyst 16:397–409

McIntyre NE, Knowles-Yánez K, Hope D (2000) Urban ecology as an interdisciplinary field: differences in the use of "urban" between the social and natural sciences. In Urban ecology. Springer, Boston, pp 49–65

McKinney ML (2006) Urbanization as a major cause of biotic homogenization. Biol Conserv 127:247–260

Myers N, Mittermeier RA, Mittermeier CG, da Fonseca GAB, Kent J (2000) Biodiversity hotspot for conservation priorities. Nature 403:853–858

Oksanen J, Kindt R, Legendre P, O'Hara B, Stevens MHH, Oksanen MJ, Suggests MASS (2007) The vegan package. Community ecology package 10:631–637

Padilla BJ, Sutherland C (2019) A framework for transparent quantification of urban landscape gradients. Landscape Ecol vol:1–11

Parris KM, Velik-Lord M, North JMA (2009) Frogs call at a higher pitch in traffic noise. Ecol Soc 14:25

Pauchard A, Barbosa O (2013) Regional Assessment of Latin America: Rapid Urban Development and Social Economic Inequity Threaten Biodiversity Hotspots. In: Elmqvist T, Fragkias M, Goodness J, Güneralp B, Marcotullio PJ et al (eds) Urbanization, biodiversity and ecosystem services: challenges and opportunities. Springer, Dordrecht, pp 589–608

Pereyra LC, Akmentins MS, Laufer G, Vaira M (2013) A new species of Elachistocleis (Anura: Microhylidae) from North-Western Argentina. Zootaxa 3694:525–544

Pereyra LC, Akmentins MS, Vaira M, Moreno CE (2018) Disentangling the multiple components of anuran diversity associated to different land-uses in Yungas forests, Argentina. Anim Conserv 21:396–404

Perry G, Buchanan BW, Fisher RN, Salmon M, Wise SE (2008) Effects of artificial night lighting on amphibians and reptiles in urban environments. Urban Herpetol 3:239–256

Pickett STA, Cadenasso ML, Grove JM, Boone CG, Groffman PM, Irwin E, Kaushal SS, Marshall V, McGrath BP, Nilon CH, Pouyat RV, Szlavecz K, Troy A, Warren P (2011) Urban ecological systems: scientific foundations and a decade of progress. J Environ Manag 93:331–362

Pillsbury FC, Miller J (2008) Habitat and landscape characteristics underlying anuran community structure along an urban–rural gradient. Ecol Appl 18:1107–1118

Pla L, Casanoves F, Di Rienzo J (2012) Functional groups. In: Pla L, Casanoves F, Di Rienzo J (eds) Quantifying functional biodiversity. Springer, Dordrecht, pp 9–25

R Development Core Team. (2019). R: A language and environment for statistical computing. R Foundation for Statistical Computing. Vienna, Austria, Retrieved from http://www.Rproject.org

Revelle W, Rocklin T (1979) Very simple structure: an alternative procedure for estimating the optimal number of interpretable factors. Multivar Behav Res 14:403–414

Richter-Boix A, Tejedo M, Rezende EL (2011) Evolution and plasticity of anuran larval development in response to desiccation. A comparative analysis. Ecol Evol 1:15–25

Riemann JC, Ndriantsoa SH, Rödel MO, Glos J (2017) Functional diversity in a fragmented landscape–habitat alterations affect functional trait composition of frog assemblages in Madagascar. Global Ecol Conserv 10:173–183

Rubbo MJ, Kiesecker JM (2005) Amphibian breeding distribution in an urbanized landscape. Conserv Biol 19:504–511

Schneider RG, Cardozo DE, Brusquetti F, Kolenc F, Borteiro C, Haddad C, Basso NG, Baldo D (2019) A new frog of the Leptodactylus fuscus species group (Anura: Leptodactylidae), endemic from the south American Gran Chaco. PeerJ 7:e7869

Sellers KF, Shmueli G (2010) A flexible regression model for count data. Ann Appl Stat 4:943–961

Shu X, Zhang W, Li B, Pei E, Yuan X, Wang T, Wang Z (2016) Major factors affecting the distribution of anuran communities in the urban, suburban and rural areas of Shanghai, China. Asian Herpetol Res 7:287–294

Slabbekoorn H, Peet M (2003) Birds sing at a higher pitch in urban noise. Nature 424:267

Smallbone LT, Luck GW, Wassens S (2011) Anuran species in urban landscapes: relationships with biophysical, built environment and socio-economic factors. Landsc Urban Plan 101:43–51

Smith MA, Green DM (2005) Dispersal and the metapopulation paradigm in amphibian ecology and conservation: are all amphibian populations metapopulations? Ecography 28:110–128

Sol D, González-Lagos C, Moreira D, Maspons J, Lapiedra O (2014) Urbanisation tolerance and the loss of avian diversity. Ecol Lett 17:942–950

Suarez-Rubio M, Krenn R (2018) Quantitative analysis of urbanization gradients: a comparative case study of two European cities. J Urban Ecol 4:juy027

Tennessen JB, Parks SE, Langkilde T (2014) Traffic noise causes physiological stress and impairs breeding migration behaviour in frogs. Conserv Physiol 2:1–8

The National Institute of Statistics and Censuses (INDEC 2010) Available from: https://www.indec.gob.ar/indec/web/Nivel3-Tema-2-41. Data retrieved May 20, 2020

Trimble MJ, Van Aarde RJ (2014) Amphibian and reptile communities and functional groups over a land-use gradient in a coastal tropical forest landscape of high richness and endemicity. Anim Conserv 17:441–453

Vaira M (2002) Anurans of a subtropical montane forest in northwestern Argentina: ecological survey and a proposed list of species of conservation concern. Biodivers Conserv 11:1047–1062

Vaira M, Pereyra LC, Akmentins MS, Bielby J (2017) Conservation status of amphibians of Argentina: an update and evaluation of national assessments. Amphib Reptile Conserv 11:36–44

Villaseñor NR, Blanchard W, Lindenmayer DB (2016) Decline of forest structural elements across forest–urban interfaces is stronger with high rather than low residential density. Basic Appl Ecol 17:418–427

Villaseñor NR, Driscoll DA, Gibbons P, Calhoun AJK, Lindenmayer DB (2017) The relative importance of aquatic and terrestrial variables for frogs in an urbanizing landscape: key insights for sustainable urban development. Landsc Urban Plan 157:26–35

Warren PS, Katti M, Ermann M, Brazel A (2006) Urban bioacoustics: it's not just noise. Anim Behav 71:491–502
Acknowledgments
We thank Mg. Carlos Cabrera for obtaining the data extracted from each site from Worldclim layers and for making the study sites map. We thank Lic. Martín Boullhesen for field assistance. We thank two anonymous reviewers for useful comments that helped improve this manuscript. This study was funded with a PICT 2016 N 2021, Idea Wild, and PUE-INECOA 22920170100027CO.
Electronic supplementary material
About this article
Cite this article
Pereyra, L.C., Akmentins, M.S., Salica, M.J. et al. Tolerant and avoiders in an urban landscape: anuran species richness and functional groups responses in the Yungas' forest of NW Argentina. Urban Ecosyst (2020). https://doi.org/10.1007/s11252-020-01025-y
Keywords
Diversity components

Urbanization index

Moran's eigenvectors maps (MEM)

Variation partitioning

Urban ecology