Abstract
Vaginal and cervical adhesions are severe long-standing reproductive disorder in dromedaries and consequently result in a high culling rate. This study was designed to compare the microbial communities of the vaginae, cervices, and uteri of normal (n = 10) camels versus camels suffering from cervico-vaginal adhesion (n = 23). Vaginal, cervical, and uterine swab samples were collected from control and affected animals. Furthermore, serum samples were obtained for serological testing of Chlamydiosis and Coxiellosis. For bacteriological and fungal examination, swab samples were plated on Columbia and Saboraud's dextrose agar, respectively. Polymerase chain reaction (PCR) assay was applied to samples expressed seropositive for Chlamydiosis. Vaginal swab bacterial cultures showed that the affected animals were significantly infected with Staphylococcus aureus (P = 0.0322, CI: 0.25–0.95) than the control, while mycological cultures showed that both control and affected animals were infected with Cryptococcus and Candida albicans. Corynebacterium spp. (22.7%), Pseudomonas spp. (4.5%), Klebsiella spp. (9.1%), T. pyogenes (18.2%), and anaerobic bacteria (Fusobacterium necrophorum and Clostridium spp.; 34.78%) were also identified in affected animals. Cervical samples from affected animals were distinguished by the existence of S. aureus (27.8%), Klebsiella spp. (5.6%), Corynebacterium spp. (22.2%), Cryptococcus (16.7%), Proteus spp. (11.1% (, T. pyogenes (11.1%), Pseudomonas spp. (5.6%), and Fusobacterium necrophorum (17.4%). Uterine samples from affected animals were characterized by the presence of S. aureus (22.2%), Streptococcus (22.2%), Corynebacterium spp. (11.1%), E. coli (11.1%), and Pseudomonas spp. (11.1%). Anaerobic bacteria were not isolated from control nor affected animals. Enzyme immunoassays revealed that 50% and 34.8% of the control and affected animals were positive for Coxiella burnetii, respectively, Chlamydia was detected in 43.5% of samples from affected animals, only 60% of which were confirmed positive. These results show that microbial communities linked with cervico-vaginal adhesion in dromedary camels are likely to be polymicrobial. The findings of this study are helpful in designing antimicrobial therapies toward reducing the incidence for cervico-vaginal adhesion.
Access options
Buy single article
Instant access to the full article PDF.
US$ 39.95
Tax calculation will be finalised during checkout.
Subscribe to journal
Immediate online access to all issues from 2019. Subscription will auto renew annually.
US$ 79
Tax calculation will be finalised during checkout.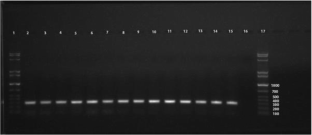 References
Al-Afaleq, A.I., Hegazy, A.A., Hussein, M.F., Al-Dughaym, A.M., 2012. Pathological disorders of the female reproductive system in slaughtered camels (Camelus dromedarius) in Saudi Arabia. Comp. Clin. Path. 21, 245-251.

Al-Humam, N.A., 2015. Etiology and bacterial antimicrobial susceptibility of endometritis in camels (Camelus dromedarius). Br. J. Appl. Sci. Technol 13:1-6.

Ali A., Al-sobayil, F.A., Hassanein, K.M., Al-Hawas, A., 2012.Ovarian hydrobursitis in female camels (Camelus dromedarius): the role of Chlamydophila abortus and a trial for medical treatment. Theriogenology. 77: 1754-1758.

Ali, A., Al-sobayil, F.A., Tharwat, M., Al-Hawas, A., Ahmed, A.F., 2010. Causes of Infertility in Female Camels (Camelus dromedarius) in Middle of Saudi Arabia. J. Agri. Vet. Sci., Qassim University, 2, 59-66.

Ali, A., Derar, D., Alsharari, A., Alsharari, A., Khalil, R., Almundarij, T. I., Al-Sobayil, F., 2018. Factors affecting reproductive performance in dromedary camel herds in Saudi Arabia. Trop. Anim. Health Prod. 50, 1155–1160.

Ali, A., Derar, R., Al-Sobayil, F., Al-Hawas, A., Hassanein, K., 2015. A retrospective study on clinical findings of 7300 cases (2007-2014) of barren female dromedaries. Theriogenology. 84, 452-456.

Al-Sultan, A.A., M.M. Al-Eknah, Al-Dougym, A.M., Aboulmagd, E., 2014. Detection of Klebsiella pneumoniae, Pseudomonas aeruginosa and ESBL producing Escherichia coli associated with ovarian hydrobursitis syndrome in female camels (Camelus dromedarus). Asian J. Anim. Vet. Adv., 9: 499-505.

Amin, J.D., Zaria, L.T., Malgwi, R.M. 1996. Vaginal aerobic flora of apparently healthy cattle in various stages of the reproductive cycle in the Sahel region of Nigeria. Bull. Anim. Health Prod in Africa 44, 15-18.

Ammary, M.S., 2013. Reproductive performance in Arab mare with reference to causes and treatment of infertility. M.V.Sc, Qassim University, Saudi Arabia. pp. 33-35.

Appino, S., Pregel, P., Manuali, E., Vincenti, L., Rota, A., Carnieletto, P., Tiberi, C., Bollo, E., 2007. Infection of bovine oviduct cell cultures with Chlamydophila abortus. Anim. Reprod. Sci. 98, 350-356.

Arthur, G.H., Pearson, H., Noakes, D.E. Veterinary Reproduction and Obstetrics. English Language Book Society and Bailliere. London: Tindall; 2000.

Azawi, O.I., 2008. Postpartum uterine infection in cattle. Anim. Reprod. Sci. 105,187-208.

Baba, E., Hata, H., Fukata T., Arakawa A., 1983.Vaginal and uterine microflora of adult dogs. Am. J. Vet. Res. 44, 606-609.

Bhat, F.A., Bhattacharyya H.K., 2012. Management of metritis in crossbred cattle of kashmir using oxytetracycline, cephalexin and Prostaglandin F2α. Indian J. Anim. Res., 46, 187 – 189.

Bicalho, M.L., Machado, V.S., Oikonomou, G., Gilbert, R.O., Bicalho, R.C. 2012. Association between virulence factors of Escherichia coli, Fusobacterium necrophorum, and Arcanobacterium pyogenes and uterine diseases of dairy cows. Vet. Microbiol. 157, 125-131.

Blanchard, T.L., Varner, D.D., Schumacher, J., 1998. Manual of equine reproduction. Mosby-Year-Book, Inc. 209 pages.

Blue, M.G., (1983). Mycotic invasion of the mare's uterus. Vet. Rec. 113, 1-32.

Bondurant, R.H., 1999. Infammation in the bovine female reproductive tract. J. Anim. Sci. 77, 101-110.

Carneiro, L.C., Cronin J. G., Sheldon I.M., 2016. Mechanisms linking bacterial infections of the bovine endometrium to disease and infertility. Phytochem. Lett. 16, 1–7.

Chow A.W., Bartlett K.H., Goldring, A.M., 1984. Quantitative vaginal microflora in women convalescent from toxicshock syndrome and in healthy controls. Infect. Immun. 44, 650-652.

Cleff, M.B., Lima, A.P., Faria, R.O., Meinerz, A.R.M., Antunes, T.A., Araujo F.B., 2005. Isolation of Candida spp from vaginal microbiota of healthy canine females during estrous cycle. Br. J. Microbiol. 36, 201–204.

Cozens, E.R., 2009. Pyometra and complete vaginal adhesion in a miniature horse. Can. Vet. J. 50: 971–972.

deHoog, G.S., Guarro, J., Gené, J., Figueras, M.J., 2000. Atlas of Clinical Fungi, second ed. Centraal bureau voor Schimmelcultures, Utrecht.

Derar, R. , Ali, A., Al-Sobayil, FA., Al-Hawas, A., 2016. Clinical findings and reproductive performance of female dromedary affected with vaginal and cervical adhesions and stenosis Journal of J Camel Pract. Res. 23, 179-184.

El-wishy, A.B., 1988. A study of genital organs of the female dromedary (Camelus dromedaries) J. Reprod. Fert., 82, 587-593.

Faber, M.T., Nielsen, A., Nygård, M., Sparén P, Tryggvadottir L., Hansen, B.T., Liaw, K.L., Kjaer S.K., 2011. Genital chlamydia, genital herpes, Trichomonas vaginalis and gonorrhea prevalence, and risk factors amongnearly 70,000 randomly selected women in 4 Nordic countries. Sex Transm Dis 38, 727–734.

Földi, J., Kulcsár, M., Pécsi, A., Huyghe, B., de Sa C, Lohuis, J.A., Cox, P., Huszenicza, G., 2006. Bacterial complications of postpartum uterine involution in cattle. Anim. Reprod. Sci. 96, 265-281.

Fredricks, D.N., Fiedler, T.L., Marrazzo, J.M., 2005. Molecular identification of bacteria associated with bacterial vaginosis. N. Engl. J. Med. 353, 1899-1911.

Fournier, P. E., Marrie, T. J., Raoult, D. 1998. Diagnosis of Q fever. J. Clin. Microbiol. 36, 1823–1834.

Garoussi, M.T., Khosrave, A.R., Havareshti, P., 2007. Mycoflora of cervicovaginal fluids in dairy cows with or without reproductive disorders. Mycopathologia 164, 97–100.

Greco, G., Totaro, M., Madio, A., Tarsitano, E., Fasanella, A., Lucifora, G., Buonavoglia, D., 2005. Detection of Chlamydophila abortus in sheep and goat flocks in southern Italy by PCR using four different primer sets Vet. Res. Commun. 29, 107-115.

Hamady, M., Walker, J.J., Harris, J.K., Gold, N.J., Knight, R., 2008. Error-correcting barcoded primers for pyrosequencing hundreds of samples in multiplex. Nat. Med. 5, 235-237.

Hassan, M.S., 1990. Some studies on the bacteria of the uterus of the she-camel. M.V.Sc Thesis, Cairo University, Egypt.

Higgins, D.P., Hemsley, S., Canfield, P.J., 2005. Association of uterine and salpingeal fibrosis with chlamydial hsp60 and hsp10 antigen specific antibodies in chlamydia-infected koalas. Clin. Diagn. Lab. Immunol. 12, 632–639.

Hussein, N.A.,Saad A.M., 2017. Pathological and bacteriological studies in uterus, cervix and vagina of the female camels (Camelus dromedarius) slaughtered at tamboul abattoir, SudanJ. Camel Pract. Res. 24, 269-274.

Ishiyama, D., Mizomoto, T., Ueda, C., Takagi, N., Shimizu, N., Matsuura, Y., Makuuchi, Y., Watanabe, A., Shinozuka, Y., Kawai, K., 2017. Factors affecting the incidence and outcome of Trueperella pyogenes mastitis in cows. J. Vet. Med. Sci. 79, 626–631.

Jacques, M., Olson, M.E., A.M. Crichlow, Osborne A.D., Costerton J.W., (1986). The normal microflora of the female rabbit's genital tract. Can. J. Vet. Res. 50, 272-274.

Joelsson I., Räf L, Söderberg G., 1971. Stenosis of the small bowel as a complication in radiation therapy of carcinoma of the uterine cervix. Actaradiol. Ther. Phys. Biol. 10, 593-604.

Jost, B.H., Billington, S.J. 2005.Arcanobacterium pyogenes: Molecular pathogenesis of an animal opportunist. AntonieVan Leeuwenhoek, 88, 87–102.

Kauffold, J., Henning, K., Bachmann, R., Hotzel, H., Melzer, F., 2007. The prevalence of chlamydiae of bulls from six bull studs in Germany. Animl. Reprod. Sci. 102, 111-121.

Khalafalla, A.I., Al Eknah, M.M., Abdelaziz, M., Ghoneim, I.M., 2017. A study on some reproductive disorders in dromedary camel herds in Saudi Arabia with special references to uterine infections and abortion' Trop. Anim. Health Pro. 49, 967-974.

Koneman, W.K., Allen, S.D., Janda, W.M.,Schreckenberger, P.C., Propcop, G.W., 2005. Textbook of Diagnostic Microbiology, 6thed. Lippincott-Raven Publisher, Philadelphia, USA.

Laing, J.A., Morgan, W.J.B. and Wagner, W.C. 1988. Fertility and infertility in veterinary practice. 4th edn., UK: Baillier Tindal, pp: 228–232.

Lewis, G.S., 1997. Uterine health and disorders. J. Dairy. Sci. 80, 984-994.

Mama, K.R., 2000. Anesthetic Management of Camelids. In: Steffey E.P. (Ed.), Recent Advances in Anesthetic Management of Large Domestic Animals. Ithaca: International Veterinary Information Service (www.ivis.org), Document No. A0608.0900.

Manichanh, C., Rigottier-Gois, L., Bonnaud, E., Gloux, K., Pelletier, E., Frangeul, L., Nalin, R., Jarrin C., Chardon, P., Marteau, P., Roca, J., and Dore, J., 2006. Reduced diversity of faecal microbiota in Crohn's disease revealed by a metagenomic approach. Gut 55, 205-211.

Meyer, T., 2016. Diagnostic Procedures to Detect Chlamydia trachomatis Infections. Microorganisms. 4, 25–35.

Mshelia, G.D., Okpaje, G., Voltaire, Y.A., Egwu, G.O., 2014. Comparative studies on genital infections and antimicrobial susceptibility patterns of isolates from camels (Camelus dromedarius) and cows (Bos indicus) in Maiduguri, north-eastern Nigeria. Springer plus, 3,1-7.

Nabih, A.M., Osman R.H., 2012. Bacteriological studies of endometritis as a main cause for reproductive and fertility problems in she-camel. Assiut Vet. Med. J. 58, 396 –402.

Novoa, C. (1970). Review: Reproduction in Camelidae. J. Reprod. Fertil. 22, 3-20.

Olson, J.D., Ball, L., Mortimer, R.G., Farin, P.W., Adney W.S., Huffman, E.M., 1984. Aspects of bacteriology and endocrinology of cows with pyometra and retained fetal membranes. Am. J. Vet. Res. 45, 2251–2255.

Ott, S.J., Musfeldt, M., Wenderoth, D.F, Hampe, J., Brant, O., Fölsch, U.R., Timmis, K.N., Schreiber S., 2004. Reduction in diversity of the colonic mucosa associated bacterial microflora in patients with active inflammatory bowel disease. Gut 53, 685-693.

Pugh, D.G., Martin, M.T., Shull, J.W., Bowmen, J.M., 1986. Endometrial candidiosis in 5 mares. J. Equine Vet. Sci. 6, 40-43.

Raoult, D., Vestris, G., Enea M., 1990. Isolation of 16 strains of Coxiella burnetii from patients by using a sensitive centrifugation cell culture systemand establishment of strains in HEL cells. J. Clin. Microbiol. 28, 2482–2484.

Richard, L.W., 2007. Mycotic bovine abortion. In: S. ROBERT (2nd ed.): Current therapy in large animal theriogenology, Youngquist and Walter, Saunders, Elsevir, USA 417-419.

Ruder, C.A., Sasser, R.G., Williams, R.J., Ely J.K., Bull, R.C., Butler J.E., 1981. Uterine infections in the postpartum cow. II. Possible synergistic effect of Fusobacterium necrophorum and Corynebacterium pyogenes. Theriogenology 15, 573–580.

Rzewuska, M., Kwiecień, E., Chrobak-Chmiel, D., Kizerwetter-Świda, M., Stefańska, I., Gieryńska, M., 2019. Pathogenicity and Virulence of Trueperella pyogenes: A Review. Int. J. Mol. Sci., 20, 2737.

Schmatzh, D.H., Kraussp, H., Viertela, P., Ismail, A., Hussein, A., 1978. "Seroepidemiologische Untersuchungen zum Nachweis von Antikorpern gegen Rickettsien und Chlamydien bei Hauswiederkauern in Agypten, Somalia und Jordanien." Acta Trop. 35, 101–111.

Sheldon, M., Dobson, H. (2004). Postpartum uterine health in cattle. Anim. Reprod. Sci., 82-83, 295-306.

Shokri, H., Khosravi, A., Sharifzadeh, A., Tootian, Z., 2010 Isolation and identification of yeast flora from genital tract in healthy female camels (Camelus dromedarius). Vet. Microbiol. 14, 183–186.

Simenew, K., Moa, M., Ashenafi, F., Tilaye, D., Fekadu, R., Getnet, A., Gizat, A., Tesfaye, S., Tesfu, K., Fufa, D., 2015: Pathological and bacteriological study on abnormalities of female internal reproductive organ of Camelus dromedarius slaughtered at Akaki Abattoir, Ethiopia. Am-Euras. J. Sci. Res., 10, 193-202.

SPSS. Statistical Package for Social Science. SPSS Inc., Chicago, IL, USA, Copyright© for Windows 2007; version 16.0.

Tan R.H.H, Dascnio, J.J., 2008. Infertility associated with persistent hymen in an alpaca and a llama. Can. Vet. J. 49, 1113-1117.

Teankum, K., Pospischil A., Janett, F., Brugnera, E., Hoelzle, L., Hoelzle, K., Weilenmann, R., Zimmermann D., Gerber, A., Polkinghorne, A., 2007. Prevalence of chlamydiae in semen and genital tracts of bulls, rams and bucks. Theriogenology, 67, 303-310.

Thiele, D., Karo, M., Krauss, H., 1992. Monoclonal antibody based capture elisa/elifa for detection of coxiella burnetii in clinical specimens Eur. J. Epidemiol. 8, 568-574.

Tibary A., Anouassi A. 2000. Reproductive disorders in the female camelid. In: Skidmore J.A. Adams G.P., editors. Recent advances in camelid reproduction. International Veterinary Information Service; http://www.ivis.org/

Tibary, A., Anouassi, A., 1997. Breeding soundness examination of the female camelidae. In: Theriogenology in Camelidae: Anatomy, Physiology, BSE, Pathology and Artificial Breeding. Ed. A. Tibary. Actes Editions, Institut Agronomique et Veterinaire Hassan II. pp 243-310.

Tibary, A., Anouassi A., 2001. Uterine infections in camelidae Veterinary Sciences Tomorrow.

Tibary, A., Anouassi, A., 2002. Comparative reproductive physiology in different species of camelids. Proceedings of a Short Course in Camelid Health, OSU, March.

Tibary, A., Anouassi, A. Memon, M.A., 2001. An approach to the diagnosis of infertility in camelids: retrospective study in alpaca, llamas and camels. J. Camel Pract. Res. 8, 167-179.

Tibary, A., Fite, C., Anouassi, A., Sghiri, A., 2006.Infectious causes of reproductive loss in camelids. Theriogenology 66: 633–647.

Tibary, A., Rodriguez, J., Sandoval, S., 2008. Reproductive emergencies in camelids. Theriogenology 70, 515–534.

Wagener, K., Grunert, T., Prunner, I., Ehling-Schulz, M., Drillich, M., 2014. Dynamics of uterine infections with Escherichia coli, Streptococcus uberis and Trueperella pyogenes in post-partum dairy cows and their association with clinical endometritis. Vet. J. 202, 527–532.

Wagener, K., Prunner, I., Pothmann, H., Drillich, M., Ehling-Schulz, M., 2015. Diversity and health status specific fluctuations of intrauterine microbial communities in postpartum dairy cows. Vet. Microbiol. 175, 286–293.

Welle, N.J., Burns, B., 2019. Bowel Adhesions. (Updated 2019 Oct 13). In: StatPearls [Internet]. Treasure Island (FL): Stat Pearls Publishing; 2019 Jan-.

Wernery, U., Kumar, B.N., 1994. "Reproductive disorders in dromedary camels due to infectious causes and its treatment". J. Camel Pract. Res. 1, 85–87.

Wernery, U. and Wernery, R., 1992. Uterine infections in the dromedary camel - a review. Proc. First Int. Camel Conf., Dubai, UAE. 155-158.

Widelock, T., Elkattah, R., Gibbs, S., Mashak, Z., Mohling, S., DePasquale, S., 2015. "Uterine Necrosis Associated with Fusobacterium necrophorum Infection," Case Rep Obstet Gynecol., 2015, Article ID 934913, 5 pages,

Williams, E.J., Fischer, D.P., Pfeiffer, D.U., England, G.C.W., Noakes, D.E., Dobson, H., Sheldon, I.M., 2005. Clinical evaluation of postpartum vaginal mucus reflects uterine bacterial infection and the immune response in cattle. Theriogenology 63, 102–117.

Wittenbrink, M.M., Schoon, H.A., Schoon, D., Mansfeld, R., Bisping, W., (1993). Endometritis in cattle experimentally induced by Chlamydia psittaci. Zentralbl Veterinarmed B 40, 437-450.

Yagoub, S.O., 2005. Bacterial Diseases of the Reproductive System of Camels (Camelus dromedarius) in Eastern Sudan . J. Anim. Vet. Adv. 4, 642-644.
Funding
The authors would like to acknowledge the Deanship of Scientific Research at King Faisal University for their financial support under the annual research support track (Grant No. 140002).
Ethics declarations
Conflict of interest
The authors declare that they have no conflict of interest.
Additional information
Publisher's note
Springer Nature remains neutral with regard to jurisdictional claims in published maps and institutional affiliations.
About this article
Cite this article
Ghoneim, I.M., AL-Ahmad, J.A., Fayez, M.M. et al. Characterization of microbes associated with cervico-vaginal adhesion in the reproductive system of camels (Camelus dromedaries). Trop Anim Health Prod 53, 132 (2021). https://doi.org/10.1007/s11250-020-02538-6
Received:

Accepted:

Published:
Keywords
Camels

Cervix

Vagina

Adhesion

Microbiology