Abstract
Successful preventive and control measures of zoonotic diseases require updated epidemiological data. Sylvatic rabies is endemic in Oman since 1990. Studying of the prevalence of animal rabies in Oman (2017–2019) was the goal of the current study besides the clinical–histopathological investigations of rabies in different animal species. A total of 117 whole brains of different animal species from different regions of Oman were examined by fluorescent antibody test (FAT) and histopathology for rabies during 2017–2019. Sixty-four samples (54.7%) were positive for rabies by FAT. The most affected species were goat (53.1%) followed by camel (18.8%), which pose a great risk to farmers and veterinarians. Positive fox cases were (10.9%). Most confirmed cases of animal rabies were submitted from Northern regions of Oman. Rabies was reported recently in Al Wusta among wild ruminants, Central Oman. The seasonal cycle of animal rabies in Oman was year-round with the peak from December to April. The clinical signs and neuropathological findings were nearly similar in different animal species. Histopathology-positive cases had Negri bodies in pyramidal and purkinje neurons, non-suppurative encephalitis features, and neuronal degeneration and necrosis. The sensitivity and specificity of histopathological diagnosis of rabies in different animals were 76.47% and 100.00%, respectively. Finally, sylvatic rabies remains a major challenge to the public and animal health in Oman. Although of the value of histopathological diagnosis of rabies if no other technique is available, other complementary tests must be employed to confirm negative results.
This is a preview of subscription content, log in to check access.
Access options
Buy single article
Instant access to the full article PDF.
US$ 39.95
Price includes VAT for USA
Subscribe to journal
Immediate online access to all issues from 2019. Subscription will auto renew annually.
US$ 99
This is the net price. Taxes to be calculated in checkout.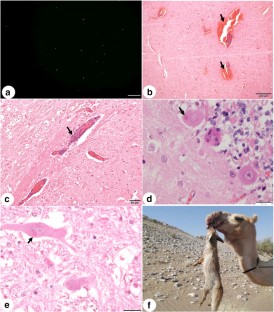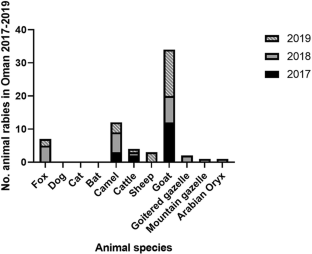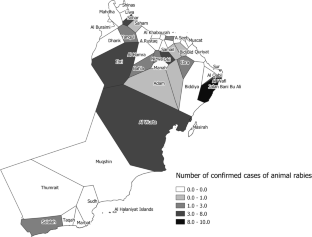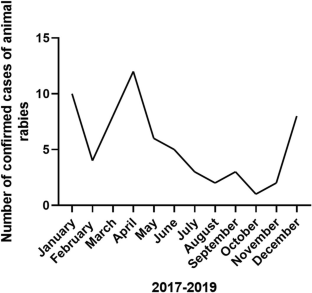 References
Ahmed, M.S. et al., 2020. Molecular characterization and diagnostic investigations of rabies encephalitis in camels (Camelus dromedaries) in Oman: a retrospective study, Tropical Animal Health and Production, 1-6

Al-Shamahy, H.A., Sunhope, A., and Al-Moyed, K.A., 2013. Prevalence of rabies in various species in Yemen and risk factors contributing to the spread of the disease, Sultan Qaboos University Medical Journal, 13, 404

Al Abaidani, I. et al., 2015. Epidemiology of rabies in Oman: a retrospective study [1991-2013], EMHJ-Eastern Mediterranean Health Journal, 21, 591-597

Al Ismaily, S. et al., 2002. Retrospective studies of rabies in the Sultanate of Oman 1990–2000, Agric. Fish. Res. Bull, 2, 25-28

Alaifan, T., and Altamimi, A., 2019. A systematic review of epidemiology of rabies in Arab countries, Journal of Health Informatics in Developing Countries, 13, 1-15

Alsaid, T. et al., 2019. New record of Blanford's Fox Vulpes cana (Mammalia: Carnivora: Canidae) in central Oman: a connection between the northern and southern populations, Journal of Threatened Taxa, 11, 14244-14246

Awaidy, S.A., and Al Hashami, H., 2020. Zoonotic diseases in Oman: successes, challenges, and future directions, vector-borne and zoonotic diseases, 20, 1-9

Bancroft, J.D. and Gamble, M. eds., 2008. Theory and practice of histological techniques. Elsevier health sciences.

Bannazadeh Baghi, H. et al., 2018. A perspective on rabies in the Middle East—beyond neglect, Veterinary sciences, 5, 67

Banyard, A.C. et al., 2013. Control and prevention of canine rabies: the need for building laboratory-based surveillance capacity, Antiviral Research, 98, 357-364

Barecha, C.B. et al., 2017. Epidemiology and public health significance of rabies, Perspectives in Medical Research, 5, 55-67

Beck, S. et al., 2017. Pathobiological investigation of naturally infected canine rabies cases from Sri Lanka, BMC veterinary research, 13, 99

Body, M.H. et al., 2018. Molecular characterization of rabies virus from foxes in the sultanate of Oman, Animal and Veterinary Sciences, 6, 17

Body, M.H.H. et al., 2014. Study on molecular characterization of rabies virus N gene segment from different animal species in the Sultanate of Oman, J. Vet. Med. Anim. Heal, 6, 295-301

Bourhy, H. et al., 2010. Rabies, still neglected after 125 years of vaccination, PLoS neglected tropical diseases, 4, e839.

bvba, M.S., 2018. MedCalc Statistical Software version 18. 2018, (Belgium Ostend,

Cisterna, D. et al., 2005. Antigenic and molecular characterization of rabies virus in Argentina, Virus research, 109, 139-147

Dhayhi, N.S. et al., 2019. First confirmed case of local human rabies in Saudi Arabia, International journal of infectious diseases, 87, 117-118

El-Neweshy, M.S. et al., 2019a. Natural Ehrlichia ruminantium infection in two captive Arabian tahrs (Arabitragus jayakari) in Oman, Tropical Animal Health and Production, 51, 2539-2545

El-Neweshy, M.S. et al., 2019b. First report of an outbreak of cerebral coenurosis in Dhofari goats in Oman, Revista Brasileira de Parasitologia Veterinária, 28, 479-488

Garg, S.R., 2014. Rabies in man and animals, (Springer)

Hayman, D.T. et al., 2011. A universal real-time assay for the detection of Lyssaviruses, Journal of Virological Methods, 177, 87-93

Horton, D.L. et al., 2013. Rabies in Iraq: trends in human cases 2001–2010 and characterisation of animal rabies strains from Baghdad, PLoS neglected tropical diseases, 7, e2075

Hussain, M.H. et al., 2013. Spatio-temporal pattern of sylvatic rabies in the Sultanate of Oman, 2006–2010, Preventive veterinary medicine, 110, 281-289

Jamadagni, S., Singh, C., and Sandhu, B., 2007. Histopathological alterations in brains of rabies infected buffaloes and cattle, Italian Journal of Animal Science, 6, 872-874

Johnston, D., and Beauregard, M., 1969. Rabies epidemiology in Ontario, Bulletin of the Wildlife Disease Association, 5, 357-370

Kasem, S. et al., 2019. Rabies among animals in Saudi Arabia, Journal of infection and public health, 12, 445-447

Kassiri, H., Ebrahimi, A., and Lotfi, M., 2018. Animal bites: epidemiological considerations in the east of Ahvaz County, Southwestern Iran (2011-2013), Archives of Clinical Infectious Diseases, 13, e62384

Lucas, S., 2018. Investigating infectious diseases at autopsy, Diagnostic Histopathology, 24, 357-364

McElhinney, L.M. et al., 2014. Effects of carcase decomposition on rabies virus infectivity and detection, Journal of Virological Methods, 207, 110-113

Memish, Z.A., Assiri, A.M., and Gautret, P., 2015. Rabies in Saudi Arabia: a need for epidemiological data, International journal of infectious diseases, 34, 99-101

MOH, 1998. Ministry of Health (MOH), Community Health and Disease Surveillance Newsletter., VII, 1-9

Mrak, R.E., and Young, L., 1993. Rabies encephalitis in a patient with no history of exposure, Human pathology, 24, 109-110

Naji, E. et al., 2019. Comparison of reverse transcription loop-mediated isothermal amplification method with SYBR green real-time RT-PCR and direct fluorescent antibody test for diagnosis of rabies, Japanese journal of infectious diseases, JJID. 2019.2009

Nigg, A.J., and Walker, P.L., 2009. Overview, prevention, and treatment of rabies, Pharmacotherapy: The Journal of Human Pharmacology and Drug Therapy, 29, 1182-1195

Novelli, V., and Malankar, P., 1991. Epizootic of fox rabies in the Sultanate of Oman, Transactions of the Royal Society of Tropical Medicine and Hygiene, 85, 543-543

Obonyo, M. et al., 2016. Suspected rabies in humans and animals, Laikipia County, Kenya, Emerging infectious diseases, 22, 551–553.

Sami, D., and Ennaji, M.M., 2020. Global epidemiology and genetic variability of rabies viruses. emerging and reemerging viral pathogens, 2020, (Elsevier, 259-275

Singh, C., 2001. Laboratory diagnosis of rabies by elisa in buffalo calves experimentally infected with rabies virus, (Guru Angad Dev Veterinary and Animal Sciences University, Ludhiana)

Singh, C., and Grewal, G., 1998. Early pathogenic study in experimental rabies in buffalo calves with street rabies virus, Buff. J, 3, 361-373

Ward, M., 2012. Review of rabies epidemiology and control in South, South East and East Asia: past, present and prospects for elimination, Zoonoses and public health, 59, 451-467

WHO, 1992. Wildlife rabies in Oman and the United Arab Emirates, Weekly Epidemiological Record= Relevé épidémiologique hebdomadaire, 67, 65-68

WHO, 2013. WHO expert consultation on rabies: second report, (World Health Organization)

Wilde, H. et al., 2012. Rabies in Asia: the classical zoonosis. One Health: The Human-Animal-Environment Interfaces in Emerging Infectious Diseases, 2012, (Springer, 185-203

Yakobson, B. et al., 2017. Impact of rabies vaccination history on attainment of an adequate antibody titre among dogs tested for international travel certification, Israel–2010–2014, Zoonoses and public health, 64, 281-289
Acknowledgements
All field veterinarians in MAF, Oman, are sincerely thanked by the authors for their valuable role in sample collection. The authors wish to thank Mr. Taha Al Sabhi, Central Laboratory for Animal Health, for his valuable help and support.
Ethics declarations
Competing interests
The authors declare that they have no conflict of interest.
Additional information
Publisher's note
Springer Nature remains neutral with regard to jurisdictional claims in published maps and institutional affiliations.
About this article
Cite this article
El-Neweshy, M.S., Al Mayahi, N., Al Mamari, W. et al. Animal rabies situation in Sultanate of Oman (2017–2019). Trop Anim Health Prod (2020). https://doi.org/10.1007/s11250-020-02328-0
Received:

Accepted:

Published:
Keywords
Rabies

Oman

FAT

Histopathology

Epidemiology

Negri bodies