Abstract
This study was conducted on 82,908 records of purebred and upgraded Kashmir Merino sheep to evaluate the performance of breed over the years. The data pertaining to fiber diameter (FD), staple length (SL), clean wool yield percent (CWY %), number of crimps/cm (NCPC), and medullation percent (MP) spread over a period of 15 years (2013–2017) was collected from Fleece Testing Laboratory Nowshera, Srinagar. The highest CV (%) was observed for MP, whereas the lowest CV (%) was observed for FD (2.07%). The least-squares means were 20.96 ± 0.002 μm, 4.05 ± 0.01 cm, 66.68 ± 0.01%, 4.38 ± 0.02 No/cm and 0.79 ± 0.05% for FD, SL, CWY (%), NCPC and MP, respectively. The year of shearing had highly significant (p < 0.01) effect on all the traits under the study. The study concludes that crossbreeding with exotic fine wool breeds has resulted improved genetic potential of native germplasm with respect to wool quality traits with Merino sheep performing better in the agro-climatic conditions of the State. Environment was also found to play a significant role in expression of wool quality traits during the period of the study.
This is a preview of subscription content, log in to check access.
Access options
Buy single article
Instant access to the full article PDF.
US$ 39.95
Price includes VAT for USA
Subscribe to journal
Immediate online access to all issues from 2019. Subscription will auto renew annually.
US$ 99
This is the net price. Taxes to be calculated in checkout.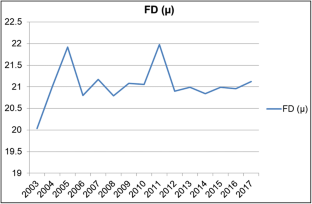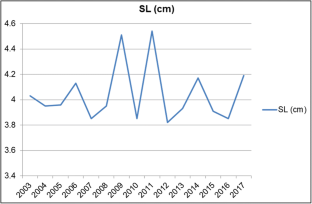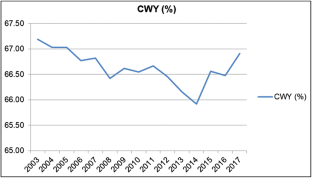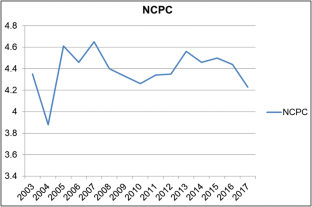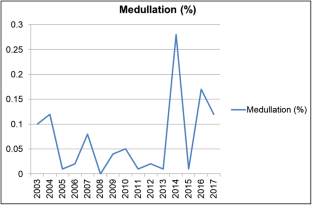 References
Ahmad, S., Khan, M.S. and Khan, M.F.U., 2011. Factors affecting wool characteristics of Kari sheep in Pakistan, Turkish Journal of Veterinary and Animal Sciences, 34(6), 485--492.

Das, A.K., Chakraborty, D., Kumar, N., Gupta, P., Khan, N.N. and Bukhari, S., 2014. Effects of non-genetic factors on performance traits of Kashmir Merino sheep, Indian Journal of Animal Research, 48(2), 106--108.

Dixit, S.P., Chander, R., Kumar, S., and Dhillon, J.S., 2006. Status of newly developed wool strains of sheep in India-A review, Agricultural reviews-agricultural research communications centre India. 27(4), 292.

Dixit, S.P., Singh, G., Kant, N. and Dhillon, J.S., 2009. Contribution of genetic and phenotypic parameters affecting fleece traits in 3/4th bred Bharat Merino sheep, Indian Journal of Animal Research, 43(1), 1--6.

El-Wakil, E., Salwa, I. and Elsayed, M. 2013. Genetic, phenotypic and environmental trends towards improving body weight in Barki sheep, Egyptian Journal of Sheep and Goat Sciences, 8(2): 11--20.

Gupta, N., 2000. Genetic evaluations of exotic fine wool breeds (Rambouiliet and Merino) and their crosses with indigenous sheep breeds of Northwestern Himalayan region. (M.V.Sc. thesis. Department of Animal Breeding, Genetics and Biostatistics College of Veterinary and Animal Sciences Himachai Pradesh Krishi Vishvavidyalaya Palampur (H.P.) India)

Hamadani, A., Ganai, N.A., Khan, N.N., Shanaz, S. and Ahmad, T. 2019. Estimation of genetic, heritability, and phenotypic trends for weight and wool traits in Rambouillet sheep. Small Ruminant Research, 177(2019) 133--140.

Hanford, Kathryn J., Van Vleck, L.D. and Snowder, G.D. 2006. Estimates of genetic parameters and genetic trend for reproduction, weight, and wool characteristics of Polypay sheep, Livestock Science, 102: 72-- 82.

Harvey, W.R. 1990., User's Guide for LSMLMW and MIXMDL PC-2 version. Mixed model least-squares and maximum likelihood computer program, Ohio State University, Columbus, Ohio, USA.

Ireland, C. 2010. Experimental Statistics for Agriculture and Horticulture. CAB International, Oxfordshire, UK.

Khan, N.N., Kumar, N., Das, A.K., Chakraborty, D., Taggar, R.K. and Gupta, P. 2015. Genetic studies on wool production traits in Rambouillet crossbred sheep in J & K State, India, Indian Journal of Animal Research, 49 (1), 40--43.

Mahajan, V., Das, A. K., Taggar, R. K., Kumar, D., and Khan, N., 2018. Effect of non-genetic factors on some wool traits in Rambouillet sheep in Jammu, International Journal of Current Microbiology and Applied Sciences, 7: 3966--3973.

Momoh, O.M., Rotimi, E.A. and Dim, N.I. 2013. Breed effect and non-genetic factors affecting growth performance of sheep in a semi-arid region of Nigeria, Journal of Applied Biosciences, 67:5302--5307

Piwczyński, D. and Kowaliszyn, B. 2013. Heritability and breeding value of sheep fertility estimated by means of the Gibbs sampling method using the linear and threshold models, Journal Of Central European Agriculture, 14(1): 23--32

Qureshi, M.A., Khan, S.A., Shafique, M., Sabir, N., and Ahmed, G., 2013. Influence of genetic and non-genetic factors on quantity and quality of wool from sheep reared at Rawalakot Azad Jammu and Kashmir, Journal of Animal and Plant Sciences, 23, 20--25.

Rather, M.A., Shanaz, S., Ganai, N.A., Bukhari, S., Hamadani, A., Khan, N.N., Yousuf, S., Baba, A., Raja, T.A., and Khan, H.M., 2019. Genetic evaluation of wool traits of Kashmir Merino sheep in organized farms, Small Ruminant Research, 177, 14--17

Safari, E., Fogarty, N.M., Gilmour, A.R., Atkins, K.D., Mortimer, S.I., Swan, A.A., Brien, F.D., Greeff, J.C., and Van der Werf, J.H.J., 2007. Genetic correlations among and between wool, growth and reproduction traits in Merino sheep, Journal of Animal Breeding and Genetics, 124(2),65--72.

Sarkar, T.K., Banik, S., Ganai, T.A.S., Singh, P.K., and Ganai, N., 2008. Mortality pattern in exotic and crossbred sheep at an organized farm of Kashmir valley, Indian Journal of Small Ruminants, 14(2), 218--223

Snedecor, G. W. and Cochran, W G., 1994. Statistical methods. 8th Ed, Iowa State University Press, Ames, USA

Supakorn, C., Pralomkarn, W. and Anothaisinthawee, S. 2013. Estimation of genetic parameters and genetic trends for weight and body measurements at birth in sheep populations in Thailand, Songklanakarin Journal of Science and Technology, 35(1): 1--10.

Thiagarajan, R., 2013. Effect of crossbreeding on wool traits in Deccani sheep by using Rambouillet and Corriedale rams, Indian Journal of Fundamental and Applied Life Sciences, 3(1), 102--105.
Ethics declarations
Conflict of interest
The authors declare that they have no conflict of interest.
Additional information
Publisher's note
Springer Nature remains neutral with regard to jurisdictional claims in published maps and institutional affiliations.
About this article
Cite this article
Baba, M.A., Ahanger, S.A., Hamadani, A. et al. Factors affecting wool characteristics of sheep reared in Kashmir. Trop Anim Health Prod 52, 2129–2133 (2020). https://doi.org/10.1007/s11250-020-02238-1
Received:

Accepted:

Published:

Issue Date:
Keywords
Kashmir merino

Nongenetic factors

Phenotypic correlation