Abstract
Algae are a rich source of bioactive compounds and health properties that have been narrowly explored in goat production systems. The aim of this study was to determine the effect of feeding diets supplemented with Sargassum spp. on antioxidant status and immune parameters in goat kids. The diets were as follows: control (basal diet without alga), Sargassum spp. 2.5% (Ss2.5), and Sargassum spp. 5% (S5) fed over a 70-day period. A total of 11 body tissues, intestinal mucus, and blood serum were sampled at necropsy. Protein content, superoxide dismutase (SOD), catalase (CAT), myeloperoxidase (MPO), lysozyme, and anti-protease activities were determined, as well as immunoglobulin A (IgA) and immunoglobulin G (IgG). The results indicated that Sargassum spp. supplementation increased protein content in six tissues. Antioxidant activities (SOD and CAT) and immune-related (lysozyme, MPO, and anti-protease) activities were statistically higher (P < 0.05) in Sargassum spp. groups compared with control in several tissues, intestinal mucus, and serum. Imunoglobulin A levels in intestinal mucus were higher (P < 0.05) in Sargassum spp.-supplemented groups than the control group. In conclusion, diet supplementation of Sargassum spp. improves the antioxidant status and enhances the immune parameters in goats. Sargassum spp. dietary supplementation is proposed as strategy to strengthen antioxidant status and stimulate the immune system, which helps in the control of opportunistic pathogens in goats.
This is a preview of subscription content, log in to check access.
Access options
Buy single article
Instant access to the full article PDF.
US$ 39.95
Price includes VAT for USA
Subscribe to journal
Immediate online access to all issues from 2019. Subscription will auto renew annually.
US$ 99
This is the net price. Taxes to be calculated in checkout.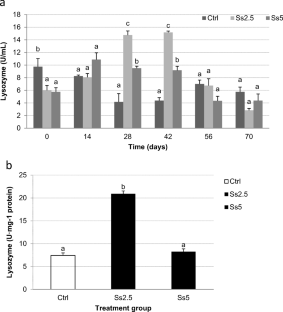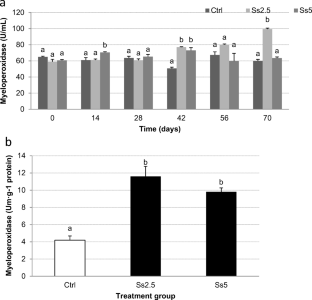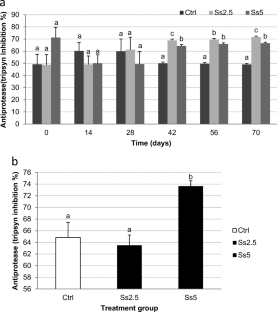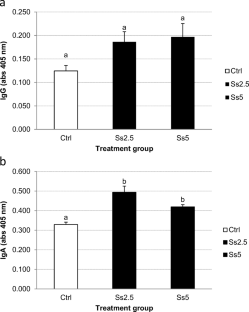 References
Al-Harthi, M.A., El-Deek, A.A., 2012. Effect of different dietary concentrations of brown marine algae (Sargassum dentifebium) prepared by different methods on plasma and yolk lipid profiles, yolk total carotene and lutein plus zeaxanthin of laying hens, Italian Journal Animal Science, 11, e64.

A.O.A.C, 1999. Official methods of analysis. Association of Analytical Chemists (16th.) Washington, D. C. EEUU.

Butler, J.E., 1985. Bovine immunoglobulins: an augmented review, Veterinary Immunology Immunopathology, 4, 43–152.

Casas-Valdez, M., Hernandez-Contreras, H., Marin-Alvarez, A., Aguila-Ramirez, R.N., Hernandez-Guerrero, C.J., Sanchez-Rodriguez, I., Carrillo-Dominguez, S., 2006. The seaweed Sargassum (Sargassaceae) as tropical alternative for goats' feeding, Revista de Biología Tropical, 54, 83–92.

Cadenas, E., 1997. Basic mechanisms of antioxidant activity. Biofactors, 6, 391–397.

Celi, P., 2011. Biomarkers of oxidative stress in ruminant medicine, Immunopharmacology Immunotoxicology, 33, 233–240.

Choi, Y.J., Lee, S.R., Oh, J.W., 2014. Effects of dietary fermented seaweed and seaweed fusiforme on growth performance, carcass parameters and immunoglobulin concentration in broiler chicks. Asian Australasian Journal Animal Science, 27, 862–870.

Cofrades, S., López-Lopez, I., Bravo, L., Ruiz-Capillas, C., Bastida, S., Larrea, M.T., Jiménez-Colmenero, F., 2010. Nutritional and antioxidant properties of different brown and red Spanish edible seaweeds, Food Science Technology International, 16, 361–370.

Ellis, A.E., 1990. Serum antiproteases in fish and lysozyme assays. In: Stolen JS, Fletcher TC, Anderson DP, Roberson BS, van Muiswinkel WB, editors, Techniques in fish immunology, Fair Haven: SOS Publications, 95–103.

Giblin, F., McCready, J., Reddy, V., 1982. The role of glutathione metabolism in the detoxification of H2O2 in rabbit lens, Investigative Ophthalmology & Visual Science, 22, 330–335.

Gojon-Baez, H.H., Siqueiros-Beltrones, D.A., Hernandez-Contreras, H., 1998. In situ ruminal digestibility and degradability of Macrocystis pyrifera and Sargassum spp. in bovine livestock, Ciencias Marinas, 24, 463–481.

Griebel, P., Hill, K., Stookey, J., 2014. How stress alters immune responses during respiratory infection, Animal Health Research Reviews, 15, 161–165.

Huang, X., Zhou, H., Zhang, H., 2006. The effect of Sargassum fusiforme polysaccharide extracts on vibriosis resistance and immune activity of the shrimp, Fenneropenaeus chinensis, Fish & Shellfish Immunology, 20, 750–757.

James, B.W., Goodband, R.D., Unruh, J.A., Tokach, M.D., Nelssen, J.L., Dritz, S.S., O'Quinn, P.R., Andrews, B.S., 2002. Effect of creatine monohydrate on finishing pig growth performance, carcass characteristics and meat quality, Animal Feed Science Technology, 96, 135–145.

Johansson, L.H., Borg, L.A., 1988. A spectrophotometric method for determination of catalase activity in small tissue samples, Analytical Biochemistry, 174, 331–336.

Kang, J.S., Choi, I.W., Han, M.H., Hong, S.H., Kim, S.O., Kim, G.Y., Hwang, H.J., Kim, B.W., Choi, B.T., Kim, C.M., Choi, Y.H., 2015. Sargassum horneri methanol extract rescues C2C12 murine skeletal muscle cells from oxidative stress-induced cytotoxicity through Nrf2-mediated upregulation of heme oxygenase-1, BMC Complementary & Alternative Medicine, 15, 17.

Katayama, M., Fukuda, T., Okamura, T., Suzuki, E., Tamura, K., Shimizum, Y., Suda, Y., Suzuki, K., 2011. Effect of dietary addition of seaweed and licorice on the immune performance of pigs, Animal Science Journal, 82, 274–281.

Lange, S., Gudmundsdottir, B., Magnadottir, B., 2001. Humoral immune parameters of cultured Atlantic halibut (Hippoglossus hippoglossus L.), Fish & Shellfish Immunology, 11, 523–535.

Loria, V., Dato, I., Graziani, F., Biasucci, L.M., 2008. Myeloperoxidase: a new biomarker of inflammation in ischemic heart disease and acute coronary syndromes, Mediators of Inflammation.

Makkar, H.P.S., Tran, G., Heuzé, V., Giger-Reverdin, S., Lessiree, M., Lebasf, F., Ankers, P., 2016. Seaweeds for livestock diets: A review, Animal Feed Science Technology, 212, 1–17.

Marin, A., Casas, M., Carrillo, S., Hernandez, H., Monroy, A., 2003. Performance of sheep fed rations with Sargassum spp. sea algae, Cuban Journal of Agricultural Science, 37, 119–123.

Marin, A., Casas-Valdez, M., Carrillo, S., Hernandez, H., Monroy, A., Sangines, L., Perez-Gil, F., 2009. The marine algae Sargassum spp. (Sargassaceae) as feed for sheep in tropical and subtropical regions, Revista Biología Tropical, 57, 1271–1281.

Meyer, K.C., Lewandoski, J.R., Zimmerman, J.J., Nunley, D., Calhoun, W.J., Dopico, G.A., 1991. Human neutrophil elastase and elastase/alpha1-antiprotease complex in cystic fibrosis: comparison with interstitial lung disease and evaluation of the effect of intravenously administered antibiotic therapy, American Review Respiratory Disease, 144, 580–585.

National Research Council (NRC), 2001. The nutrient requirement of dairy cattle. Seventh edition. National Academy Press, Washington, D. C.

National Research Council (NRC), 2007. Nutrient Requirements of Small Ruminants: Sheep, Goats, Cervids, and New World Camelids, The National Academic Press, Washington, D.C.

Novoa-Garrido, M., Aanensen, L., Lind, V., Larsen, H.J.S., Jensen, S.K., Govasmark, E., Steinshamn, H., 2014. Immunological effects of feeding macroalgae and various vitamin E supplements in Norwegian white sheep-ewes and their offspring, Livestock Science, 167, 126–136.

Oh, J., Wall, E. H., Bravo, D. M., Hristov, A. N. 2017. Host-mediated effects of phytonutrients in ruminants: a review, Journal of dairy science, 100(7), 5974–5983.

Panda, S., & Ding, J. L. 2015. Natural antibodies bridge innate and adaptive immunity, The journal of immunology, 194(1), 13–20.

Quade, M.J., Roth, J.A., 1997. A rapid, direct assay to measure degranulation of bovine neutrophil primary granules, Veterinary Immunology Immunopathology, 58, 239–248.

Qwele, K., Hugo, A., Oyedemi, S.O., Moyo, B., Masika, P.J., Muchenje, V., 2013. Chemical composition, fatty acid content and antioxidant potential of meat from goats supplemented with Moringa (Moringa oleifera) leaves, sunflower cake and grass hay, Meat Science, 93, 455–462.

Rahman, K., 2007. Studies on free radicals, antioxidants, and co-factors, Clinical Interventions in Aging, 2, 219–236.

Rajabi, M., Rouzbehan, Y., Rezaei, J., 2017. A strategy to improve nitrogen utilization, reduce environmental impact, and increase performance and antioxidant capacity of fattening lambs using pomegranate peel extract, Journal Animal Science, 95, 499–510.

Sivagnanavelmurugan, M., Thaddaeus, B.J., Palavesam, A., Immanuel, G., 2014. Dietary effect of Sargassum wightii fucoidan to enhance growth, prophenoloxidase gene expression of Penaeus monodon and immune resistance to Vibrio parahaemolyticus, Fish & Shellfish Immunology, 39, 439–449.

Telles, C.B.S., Mendes-Aguiar, C., Fidelis, G.P., Frasson, A.P., Pereira, W.O., Scortecci, K.C., Camara, R.B.G., Nobre, L.T.B.D., Tiana, T., Rocha, H.A.O., 2018. Immunomodulatory effects and antimicrobial activity of heterofucans from Sargassum filipendula, Journal of Applied Phycology, 30, 569–578.

Van Soest, P.J., Robertson, J.B. and Lewis, B.A., 1991. Methods for dietary fiber, neutral fiber, and non-starch polysaccharides in relation to animal nutrition. Journal Dairy Science, 74, 35–83.

Wang, W., Lu, J.B., Wang, C., Wang, C.S., Zhang, H.H., Li, C.Y., Qian, G.Y., 2013. Effects of Sargassum fusiforme polysaccharides on antioxidant activities and intestinal functions in mice, International Journal of Biological Macromolecules, 58, 127–132.

Wullepit, N., Hostens, M., Ginneberge, C., Fievez, V., Opsomer, G., Fremaut, D., De Smet, S., 2012. Influence of a marine algae supplementation on the oxidative status of plasma in dairy cows during the periparturient period, Preventive Veterinary Medicine, 103, 298–303.

Yangthong, M., Hutadilok-Towatana, N., Thawonsuwan, J., Phromkunthong, W., 2016. An aqueous extract from Sargassum sp. enhances the immune response and resistance against Streptococcus iniae in the Asian sea bass (Lates calcarifer Bloch), Journal of Applied Phycology, 28, 3587–3598.

Zhang, L., Hu, T.J., Liu, H.L., Shuai, X.H., 2011. Inhibitory effect of Sargassum polysaccharide on oxidative stress induced by infectious bursa disease virus in chicken bursal lymphocytes, International Journal of Biological Macromolecules, 49, 607–615.

Zhong, R.Z., Yu, M., Liu, H.W., Sun, H.X., Cao, Y., Zhou, D.W. 2012. Effects of dietary Astragalus polysaccharide and Astragalus membranaceus root supplementation on growth performance, rumen fermentation, immune responses, and antioxidant status of lambs, Animal Feed Science Technology, 174, 60–67.

Zhu, D., Wen, X., Li, S., Xuan, X., Li, Y., 2017. Evaluation of the red alga Gracilaria lemaneiformis and brown alga Sargassum horneri as ingredients in diets for white spotted snapper Lutjanus stellatus Akazaki juveniles, Journal of Applied Phycology, 29, 3211–3219.
Acknowledgments
The authors are grateful to Rodolfo Osuna Machado and Alfredo Mayoral for the valuable laboratory and field assistance, to Danielle M. Straatmann from CSU Todos Santos Center for the English revision, and to Diana Fischer for the editorial services.
Funding
This research was supported by CONACYT/Mexico (INFR-2014-01/225924 and PDCPN2014-01/248033).
Ethics declarations
Conflict of interest
The authors declare that they have no conflicts of interest.
Ethical approval
The experiment was conducted in agreement with the local Bioethical Guidelines of UABCS and Baja California Sur State regulations to avoid causing unnecessary discomfort to experimental animals.
Additional information
Publisher's note
Springer Nature remains neutral with regard to jurisdictional claims in published maps and institutional affiliations.
About this article
Cite this article
Angulo, C., Chavez-Infante, L., Reyes-Becerril, M. et al. Immunostimulatory and antioxidant effects of supplemental feeding with macroalga Sargassum spp. on goat kids. Trop Anim Health Prod 52, 2023–2033 (2020). https://doi.org/10.1007/s11250-020-02218-5
Received:

Accepted:

Published:

Issue Date:
Keywords
Ruminant

Macroalgae

Supplementation

Radical scavenging activity

Immunostimulant

Functional foods