Abstract
The aim of this study was to evaluate the effect of diet and animal shearing on the feed and nutrient intakes, water intake, in vitro ruminal methane production, and blood parameters of Omani sheep. A pens trial was carried out for 16 days each in March and June of 2017 using 20 Omani non-castrated yearling rams selected from the sheep herd in the research station and randomly assigned to four groups with 5 animals per group. Group 1: sheared animals fed a high concentrate (HC) diet, group 2: fleeced animals fed a HC diet, group 3: sheared animals fed a low concentrate (LC) diet, group 4: fleeced animals fed a LC diet. Furthermore, a metabolic crates trial was carried out in July of 2017 on three animals from each group over a 10-day period. The effect of diet and shearing on the tested parameters was evaluated using the mixed linear model, where animals were fitted as a random effect to account for the individual animal deviation from the overall mean. Results showed that rams fed on the high concentrate diet had a significantly increased organic matter intake of the total diet (62 g/kg 0.75 Live Weight (LW) in HC group to 54 g/kg 0.75 LW in LC group), an increased water intake (6.3 L/day vs 4.8 L/day in LC group), and a reduced in vitro methane production (i.e. the invitro ruminal CH4 was measured and converted to daily CH4 using the daily feed intake data and was 20.4 g CH4 per head/day in HC group vs 27.3 g CH4 per head/day in LC group), compared with rams fed on the low concentrate diet. Furthermore, shearing had a significant effect (P < 0.01) on increased feed and nutrients intake. The apparent and organic matter digestibility was significantly different (P < 0.01) between the experimental groups and was greater for those rams fed on the HC diet. Partial substitution of low-quality Rhodes grass hay by high-quality concentrate significantly improved the total diet organic matter digestibility (P < 0.01) and nutrients digestibility, whereas no significant effects on biochemical blood parameters or animal health were observed. These results show the importance of utilizing effective feeding and shearing plans to improve the productivity and reduce the methane emission of Omani sheep.
Access options
Buy single article
Instant access to the full article PDF.
US$ 39.95
Tax calculation will be finalised during checkout.
Subscribe to journal
Immediate online access to all issues from 2019. Subscription will auto renew annually.
US$ 79
Tax calculation will be finalised during checkout.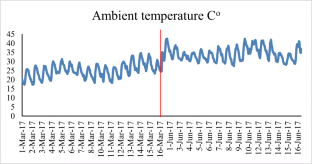 References
Abdel-Hafez, M.A.M., 2002. Studies on the reproductive performance in sheep. Ph.D. thesis. Faculty of Agriculture, Zagazig University, Zagazig, Egypt.

Abdel-Samee, A.M., 1991. Detection of heat adaptability of growing lambs in subtropics. Zagazig Vetrenary Journal, 19 (3), 719–731.

Alqaisi O, Hemme T, Latacz-Lohmann U, Susenbeth A. 2014. Evaluation of food industry by-products as feed in semi-arid dairy farming systems: the case of Jordan, Sustainability Science Journal, 9(3):361–77.

AOAC, 1995. Official Methods of Analysis of the Association of Official Analytical Chemists. AOAC International, Arlington, USA.

AOAC. 2000. Official methods of analysis of AOAC. International 17th edition; Gaithersburg, MD, USA, Association of Analytic Chemists.

Barnett, M.C., McFarlane, J.R. and Hegarty, R.S., 2015. Low ambient temperature elevates plasma triiodothyronine concentrations while reducing digesta mean retention time and methane yield in sheep. Journal of animal physiology and animal nutrition, 99(3), pp.483-491.

Beatty, D., Barnes, A., Fleming, P., Taylor, E., Maloney, S., 2008. The effect of fleece on core and rumen temperature in sheep. Journal of Thermal Biology, 2008, 33, 437–443.

Beauchemin, K.A., and McGinn, S.M., 2005. Methane emissions from feedlot cattle fed barley or corn diets, Journal of Animal Science, 83, 653-661.

Beede, D.K, and Collier, R.J., 1986. Potential nutritional strategies for intensively managed cattle during thermal stress. Journal of animal science, 62, 543-554.

Berman, A., Folman, Y., Kaim, M., Mamen, M., Herz, Z., Wolfenson, D., Arieli, A., Graber, Y., 1985. Upper critical temperatures and forced ventilation effects for high-yielding dairy cows in a subtropical climate, Journal of Dairy Science, 68: 1488–1495.

Bösing, B.M., Susenbeth, A., Hao, J., Ahnert, S., Ohm, M., Dickhoefer, U., 2014. Effect of concentrate supplementation on herbage intake and live weight gain of sheep grazing a semi-arid grassland steppe of North-Eastern Asia in response to different grazing management systems and intensities. Livestock science,165:157–66. https://doi.org/10.1016/j.livsci.2014.03.026.

Conrad, J.H., 1985. Feeding of farm animals in hot and cold environments. In: Yousef, M.K. (Ed.), Stress Physiology in Livestock. CRC Press, Inc., Boca Raton, Florida, U.S.A., Place, Corvallis, OR 97330, USA.

Danielsson, R., Ramin, M., Bertilsson, J., Lund, P., Huhtanen, P., 2017. Evaluation of a gas in vitro system for predicting methane production in vivo. Journal of Dairy Science 100, 8881–8894.

Dikmen, S., Orman, A., Ustuner, H., 2011. The effect of shearing in a hot environment on some welfare indicators in Awassi lambs. Tropical Animal Health and Production, 43, 1327-1335.

Goering, H.K., Van Soest, P.J., 1970. Forage fiber analysis (apparatus, reagents, procedures and some applications). In: Agricultural Handbook, vol. 379. USDA, USA.

Haddad, S.G., 2005. Effect of dietary forage:concentrate ratio on growth performance and carcass characteristics of growing Baladi kids. Small Ruminant Research, 57, 43–49.

Haddad, S.G., Husein, M.Q., 2004. Effect of dietary energy density on growth performance and slaughtering characteristics of fattening Awassi lambs. Livestock Production Science, 87, 171–177.

Hartwell, B.W., Inguez, L., Knus, W.F., Madson, J., 2008. Characterization of Awassi lamb fattening systems: a Syrian case study. In: Improved Small Ruminant Production Diversification and Genetic Diversity Utilization in Dry Areas, Proc. Workshop on Options for Improving Small Ruminant Production Diversification and Management of Genetic Diversity in the Dry Areas of Jordan, Syria and Tunisia, February, 2008. Aleppo, Syria, ICARDA, pp 13-17.

Johnson, K.A., and Johnson, D.E. 1995. Methane emissions from cattle. Journal of Animal Science 73:2483-2492

Karamnejad, K., Sari, M., Salari, S., & Chaji, M., 2019. Effects of nitrogen source on the performance and feeding behavior of lambs fed a high concentrate diet containing pomegranate peel. Small Ruminant Research, 173, pp 173.

Kenyon, P.R., Morris, S.T., West, D.M., 2005. The effect of progesterone supplementation post mating and shearing of ewes in early pregnancy on the reproductive performance of ewes and birthweight of lambs. New Zealand Veterinary Journal, 53(5): 321–5.

Lu, C.D., Early, R.J., Srikandakumar, A., Gaafar, O., Ritchie, A., Annamalai, K. and Al-Abri, A.S., 1999. Performance of lactating dairy cows fed dried sardines in hot climates. Agric. Sci, 4, pp.35-42. DOI:10.24200/jams.vol4iss1pp35-42

Mahgoub O, Lodge GA. 1996. Growth and body composition in meat production of Omani Batina goats, Small Ruminant, Res. 19:233–246.

Mahgoub, O., Lu, C.D., Early, R.J., 2000. Effects of dietary energy density on feed intake, body weight gain and carcass chemical composition of Omani growing lambs, Small Ruminant Research, 37, 35–42.

Mahgoub, O., Kadim, I.T., Johnson, E.H., Srikandakumar, A., Al-Saqri, N.M., Al-Abri A.S., 2005. The use of a concentrate containing Meskit (Prosopis juliflora) pods and date palm by-products to replace commercial concentrate in diets of Omani sheep. Animal Feed Science and Technology, 120:33–41. https://doi.org/10.1016/j.anifeedsci.2005.01.011.

Mahgoub, O., Kadim, I., Al-Dhahab, A., Bello, R., Al-Amri, I., and Ambu Ali, A., and Khalaf, S. 2010. An assessment of Omani native sheep fiber production and quality characteristics. Sultan Qaboos University publication, Agricultural and Marine Sciences, 15:9-14 (2010).

Marai, I.F.M., Ayyat, M.S., Abd El-Monem, U.M. 2001. Growth performance and reproductive traits at first parity of New Zealand White female rabbits as affected by heat stress and its alleviation under Egyptian conditions. Tropical Animal Health Production. 33: 457–462.

Marai, I.F.M., El-Darawany, A.A., Fadiel, A., Abdel-Hafez, M.A.M., 2007. Physiological traits as affected by heat stress in sheep—A review. Small Ruminant Research, 71:1–12. https://doi.org/10.1016/j.smallrumres.2006.10.003.

McArthur, A.J., 1980. Air movement and heat loss from sheep. III. Components of insulation in a controlled environment, Proceedings of the Royal Society of London, Series B, Biological sciences, 209: 219–237.

McDonald, P., Edwards, R.A., Greenhalgh, J.F.D., Morgan, C.A., 2002. In: Animal Nutrition. 6th ed. Longman Scientific and Technical, Harlow.

Menke, K.H., Steingass, H., 1988. Estimation of the energetic feed value from chemical analysis and in vitro gas production using rumen fluid. Animal Research Development, 28, 7–55.

Menke, K.H., Raab, L., Salewski, A., Steingass, H., Fritz, D., Schneider, W., 1979. The estimation of the digestibility and metabolizable energy content of ruminant feedstuffs from the gas production when they are incubated with rumen liquor, Journal of Agricultural Sciences, 93, 217–222.

Meyer, D.J., Harvey, J.W., 2004. Veterinary Laboratory Medicine. Interpretation and Diagnosis, 3rd ed. Saunders, USA.

Miron J, Ben-Ghedalia D, Morrison M. Invited Review: Adhesion mechanisms of rumen cellulolytic bacteria. J Dairy Sci. 2001;84:1294–1309

National Center for Statistical Information of Oman (NCSI) 2018 Statistical Yearbook. Page 34.

Piccione, G., Caola, G. and Refinetti, R., 2002. Effect of shearing on the core body temperature of three breeds of Mediterranean sheep. Small Ruminant Research, 46(2-3), 211-215.

R Core Team, 2018. R: A language and environment for statistical computing. R Foundation for Statistical Computing, Vienna, Austria. URL https://www.R-project.org/.

Revell, D.K., Main, S.F., Breier, B.H., Cottam, Y.H., Hennies, M., McCutcheon, S.N., 2000. Metabolic responses to mid-pregnancy shearing that are associated with a selective increase in the birth weight of twin lambs, Domestic Animal Endocrinology,18(4): 409–22.

Schlecht, E., Dickhoefer, U., Gumpertsberger, E., Buerkert, A., 2009. Grazing itineraries and forage selection of goats in the Jabal al Akhdar mountain range of northern Oman. Journal of Arid Environments, (73), 355–363.

Shafie, M.M., Murad, H.M., El- Bedawy, T.M., Salem, S.M., 1994. Effect of heat stress on feed intake, rumen fermentation and water turnover in relation to heat tolerance response by sheep, Egyptian Journal of Animal Production, 31 (2), 317–327.

Srikandakumar A., Johnson, E.H., Mahgoub, O., 2003. Effect of heat stress on respiratory rate, rectal temperature and blood chemistry in Omani and Australian Merino sheep, Small Ruminant Research, 49: 193–8.

Van Soest, P.J. (Ed.), 1994. Nutritional Ecology of the Ruminant, Cornell University Press, Ithaca, New York, USA.

Van Soest, P.J., Roberston, J.B., Lewis, B.A., 1991. Methods for dietary fibre, and non starch polysaccharides in relation to animal nutrition. Journal of Dairy Science, 74, 3583–3597.

West, J.W., 1999. Nutritional strategies for managing the heat-stressed dairy cow, Journal of Animal Science 77, 21–35.

Zaibet, L., Dharmapala, P.S., Boughanmi, H., Mahgoub, O., Al-Marshudi, A., 2004. Social changes, economic performance and development: the case of goat production in Oman. Small Ruminant Research, 54, 131–140.
Acknowledgements
This work was funded by the Sultan Qaboos University internal grant fund IG/AGR/ANVS/18/01.
Ethics declarations
Conflict of interest
The authors declare that they have no conflict of interest.
Additional information
Publisher's note
Springer Nature remains neutral with regard to jurisdictional claims in published maps and institutional affiliations.
About this article
Cite this article
Alqaisi, O., Al-Jazmi, F., Al-Abri, M. et al. Effect of diet quality and shearing on feed and water intake, in vitro ruminal methane production, and blood parameters of Omani sheep. Trop Anim Health Prod 52, 1115–1124 (2020). https://doi.org/10.1007/s11250-019-02108-5
Received:

Accepted:

Published:

Issue Date:
Keywords
Sheep

Feed intake

Concentrate

Rhodes grass hay

Shearing

Arid land