Abstract
Although T. gondii is of considerable both public and veterinary importance worldwide, studies on its existence in sheep in Algeria, either through serology and or parasitology is scarce. To this end, a cross-sectional study was carried out in Tébessa, an Algerian eastern province, to, firstly, investigate the seroprevalence of T. gondii infection in sheep and, secondly, determine the potential risk factors that may be associated with seropositivity. A total of 376 serum samples from 39 flocks, collected between September 2015 and October 2017, were tested for anti-T.gondii antibodies via the enzyme-linked immunosorbent assay technique (ELISA). A T. gondii seroprevalence of 35.37% (95% CI 30.54–40.21%) was recorded, and 84.61% (95% CI 73.29–95.94%) of the flocks sampled had, at least, one seropositive animal. The multivariable logistic regression analysis showed that abortion during the latest pregnancy (OR = 1.56; 95% CI 1.02–2.44; p = 0.05), presence of goats in sheep flocks (OR = 1.76; 95% CI 1.04–2.98; p = 0.037), and the sampling period were the variables significantly associated with seropositivity. The present study reports, for the first time in this part of Algeria, the seroprevalence of T. gondii infection and bears out the highly dissemination capacity of the parasite. This is of a great importance for veterinarians in charge of veterinary public health, veterinary practitioners, and breeders in order to improve the control and prophylactic measures of toxoplasmosis. Nevertheless, further study should be conducted to explore the impact of the parasite on public and animal health.
This is a preview of subscription content, log in to check access.
Access options
Buy single article
Instant access to the full article PDF.
US$ 39.95
Tax calculation will be finalised during checkout.
Subscribe to journal
Immediate online access to all issues from 2019. Subscription will auto renew annually.
US$ 99
Tax calculation will be finalised during checkout.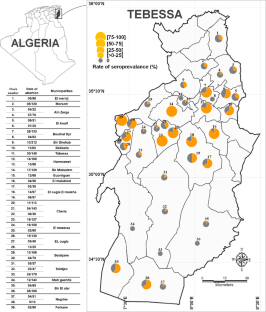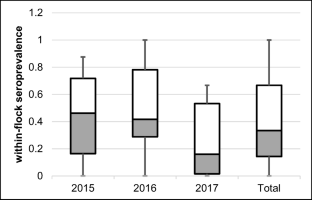 References
Abu-Dalbouh, M.A.A., Ababneh, M.M., Giadinis, N.D. and Lafi, S.Q., 2012. Ovine and caprine toxoplasmosis (Toxoplasma gondii) in aborted animals in Jordanian goat and sheep flocks. Tropical animal health and production, 44(1), 49–54.

Ait-Oudhia, K. and Mohamed-Cherif A., 2015. Sero-epidemiological survey of toxoplasmosis in cattle, sheep and goats in Algeria. Journal Bacterioly & Parasitoly, 6:4.

Bawm, S., Maung, W.Y., Win, M.Y., Thu, M.J., Chel, H.M., Khaing, T.A., Wai, S.S., Htun, L.L., Myaing, T.T., Tiwananthagorn, S., Igarashi, M and Katakura, K., 2016. Serological survey and factors associated with Toxoplasma gondii infection in domestic goats in Myanmar. Scientifica (Cairo), 2016, 4794318.

Buxton, D., 1990. Ovine toxoplasmosis: a review. Journal of the Royal Society of Medicine, 83(8): 509–511.

Buxton, D., Maley, S.W., Wright, S.E., Rodger, S., Bartley, P. and Innes, E.A., 2007. Toxoplasma gondii and ovine toxoplasmosis: new aspects of an old story. Veterinary parasitology, 149(1–2), 25–28.

Cenci-Goga, B.T., Ciampelli, A., Sechi, P., Veronesi, F., Moretta, I., Cambiotti, V. and Thompson, P.N., 2013. Seroprevalence and risk factors for Toxoplasma gondii in sheep in Grosseto district, Tuscany, Italy. BMC veterinary research, 9(1), 25.

Condoleo, R., Musella, V., Maurelli, M.P., Bosco, A., Cringoli, G. and Rinaldi, L., 2016. Mapping, cluster detection and evaluation of risk factors of ovine toxoplasmosis in Southern Italy. Geospatial health, 11(2): 206–212.

Cook, A.J.C., Holliman, R., Gilbert, R.E., Buffolano, W., Zufferey, J., Petersen, E., Jenum, P.A., Foulon, W., Semprini, A.E. and Dunn, D.T., 2000. Sources of toxoplasma infection in pregnant women: European multicentre case-control study Commentary: Congenital toxoplasmosis - further thought for food. British Medical Journal, 321(7254), 142–147.

Dahmani, A., Harhoura, K., Aissi, M., Zenia, S., Hamriouri, B., Guechi, N., Ait Athmane, M. and Kadour, R., 2018. The zoonotic protozoan of sheep carcasses in the north of Algeria: A case of ovine toxoplasmosis. Journal of the Hellenic Veterinary Medical Society, 69(2), 1004–1012.

Dechicha, A.S., Bachi, F., Gharbi, I., Gourbdji, E., Baazize-Ammi, D., Brahim-Errahmani, M., and Guetarni, D., 2015. Sero-epidemiological survey on toxoplasmosis in cattle, sheep and goats in Algeria. African Journal of Agricultural Research, 10(20), 2113–2119.

Dubey, J.P., 2009. Toxoplasmosis in sheep − the last 20 years. Veterinary parasitology, 163(1–2), 1–14.

Essayagh, M., Essayagh, T., Khallayoune, K., Essayagh, S. and Lmimouni, B., 2017. Seroprevalence of Toxoplasma gondii in Ruminants in Morocco. Veterinary Research, 10(1), 1–5.

Foltz, C., Napolitano, A., Khan, R., Clough, B., Hirst, E.M. and Frickel, E.M., 2017. TRIM21 is critical for survival of Toxoplasma gondii infection and localises to GBP-positive parasite vacuoles. Scientific reports, 7(1), 5209.

Gazzonis, A.L., Veronesi, F., Di Cerbo, A.R., Zanzani, S.A., Molineri, G., Moretta, I., Moretti, A., Fioretti, D.P., Invernizzi, A. and Manfredi, M. T., 2015. Toxoplasma gondii in small ruminants in Northern Italy - prevalence and risk factors. Annals of Agricultural and Environmental Medicine, 22(1): 62–68.

Hanif, M. and Tasawar, Z., 2016. Seroprevalence and risk factors associated with toxoplasmosis in sheep in Multan and Khanewal districts of Punjab (Pakistan). JAPS: Journal of Animal & Plant Sciences, 26(6), 1620–1627.

Jones, J.L., Kruszon-Moran, D., Wilson, M., McQuillan, G., Navin, T. and McAuley, J.B., 2001. Toxoplasma gondii infection in the United States: seroprevalence and risk factors. American journal of epidemiology, 154(4), 357–365.

Kardjadj, M., Kouidri, B., Metref, D., Luka, P.D. and Ben-Mahdi, M.H., 2016. Abortion and various associated risk factors in small ruminants in Algeria. Preventive veterinary medicine, 123, 97–101.

Khaldi, A., 2014. La gestion non–durable de la steppe algérienne. VertigO-la revue électronique en sciences de l'environnement. https://doi.org/10.4000/vertigo.15152.

Lahmar, I., Lachkhem, A., Slama, D., Sakly, W., Haouas, N., Gorcii, M., Pfaff, A.W., Candolfi, E. and Babba, H., 2015. Prevalence of toxoplasmosis in sheep, goats and cattle in Southern Tunisia. Journal of Bacteriology & Parasitology, 6:245. https://doi.org/10.4172/2155-9597.1000245.

Liu, Q., Wang, Z.D., Huang, S.Y. and Zhu, X.Q., 2015. Diagnosis of toxoplasmosis and typing of Toxoplasma gondii. Parasites & vectors, 8(1), 292.

MADR., 2018. Ministère de l'Agriculture et de Développement Rural, Algérie. Annuel rapport 2018.

Mainar, R.C., De La Cruz, C., Asensio, A., Domínguez, L. and Vázquez-Boland, J.A., 1996. Prevalence of agglutinating antibodies to Toxoplasma gondii in small ruminants of the Madrid region, Spain, and identification of factors influencing seropositivity by multivariate analysis. Veterinary research communications, 20(2), 153–159.

Mearns, R., 2007. Abortion in sheep 1. Investigation and principal causes. In practice, 29, 40–46.

Ramzan, M., Akhtar, M., Muhammad, F., Hussain, I., Hiszczyńska-Sawicka, E., Haq, A. U., Mahmood, M.S. and Hafeez, M.A., 2009. Seroprevalence of Toxoplasma gondii in sheep and goats in Rahim Yar Khan (Punjab), Pakistan. Tropical Animal Health and Production, 41(7), 1225–1229.

Robert-Gangneux, F. and Dardé, M.L., 2012. Epidemiology of and diagnostic strategies for toxoplasmosis. Clinical microbiology reviews, 25(2), 264–296.

Rouatbi, M., Amdouni, Y., Amairia, S., Rjeibi, M.R., Sammoudi, S., Rekik, M. and Gharbi, M., 2017. Molecular detection and phylogenetic analyses of Toxoplasma gondii from naturally infected sheep in Northern and Central Tunisia. Veterinary Medicine and Science, 3(1), 22–31.

Tegegne, D., Abdurahaman, M. and Yohannes, M., 2016. Seroepidemiology and associated risk factors of Toxoplasma gondii in sheep and goats in Southwestern Ethiopia. BMC veterinary research, 12(1), 280.

Tenter, A.M., Heckeroth, A.R. and Weiss, L.M., 2000. Toxoplasma gondii: from animals to humans. International journal for parasitology, 30(12–13), 1217–1258.

Thrustfield, M., 2007. Veterinary Epidemiology. 3rd ed, Blackwell Publishing, Oxford.

Tilahun, B., Tolossa, Y.H., Tilahun, G., Ashenafi, H. and Shimelis, S., 2018. Seroprevalence and Risk Factors of Toxoplasma gondii Infection among Domestic Ruminants in East Hararghe Zone of Oromia Region, Ethiopia. Veterinary medicine international. https://doi.org/10.1155/2018/4263470.
Acknowledgments
The authors would like to acknowledge the staff of the National Center for Biotechnology Research – Constantine (CRBt), for conducting the reading of ELISA results. We are thankful to the veterinarians and breeders for their kind cooperation during the collection of blood samples.
Ethics declarations
As only blood samples were collected from the sheep, a safe and not really exhaustive animal manipulation for it is usually performed for disease serological routine detection, the ethical approval was not required.
Conflict of interest
The authors declare that they have no conflict of interest.
Additional information
Publisher's note
Springer Nature remains neutral with regard to jurisdictional claims in published maps and institutional affiliations.
About this article
Cite this article
Benlakehal, A., Miroud, K., Djeghim, H. et al. Serological survey for anti-Toxoplasma gondii antibodies in sheep of northeastern Algeria. Trop Anim Health Prod 51, 2227–2233 (2019). https://doi.org/10.1007/s11250-019-01921-2
Received:

Accepted:

Published:

Issue Date:
Keywords
Toxoplasma gondii

Sheep

Tébessa

Algeria

ELISA

Risk factors